Northumberland is fast becoming one of the most popular locations in the UK to take a dog friendly holiday and it's easy to see why. The county boasts some of the most stunning beaches in the UK and added to that there are castles to explore and the wild and the rugged beauty of the Northumberland National Park to sniff around. Dogs just love it and I bet kids do too!
On our most recent trip we stayed in the very dog friendly coastal town of Amble with Coquet Cottages and the location couldn't have been more perfect! To be honest I fell in love with this gorgeous little town and I wasn't surprised to learn that it is known as 'England's Kindliest Port' because literally everyone we met there was exceptionally welcoming both to humans and canine companions alike.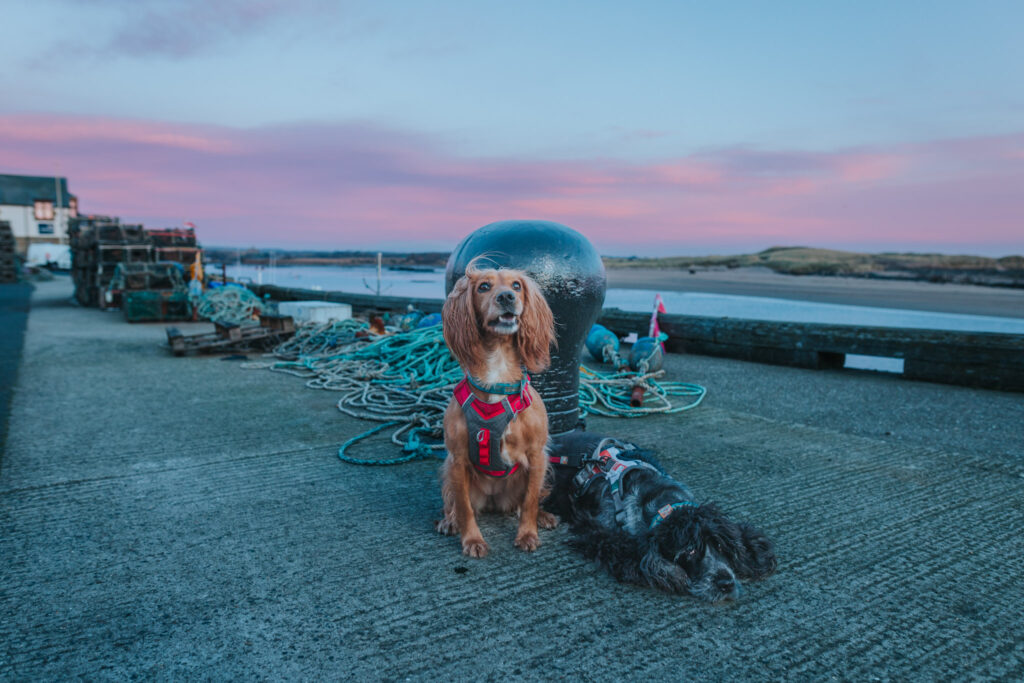 We could have easily spent our entire break away in picturesque Amble, there are two beaches, a plethora of dog friendly pubs and restaurants, and the delightful Harbour Village with its little painted pods selling artisan goods and souvenirs, there is even one that's  pet shop.
In fact we didn't encounter anywhere in Amble that didn't welcome the spaniels and especially enjoyed dining at the Fish Shack, it was honestly a meal to remember. It would have been a crime to miss out on the delicious offerings at Spurelli Boutique Ice cream Parlour, so we didn't!  Dogs are welcome to sit with you and relax in the outside area here and watch the world go by.
I just loved Little Shore Beach with it's colourful beach huts, pier and amazing views of the area. Maya and Lucia adored it too, especially because it could easily be visited before and after trips to the pub as it is so close to all Amble's amenities.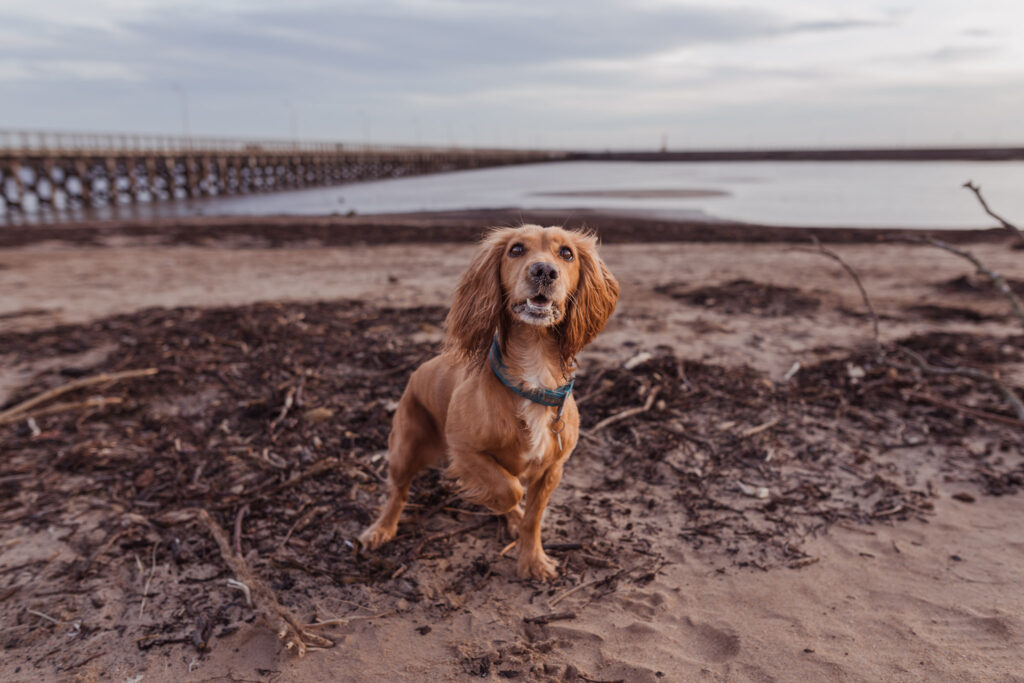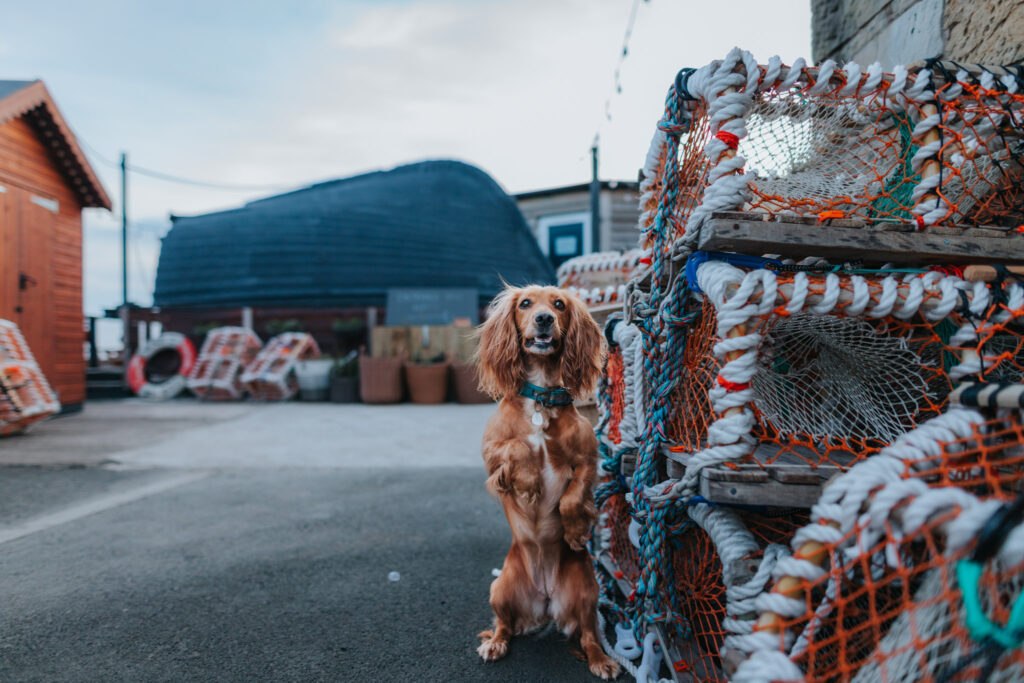 If you can tear yourself away from all the dog friendly fun you can have in Amble itself there is plenty more to see in the area. We walked along the footpath on the banks of the Coquet river to the historic village of Warkworth, the castle there is dog friendly and well worth a visit. Of course we had to have a pit stop at The Masons Arms before walking on to Warkworth beach which really is a paradise on earth for dogs, it stretches for miles! Next time we will walk along the beach or the Northumberland Coastal Path to Alnmouth but on this occasion we wanted to fit in as much as possible so drove the few miles there in the car.
My girls really enjoyed jumping on and off the old anti-tank blocks at Alnmouth beach, and my partner really liked it that parking was free, as indeed it was at many (but not all) of the beaches we visited. One thing worth mentioning is that swimming at Alnmouth is not recommended by locals, especially near the river mouth when the tide is on its way out.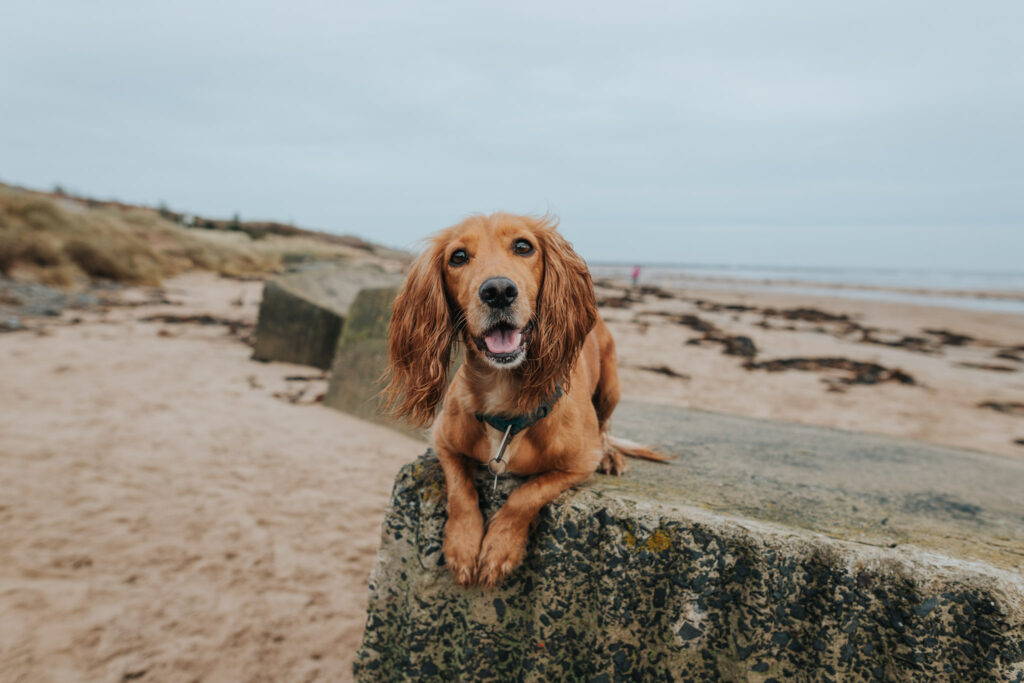 Druridge Bay is a wide and beautiful 7 mile stretch of beach that stretches all the way from Amble to Cresswell. We decided to drive the 3 miles down to Druridge Bay Country Park with it's gorgeous lake where you can launch your paddle board or dingy or wander round the surrounding fields and woodland. There is also a cafe and toilets at the car park here and the beach is just 2 minutes walk away.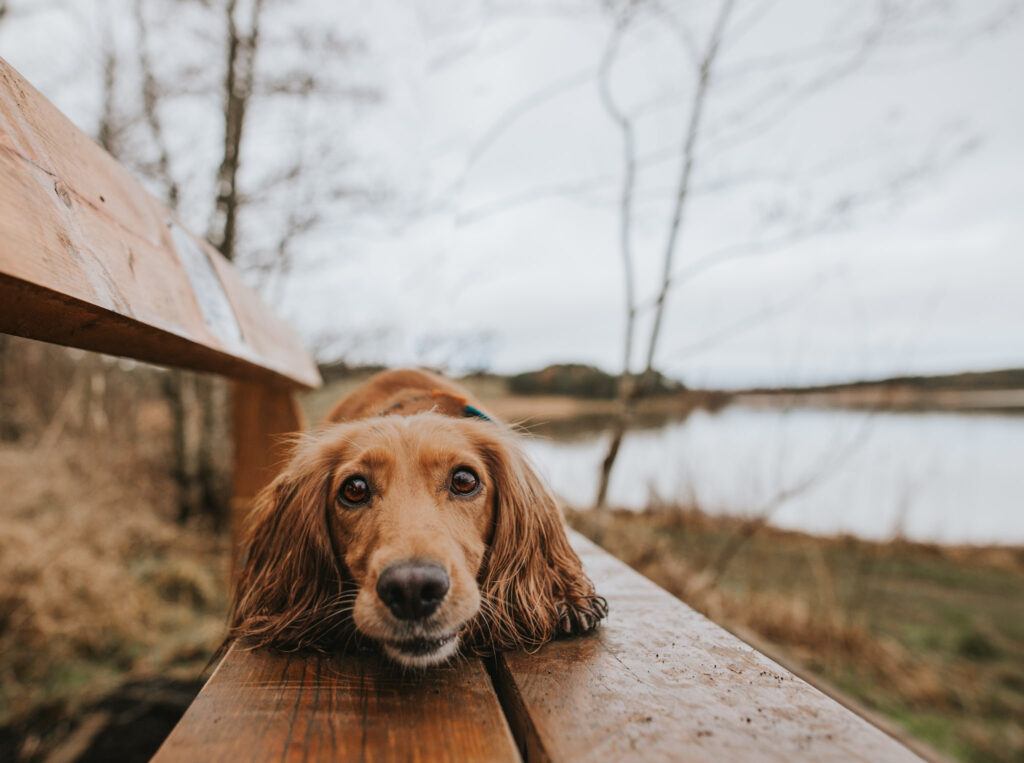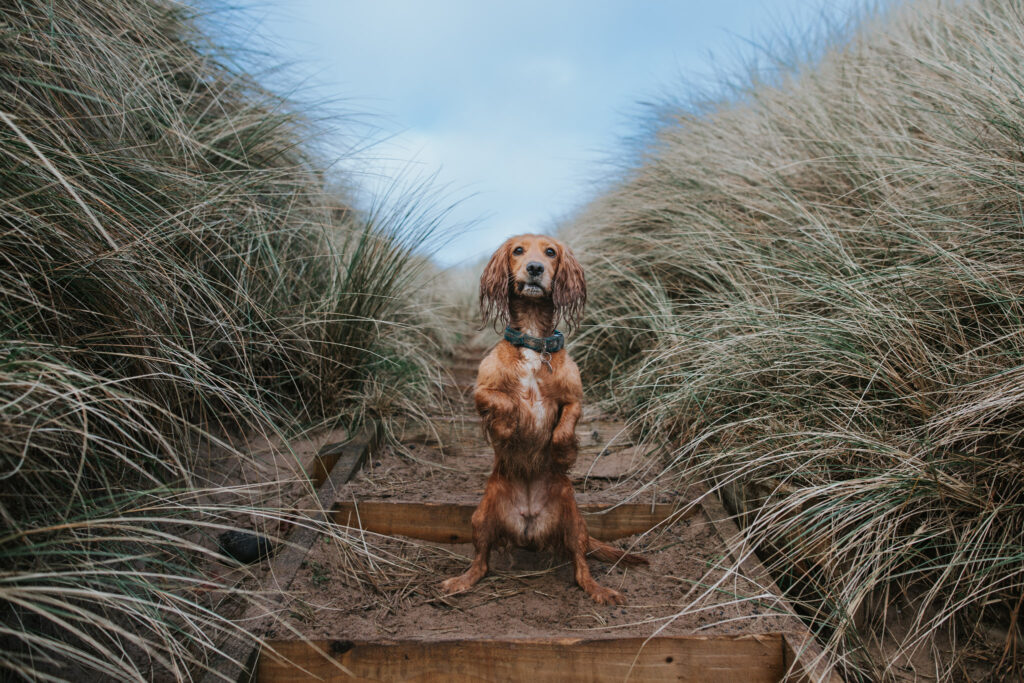 I feel like Bamburgh is one of Northumberland's unmissable highlights. Bamburgh's huge sweeping beach is absolutely stunning, overlooked as it is by the majestic castle which of course is dog friendly. My spaniels had the time of their life racing along the sand, splashing in the sea and scrambling amongst the sand dunes and making new furry friends.
There are several dog friendly pubs in Bamburgh too but we decided to miss out on a drink (for once!) and headed inland to visit St Cuthbert's Cave, somewhere that had been on my 'to go' list for a while.
The cave, which is less than a miles walk from the car park is said to be the resting place of St Cuthbert, a monk that has legend has it possessed great spiritual healing powers and is well worth a visit. There are also some fantastic walks in the area which is really close to the Cheviot Hills.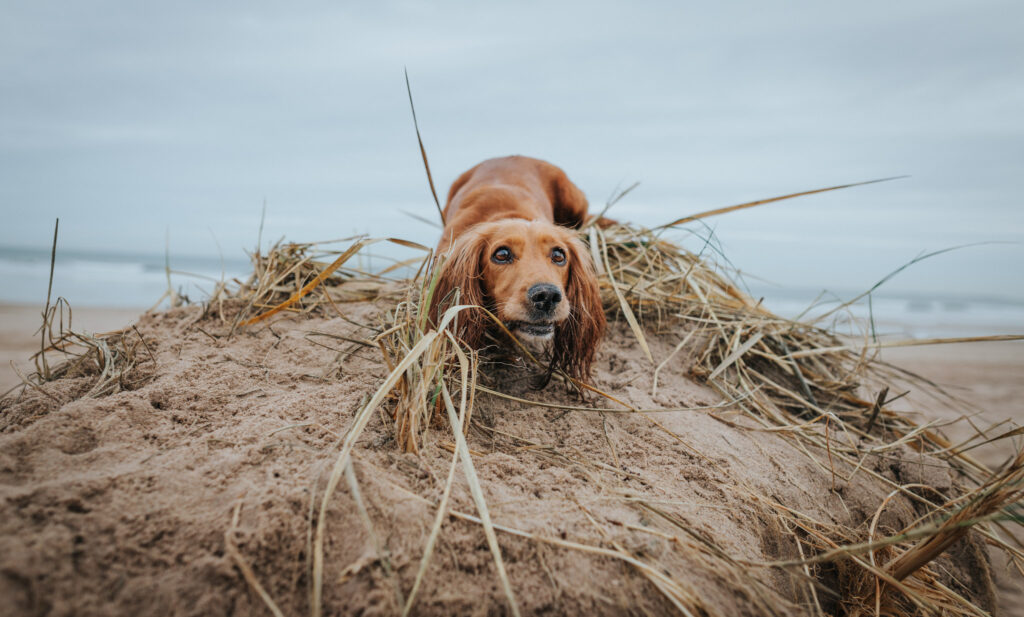 Now my partner is a massive fan of the famous Craster Kippers so a visit the quaint fishing village of Craster was a must!  The kippers weren't the only reason we visited though, it's just over a mile to walk to the ruins of Dunstanburgh Castle and if you feel energetic you can extend your walk to visit picturesque Embleton Bay. After visiting the castle we went to The Jolly Fisherman Pub and enjoyed some good food and great beer while the girls lapped down a bowl of cold water.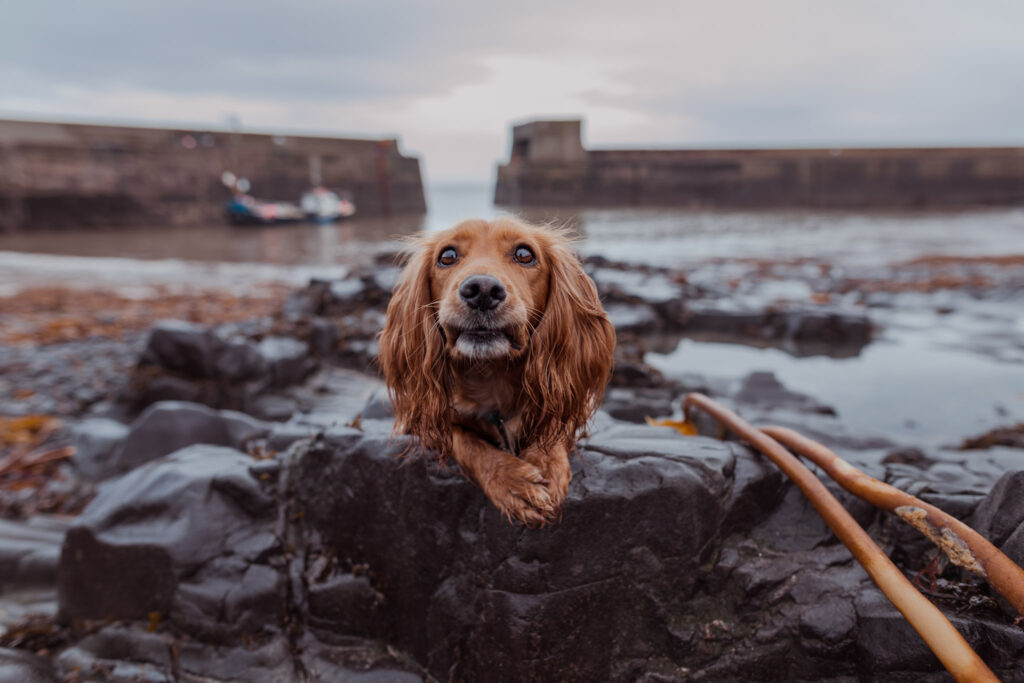 Early one morning we ventured into the Simonside Hills for some hiking. This is such a beautiful area and although some of the walking routes were still closed due to the devastating storm Arwen that hit the area late last year there we still loved our visit there and will return for sure.
If like us you are fans of visiting National Trust properties, this area of Northumberland won't disappoint. Cragside, near Rothbury was a highlight for us and we also enjoyed our visit to Wallington Hall where the woods had a spectacular display of snow drops. There are some great dog walks to enjoy at both these places and  we will definitely revisit them both again once they reopen.
National Trust Properties are now more dog friendly than ever due to their 'Dog's Welcome' initiative in partnership with Forthglade which aims to provide more facilities for our four legged friends.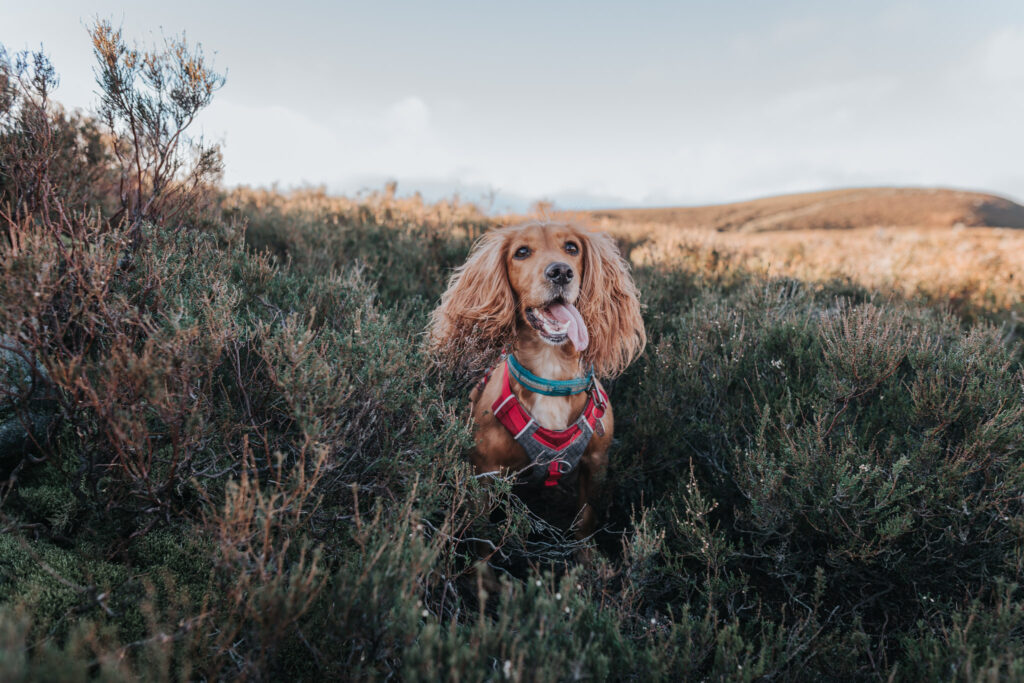 Dog's being dogs I know that for my girls the best thing about Northumberland is the beaches and I couldn't quite believe that there are around 28 beaches where there are no dog restrictions whatsoever, how refreshing is that?
If you choose to take a dog friendly holiday in Amble or one of the nearby towns and villages such as Warkworth, Amble, Alnmouth etc I can guarantee that you and your pooch will have a blast and your staycation will be made even more special if you choose to stay in one of Coquet Cottages!
Love
Sal, Maya and Lucia xxx
*** This post is part of a collaboration with Coquet Cottages and we received a complimentary stay in Amble in return for writing this article, As always all views are my own.