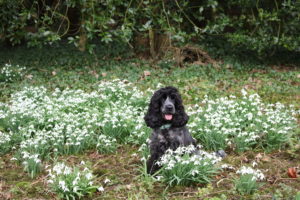 I am a great believer in synchronicity and so it was that when I decided to use a Buyagift voucher I had won earlier last year, Stoke Rochford Hall was the only choice as it is dog friendly and in an area I wanted to visit. In fact it is the stuff dogs dreams are made of, Maya even received her own booking service,
Stoke Rochford is located just 2 minutes from the A1 (5 miles south of Grantham in Lincolnshire) but when you turn your car onto the long drive you might be forgiven for thinking you've ended up in Narnia! It is a majestic Victorian mansion that sits in 28 acres of landscaped gardens and superb parkland, Honestly, I have been round the block a few times and I tell you the grounds really are phenomenal.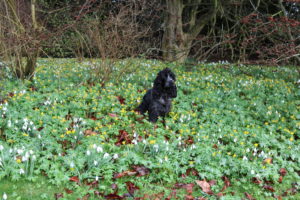 We arrived at the hotel at 1pm and were pleasantly suprised to have access to our room straight away. Maya received her welcome pack consisting of treats, bowls to use during her stay and a towel as well as a welcome letter. And possibly because my partner had informed the hotel it was my birthday a complimentary bottle of prosecco for us! Unusually your dog is welcome to stay in any grade of room. (it is a standard charge of £15 per dog per stay)  We were allocated one of the stable courtyard rooms which are clean, well equipped and convenient for your dogs early morning walkies..We have decided to visit again in the summer and will then go for a touch of luxury and book a mansion room.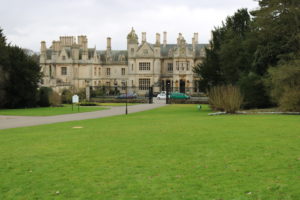 ..The hotel gave us a map of three recommended walks around the grounds. Walk 1 was 40 mins, walk 2 apparently takes an hour and walk 3 which we went for should only take two hours. Let me offer you the excuse now that my birthday present was a camera. It is going to be a real learning curve for me but hopefully over the course of the coming months you will see some better quality images and I will be able to do my gorgeous little dog justice, Anyway due to trying to figure things out the walk was more like four hours!
Maya was in her element being able to run free most of the time, I was delighted to see more signs of spring, snowdrops were abundant and although I know it is a weed, a glorious carpet of celandine.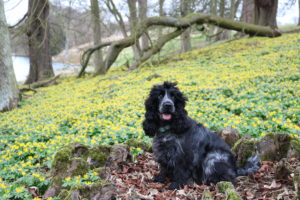 There was even a river running through the grounds and a little waterfall as well as numerous beautiful trees. It really is a delight to walk around the parkland and gardens and we enjoyed it so much we walked round them on our own made up route the following day!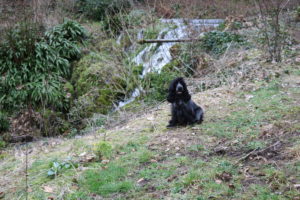 Arriving back at the hotel we sat in the lounge for a coffee. It is really quite grand with burgundy leather Chesterfields and a huge open fire, Of course Maya was allowed to join us, you can also partake in a bar snack with your faithful friend at your side and the hotel will set you up a breakfast table in a special area to dine with you dog in the mornings. Dogs are not, however allowed in the dining room of an evening,
It is a testament though, to how dog friendly Stoke Rochford actually is that your (well behaved) dog is welcome to be looked after at reception while you dine. The Buyagift deal that we had included dinner and we were actually really impressed with the quality of the food. There was a choice of 3 or 4 starters, main courses and desserts. We both chose the chicken liver pate, lamb and Eton Mess, all of which were delicious.We ate in the SRH restaurant which is really ornate and has a lovely ambience.
Breakfast was buffet style with a full range of hot sausages, bacon etc as well as pastries and a choice of good fruit juice, You can also order items such as kippers, eggs benedict or omelettes from the menu. The food was lovely, perhaps the quality of the coffee could be improved!
I have actually previously seen this hotel offer some very good deals on Groupon so it is well worth keeping an eye out if you fancy it and are on a budget, We will return here in the near future as Maya really did have the time of her life. We also visited the town of Grantham which is just 5 miles away and had a good selection of shops, pubs and restaurants.
Hope you are all making fabulous memories with your dogs. Go on, write a little comment and tell us where YOU are going.
Love & thanks for reading
Sal & Maya x