As many of you know we recently  welcomed a new puppy into our family – Lucia, a golden working cocker spaniel puppy who we have already fallen in love with.  For me the decision to crate train her was a no brainer as I truly believe that crate training makes a dog feel safe and secure,  as well as fast tracking puppies toilet training.
Lucia is the eighth dog I have owned as an adult, the first, a pug dog called Billy, a real character of a pup I bought for my son when he was about 3 was an absolute nightmare to toilet train – I think he was around 8 months old when he "got it". Funnily enough his breeder was way ahead of her time in terms of feeding and training and though I followed her advice on giving him a high meat, low grain diet, (which meant home cooking as at the time i had never even heard of Raw) I baulked at the idea of confining this cute little bundle of terror to a crate over night – how I wish I'd listened to her!!  So I guess this also is one of those things I wish I'd known in my 20's kind of posts –  haha!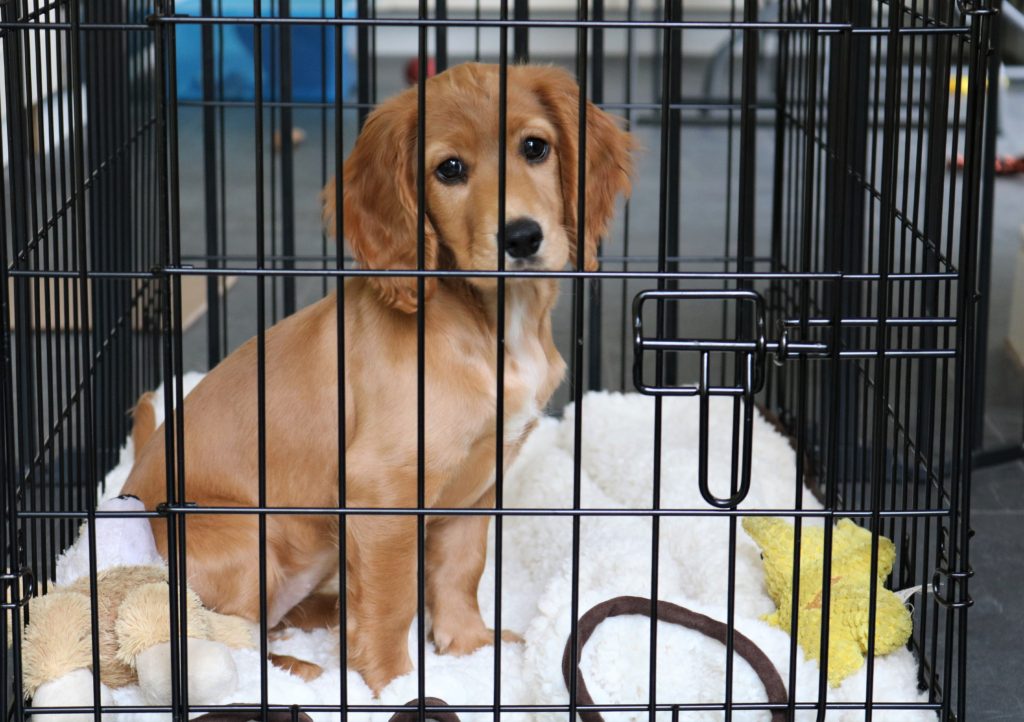 I begin crate training as soon as I bring a new pup home, it's important that the pup sees it as a place of safety, their place, so it's best to wait till the pup goes into the crate of their own accord and seems relaxed and comfotable in there  before closing the door, some dogs take time to venture in but all my pooches have curled up and slept in their crates from day one. It's nice to put some comfy bedding in the crate and a little bowl of water, some people prefer to put a puppy pad and hot water bottle in too. If your dog is more wary though it's important to get them used to it gradually – perhaps by putting a coveted toy or treat in to get them to associate it with good things and see it as thier sanctuary before attempting to close the door – this may take a day or up to  a couple weeks if pup is really anxious. At night time I cover Lucias cage with a blanket, to give it that den feel,  and she already (11 weeks old at the time of writing) happily snoozes from 12pm tilll 6am when we get up anyway, and is always dry and clean in it – result!
In my home I have divided my kitchen into two with a dog gate (which I close when I need to!!) and so Maya & Lucia have their own area with their crates, beds and toys. If you cannot do this, it's a brilliant idea to get a playpen to put the crate in, which as well as being a safe place for your pup to be whilst you are busy  will also allow you to have a bit of a rest from them!  Maya could go and sleep in the lounge in her bed or on the sofa but since Lucia came she prefers to sleep in the room with her, either in a dog bed or in her own crate -so sweet! Mind you at bedtime she has never gotten out of running into her crate for her bedtime treat so she has maybe been sleeping part of the night in it all along! I don't know what will happen with the sleeping arrangements when Lucia is old enough to have her crate door open, but no doubt, as dogs do,  they will sort it out amongst themselves and there won't be much I can do about it!!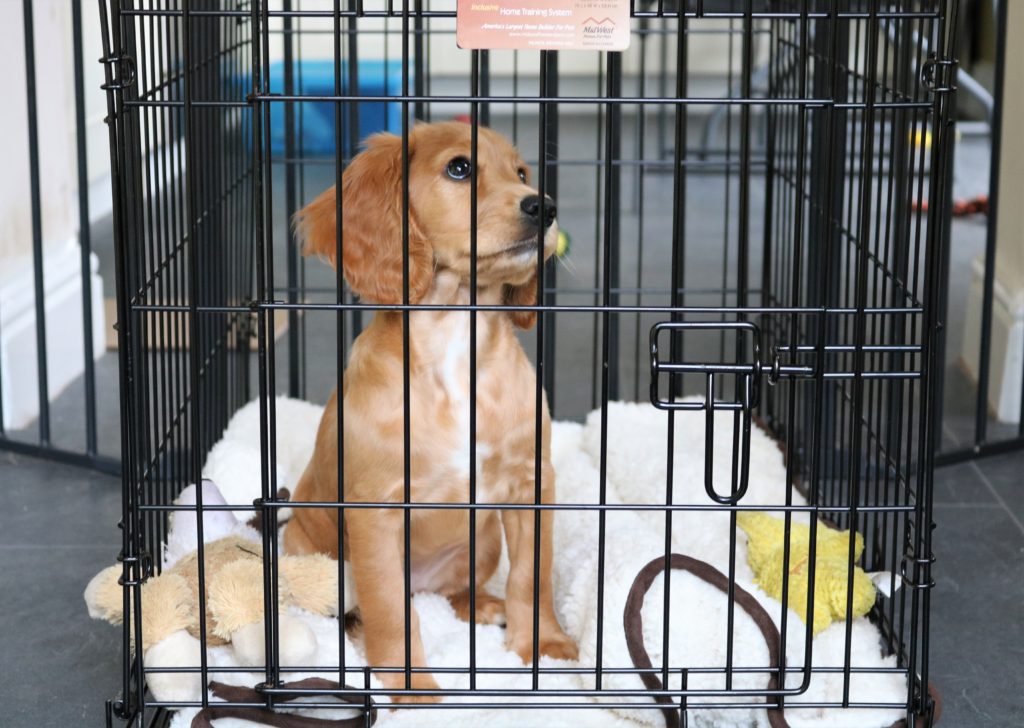 As soon as I open the crate door in the morning I take Lucia out and let her relieve herself, and during these early weeks I confine her to the kitchen and work on my laptop in there with her, opening the door to let her out as soon as I see any "signs" – if you have got the time available to do this, I definitely recommend it as accidents have been very rare for the last week and none at all for the last couple of days. Maya has her choice of where to be but mostly, she  prefers to shadow me and Lucia!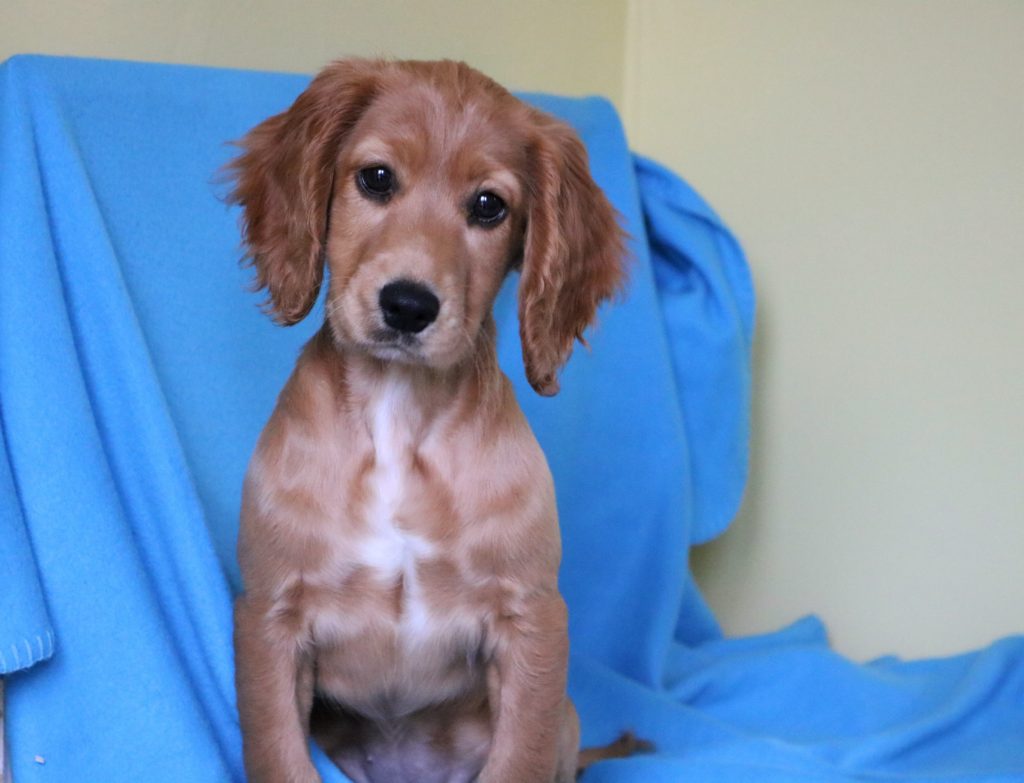 When Lucia is around 8 months old I will stop shutting the crate door at night, but I will probably close it when we are away on holiday until she is over a year old – depending on how destructive she is!! I don't use the crate for time=outs as I don't want her to associate the crate with punishment, but I do put her behind the gate. She is a good pup really and Maya is taking the brunt of her cockerdile stage – I only wish she would stop hanging off her ears!  Maya still loves her cage to come with us when we go on holiday, often prefering to sleep in that than in the big bed and on the rare occasions she has been to the doggy hotel or kennels it always goes with her.  Crates are also great to have in the car for travelling but Maya prefers to sit on the back seat with a safety harness on and Lucia seems to be happy with that too.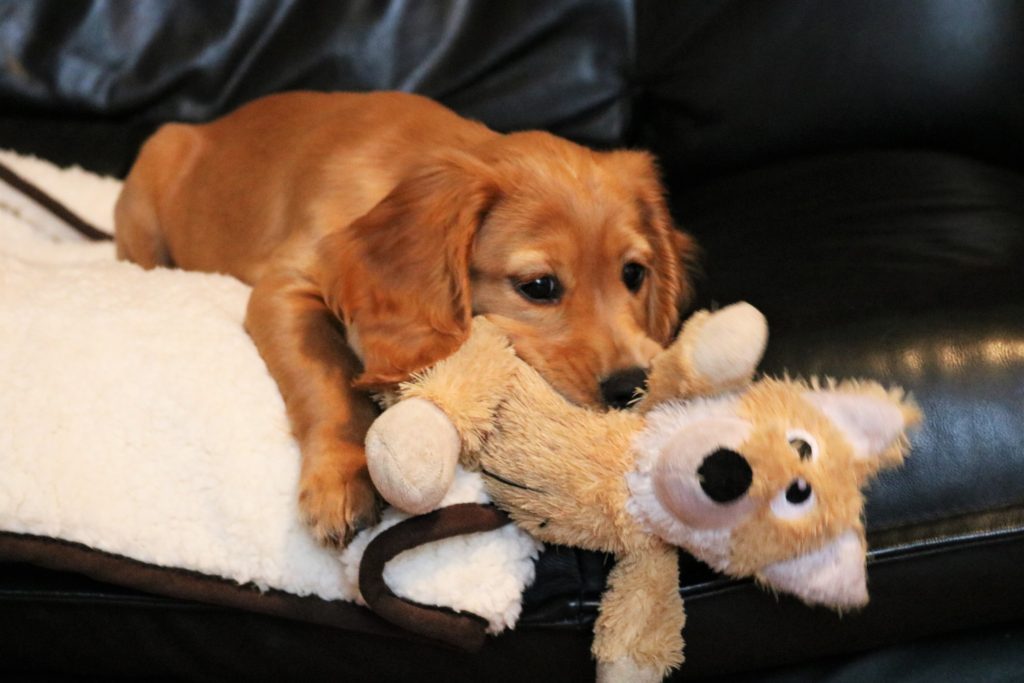 There have been other occasions when I have been extremely happy that I have crate trained my pups, when l left Geisha (my beloved Akita, who I still miss after all these years) at the vets for her hip scoring, I'm sure the situation was less stressful for her due to being comfortable in a crate.  At horse trials and at County shows I have often taken advantage of the dog creche where you can leave pooch to have a nap for an hour or two, in a large crate, while you shop, eat or watch a spot of show jumping or dressage!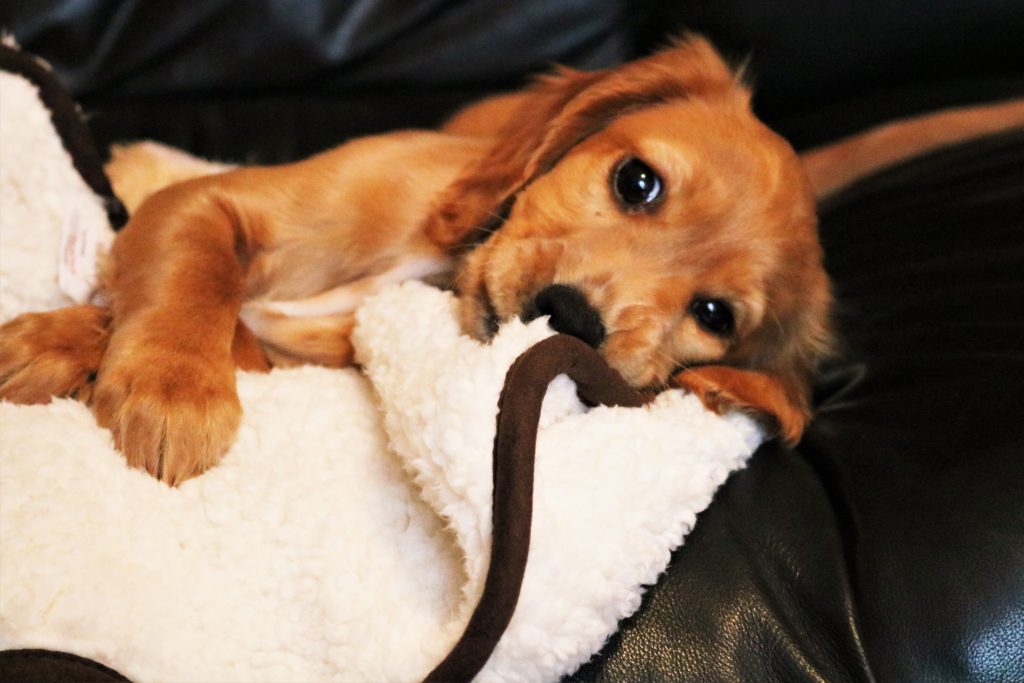 So yeah, when I think back to the chaos I experienced with Billy  I wish that the 21 year old me had been more open minded, listened to his breeder and crate trained him – I must of worn out about 10 mops!
Do you crate train your puppies friends or have you learnt any lessons from your previous pups?
Love Sal, Maya & Lucia xxx