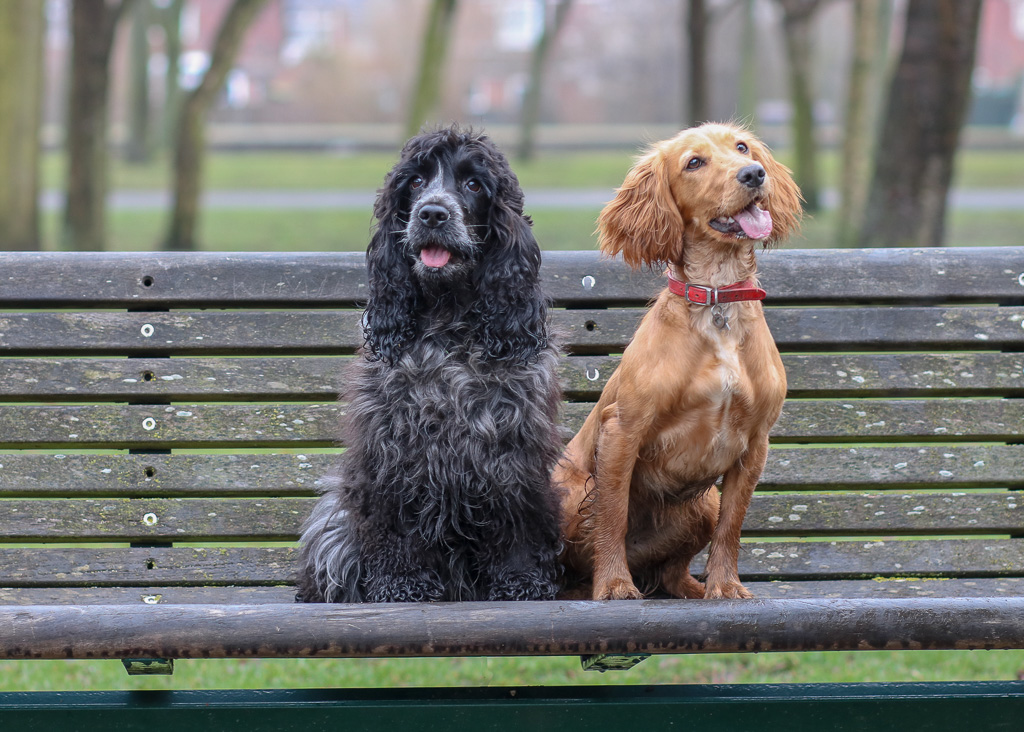 Tips and advice
Working Cocker Spaniel or Show Cocker Spaniel – What's The Difference?
If you are thinking of welcoming a cocker spaniel into your lives it doesn't really matter which type you choose, a worker or a show type, a puppy or a rescue dog, rest assured your cocker will take a firm grip of your heart, claim their spot on your lap or sofa and life will never be quite the same again. As you may know I am the proud dog mother of two gorgeous cockers and as Lucia, my working cocker is turning 9 months old in a couple of days I thought I would celebrate this by blogging about the differences I've noticed between her and Maya, my show cocker so far.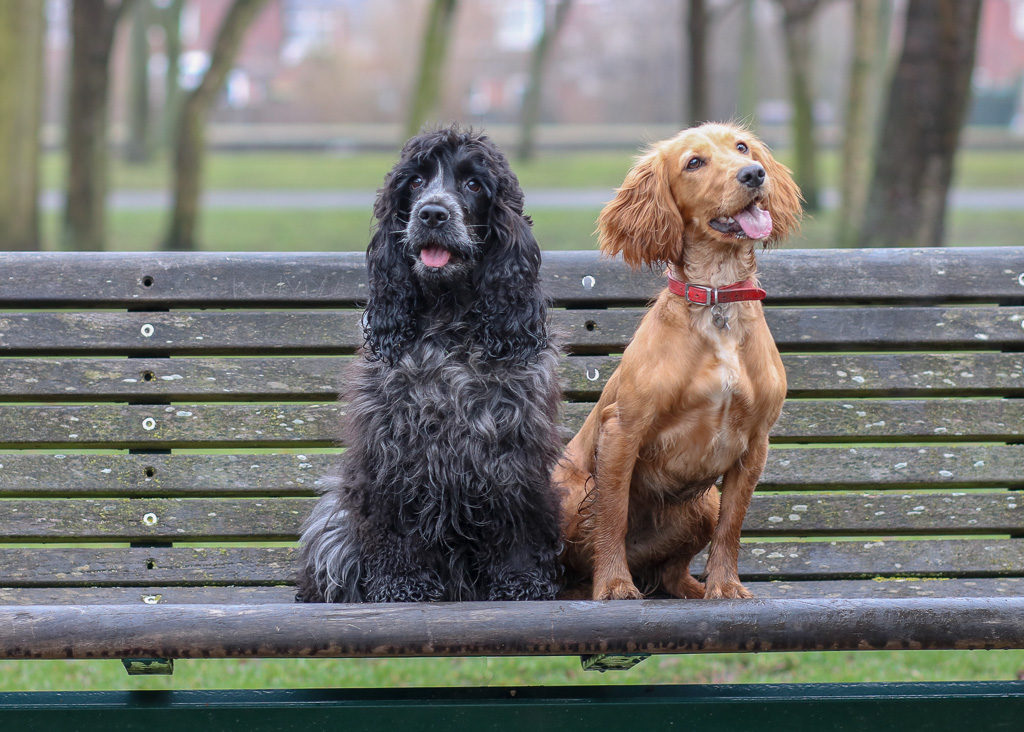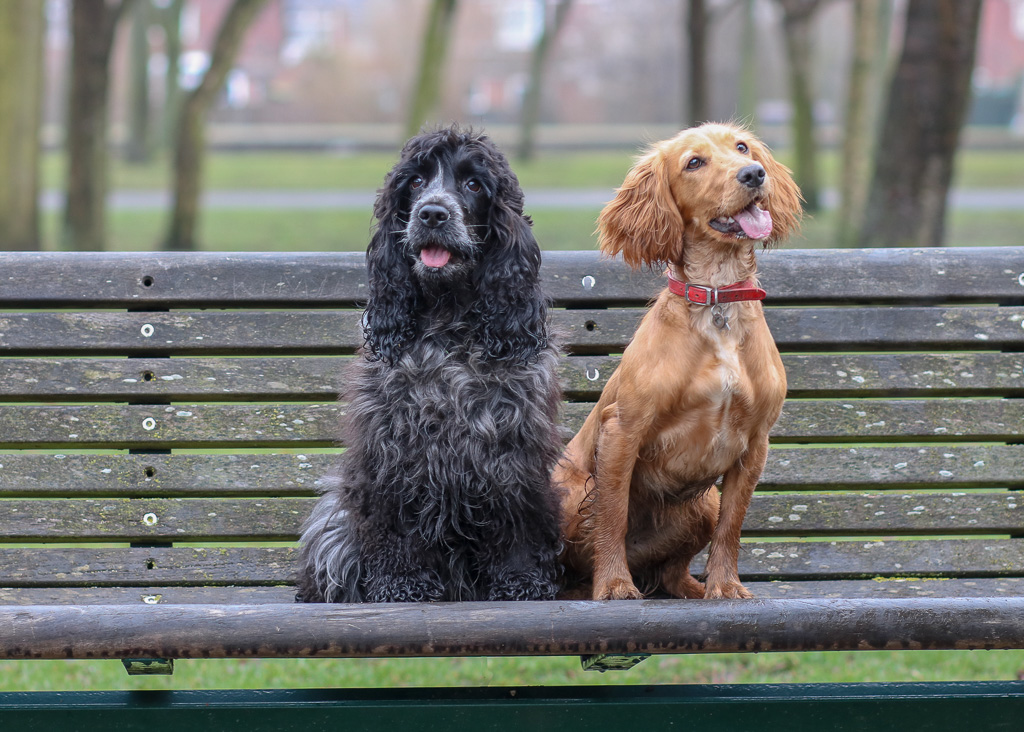 My first cocker, Maya is a blue roan show type, as is typical of her breed she is compact and balanced with a square muzzle. low set long (and beautiful) ears and a slightly rounded skull (although I think Maya's skull could be a little rounder to perfectly conform to the breed standard). Her fur is thick and plentiful and I only wish my hair grew as fast! Sadly on her second ever visit to the groomer Maya was clipped against my wishes and because of this her fur is somewhat ruined. So, If you want your show cocker spaniel to have a classic cocker sleek coat never allow anyone to go near them with the clippers! Still she is a real beauty and I think her bad fur days add to her character! But, yeah, a show cocker is definitely higher maintenance in terms of grooming.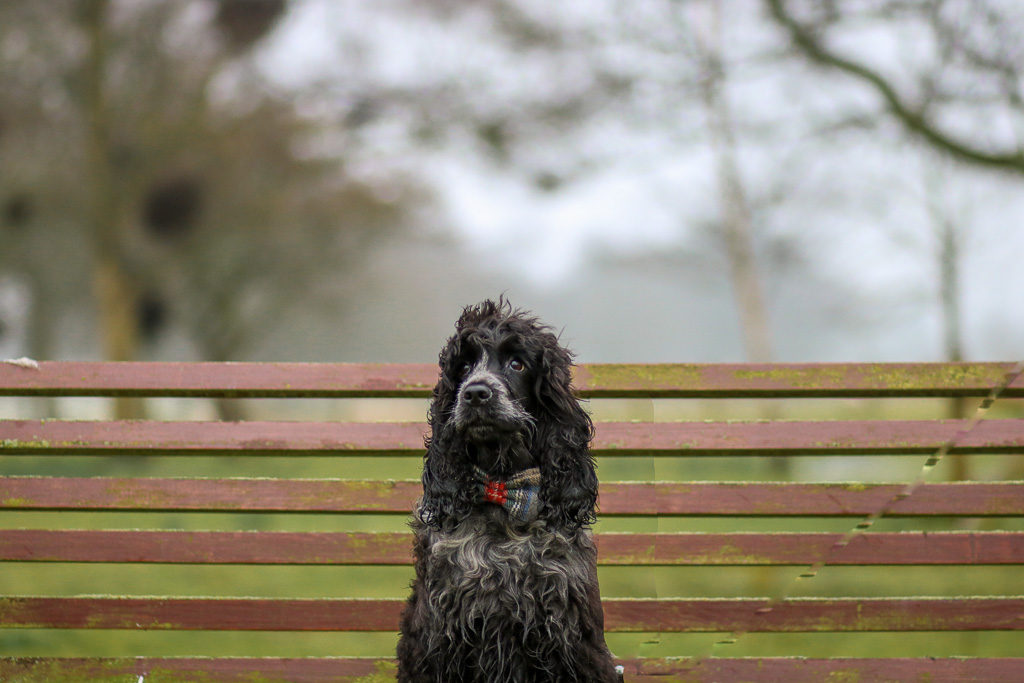 Lucia. my worker is much leggier with less angulation and has a longer and narrower muzzle. Her ears are set higher on her skull, which is much flatter. Lucia also has much finer fur which is infinitely more manageable. Some people are curious as to why Lucia has a full tail, whereas most working cockers have had their tail docked. The answer is really prosaic – I bought Lucia as fun dog, not to work as a gun dog so I actively sought a pedigree litter which were undocked. Morally I have no objections to working dogs having their tails docked, indeed it is much safer for them as there is a big risk of their tail splitting whilst working in the undergrowth and bushes, but, personally I think a full waggy rudder is much more aesthetically pleasing.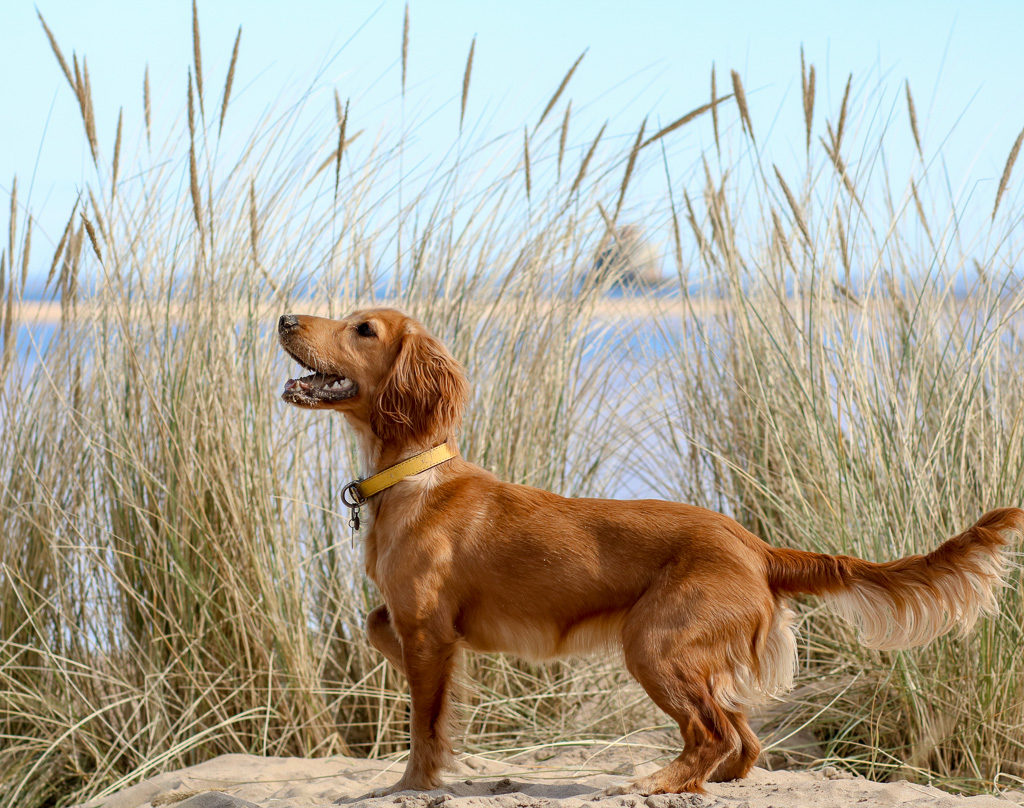 In terms of personality indoors there's not much to choose between them.  Maya is loving, clever and a bit of a clown, adores her training and settles down on the sofa for a nap, plays with Lucia or destroys her toys! Lucia is a lover of training too, but being a little more agile than Maya has decided that laps are much more comfortable than sofas or dog beds! She is also extremely affectionate and just as sensitive as Maya, something I didn't expect. Lucia has also recently shown us that she can jump up and grab things from the kitchen worktop, something that to Maya's disappointment she has never managed to do! Both girls love human company, and although of course I can't speak for all cockers I think both really thrive in an environment where someone is around most of the time. Personally I send my girls to day care if I am going to be out for more than a couple of hours. If I'm honest Lucia is also a little more willing to please and Maya can sometimes be a bit stubborn, but of course working cockers are bred with an aptitude for work in mind. When Lucia is a little older I will definitely need to take her to agility or some other type of training to keep her from causing mischief!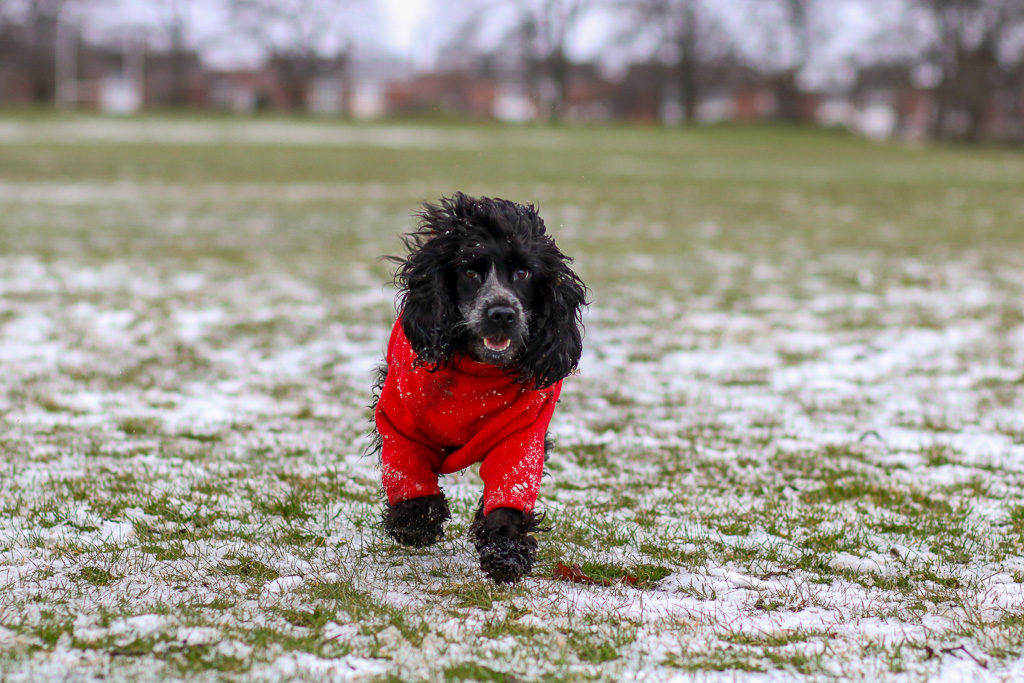 *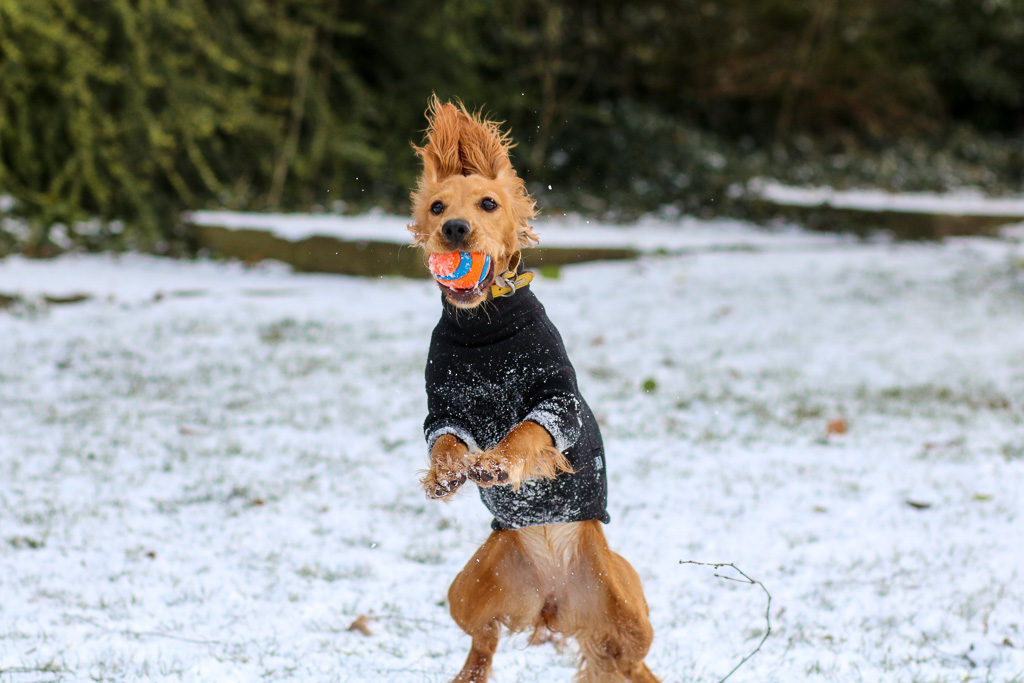 It's out and about that the real difference between them becomes much more apparent. Although Maya has bags of energy when out on walks and enjoys a game of fetch or "find it" she does spend a lot of time scenting with her nose to the ground, stopping often to sniff things out and often moves at a slow trot. Lucia on the other hand runs everywhere! She is always alert and wanting to engage in an activity, in fact we call her the "ginger ninja" as she is so athletic and speedy. Lucia also needs and demands a lot more stimulation then Maya ever has, and I think this is one thing you need to consider if you are undecided between the two strains.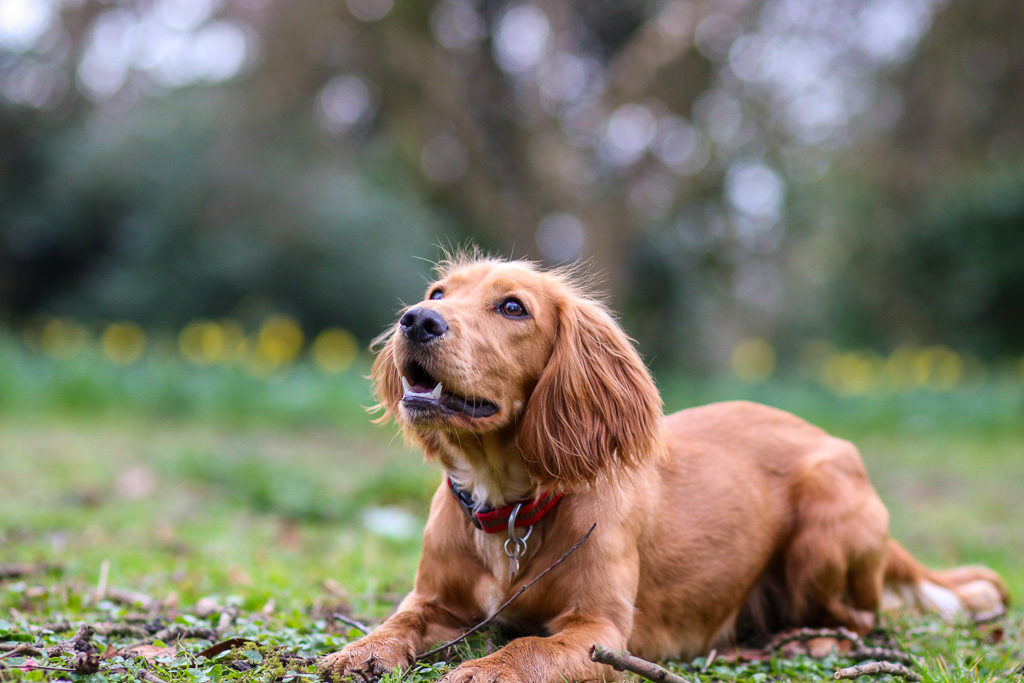 If you are thinking of buying a cocker spaniel puppy I strongly advise you to purchase a KC registered one, preferably from a KC approved breeder. This is because you can check if the parents have had their health checks (BVA/ PRA/AMS) and also using this link find out the inbreeding coefficient of the litter.  As both types of cocker spaniels are one breed it's important to ask and check that the puppy you are interested in is of the type of your choice. Show cockers usually have some "Sh.Ch." (Show Champions) in their pedigree, whilst working cockers usually have some "FTCH" ( Field Champions) in theirs.  Remember to make sure you see the puppies  mother too. I do think that we should all be responsible buyers and do our bit to maintain the health of the breed as a whole where we can. Of course buying a KC registered puppy costs a few pounds more, but it helps to eliminate puppy farms and irresponsible breeding, as well as potentially saving you from lots of heartache further down the line.  If on the other hand you are one of those special people thinking of welcoming a rescue cocker into your heart I'm sure you will be rewarded with love and loyalty no matter what his or her breeding is.
Happily Maya and Lucia have much more in common than differences and are thick as thieves, plotting together to trick me or my partner into an extra treat or walk!
What are your thoughts and or experiences of cocker spaniels and other types of spaniel such as sprockers, springers etc ? Why not let us know in the comments below – we'd love to hear.
Love Sal, Maya and Lucia xxx