I've said it before and I'll say in again, one of the best ways to build a closer relationship with your dog is to experience new things and explore new places together. One area in the UK that my dogs and I absolutely love exploring is the North East, especially Northumberland, because there are so many dog friendly things to do. It literally has everything from hills, forests and beaches to historic buildings, castles, dog friendly pubs, cafes and shops. Each time we go we never fail to sniff out another hidden gem.
Recently Ruffwear, which I'm sure you are aware are THE brand for any self respecting adventure dog to be seen in, asked us to recommend some our favourite dog friendly places to shop, eat and adventure in the area so read on to find out our top picks.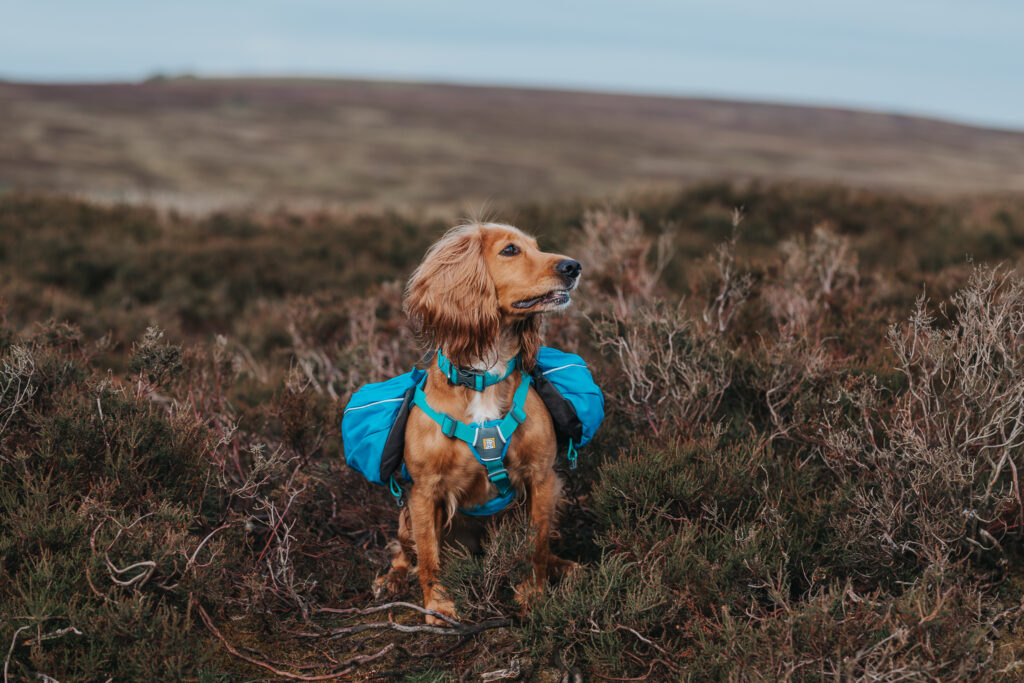 Best Dog Friendly Shop in the North East
So safety and comfort for your dog is paramount on any adventure, whether it's a stroll by the river, a full blown hike up a mountain or a blast along a beach and the best place to get your dog kitted out and ready for dog friendly adventures in the North East is Mountain Dog in Ashington, Northumberland.
Mountain Dog is the premier retailer for quality dog products in the North East and it is also arguably the most dog friendly store we have ever visited. The company also happen to be the largest stockist of Ruffwear dog gear in the UK, and I was overwhelmed when I saw the vast range of Ruffwear stock and huge array of colours they come in. I immediately realised that my dogs were missing essential items from their adventure wardrobe so it was fortunate that help was at hand to help me pick, Katie and Paul who run the store could not do enough to assist and advise me.
The staff at Mountain Dog really love dogs (they even hand out treats to put your pooches at ease) and are knowledgeable and extremely patient both with dog parents and pooches alike – just as well as Maya and Lucia displayed the classic spaniel exuberance on our early morning visit so probably weren't the easiest of customers!
Anyway it wasn't long before Paul and Katie  had the girls all kitted out for their upcoming adventures in the North East and they looked like little stars in their new gear.
The best thing about physically visiting Mountain Dog is their free professional dog harness fitting service, because well fitting gear and ease of movement is so important for our fur babies but if you can't make it into store you can always order from Mountain Dog Ltd online and refer to their amazing fitting guides before making your choice.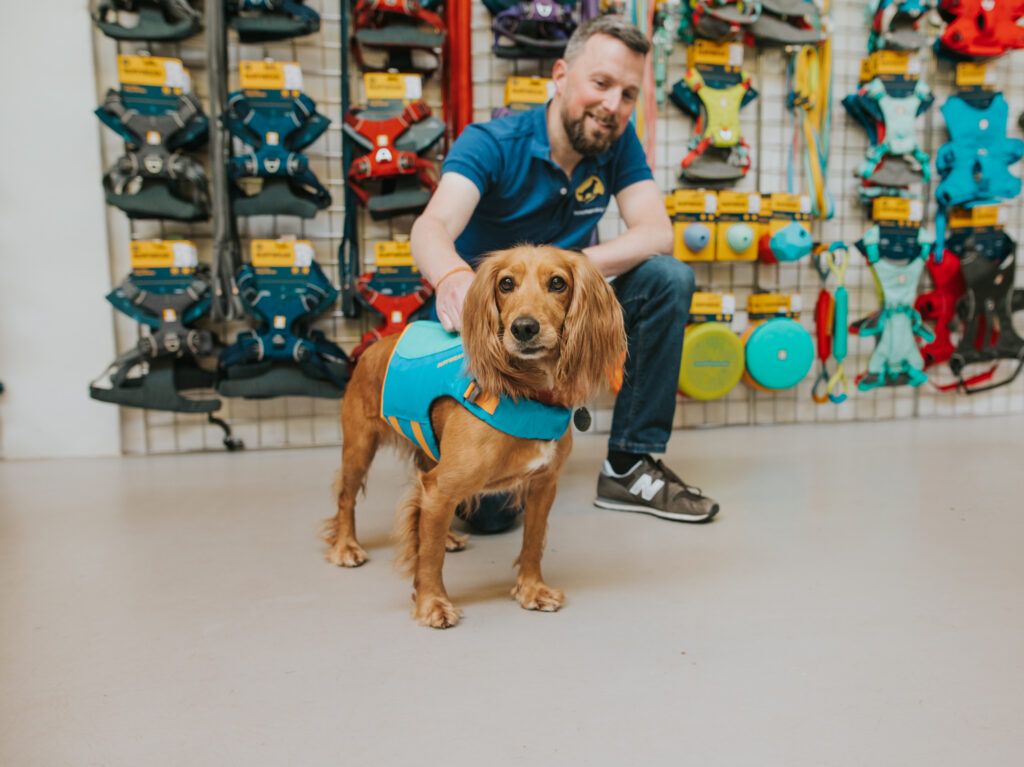 Best Dog Walks in Northumberland
So it goes without saying that Northumberland and the North East is home to some of the most stunning coastline in the UK and it would be a crime not to take a hike with your dog on at least one section of the coastal path, however there's a lot more fun for your pooch to enjoy in the North East than beautiful beaches.
One of our favourite places to hike is on Simonside Hills, my dogs love it, there's so much to sniff and apart from in bird nesting season when there are restrictions and dogs have to be kept on leads in some areas, lots of freedom to run around and let off steam ( just be mindful of the free roaming livestock)  There are lots of trails to choose from but our favourite is the 4.5 mile hike to the summit of Simonside and take in the stunning views. This hike is dog friendly of course and takes around 3 hours.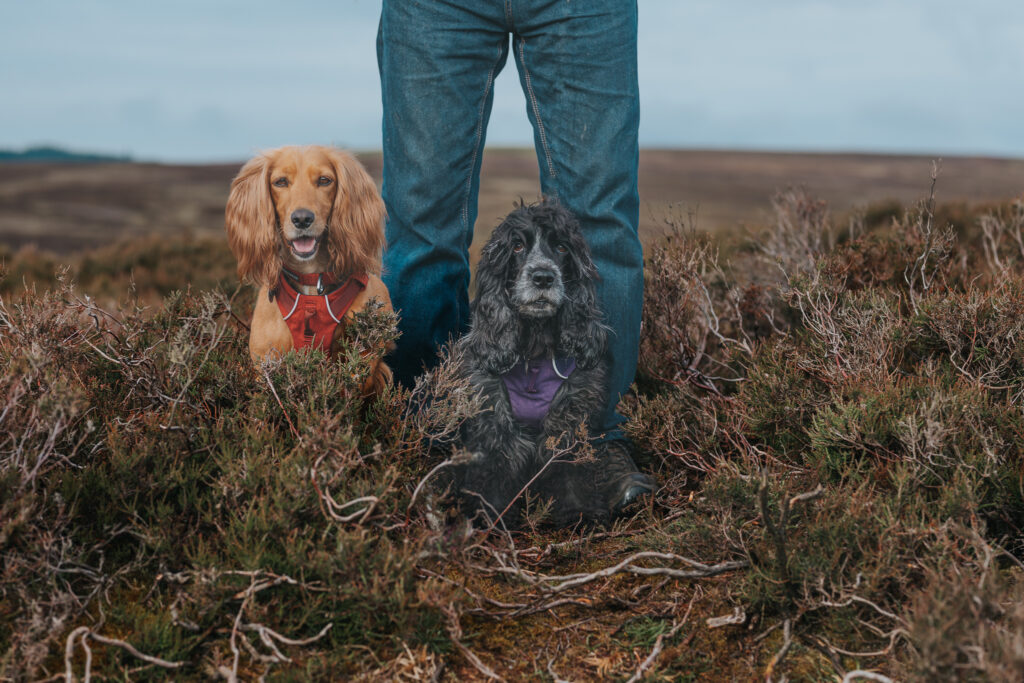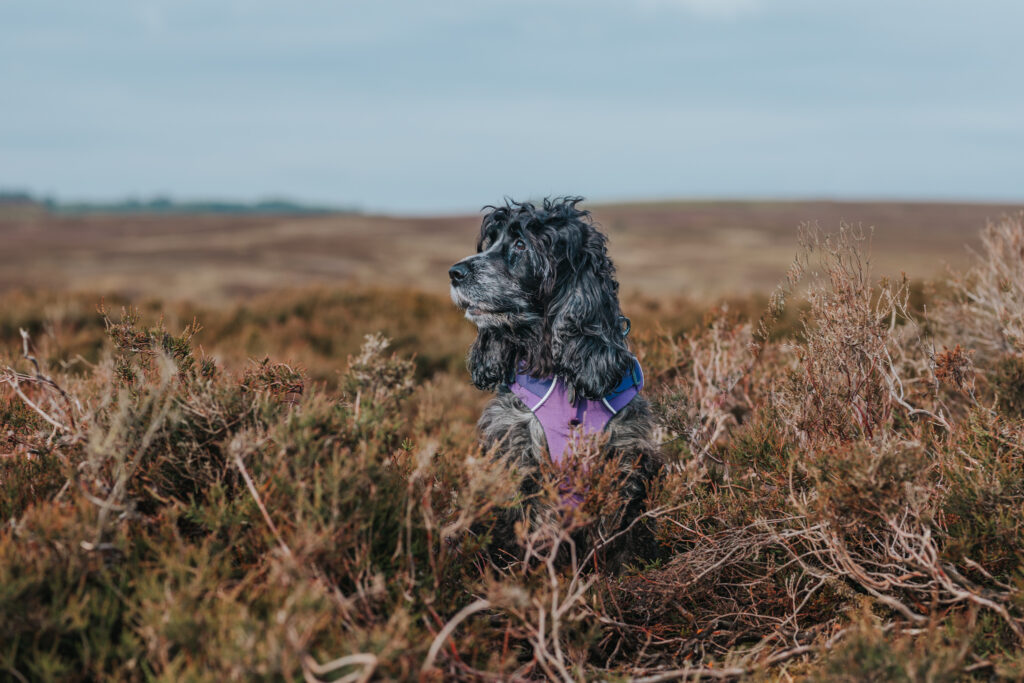 Sometimes you might not feel like a full blown hike on the hills so for a gentler dog walk I recommend  Allen Banks and Staward Gorge as the perfect place.  I'm not surprised that the National Trust refer to this place as doggie heaven on their site because my spaniels are in their element here, sniffing in the woods and splashing around in the river. There are a couple of beautiful short walks here that are easy on the paw and you can just take in and enjoy nature whilst your dogs bound around and have a blast.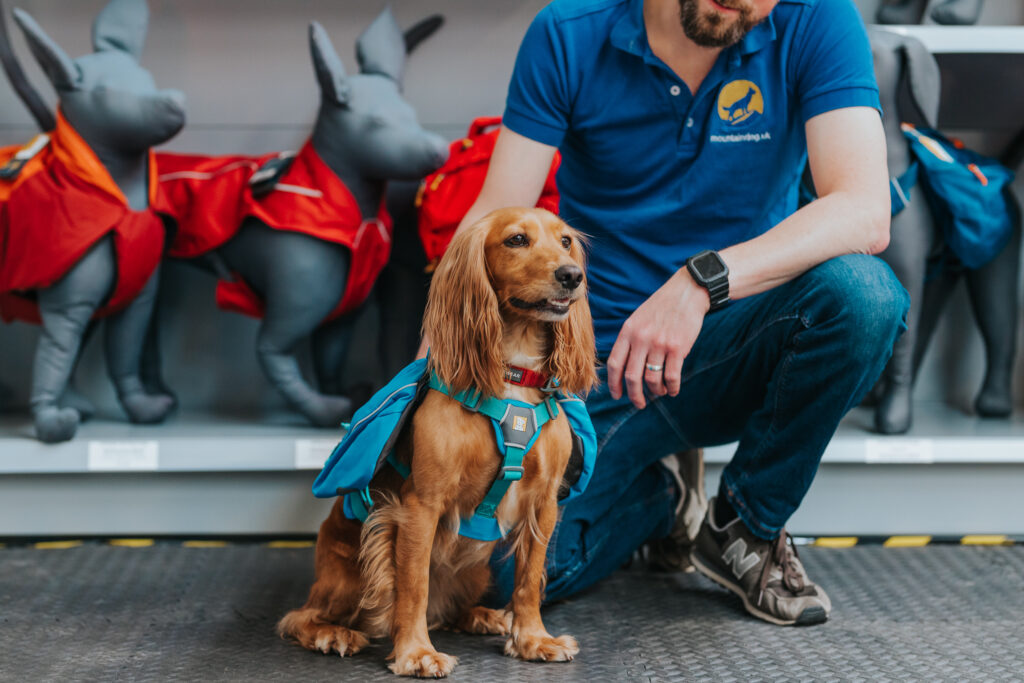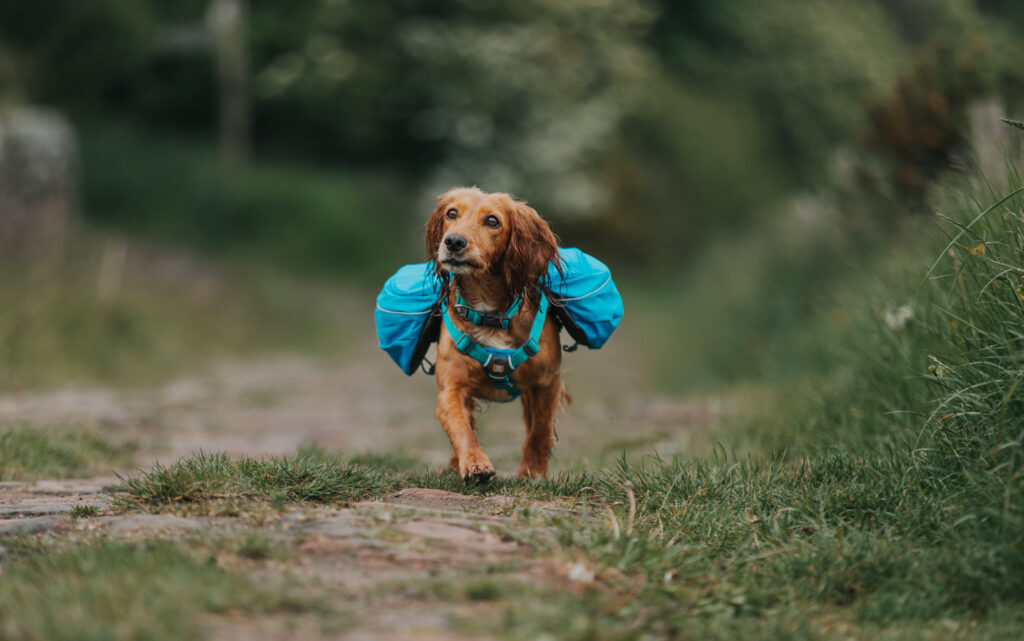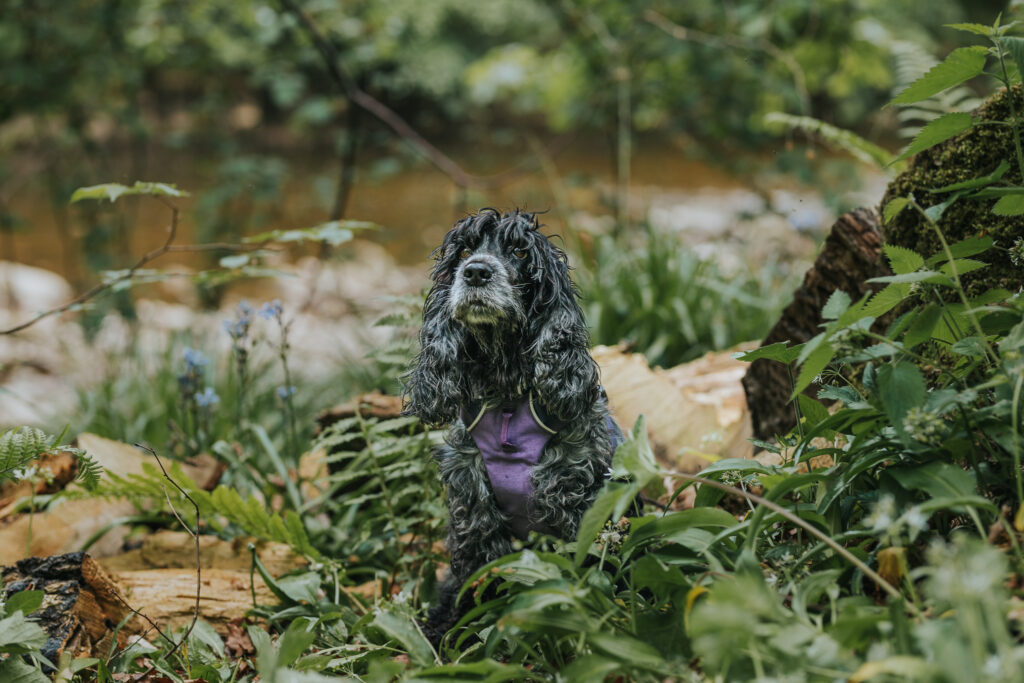 Best Dog Friendly Attraction in the North East
When I think of an attraction being dog friendly I also consider whether my spaniels will enjoy the day as much as me and that's why I am going to go for Cragside House, a dog friendly attraction near Rothbury in Northumberland owned and managed by the National Trust as my top pick.
You may have heard of Cragside even if you've never set a paw in the North East as it has often appeared on our TV screens, its main claim to fame? – It was the first house in the world to be powered by hydroelectric. A smart house well ahead of its time indeed.
Dogs are welcomed in all outside spaces at Cragside and as well as the gorgeous rock and formal gardens there are miles and miles of paths throughout the 1000 acre estate to explore lots that are accessible.
There is also a cafe at Cragside that is dog friendly in the courtyard and sells Forthglade dog food and treats, just in case your dog is peckish. Plenty of water bowls are dotted around for thirsty pooches and I know my dogs think it is a pawfect day out!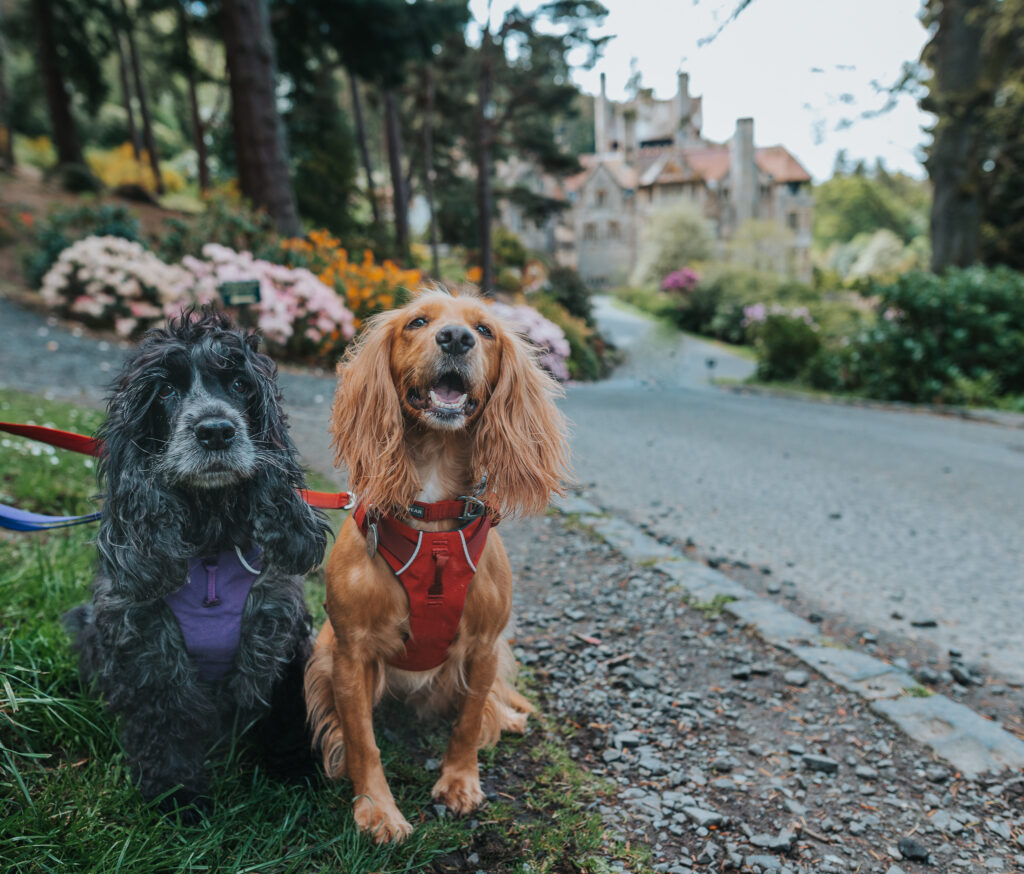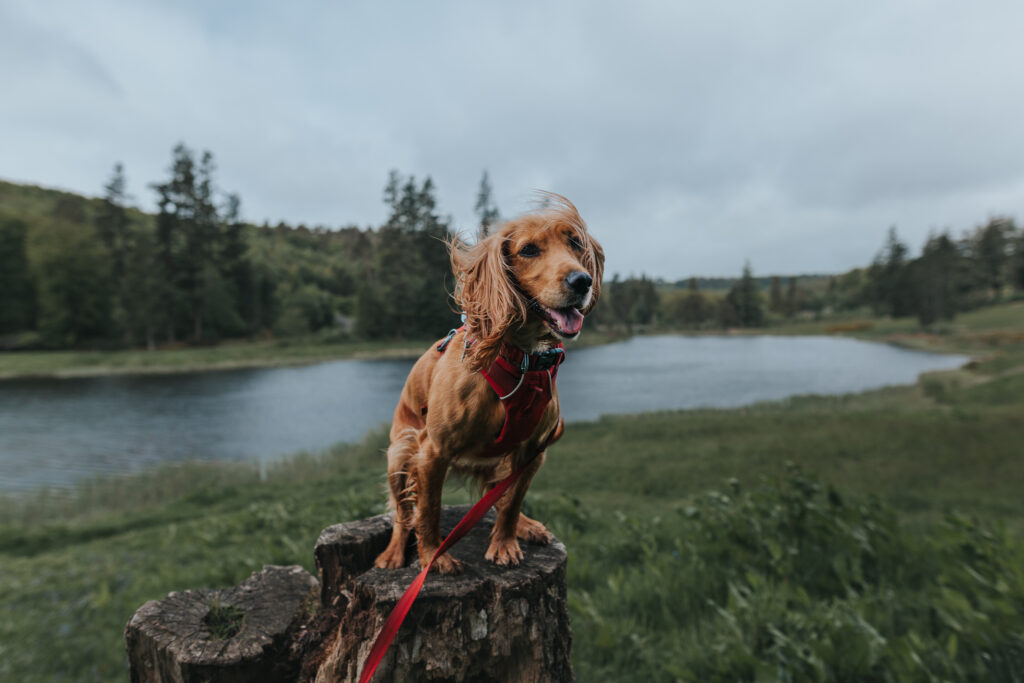 Best Dog Friendly Places to Eat in Northumberland
A day out with dogs isn't complete without a pitstop for a snack and in the North East you are spoilt for choice when it comes to dog friendly cafes and pubs to visit. In fact there are so many that I can't just pick one
Just a few miles from the Mountain Dog store is The Drift Cafe and I think that has my spaniels vote as their favourite, if only because it is just metres from the absolutely stunning Cresswell Beach. This place gives a genuinely warm welcome to dogs in the courtyard and the heated marquee and the food is really good here, in fact the cake there is to die for. Dogs aren't forgotten either because  they stock some snacks for them as well.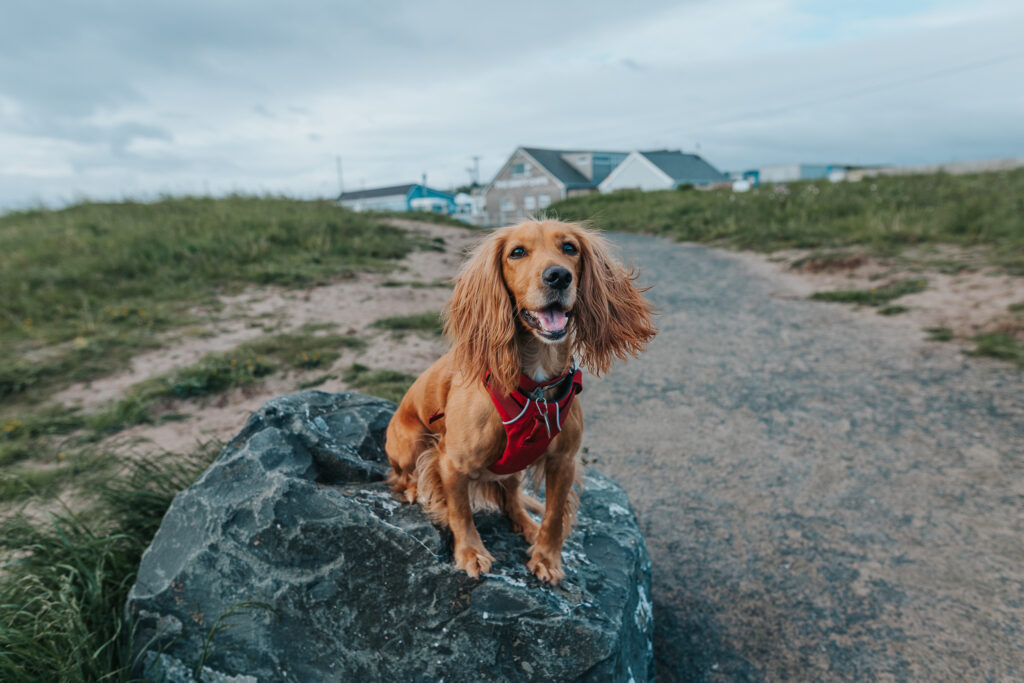 The Rocking Horse Cafe & Gallery in Alnwick is I think unmissable when you visit Northumberland, whether you go with dogs or not!  The food is unreal here, the dishes are full of locally sourced produce and there are some regional delicacies served up here too, such as the infamous Breakfast Stottie. As far as your four legged friends are concerned you will be hard pressed to find somewhere as dog friendly as the Rocking Horse, and the piece de la resistance as far as Maya and Lucia are concerned is the agility course in the garden area. There is a grooming parlour next door, handy if your dog has beach hair but I don't think Maya and Lucia were as keen to try that!
My spaniels always love when a pub has a dog drinking station and always head straight to them, waiting for me to turn on the tap so they can lap up a  bowl of cold fresh water straight from the barrel.  The Angel of Corbridge is our favourite pub in the whole of the North East, it is extremely dog friendly and provides the coveted water station.  For humans it has a huge range of real ales and serves really delicious food. Definitely the place to go if you visit Corbridge Roman Town or nearby Allen Banks and Staward Gorge.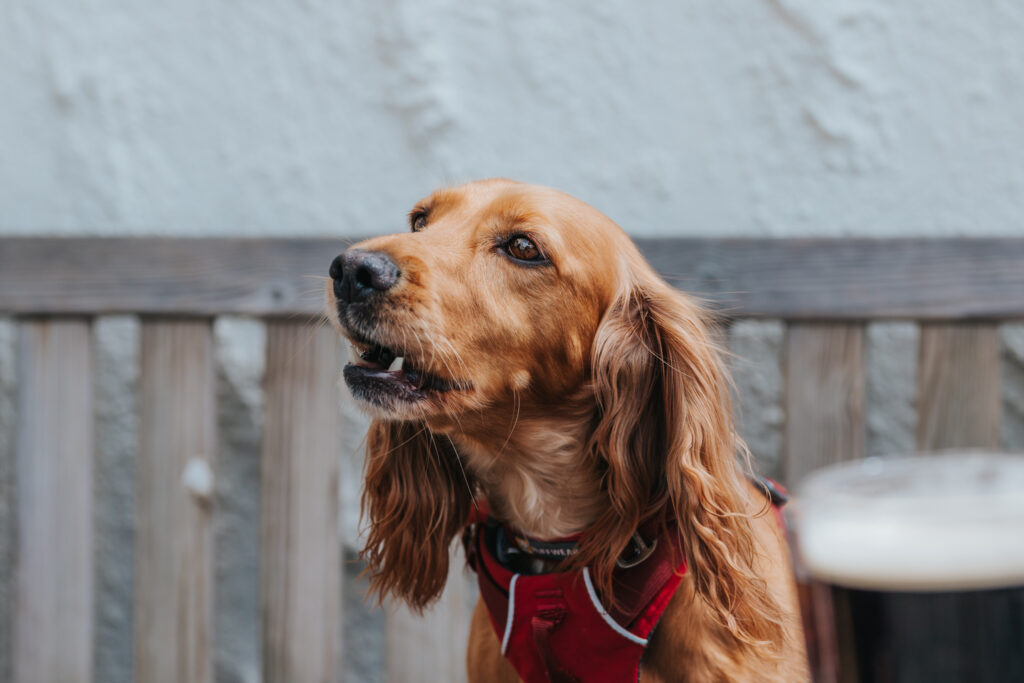 I really hope that this blog post has given you some ideas if you venture to the North East this summer, it really is one of the most beautiful and dog friendly places in the UK. Enjoy!
Love Sal, Maya and Lucia xxx
* This post is sponsored by Ruffwear 
** Sadly some trails and paths both at Cragside and the Simonside Hills are still closed due to the devastating affect of Storm Arwen at the time of writing. But rest assured many are open for you and your dog to enjoy!