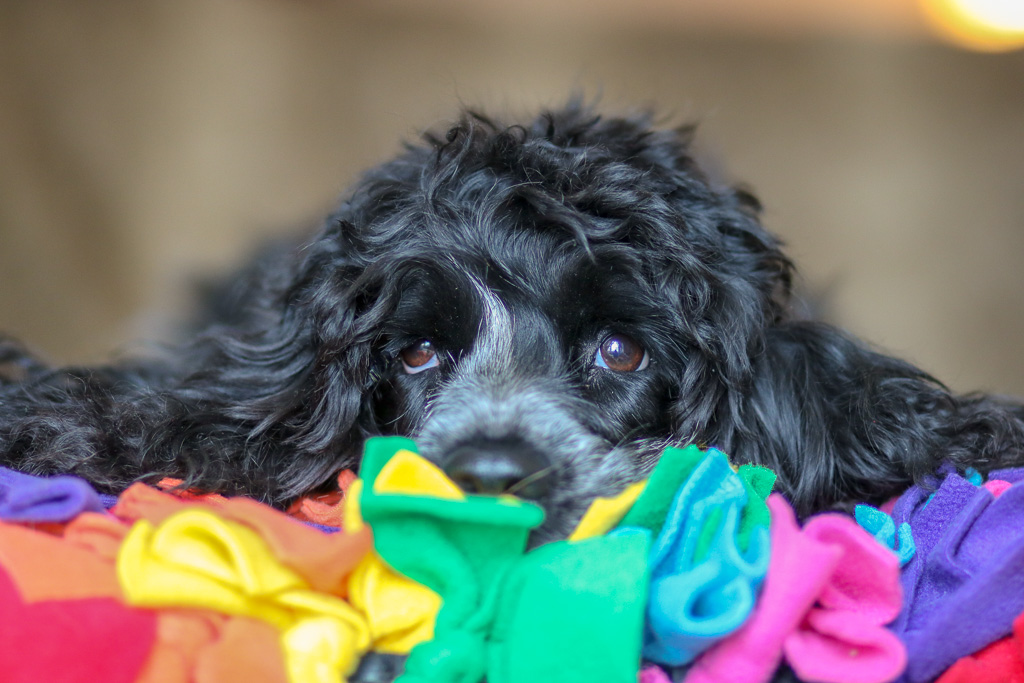 Maya and Lucia are typical cocker spaniels and can often be seen, nose to the ground, sniffing their way round the garden or park. With these dark winter evenings though they can't spend as much time outside as they'd like so I am always on the look out for toys that will stimulate them and stop boredom (read mischief!) setting in.  What better activity then to occupy the girls indoors than a SnuffleMat. These ingenious mats allow dogs to employ their natural instincts to sniff and forage for food from the comfort of their own living room. As well as providing mental stimulation they are also awesome at slowing down meal times. The mental exercise of searching for food tires my girls out too, which means a more relaxed environment for us all.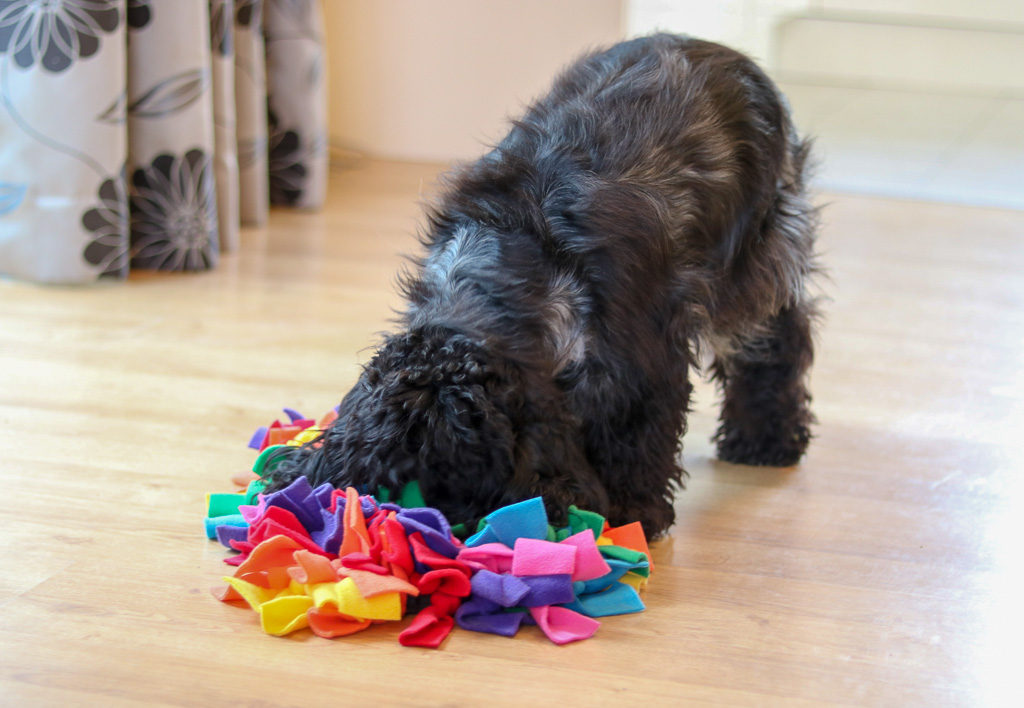 *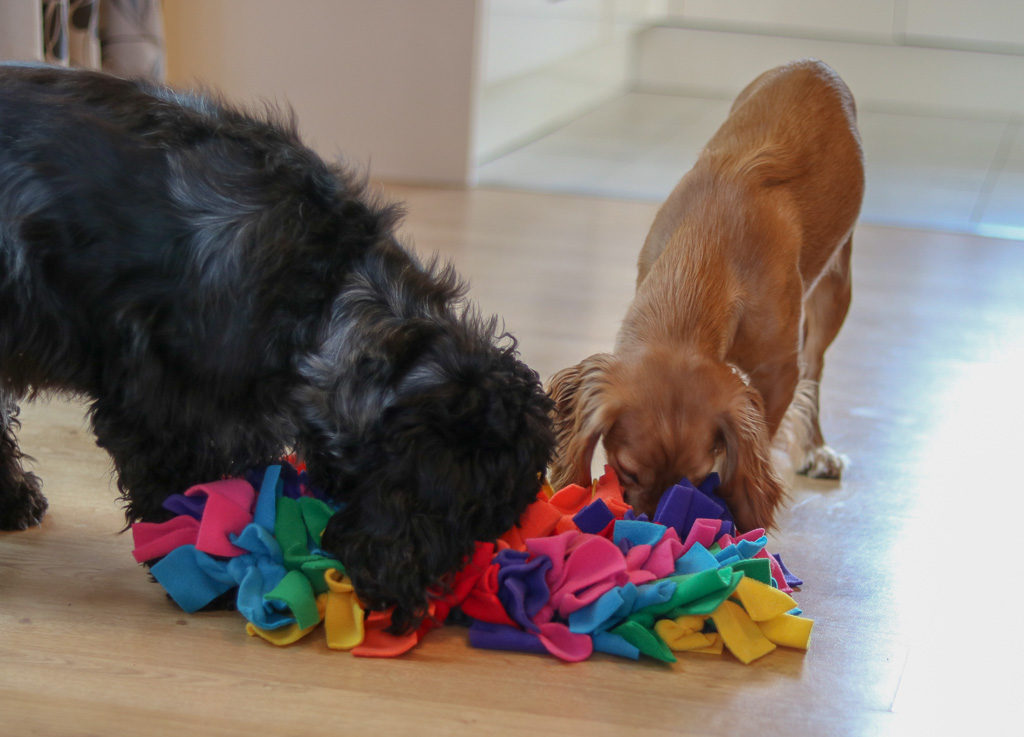 But what is a SnuffleMat I hear you ask – well basically it's an interactive enrichment puzzle. The mats are handmade using anti-pill polar fleece with a natural rubber base that you bury little pieces of food in and let your dogs have fun sniffing it out. I have to admit that I had been aware of the mats before SnuffleMats kindly sent us one to review, but, had thought that Maya, especially would chew it up. How wrong was I, the mat is really strong and durable and I defy anyone not to smile as they watch their dog completely absorbed with their nose in one of these brightly coloured mats.  Both the girls love to snuffle, and worked out what  to do immediately, even though I had buried the fishy treats we first tested it with quite deeply. It fills me with joy that they can snuffle together without bickering and confirms to me that I did the right thing in getting Lucia.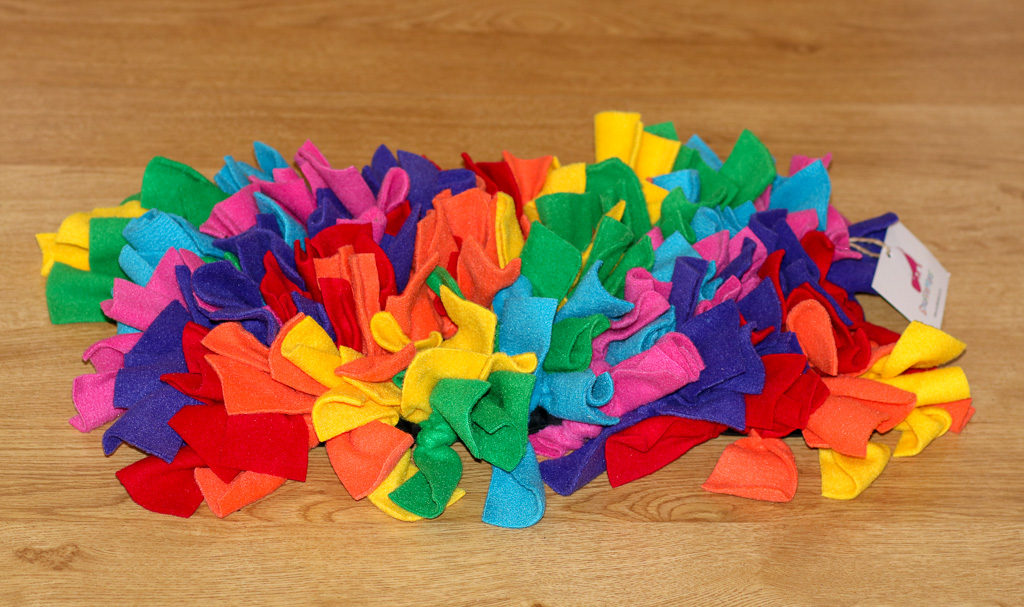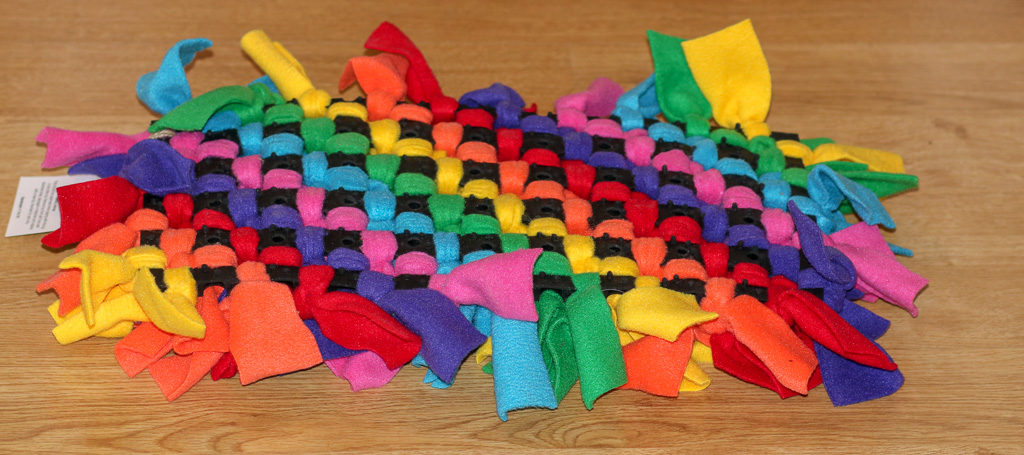 When the pooches have finished their snuffle fest I remove the mat until the next day as no doubt my little scamps would use it as a tug toy of some description otherwise! However for those dogs that can be trusted with their toys these mats would be fabulous entertainment for relieving boredom if spending any time alone. These mats would also be fantastic to occupy dogs who are recovering from an injury or for whatever reason don't enjoy going out so much. We've only had the Snuffle Mat a couple of weeks but I honestly wonder how I managed without it! Maya and Lucia quickly catch on to routine and 5pm has now been designated as snuffle time in our house, the girls ensure that I'm not allowed to forget it in their own subtle way – jumping onto the coffee table!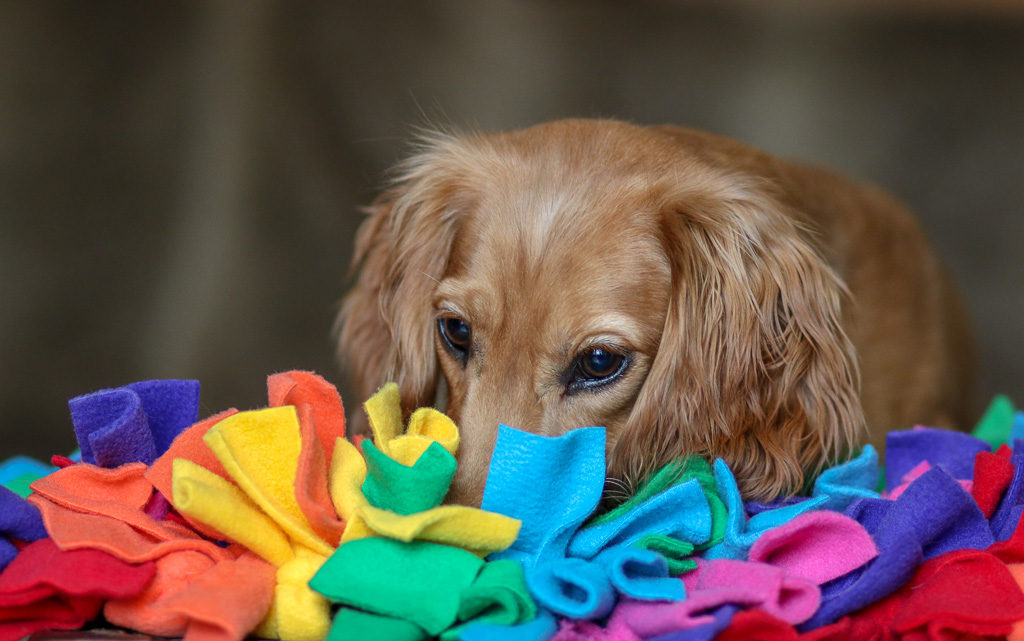 SnuffleMats also run a Rescue Giveaway every month on their facebook page why not pop over,  give them a like and nominate your favourite rescue to receive a mat? Or you could treat your own dog to a SnuffleMat available from their online shop.
Do you think your pooch would enjoy a snuffle, or are they already an expert – why not let us know in the comments, we'd love to hear.
Love Sal, Maya & Lucia xxx
A huge thanks to SnuffleMats for gifting us this product to review.