An exploration of Snowdonia National Parks coastline other than a quick visit to a dog friendly beach for a game of fetch had not really been in our holiday plans but the good old British weather threw us a curve ball – hot and sunny weather for most of the week, so long hikes and hill climbing were no longer an option. Thankfully though there is a wealth of choice when it comes to dog friendly beaches in the area, as is usual nowadays there are some dog restrictions in place in high season but nevertheless huge swathes of golden sand and blue sea welcomed us in every location we visited. There are 33 dog friendly beaches in Gwynedd altogether,  including 10 that have no seasonal restrictions whatsoever so there's something for everyone. (we didn't get round them all!!!)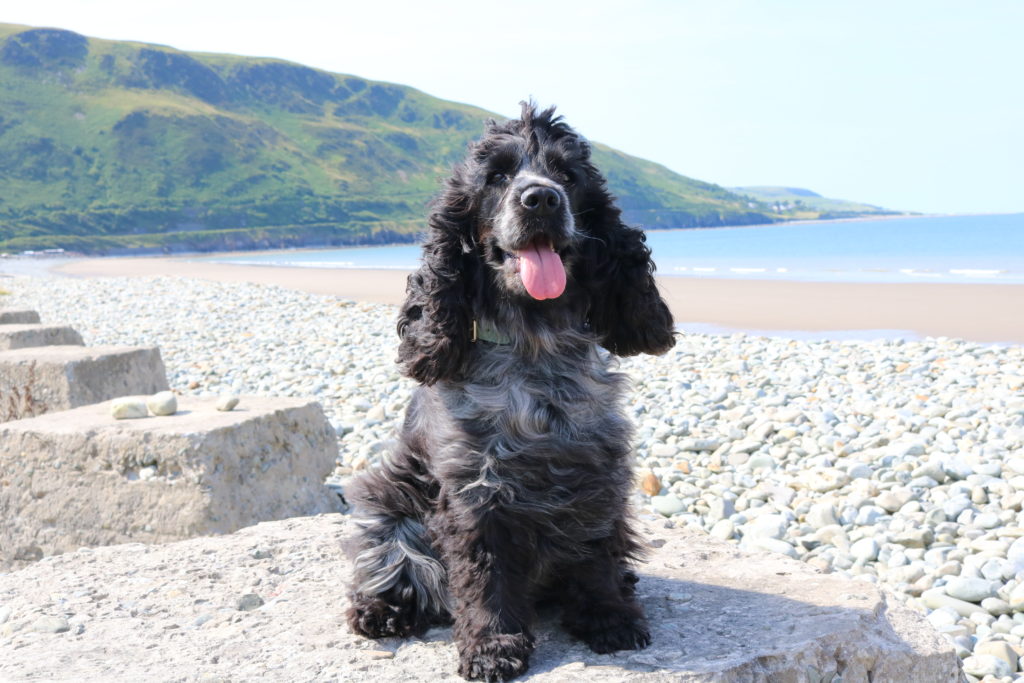 Our absolute favourite location was the little resort of Fairbourne – it was really beautiful and amazingly we had the beach all to ourselves for most of the time we spent there! We all swam together in the sea and Maya seemed to think she could catch  a seagull, and never gave up hope!  It was such a shame to find out that this gorgeous little village is destined to be 'decommissioned' when the sea defences are abandoned in 40 years time. I really hope that these plans are reversed as this place is just fabulous.
It's also so interesing  to see the remains of 20th century war defences.which line the promenade and of course I had to photograph Maya on top of one of the posts! The only fly in the ointment here was a couple of huge jellyfish on the beach.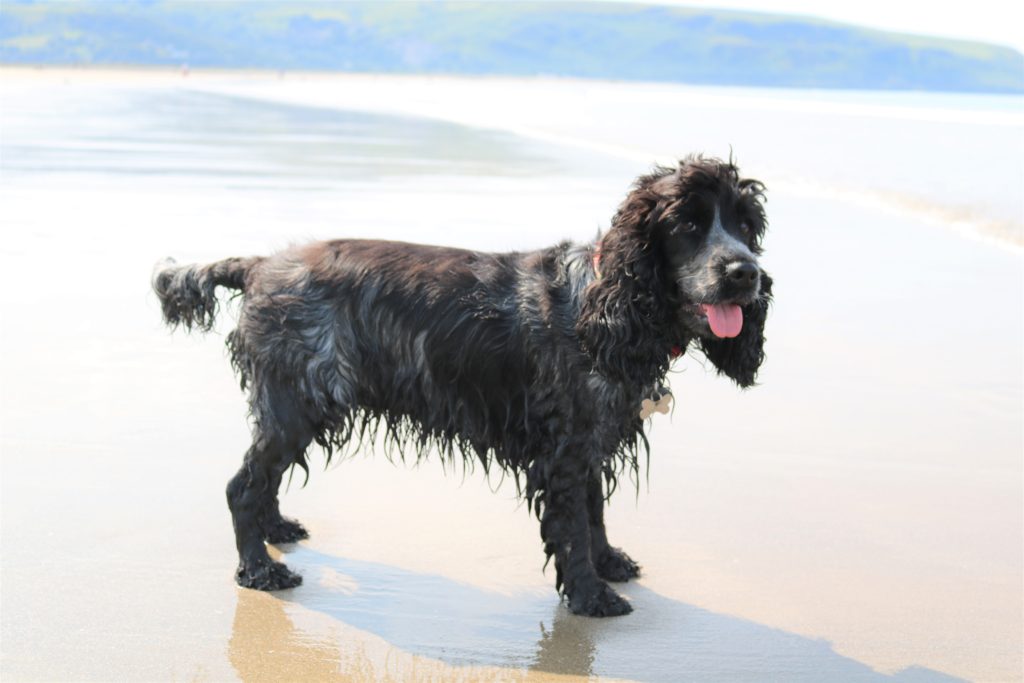 There is also a fabulous dog friendly eatery right near the beach.The Penhryn Bar & Grill serves delicious food and the lovely lady who served us made a huge fuss of Maya and replenished the water bowls with cold fresh water as soon as we arrived.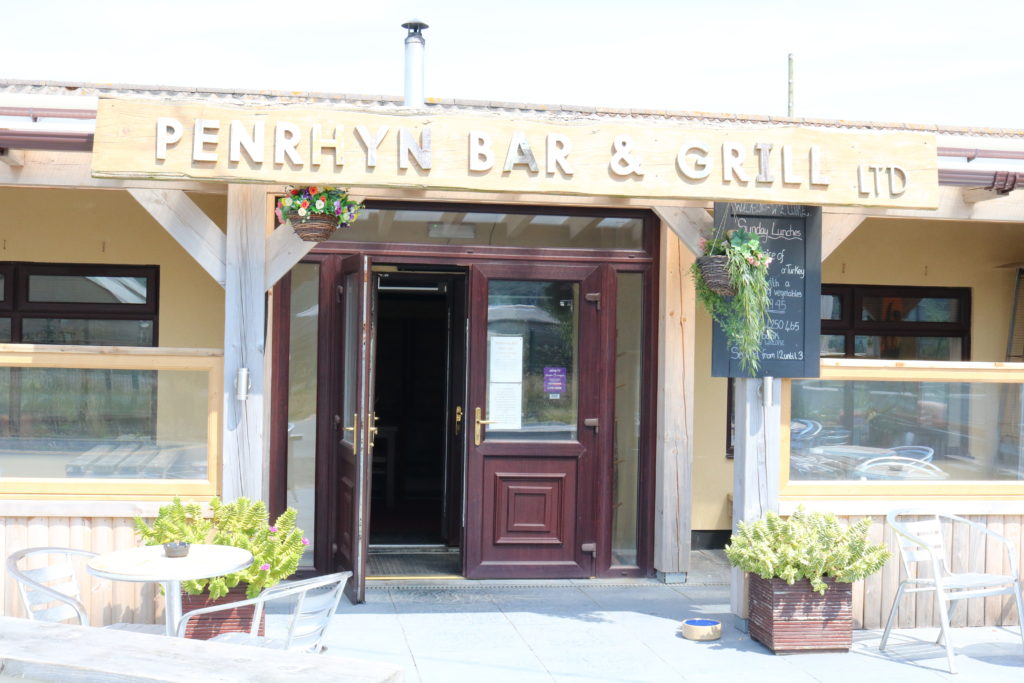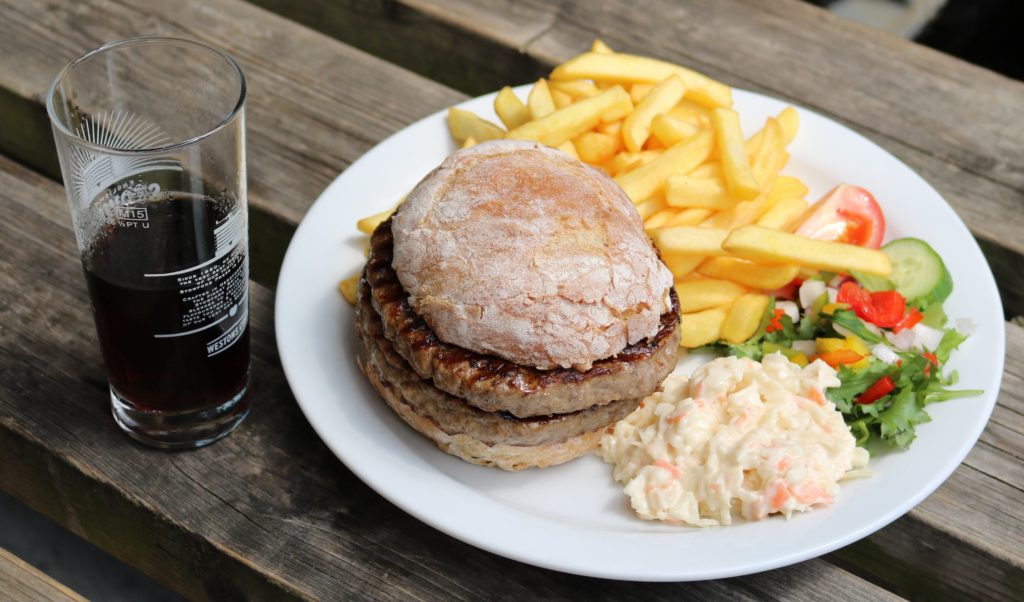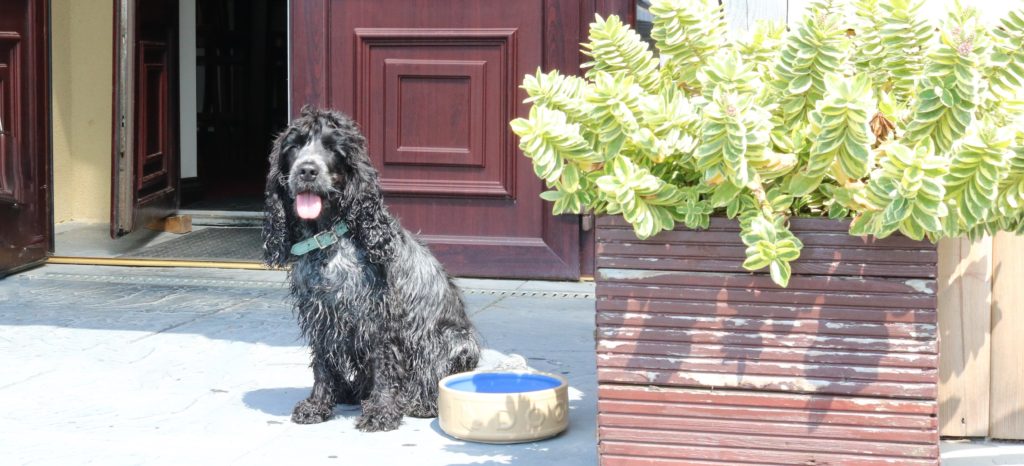 The grill also is just down the road from the Fairbourne Railway. A narrow gauge railway that runs from Fairbourne to the mouth of the Mawddach Estuary. The train is dog friendly, the views are magnificent and in my opinion it is a must do if you are in the area. A day rover is £9.50 per adult (dogs tickets cost £1) and you can ride the train all day if you want. We hopped off and went to Barmouth for a drink and decided to take one of the "ferries" back. Maya loved doing this and the cost was just £2.00 each.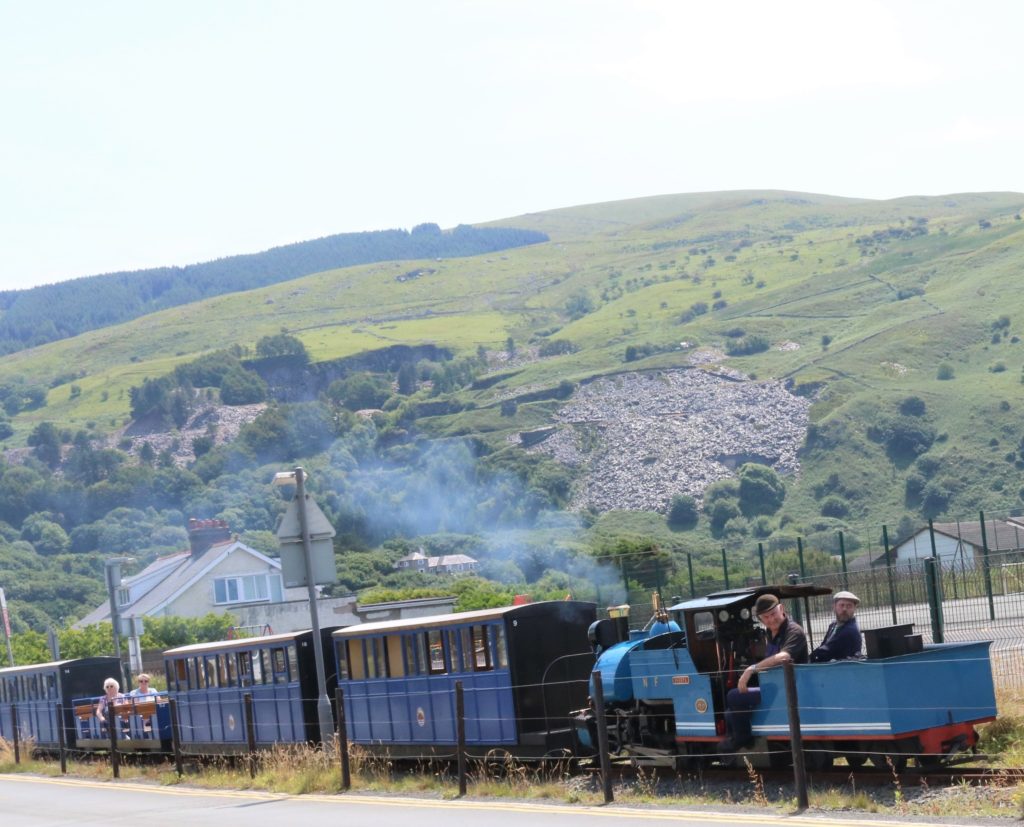 We also spent alot of time on Barmouth Beach – this  is a really long sandy beach most of which is accessible for dogs all year round. The gorgeous little stone town has loads of dog friendly cafes and bars our favourites being Ebenezeezer's Chapel Cofee Shop – a ecclectic and colourful mix of sculptures and crafts are for sale here alongside delicious food, latte's and milkshakes it is also incredibly welcoming to pooches.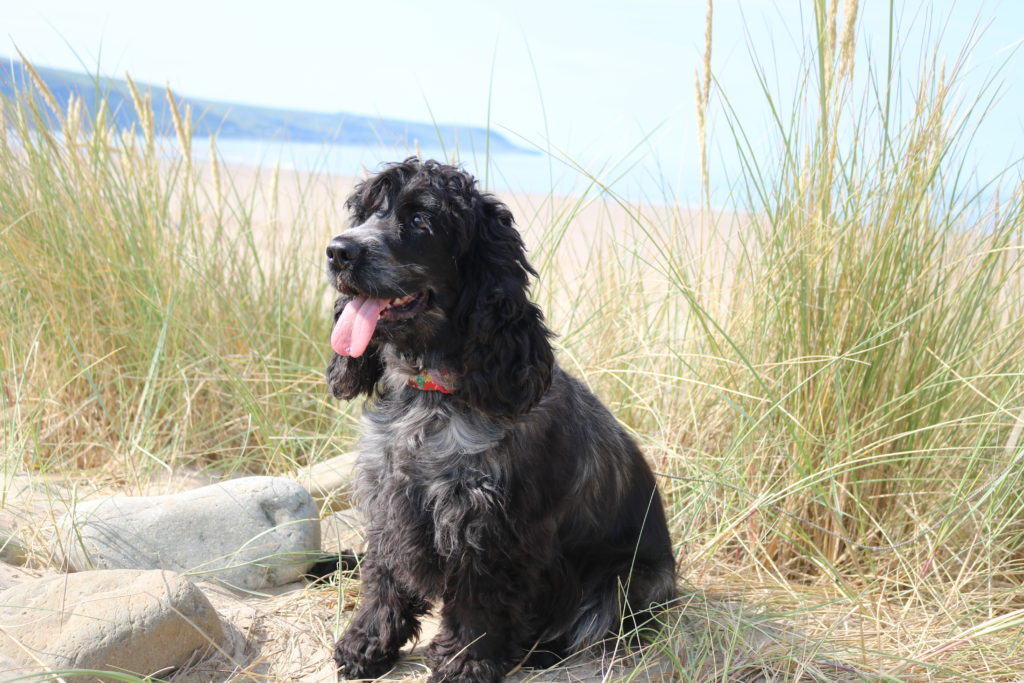 We really loved The Last Inn, an atmospheric 15th century inn on Barmouth Harbour and Maya was thrilled to discover that they offer a treat to every customer on four paws!! The food and drink is fabulous here too and everyone was friendly and made a fuss of madam! Barmouth is a little resort with lhe usual seaside amusements, fish and chip shops etc and is much busier than Fairbourne. Maya loved frolicking in the shallows with new friends – but she was not too pleased when one of her chuckit balls was claimed by the sea, standing barking at the waves for a good 5 minutes after!!!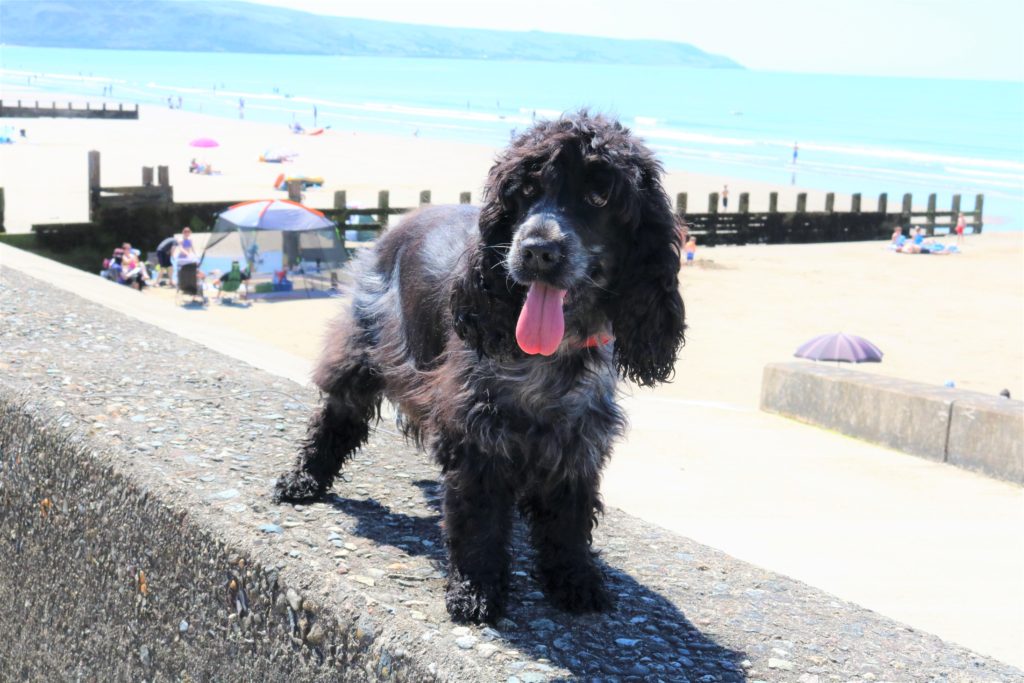 Porth Dinllaen deserves a special mention too, a long sandy  beach that's dog friendly all year round. The little traffic free village edges the beach  and is home to  The Ty Coch Inn – one of the best pubs in Wales! This is such a fabulous place to sip a drink and take in the views.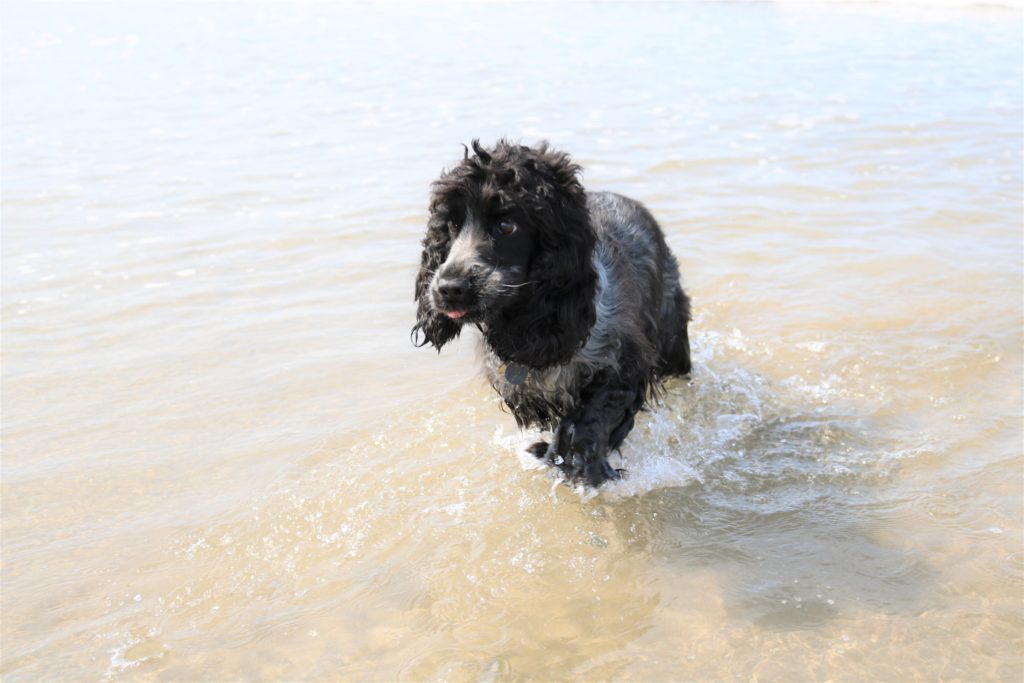 We loved our holiday in Snowdonia National Park so much that we hope to return next year. Do you have any holidays planned with your dogs? I'd love to know.
Love Sal & Maya xxx