Maya just adores getting down and dirty, and if I had harboured any illusions that Lucia would see life differently they were soon dispelled. In fact if anything the little minx gets herself even filthier. (okay maybe the dirt just shows up on her more) Hence when Reg&Bob got in touch and asked if we wanted to put one of their collar and lead sets through it's paces, spaniel style, we were only too happy to agree.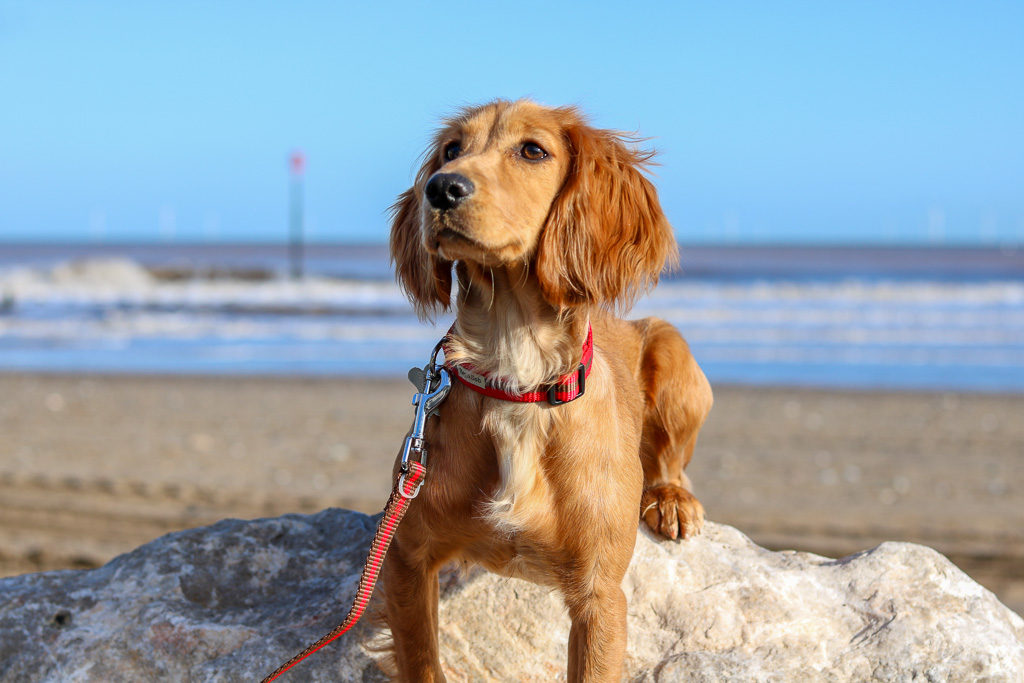 Reg&Bob , the founders of the company are two Norfolk Terrier brothers, who, just like Maya and Lucia believe that dogs should be allowed to be dogs – enjoying woodland adventures, jumping in muddy puddles, rolling in whatever they fancy, swimming in rivers and having fun at the beach.  Of course that means that said dogs need a smart, robust and easy to clean collar and lead, and that's exactly what Reg&Bob have designed.
The collars and leads, are eye catching with their bold stripey design, and come in a range of vivid colours.  We chose the red and brown colourway to test as I knew it would look good on both girls. The collar is offered in 2 sizes – small – medium fitted both Maya and Lucia,(also available in M-L) and it was really easy to adjust and fit to size. The products are made from strong polypropylene webbing and fasten with a robust black plastic clip. The lead attaches to a metal D ring, which you can also attach your pooches ID ring too. The lead is very comfortable to hold and feels strong and secure with it's fast release metal hardware. Oh, and the products are machine washable too – something that I've already had to put to the test after Maya had a little roll – all in the interest of research of course!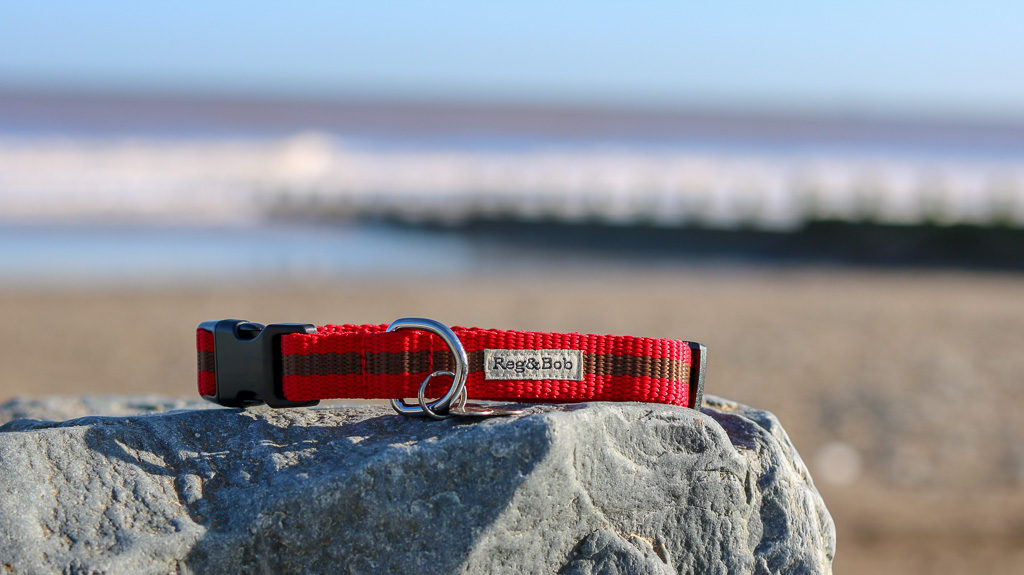 *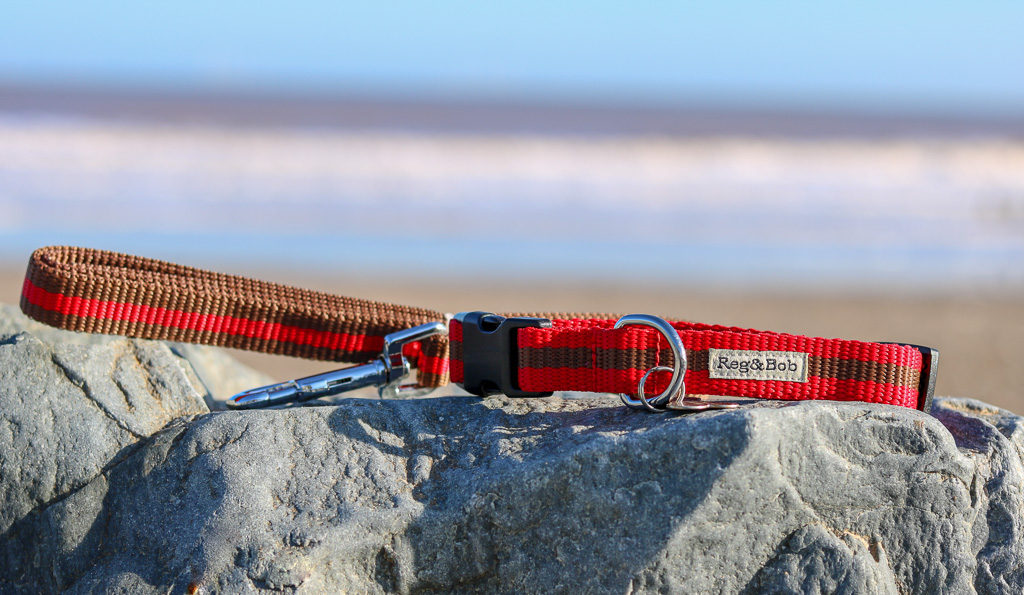 Lucia stepped up to the plate first, partly because had the products turned out to be not quite "dog enough" there may not have been much left of the collar after Maya got her paws on it! Anyhow I thought it looked really smart on our golden girl. The collar got sandy, wet and muddy and took it all in its stride, while the lead got a soaking too when the tide came in a little quicker than expected whilst I was taking a few pictures. Still it lived to tell the tale.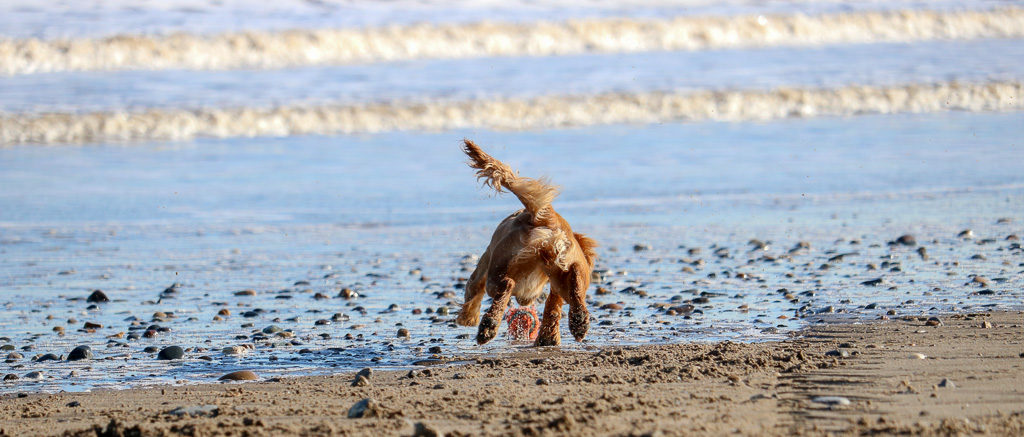 Muddy water holds an enormous attraction for both the girls, and Lucia took her job as tester very seriously indeed. I was just talking to my partner about getting a "muddy" picture, when, almost immediately she dropped her beloved chuckit ball into one of the biggest and dirtiest puddles in the park! Sometimes her intelligence really spooks me!! I have to be honest and say that I don't get overly anxious about the dogs getting muddy anyway but little Lucia did look a bit perplexed that instead of blowing on my whistle I feverishly started snapping away. Still the end result was the same for her. She got a fishy treat and although the collar did get a bit muddy it all came off in the wash.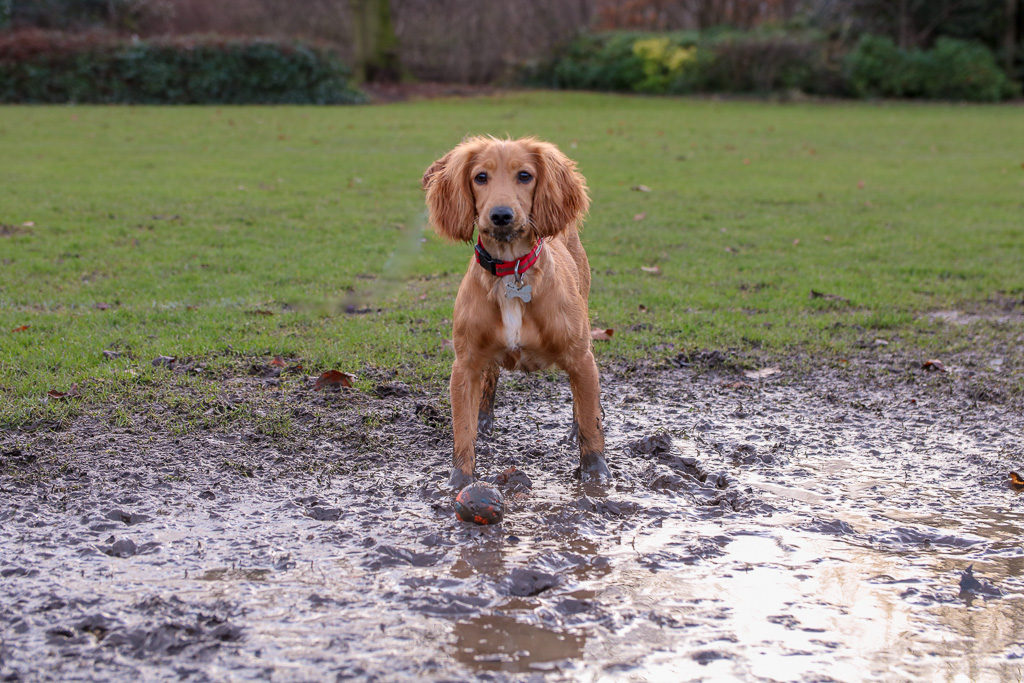 Maya gave the products a thorough road test too, and can confirm that they really are tough enough for a spaniel day out. The collar was subjected to more than one roll, an investigation of what I can only describe as a swamp, lots of sniffing in the bushes and a thorough soaking and it still looks as good as new after being through the wash.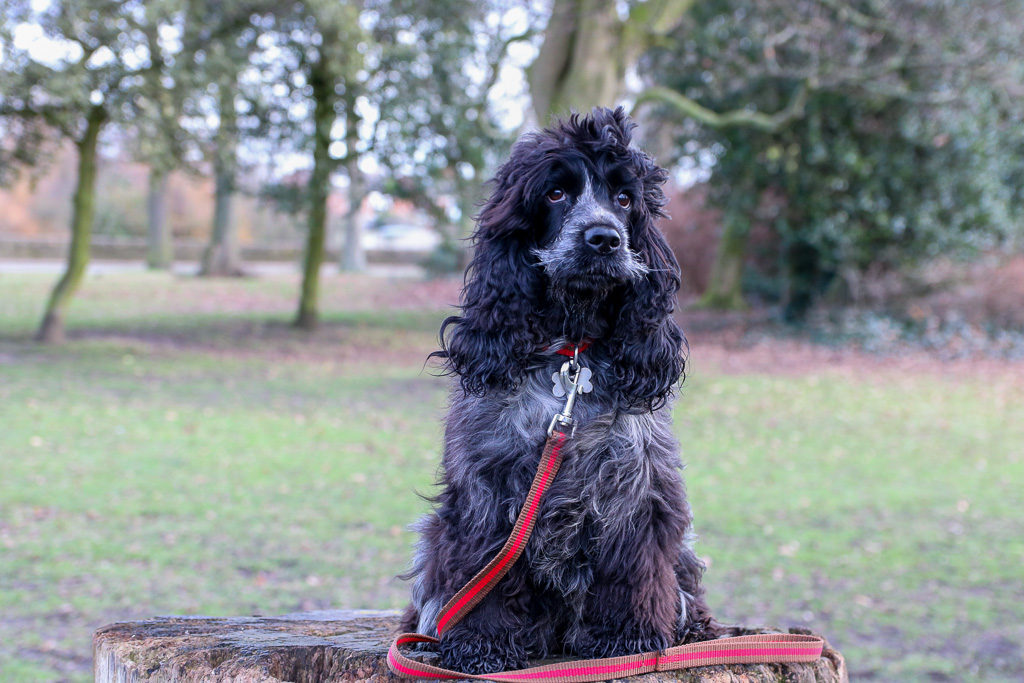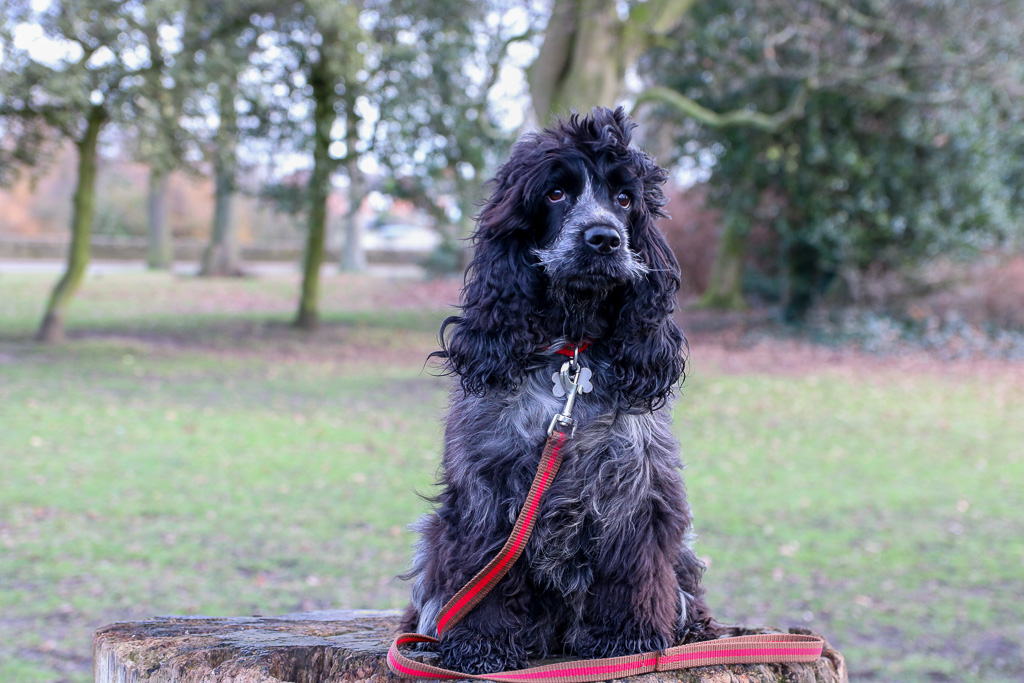 *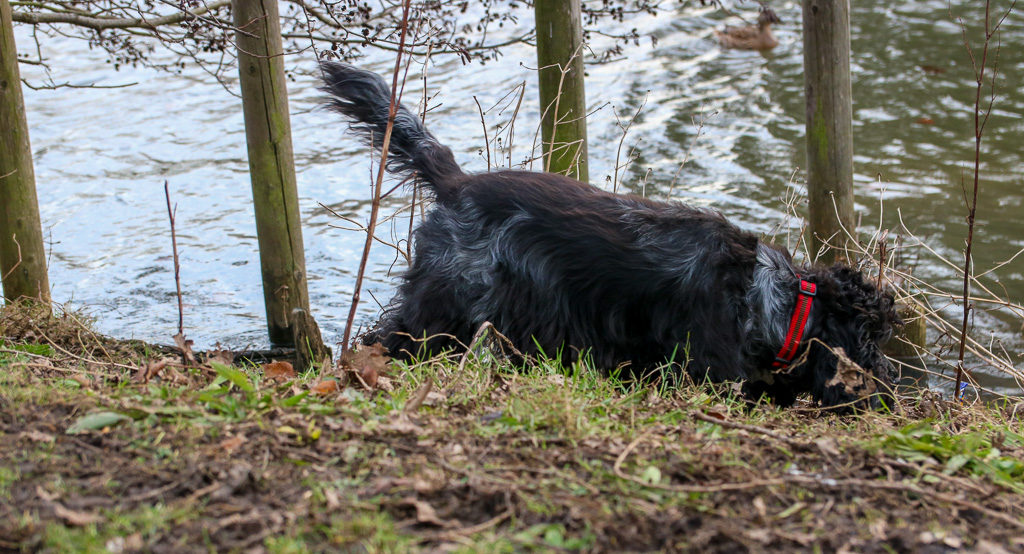 My dogs will definitely make full use of this set during the coming months, they are definitely girls who want to have fun, so the ethos behind this brand, for dogs who want to be dogs suits them down to the ground. They are really reasonably priced as well as being fashionable and functional, the collars start at just £12.00 and the leads are £15.00, available to purchase at Reg&Bob you can also follow Reg and Bobs fun adventures on Instagram .
Do you let your dog get down and dirty friends?? Do let us know your thoughts in the comments below, we love to hear them.
Love Sal, Maya & Lucia xxx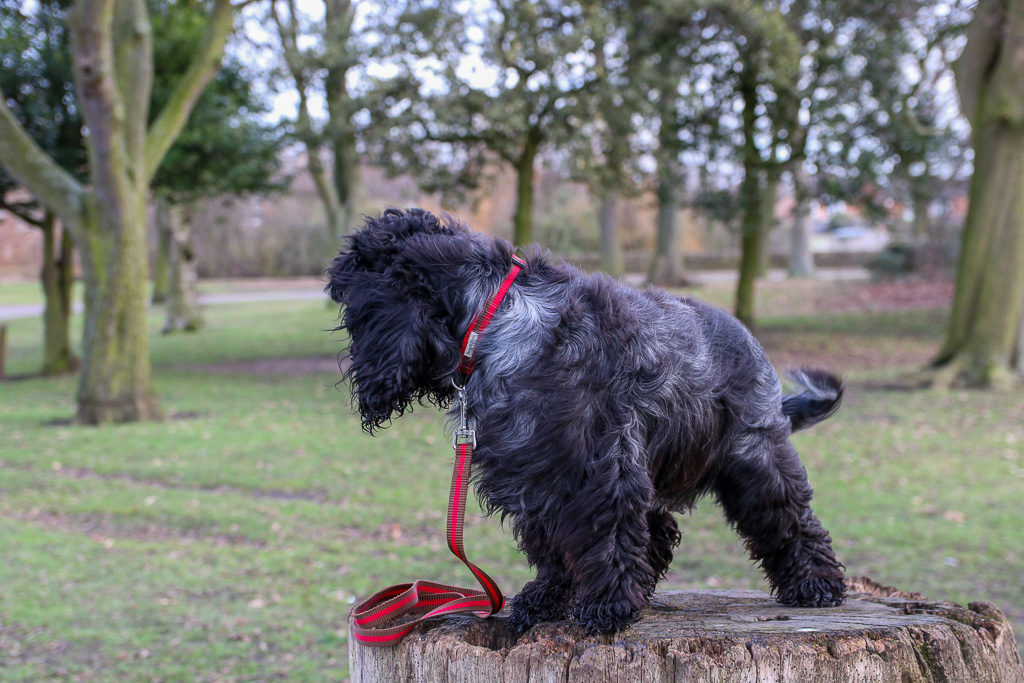 *