These days no dog wants to be seen in the city or the dog park wearing the same accessories as another pup, they all want to stand out from the pack and I think I've just found the perfect luxury leather dog collar and lead for them to do just that! Let me introduce Pugalier of London, the new pup on the block when it comes to luxury dog accessories. The brand was founded by Sophie Sedgwick-Dwane when she found that she couldn't source products she really loved for her own pooch, she had a few main objectives, they had to be beautiful, they had to be made in Britain and they had to fit well.
In fact the range of sizes available in the dog collars is what impressed me most when Sophie first asked me to review them (Ok, so I hadn't seen them yet!) because there's been countless times that I have gone to buy a beautiful collar for Lucia or Maya only to find that the limited number of sizes available was all wrong for them.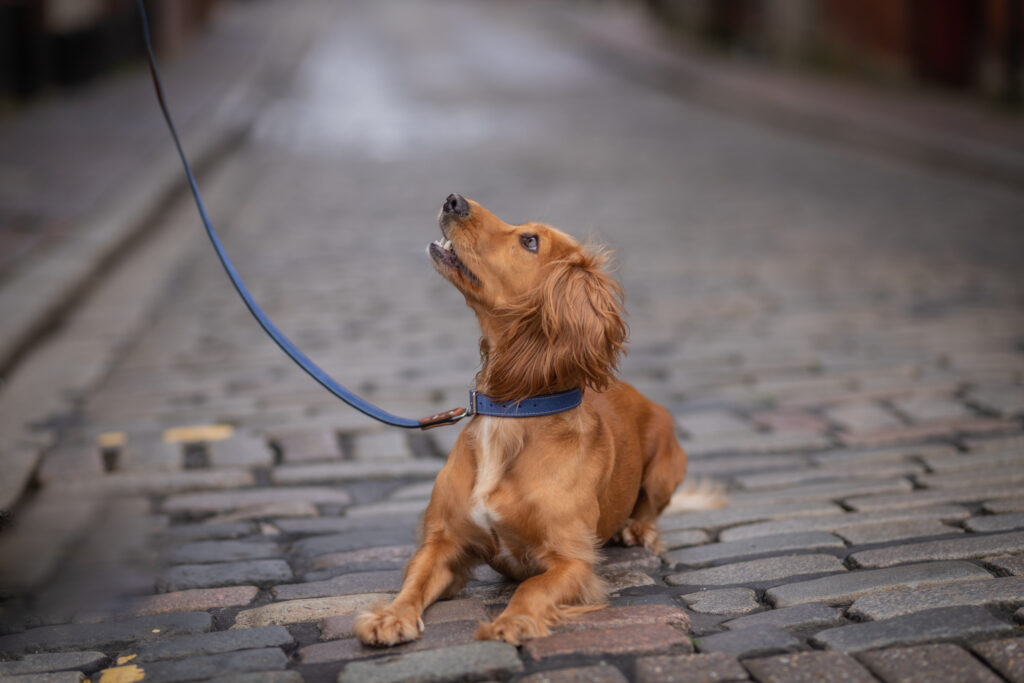 Sophie is a really talented designer and all  the Pugalier of London collars, leads and accessories are real statement pieces made in Britain by UK craftsmen from the finest suede and Italian soft leather. The design of the products is just amazing and after much deliberation, because all the colourways are stunning, I chose a Henley collar and Wellington lead in Blue Jean, because let's face it if spaniels were people they'd definitely rock denim! 
They say it's all in the detail and Sophie's designs certainly aren't lacking in that, as soon as I saw the products that Pugalier kindly gifted us for review I was completely bowled over. To say the accessories are well made is an understatement – they are exquisite! From the embossed branding on the lead, to the nickel plated hardware, to all the collar's including an ID Tag as standard (that can be engraved.) and the gorgeous stitching – everything is sublime. As I mentioned earlier the collars come in a big range of sizes so you can be sure your dog is comfortable as well as looking super stylish and you can also buy a protector spray for the products on the site so you don't need to worry if the skies open on your walk, or if your dog is like Lucia takes an unscheduled trip into the boating lake.
The range also features a stylish poop bag or treat holder and a water bottle so your precious pup can do everything in style! Quality dog accessories like these are never going to be cheap but Pugalier offer a Pooch Pack including a collar, lead, barking bag and water bottle for £150 which to be honest I can only describe as a bargain.
I can just tell that Sophie has put her heart and soul into creating this small British business and really hope that the dog community give her some support.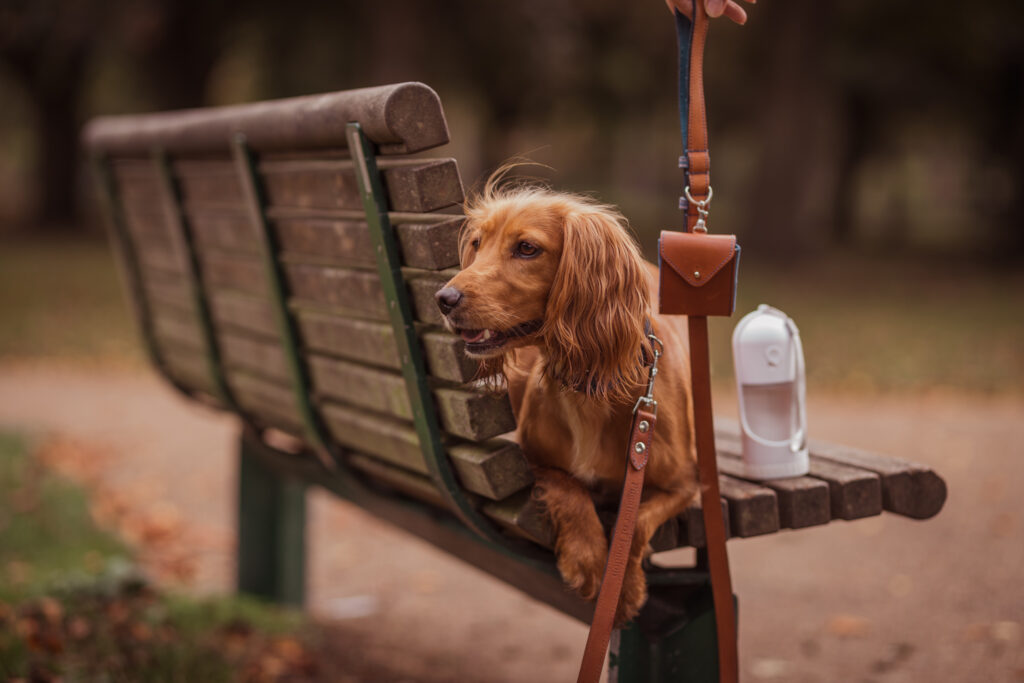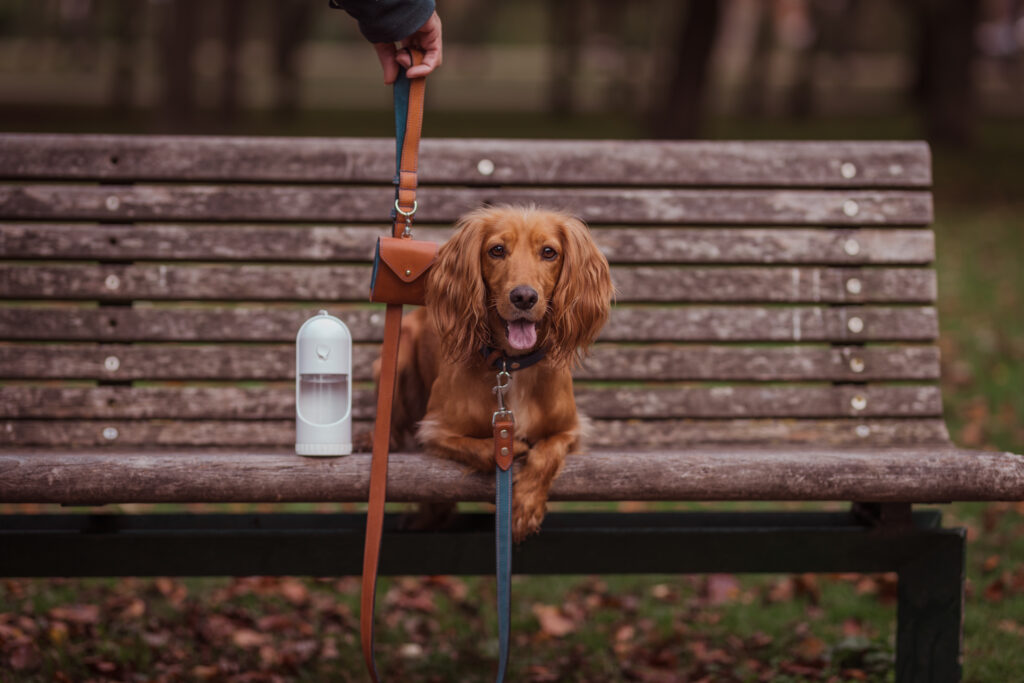 I know from the emails I receive that you all love to hear from the brand creator so I put a few questions to Sophie so she could tell you about Pugalier of London in her own words.
1. What inspired you to create Pugalier of London?
I was shopping for the necessary dog accessory products to spoil my dog Cognac, I found I was often disappointed by the sizing, quality and aesthetic nature – I wanted to change that! I knew that the brand had to be British form concept to manufacture, I design the products myself and I work with local craftsmen in the UK to bring them to life – The Luxury Dog Accessory Company was born.
2. Tell us about your brands ethos.

We believe all dogs are treasured members of the family and as a treasured member of the family they deserve to be healthy, happy and most importantly indulged in luxury dog accessory products. Dogs are different shapes and sizes so with our tailored sizing, we aim to ensure that our products will not only fit your stylish pup but also put their health and happiness first, protecting them whilst looking pawsome.
 3. Your dog, Cognac is so cute, tell us a bit about her.
Aww thanks – she definitely knows it! Cognac is the furball that inspired me to start Pugalier of London. She has now become the face of the company and is also our chief product tester and model. She is one spoilt pup, but aren't they all? She is my mischievous little sidekick: we don't go anywhere without each other. A huge bundle of fun, full of love and loyalty – I wouldn't change her for the world.
4. We love your products so much, do you have plans to increase your range?
Thanks so much, it's always great to hear that our clients love our products as much as we do. We are always looking for ways to expand our offering and we have big plans to increase our product ranges. Our harnesses and slip leads are launching very soon in November 2020 – the paw-fect Christmas gifts. We already have lot's in the pipeline for 2021 – so keep an eye out! 

I predict in the future that the name Pugalier of London will be synonymous with style – that's how impressed I am with this brand, so why not be ahead of the pack and check out their site or follow along with the brands development and Cognac's adventures on Instagram. Oh, and if you want to spoil a special pup this Christmas Pugalier also sell gift vouchers – just saying!
Love
Sal, Lucia and Maya xx
Huge thanks to Pugalier for gifting us these products in return for an honest review.