I don't watch much television but one programme I do like is Dragons Den, the presentations often raise a laugh from me and I clearly remember one episode a couple of years ago where the guy actually ate the dog food he was pitching to the Dragons!! That guy as it turns out is Dan from Pure Pet Food who together with his friend Mat has developed a high protein, healthy dog food from human grade ingredients that is suitable to be fed either as a stand alone balanced diet or in conjunction with a raw diet. The would be entrepreneurs turned down the offer of Dragon investment and The Pure Revolution has since been so successful the food is now eaten by lucky dogs all over Europe and is even stocked at Pets At Home here in the UK.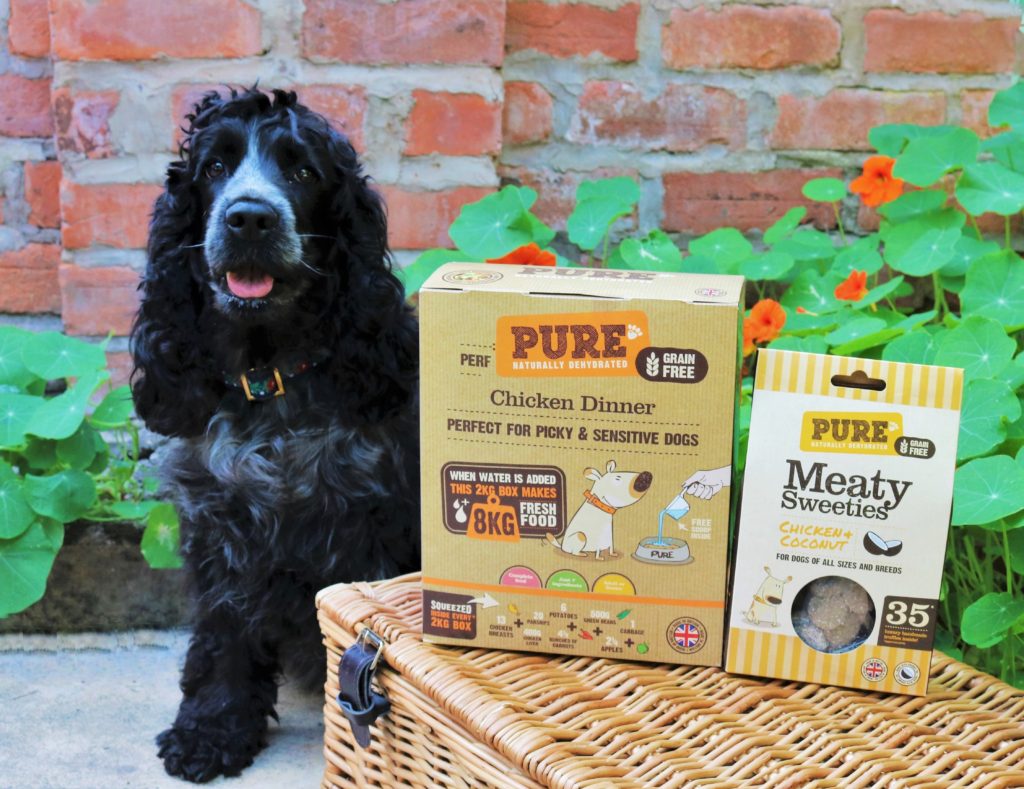 Pure is a dehydrated dog food and I can see several advantages to this, it is light and easy to carry on camping trips and hikes, (This 2kg box makes 8kg of fresh food once mixed with water!) it is environmentally friendly, and for us raw feeders it's great to know that a bag of Pure has a shelf life of 12 months once open. More importantly to us pooch parents though, is to understand that the dehydraton process which gently removes the moisture, means the food is around four times as dense in nutrients, vitamins and minerals as you would find in fresh fruit and veg and is as close as you can get to a raw diet – without being raw! Feeding Pure also helps to avoid bloat and dehydration as adding water to the food means it expands in the bowl and not the stomach. The meat is lightly heated to be sure to remove any harmful pathogens and once rehydrated Pure Pet Food is equivalent to a dry dog food containing 70/80% meat. It is grain free too and the Chicken Dinner flavour although containing a bit less protein than the other flavours is also egg free.(There are several delicious sounding flavours availble as well as mixers and treats)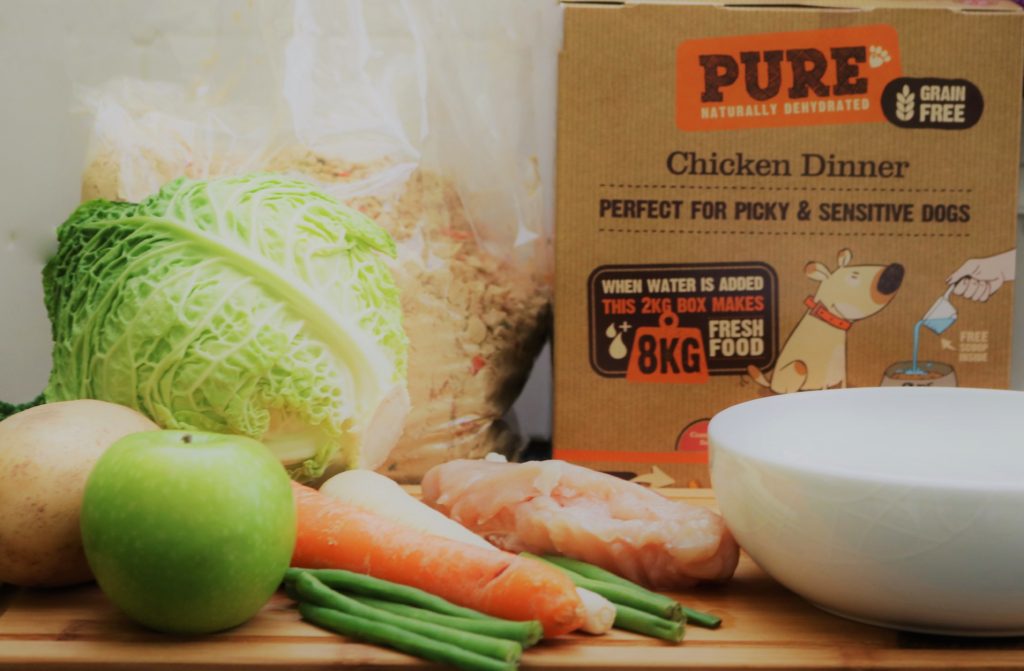 To serve the food you simply use the scoop provided to add some of the mixture to a bowl and mix with water according to the feeding guide printed on the box. OK, it might not look that appetising to us humans when mixed but you can see the veggies come to life before your eyes as you and your dog patiently wait the 15 minutes before it is ready to serve. It's safe to say that Maya has given a massive paws up to Pure – she thinks it's absolutely delicious!! The food is marketed as being pawfect for fussy eaters and to be honest I can't imagine that any dog would not relish a bowl of this Chicken Dinner – it literally does contain all the ingredients of a tasty roast dinner minus the Yorkshire Pudding! The guys who make this are from Yorkshire by the way, where the food is manufactured inhouse by them in a human grade kitchen. This really impressed Rod, who, as a chef is all too aware of the health and hygiene standards adhered too and it reassured me too.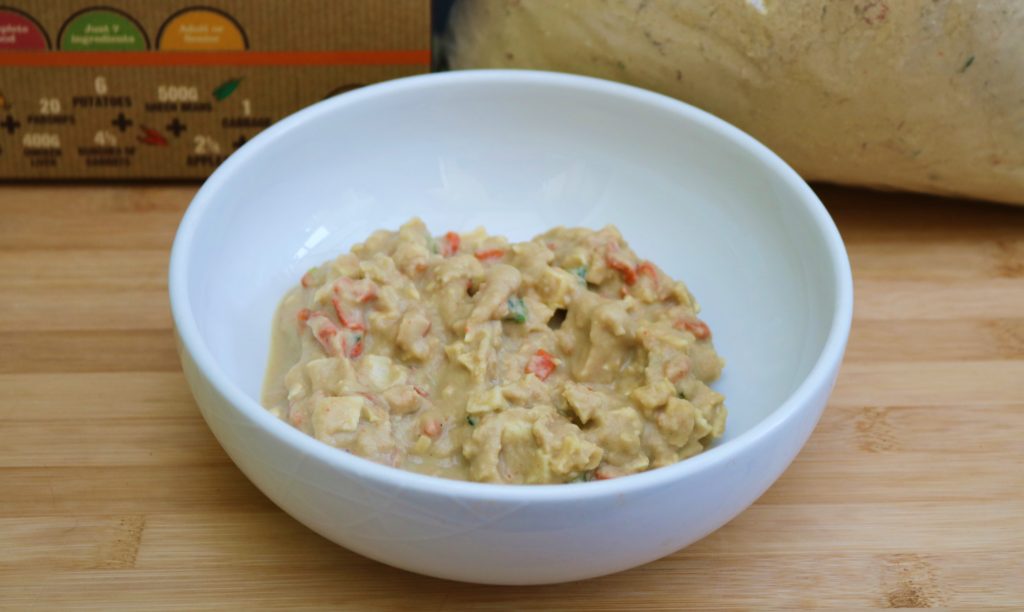 If your dog is purely eating Pure Pet Food (see what I did there!!) you should think about supplementing it with something to chew in terms of their dental health, The manufacturers recommenend adding a raw meaty bone or an uncooked chicken wing or two once a week (Paws up to that says Maya!!) – of course you still need to brush your pooches teeth and treat them to a visit to the hygienist now and then as normal.Talking of teeth if your pooch is a senior or is having trouble with his/her gnashers this food would be ideal.
I am really impressed with Pure, both the quality of the ingredients and the preparation of the food and although it costs a little more than most commercially produced dog foods I think it's worth it. Pure is also PETA approved. For us as raw feeders it's an excellent choice, for holidays, for when we forget to defrost a meal, leave our pooch with someone when we're away or are simply short on time. It's so convenient too and you can make a batch to last you a couple of days as it keeps for up to 48 hours in the fridge. These days it's fantastic that if you want to feed your dog a more natural, higher protein diet and do not fancy going down the raw feeding route there are a few options around. Who knows I may just find a regular space in my store cupboard for a box of Pure – I know one little dog who very much hopes so!! Use this link friends to get 40% off a starter pack if you fancy trying it!!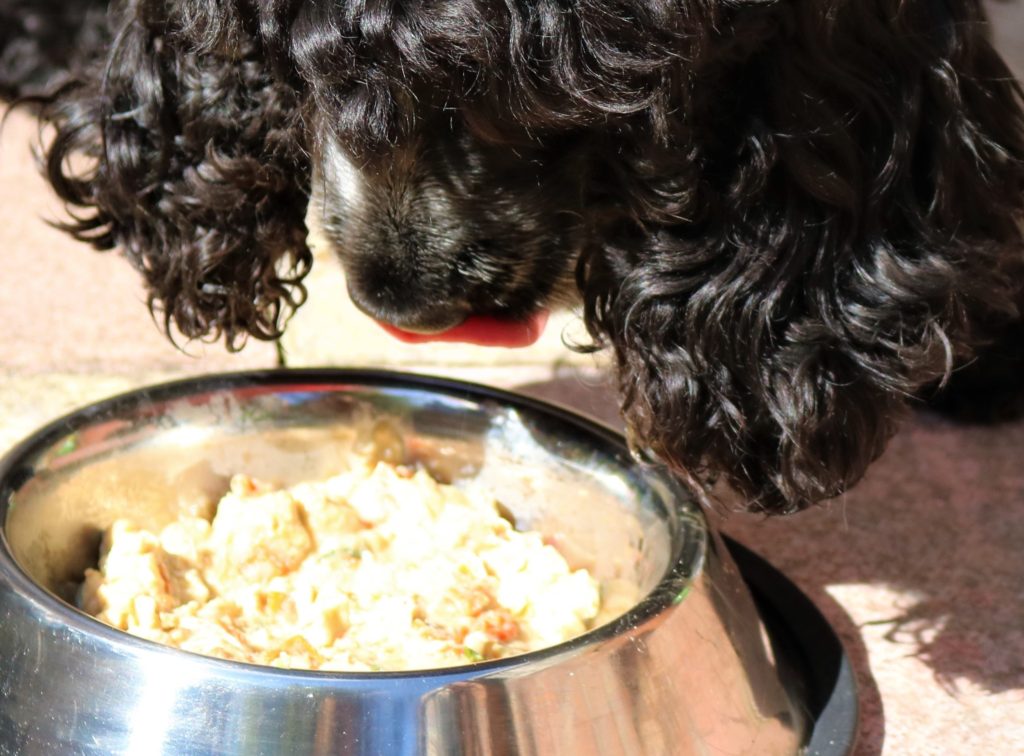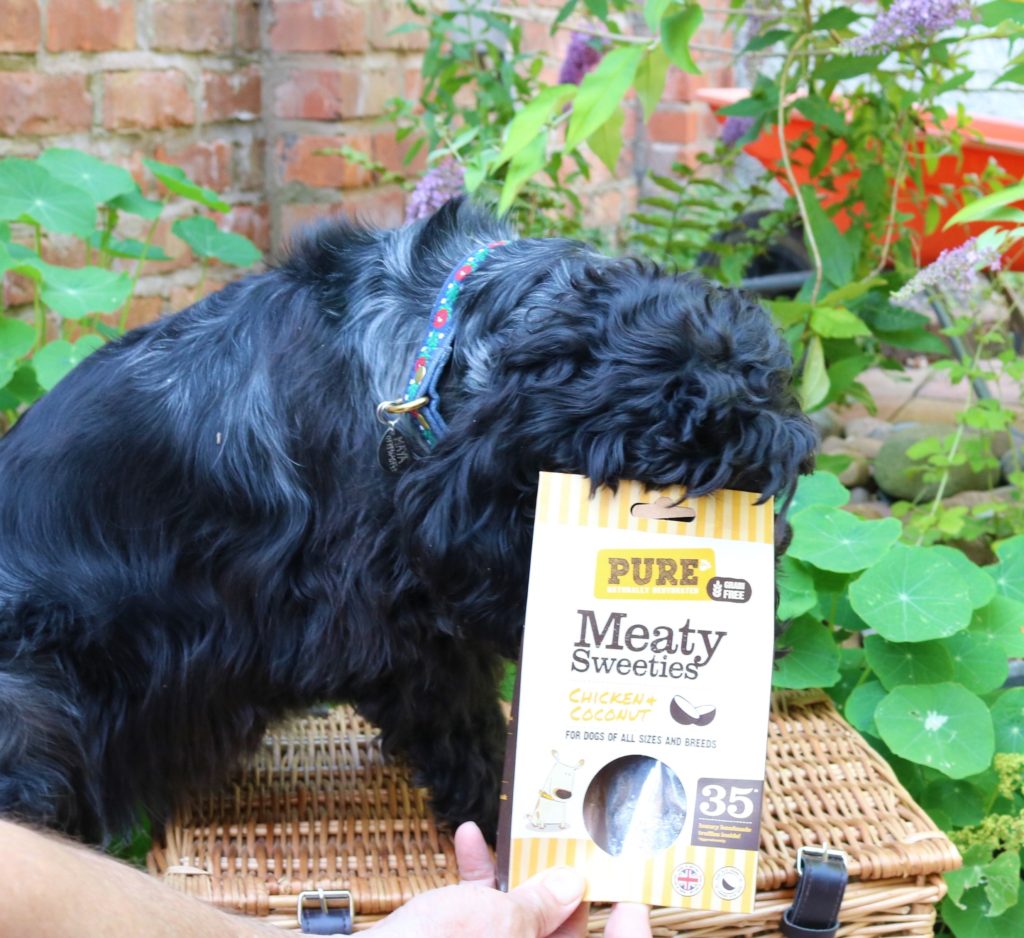 Now lets move onto the Meaty Sweeties – well if we had a rating system on this blog these treats would be given 10/10. Maya literally cries for them!!! The treats are made from human grade chicken, coconut, honey and molasses, they really do look yummy and I was tempted to try one myself! Maya thinks the boys have summed them up pawfectly in the following quote:
" Just feed one and you will have a best friend for life! " – Purepetfood

They look so yummy!

C'mon man – give me the Meaty Sweetie!
With so much conflicting advice around these days about what to feed your dog it's a hard and personal decision to make but if you decide to give Pure Pet Food a try I don't think your dog would object! Let me know what your thoughts are in the comments below – I'd love to know.
Love Sal & Maya xxx
A big thanks to the team at Pure for gifting us a pack of Chicken Dinner and some Meaty Sweeties to sample – Maya really enjoyed the experience!! Remember friends if you want to try Pure Pet Food for yourselves use this link for 40% off a starter pack.