Ideally situated on the edge of the North York Moors National Park, Ox Pasture Hall, a stunning stone former farmhouse set in 17 acres of beautiful grounds, has a reputation of being the best dog friendly hotel in Scarborough. So, I was absolutely thrilled when Shaun, the proprietor got in touch and invited us to take a complimentary stay with breakfast and dinner in return for an honest review.The hotel is just a couple of miles outside Scarborough and is easy to find using a sat nav. When we arrived at the hotel a little after 2pm Maya was beside herself with excitement! (don't dogs just know when something really fabulous is about to happen!) Maya just adores exploring new places and meeting new people and I was delighted she was given a warm welcome by Jay who was manning reception. It's so important to me that my dog is valued as a guest too! Jay quickly whisked us all away to our room, which was positioned off one of the two little courtyards. Our courtyard was somewhat of a suntrap and really was inviting us to sit at one of the cute tables and indulge in a coffee or glass of wine. Maybe next time!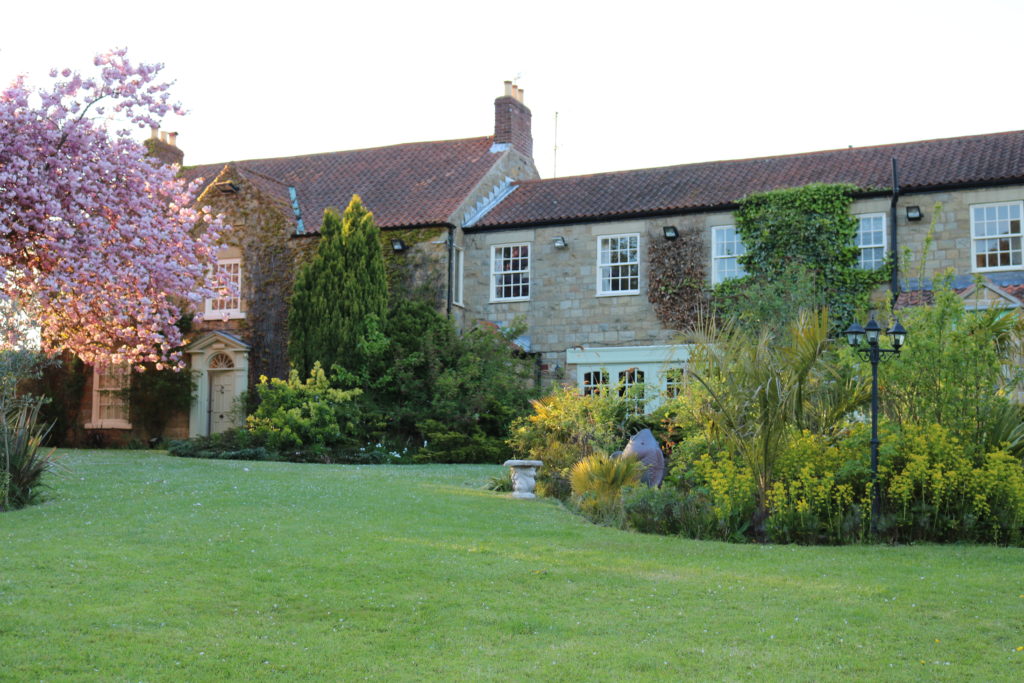 We had been booked into a luxury suite, and it really was gorgeous. Decorated in neutral browns complimented by the palest blue the interior blended sympathetically with the natural beauty of the moors. The living area had a sumptuous leather settee and was well equipped with a television and tea and coffee making station. This really was a room with a view and I found myself gazing dreamily out of the window for a minute or two, meanwhile Maya enjoyed catching up with a bit of news, briefly helping herself to prime viewing position!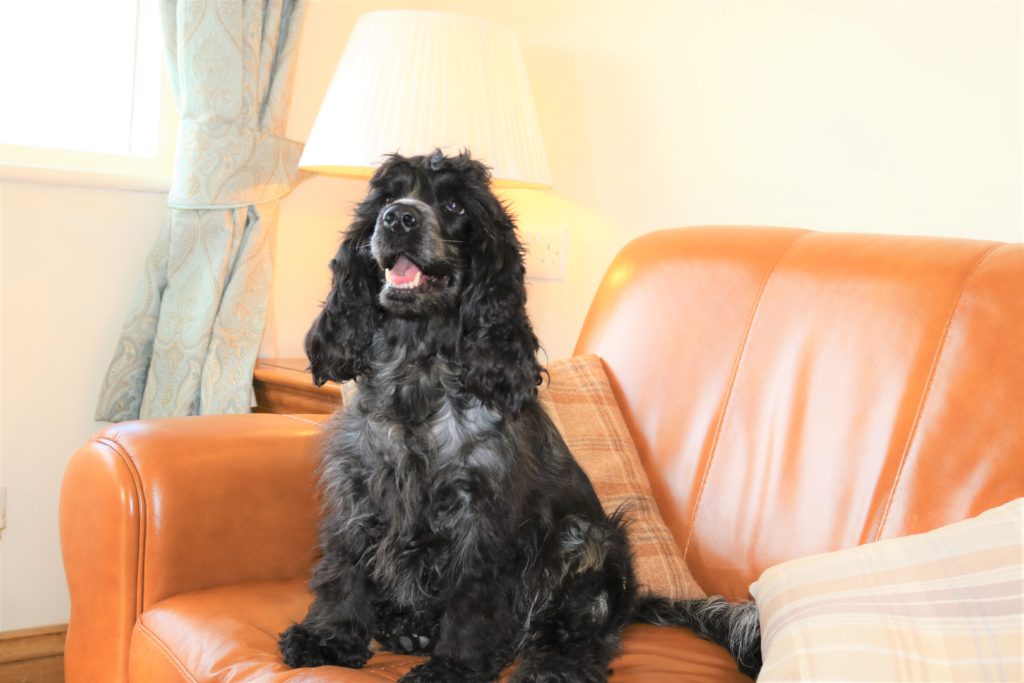 The bedroom housed possibly the most comfortable bed I have ever slept in. I mean honestly, it was a huge king sized model and the bed linen was of the highest quality. There were also fluffy bathrobes and slippers laid out on the bed, we really did feel indulged and a little spoilt!  While I was unpacking Maya seized her opportunity and jumped on the bed and I couldn't resist taking a snap of her.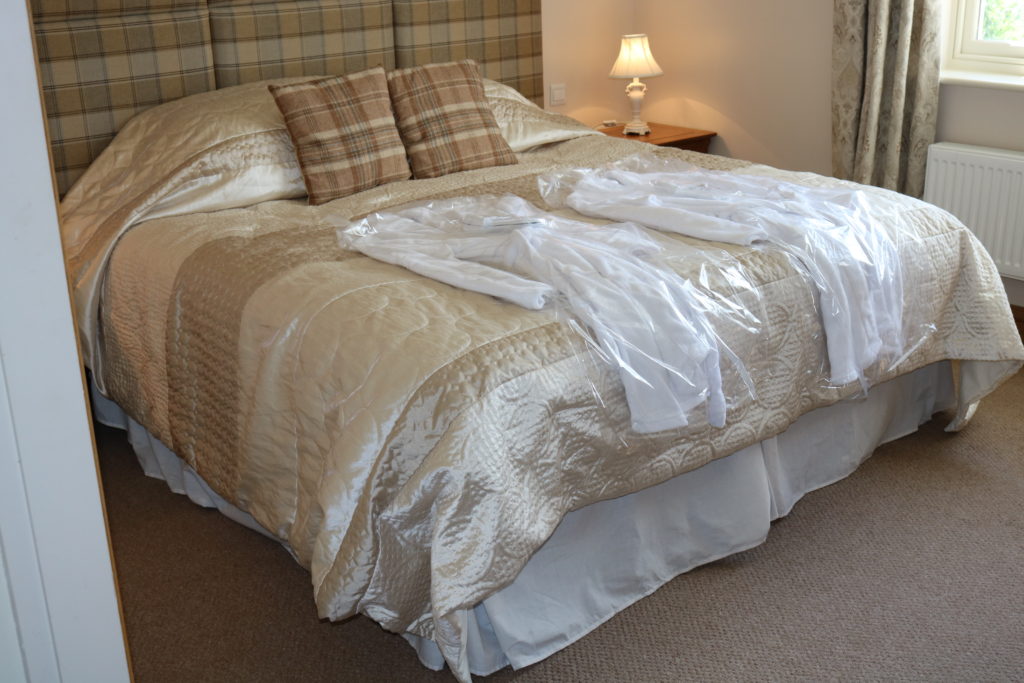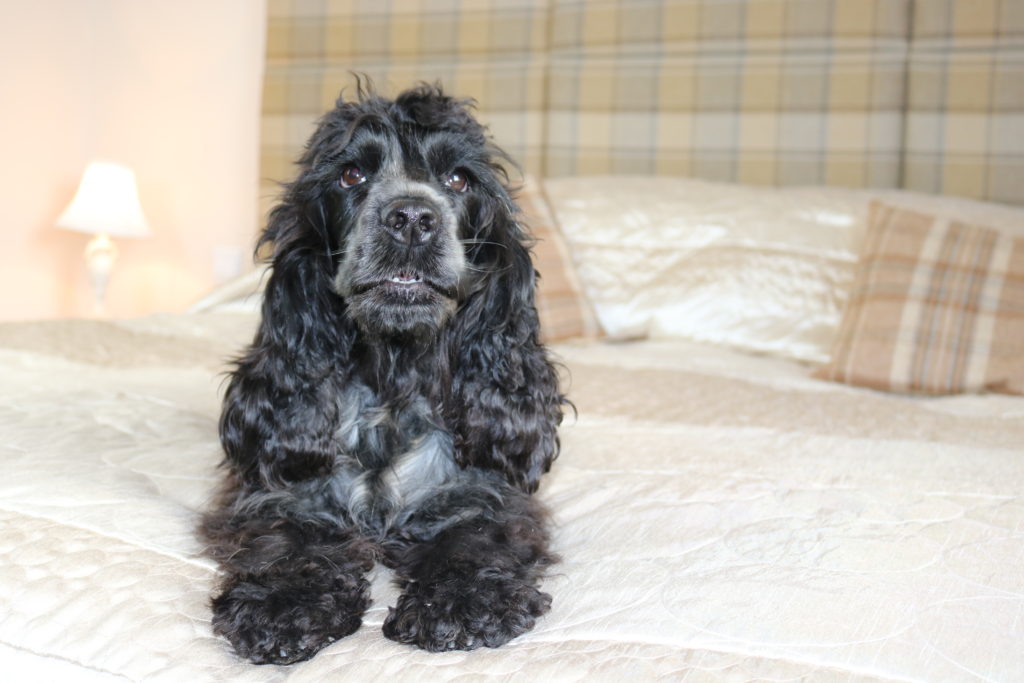 The bathroom really was sublime, twin basins with waterfall taps, a rainfall shower and a beautiful deep bath, not forgetting the luxurious Spa Therapy toiletries and some of the fluffiest white bath towels I have ever seen. I loved the tiling and use of lighting too and it was spotlessly clean. Maya takes her role as my muse very seriously and couldn't wait to strike a pose. (nothing to do with the venison treats I had in my pocket then!)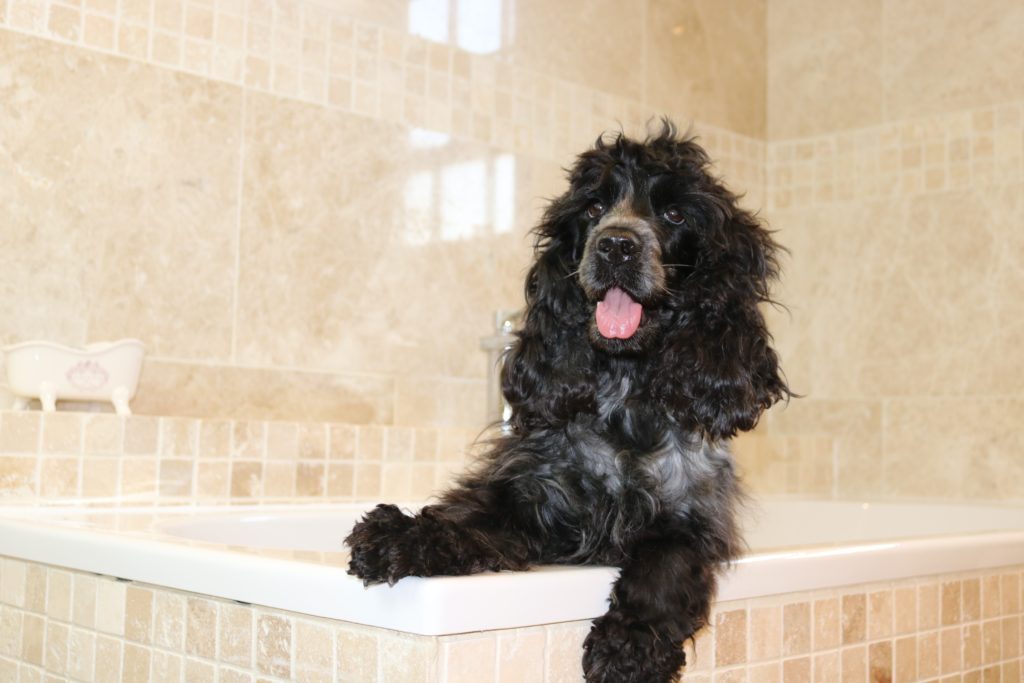 Now, just like Maya, Rod and I really enjoy our food and Ox Pasture Hall did not disappoint. The hotel has a reputation for producing great dishes using, freshly prepared, locally sourced ingredients and we were delighted to be invited to sample the tasting menu.  The food really did taste sensational, and the plating up was stunning. The Onion Mousse was beautifully delicate while the radish and granola balanced it perfectly, we loved the Mackerel and Celeriac course, the Beef in Treacle served with blackberries and Pommes Anna was a delight, the Lemon and Olive oil cake with raspberry curd was delicious and, I have to say it, the Rhubarb & Rosehip dish was a triumph. Compliments to the chef!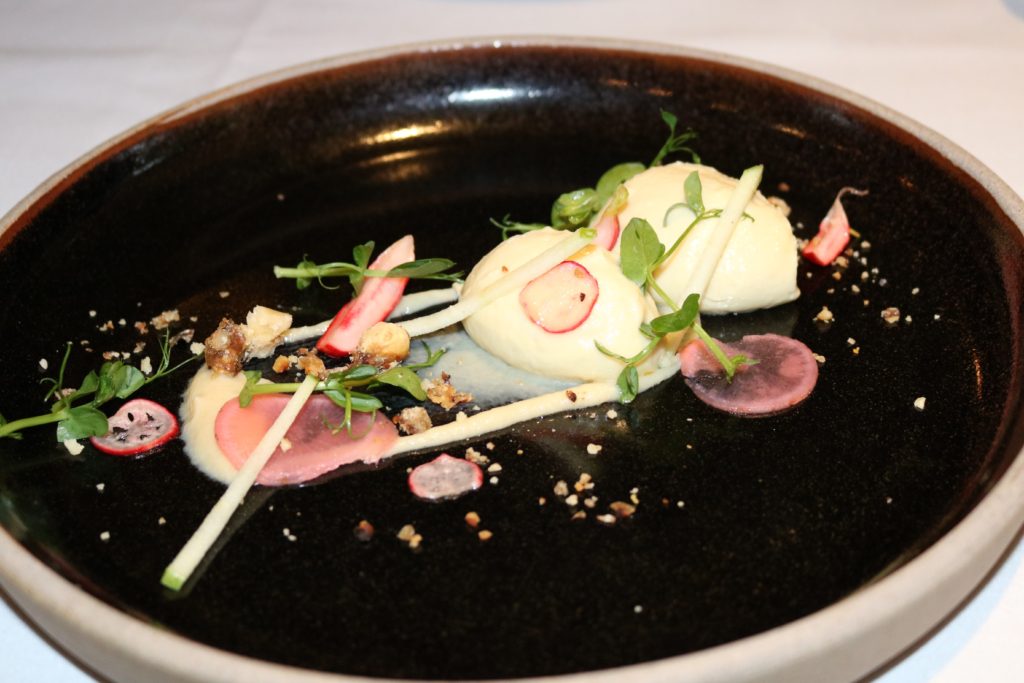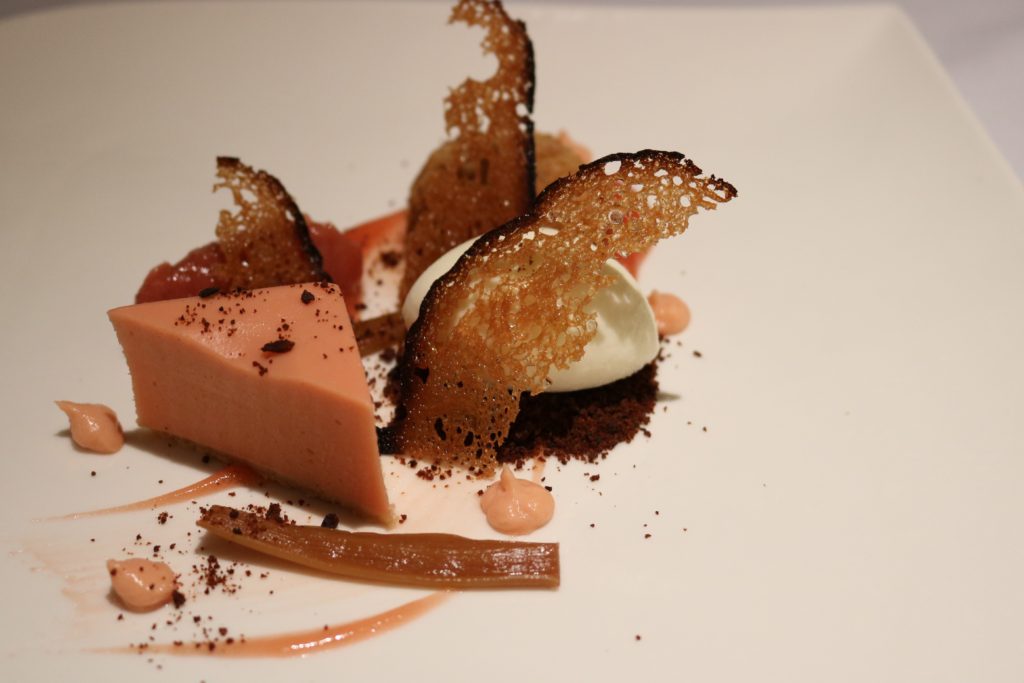 The cooked breakfast the next morning was as good as I've had anywhere and Maya was delighted to be offered her own sausage!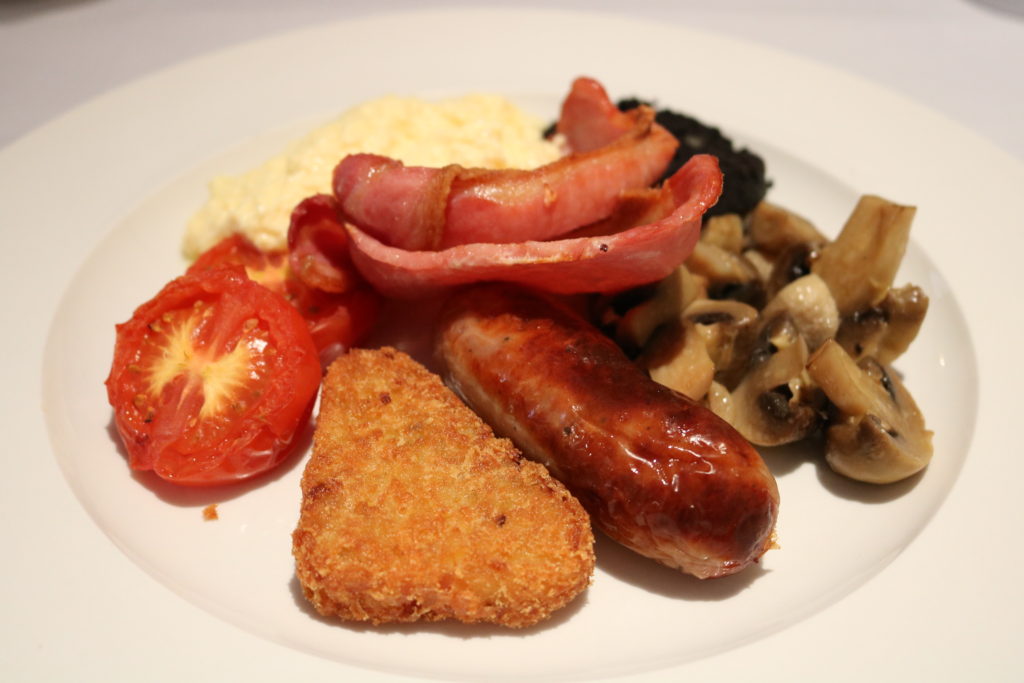 Happily dogs can join you in the Bar/Bistro area while you dine and a big bowl of fresh water awaited Maya at both dinner and breakfast. (the flagship Courtyard restaurant is the only place in the hotel where dogs are not allowed) Perhaps it is here that you really start to appreciate how incredibly dog friendly Ox Pasture really is. Maya totally adored the maitre d, Benoit, he made such a fuss of her and after giving her one of his treats from behind the bar, Maya nearly exploded with excitement every time he visited the table. All the staff were just so helpful, warm and friendly and gave fabulous service to guests on four paws as well as their humans! Rod was pleased that they served bottles of Black Sheep ale in the bar, but dog beer has yet to make an appearance – perhaps next time!
When you bring your dog to Ox Pasture Hall you can select from a variety of rooms from a standard double right up to a luxury suite and the hotel charges just £10 per night for your canine friend.
The grounds were a real highlight for us all and Maya absolutely relished exploring them. She does like to take a dip from time to time, so I was a little worried about the lake but fortunately she did not jump in! Maya loves nothing better than to run free and was in her element racing round the field at the far end of the grounds, it was just the ticket to get rid of any excess energy before dinner! The grass had obviously been recently mowed so of course my little pooch delighted in having a good roll! (it would be rude not to I guess) The gardens themselves really are enchanting with imaginative planting and provide lots of photo opportunities, if like me you love to take pictures.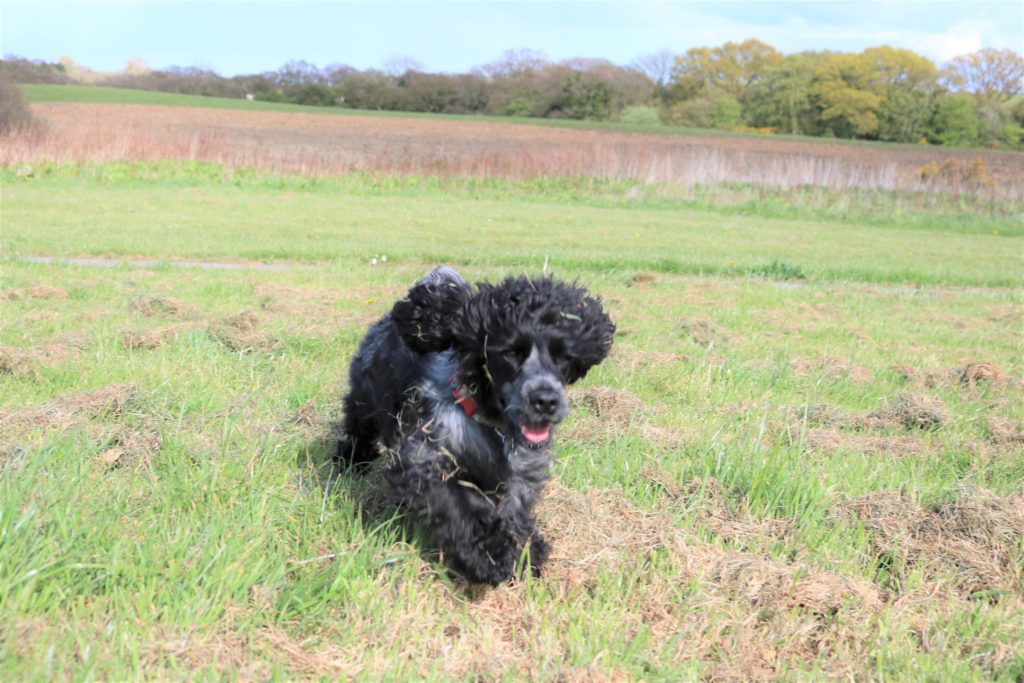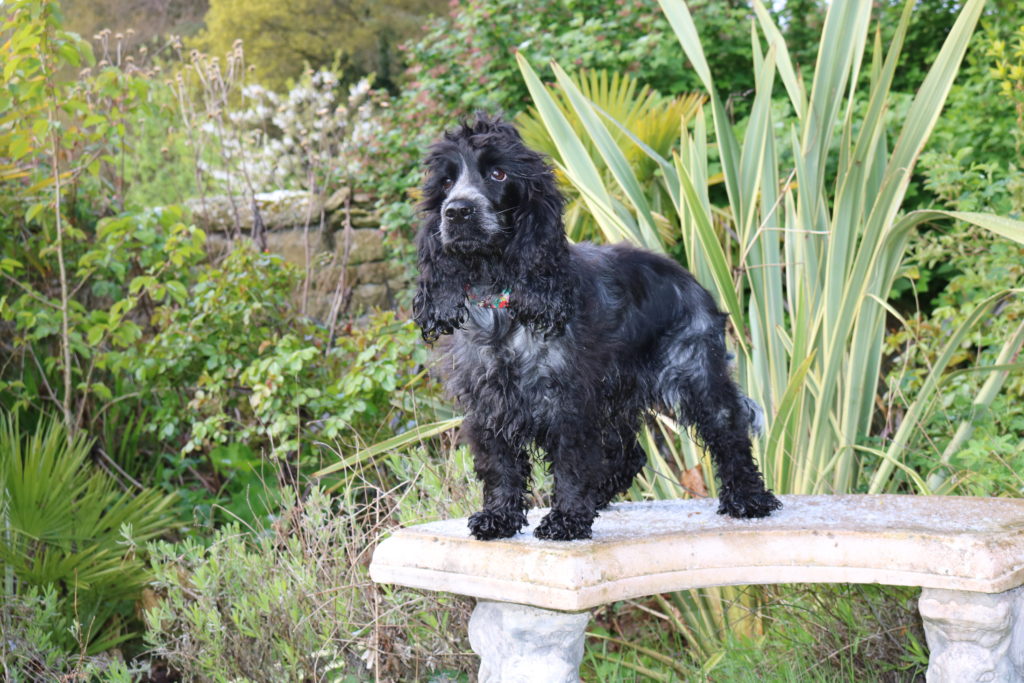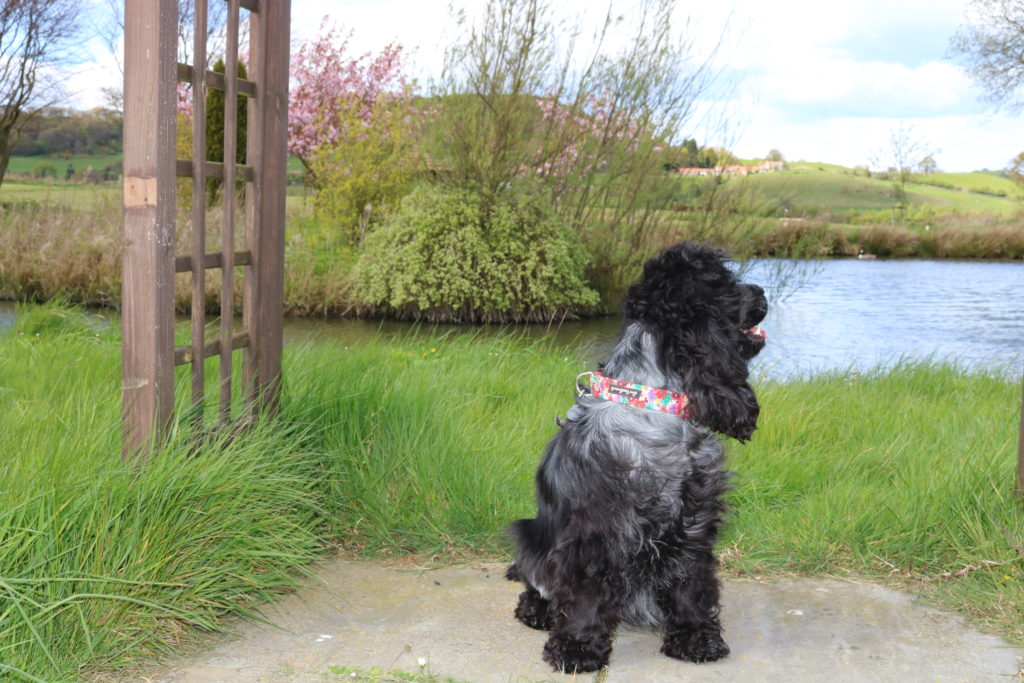 The location of this hotel is ideal for dog walking, Raincliffe Woods are literally a couple of hundred metres away and we really enjoyed the beautiful 5.5 mile circular walk that passes through ancient woodland. We love walking on the moors with Maya and staying at Ox Pasture gives you easy access to the literally hundreds of miles of paths and trails and a chance to experience the natural beauty of the North York Moors National Park for yourself.
As we were just over 2 miles away it would have been plain wrong not to pay a visit to Scarborough itself. A traditional English seaside resort, the seafront is a colourful affair with outlets selling candy floss, rock and buckets and spades alongside fish and chip shops and penny arcades. (well OK they might not be pennies these days!) Many of the cafes were dog friendly and we couldn't resist taking a freshly brewed coffee sitting on the terrace at Farrer's which even had designated doggy tables inside. Both the beaches in Scarborough employ dog restrictions May-September, but, if you time it right there  are small areas that are dog friendly all year round when the tide is out. Luckily our visit was at the end of April so Maya had a ball playing fetch on the beach and making new friends.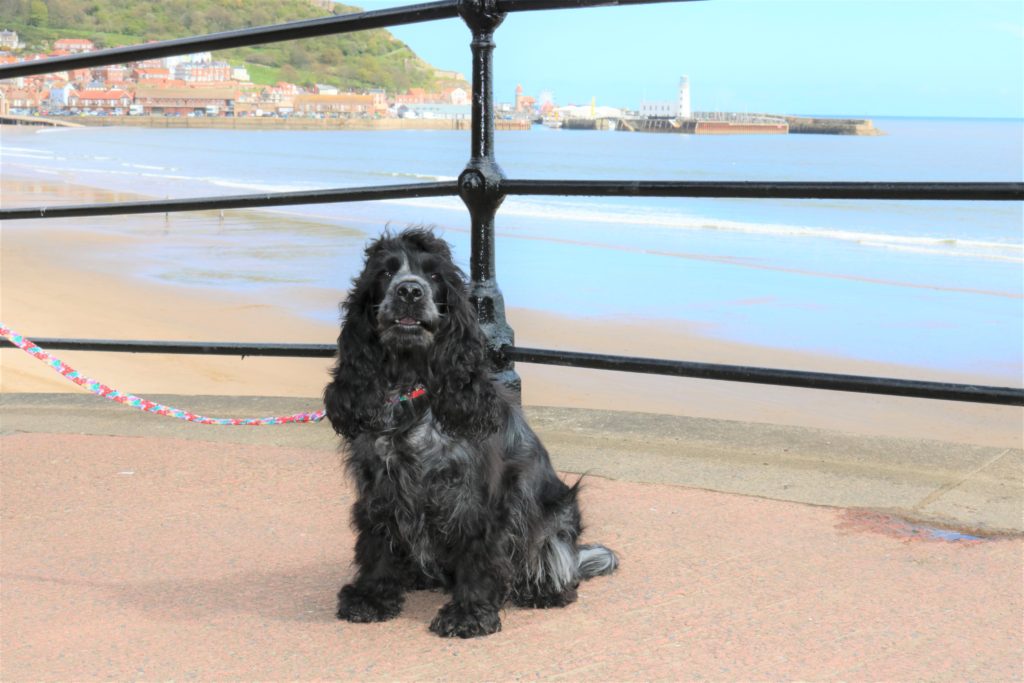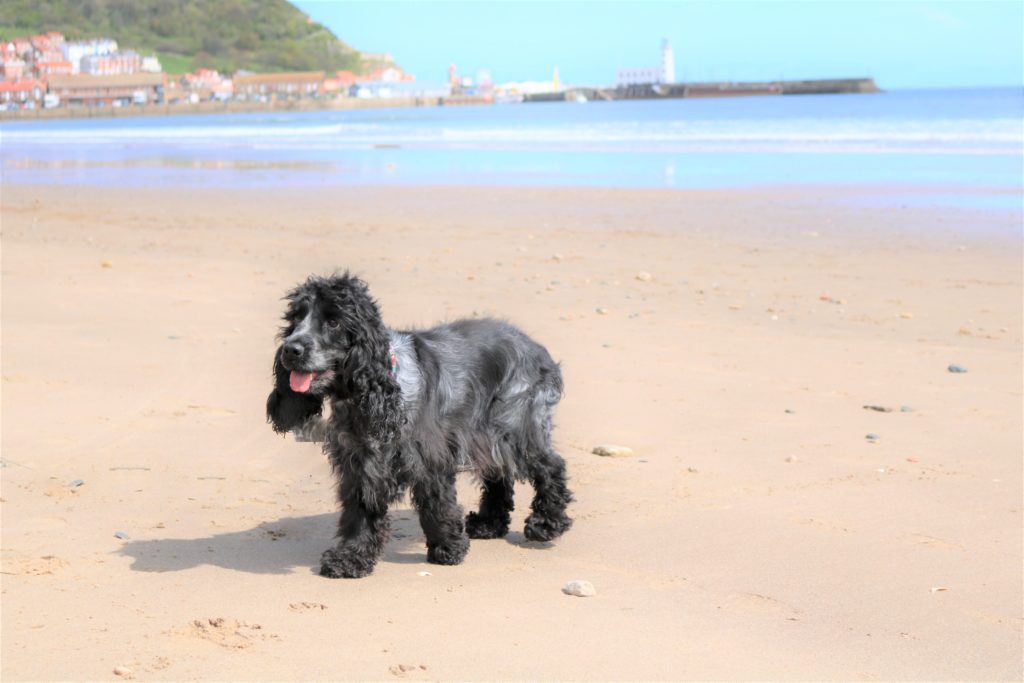 Happily the stunning Yorkshire coast offers loads of choices if you are looking for a dog friendly beach in the summer months. Robin Hoods Bay is perhaps the most beautiful with breathtaking scenery and stunning views. It is a super walk (if you are reasonably fit) from the car park down to the beach and there are several other longer walks, including an awesome clifftop one to Ravensclaw during which you can really appreciate the rugged natural beauty of the area.. A full review of the Yorkshire coast including walks will be coming to this blog soon!  To the north you have the popular Whitby and to the south Bridlington offers fabulous walking and huge swathes of beautiful dog friendly sandy beaches. Hornsea, Filey and WIthernsea all have their own character and dog friendly stretches of beach.
We also enjoy visiting castles and abbeys and many are easily accessible from Ox Pasture Hall. On this occasion we went to Pickering, as English Heritage members a  visit to the castle was a must, followed by a visit to the North Yorkshire Moors Railway cafe. Channel 5 were filming at the station on Monday so the cafe was closed and we visited the Olivia Rose coffee shop just up the hill instead. Maya couldn't contain herself when she was served a complimentary bowl of water and a saucer of treats before we'd had a sip of our frothy cappuccinos!! All the towns bordering the park are really dog friendly with nearly every pub and lots of cafes and shops giving them the same warm Yorkshire welcome as those of us on two feet.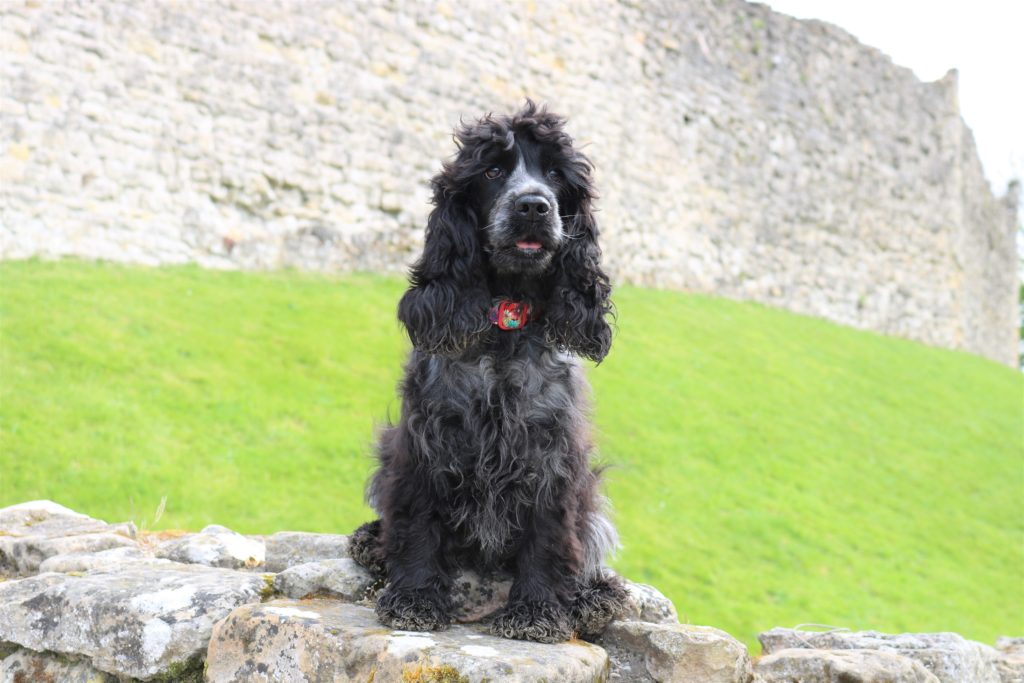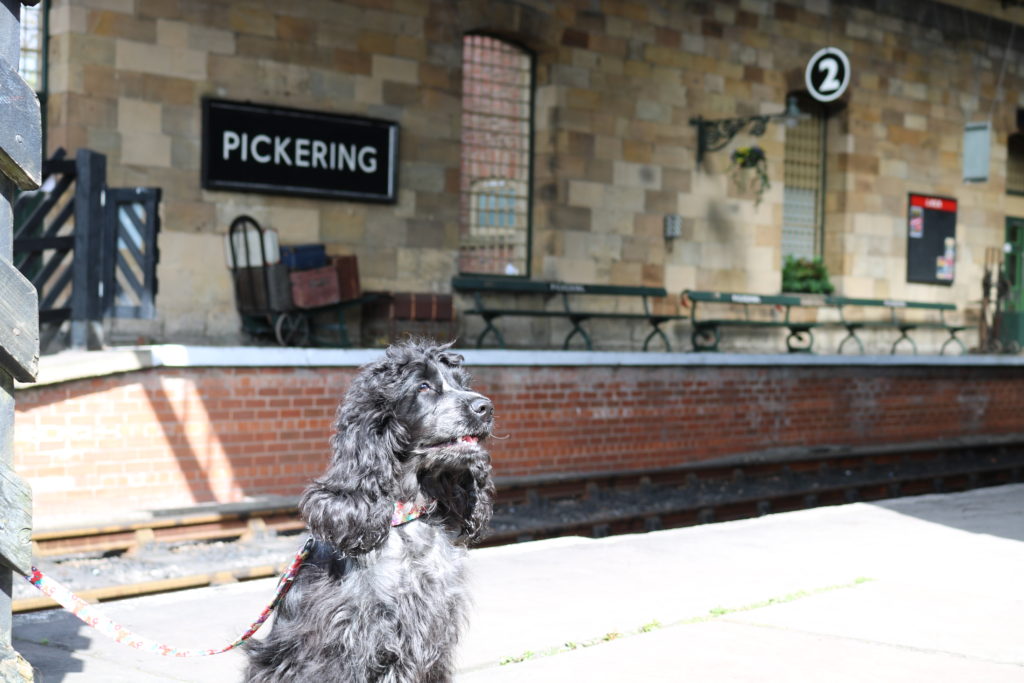 If you are looking for a dog friendly hotel in Scarborough I honestly have no hesitation in recommending Ox Pasture Hall as an ideal luxury country hotel in a perfect location where you can enjoy a well deserved relaxing break with your dog. I would like to extend a huge thanks to Shaun and his team for treating us to this complimentary stay which we have all enjoyed immensely.
Are you planning on a break away with your pooch this year? I would love to know and really appreciate your comments and feedback.
Love
Sal & Maya xxx