They say location is everything and as Monk Fryston Hall is ideally situated in the Vale of York just 3 miles from the A1(M) off the A63, this dog friendly hotel is definitely a winner in that respect! This stunning hotel, that in parts dates back to the 12 century has much more than a convenient location going for it. For one thing it is set in 30 acres of gardens and woodland, – perfect for walking your dogs. Then there is the dog friendly lounge bar with open fires, (Maya and Lucia just loved snoozing in front of them!) oh, and the piano that plays itself, the Yorkshire hospitality, and maybe a stay here will even bring you luck – there is a wishing tree in the gardens!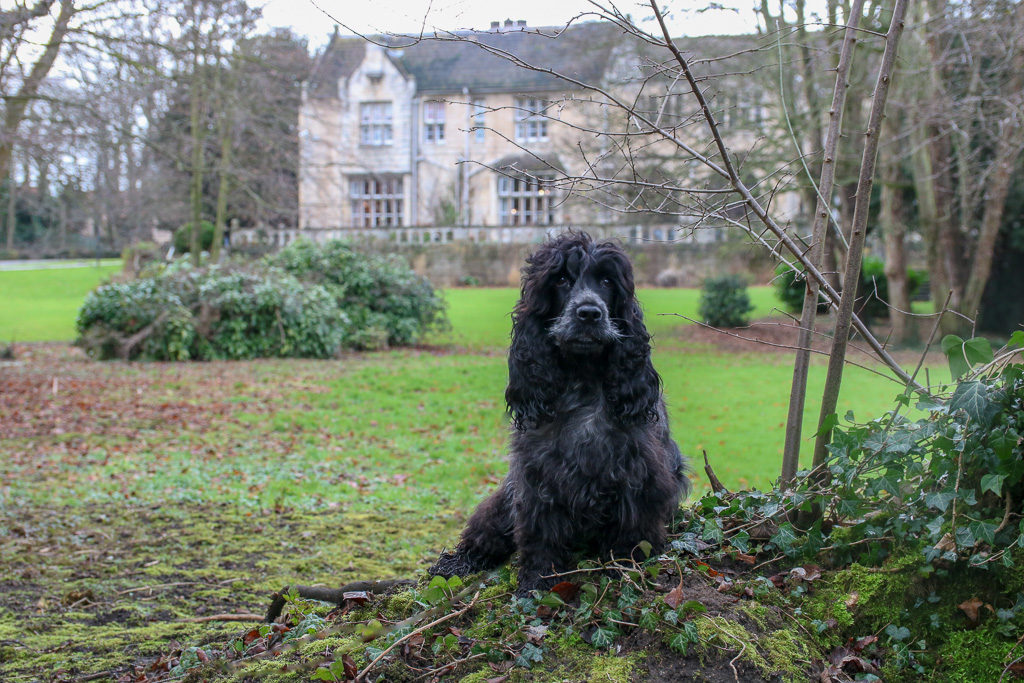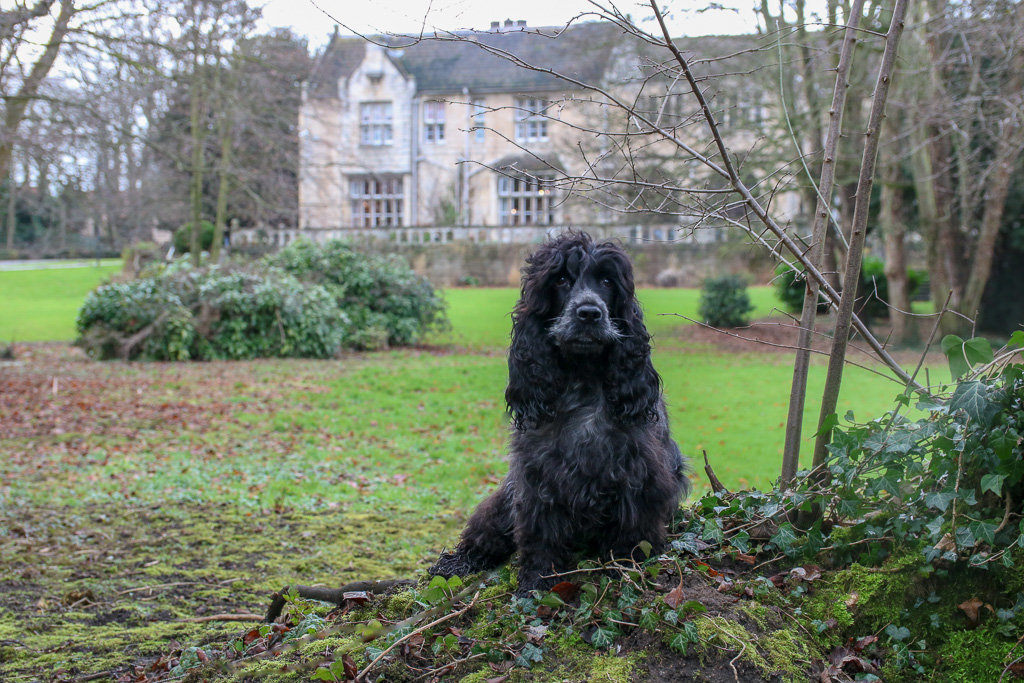 *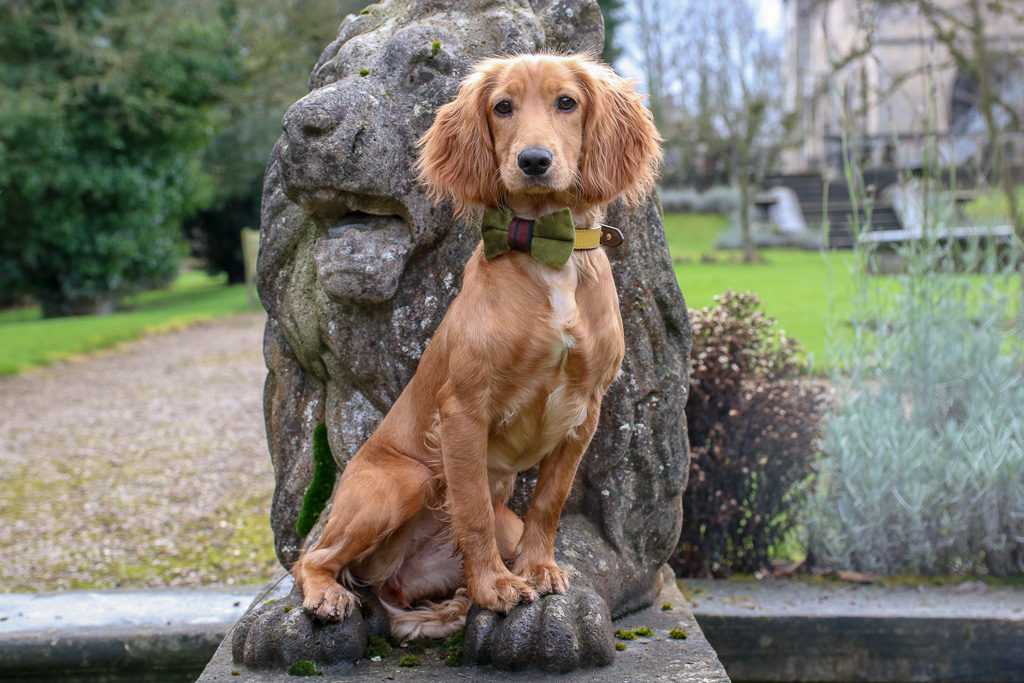 We booked through Pets Pyjamas as we had won a voucher in their Christmas competition. Although I had heard good things about the brand, I had never actually perused their site in detail before and was amazed as to how many dog friendly properties, both hotels and cottages they had on their site. It was really easy to navigate too, with filters for 1/2/3 dogs etc which is so useful, as if you own more than one pooch you will know just how frustrating it can be when you find the ideal accommodation only to realise when booking that it accepts only one dog! We quicky decided on Monk Fryston Hall, it sounded perfect for Lucia's first trip away and being in January we didn't want to go too far afield.
I had always imagined that it would add to the cost to use Pets Pyjamas concierge service, but it's absolutely free and (red face moment) I checked online and the (very reasonable) price we were quoted for a superior room with breakfast was exactly the same as offered on the hotels website. As far as Maya and Lucia were concerned there was a huge advantage to booking through Pets Pyjamas – as awaiting the girls in the room was a fantastic personalised box containing treats, toys, poop bags, a 25% discount voucher towards our next stay and even a bandana. Needless to say the dogs absolutely loved the boxes and gave them a big paws up!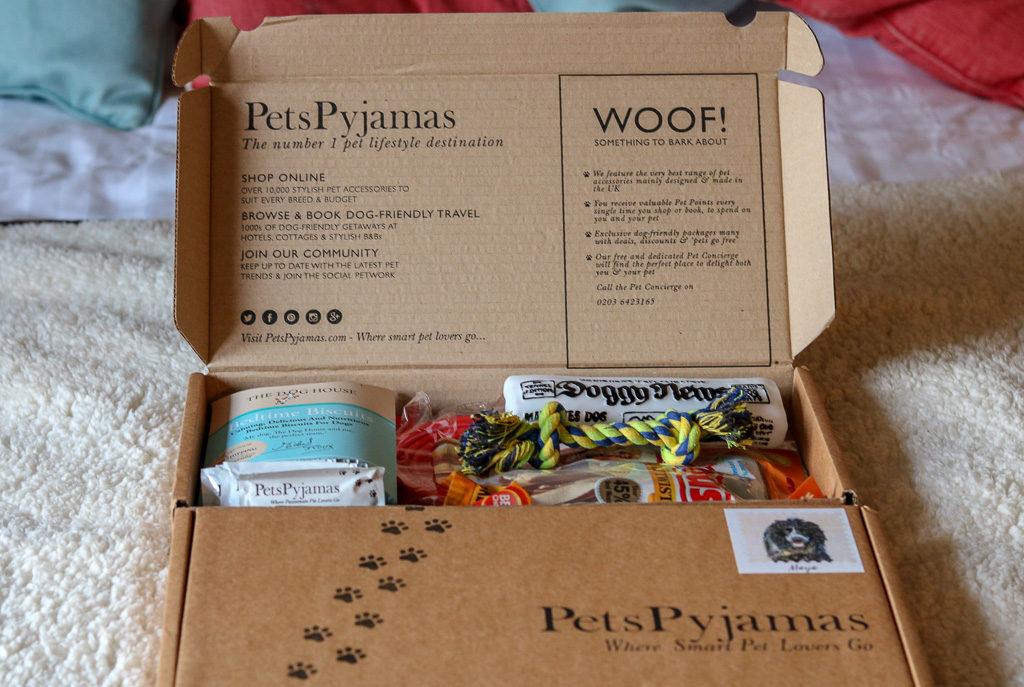 When we arrived at the hotel the staff were really welcoming, greeting the dogs with enthusiasm. In fact Maya and Lucia were in their element here as most of the other guests were dog lovers too and the girls love nothing better than to say "Hello" The only slight disappointment, in terms of it being a dog friendly hotel was that we were not offered any dog bowls, dog beds or even a treat or doggy sausage. Still the relaxed atmosphere and service more than made up for that and the dogs bounded up the impressive main staircase to our room with much enthusiasm!
The room itself was lovely and spacious with a beautiful view of the grounds and a huge canopied bed. There was also ample space to get everything put away, which is important as when travelling with pooches it seems impossible to travel light! The bathroom was a bit basic for a superior room to be honest, and could probably use a bit of an update, but, it was clean and it did have my favourite Scottish Fine Soaps soap and shower gel, so brownie points there! We had packed Lucia's crate for her to sleep in but she soon settled down in the dog bed with Maya – it was only when we were packing to leave that she took her chance and jumped up onto the big bed, and who could blame her, it was certainly one of the most comfortable beds we have slept in! Of course I couldn't resist taking a quick snap.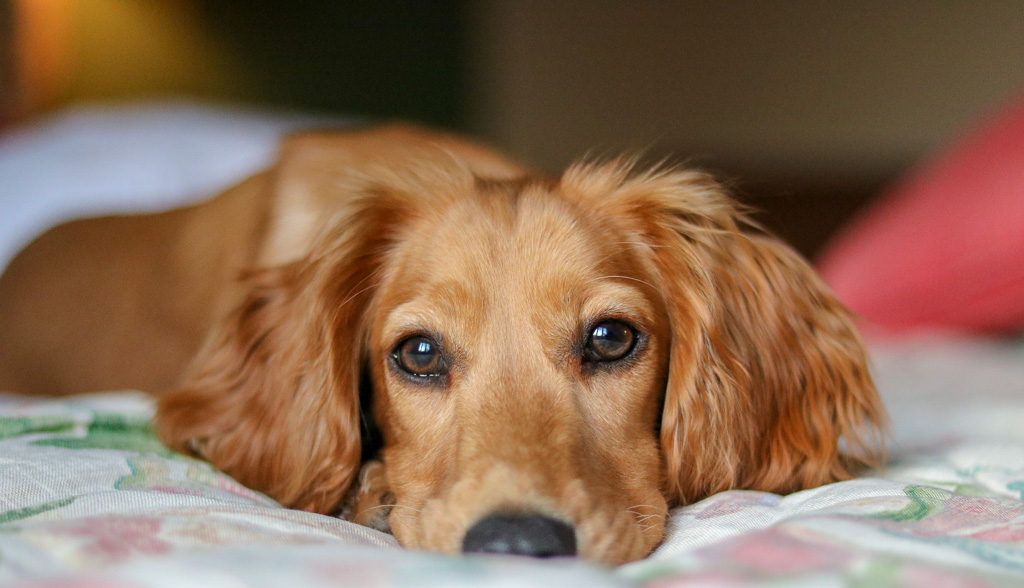 The grounds certainly didn't disappoint, the girls found plenty to sniff out and I wondered if they could smell that it had once been a private zoo in the 19th century. There are lakes, woodlands and gardens to wander around and the pooches loved crossing the cute little bridges, one of which is a replica of the Lucerne bridge. Dogs are allowed off lead too, so Lucia even got to play a little fetch in the garden! Lucia and Maya also got to practise their digging as just near the woodland there were molehills in abundance – thank dog for those paw wipes included in the Pets Pyjamas complimentary box!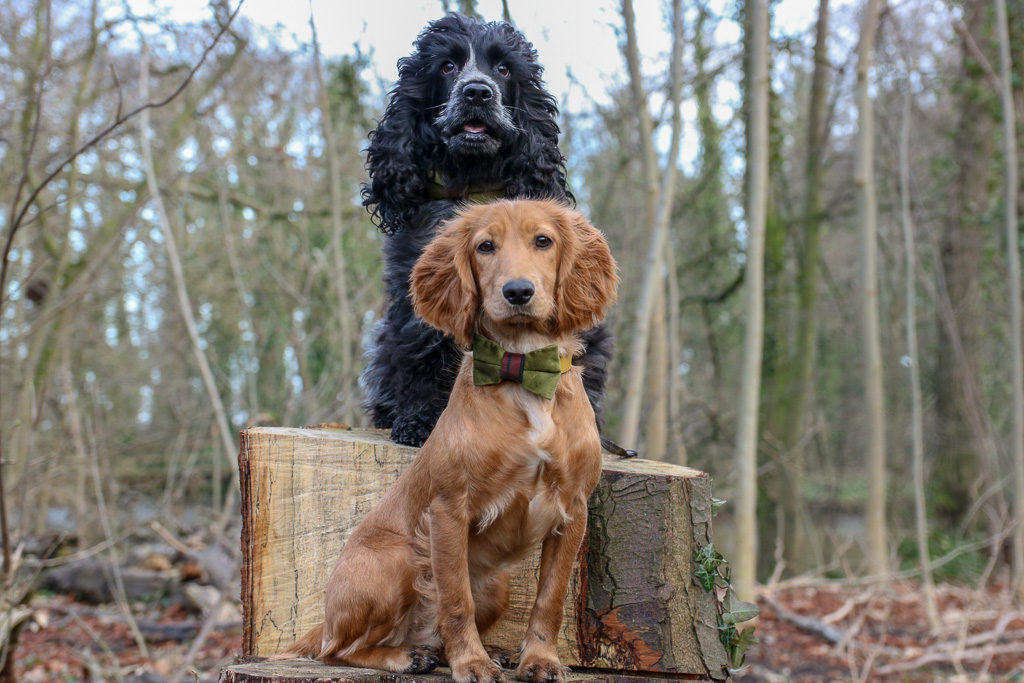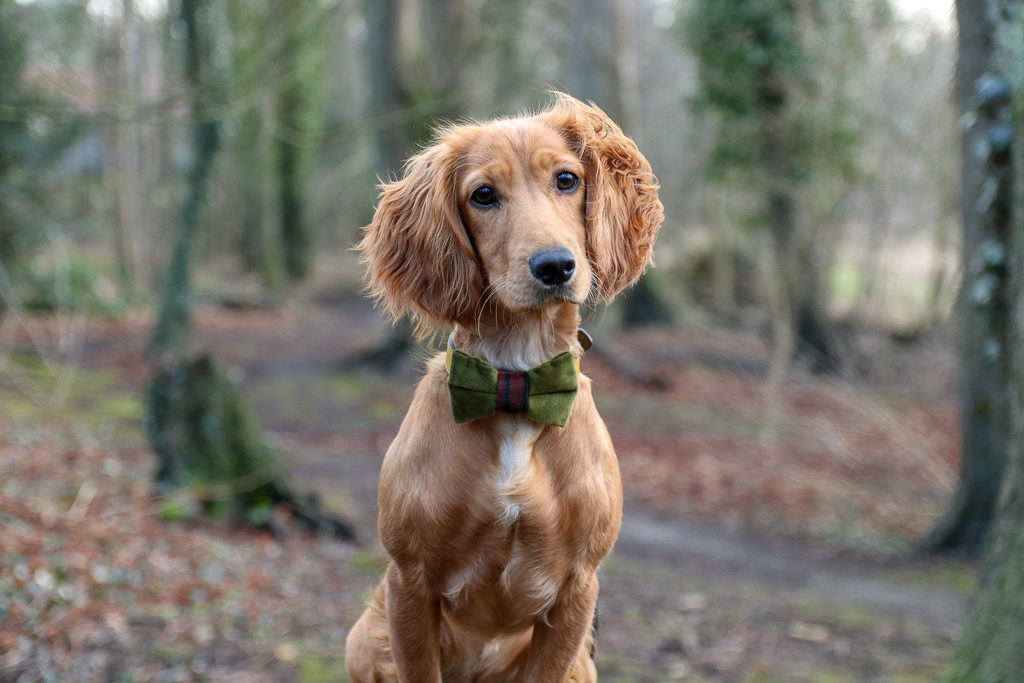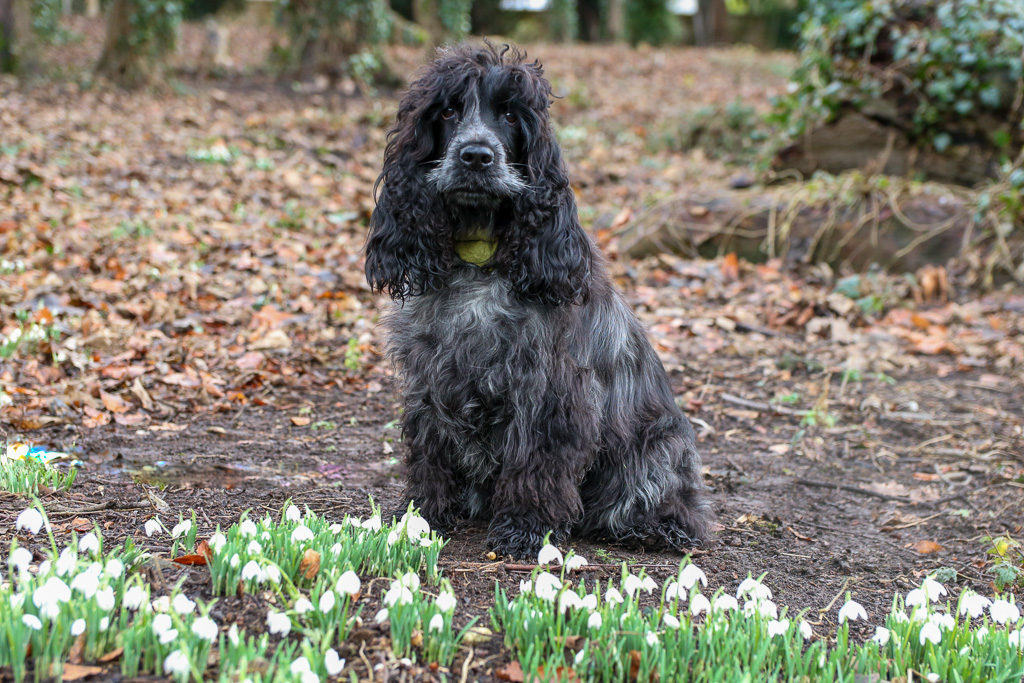 We ate all our meals (and of course a Yorkshire Cream Tea) in the lounge. Lucia behaved so well at dinner, even though the tables were quite low and only got a little excitable when folk came over to fuss her. We decided to just have a burger from the bar menu on this occasion, I had the chicken, a succulent breast that was grilled to perfection and Rod had the 8oz beef, both were delicious. Next time we will definitely eat from the restaurant menu. Dogs are not allowed in the restaurant, but, at Monk Fryston, you are allowed to leave your dogs in the room whilst you eat, or you can have the restaurant menu served in the bar. The lounge, by the way has a wonderful ambience, with gorgeous soft brown leather sofas, lots of candles and an ingle nook fireplace. Lucia soon made herself at home on a sofa, while Maya slept on my feet!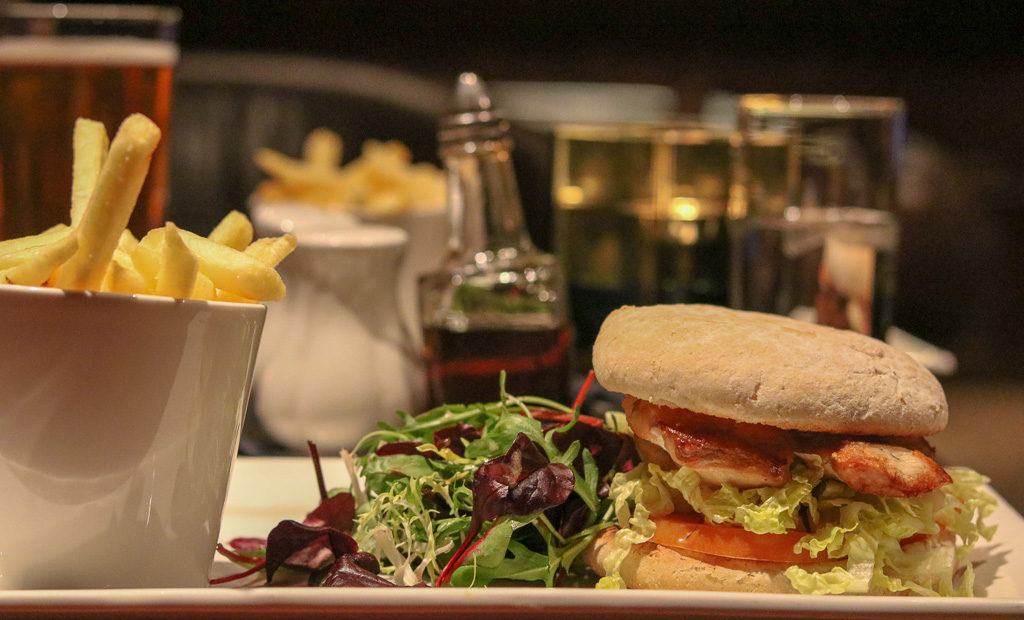 *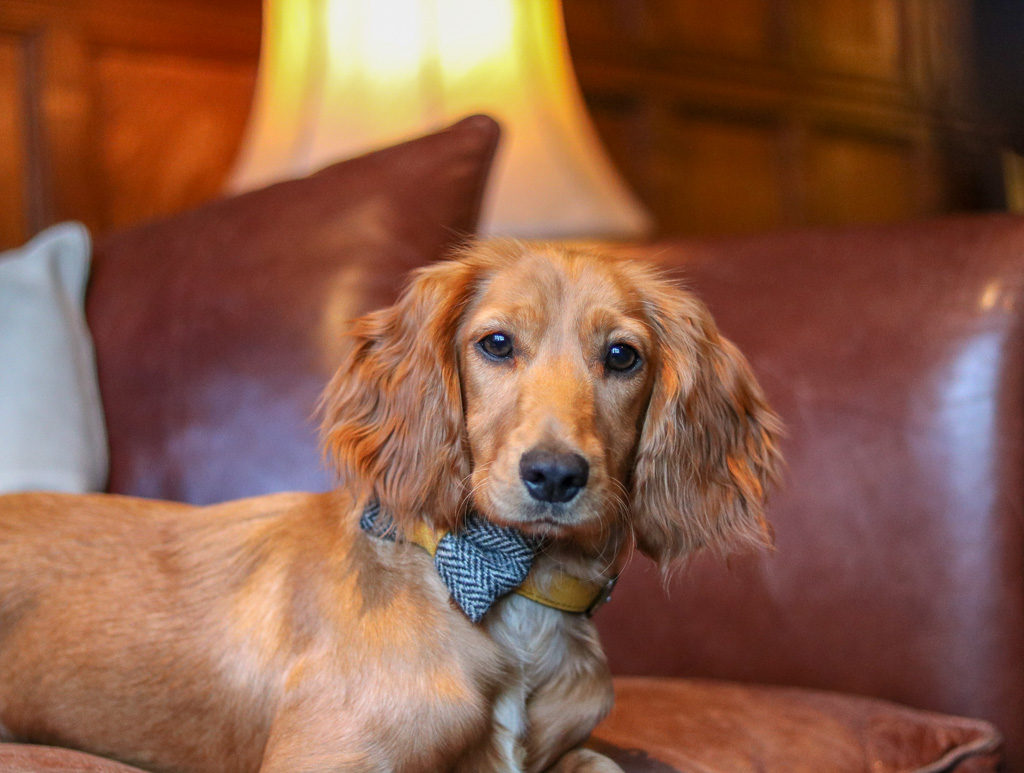 Breakfast was delicious, all freshly cooked and prepared to order and we were pleasantly surprised when a fully laid up breakfast table was bought in for us to dine at. Maya didn't miss out on her doggy sausage either – Rod had to forgo his to split with the girls!
The village of Monk Fryston is just at the end of the hotels drive and there is a lovely dog friendly pub, The Crown, just across the road. York and Leeds are within easy travelling distance of the hotel, as is Selby, a small market town with a wonderful 1000 year old Abbey that we visited on our way to Monk Fryston. There is also Barlow Common Nature reserve close by which is a great place to go for a dog walk.
We loved our stay at Monk Fryston Hall, it was the perfect place to go for Lucia's first stay away from home and we will definitely visit again one day. Dogs really are treated like guests by the staff and if only a few little extras were laid on for them it would be 5paw! A huge thanks to Pets Pyjamas for picking us as winners of their competition.
Love Sal, Maya & Lucia xxx