One thing that I really envy about my dogs is their ability to go from a seemingly deep and restful sleep to being ready for anything at the sound of a fridge door opening! Right now I've also got serious "bed envy" too because the good people at Berkeley Dog Beds have only gone and sent the girls one of their fabulous luxury Waterproof Orthopaedic Dog Beds to test and review.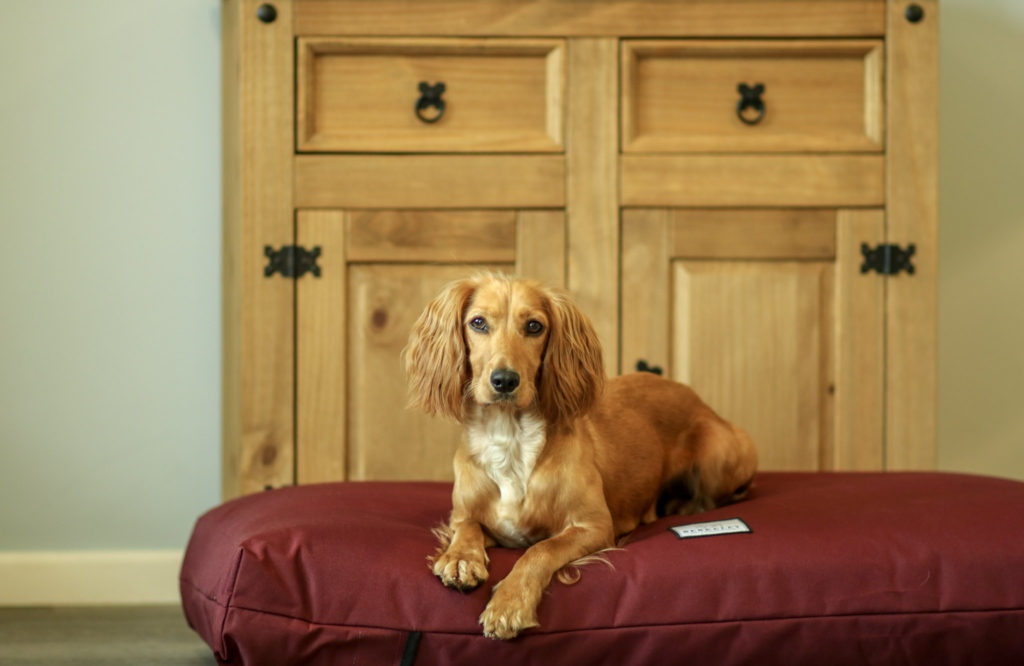 The Berkeley bed is not any old dog bed you see, it is a 20cm deep rectangular pocket sprung orthopaedic mattress crafted from natural and non-toxic materials. The bed is functional, stylish and robust and each comes with a 5 year guarantee. Fashion isn't sacrificed either.  The bed comes with an attractive waterproof and machine washable cover as standard, which is such a bonus if your dogs like getting wet and muddy like my girls and the company also do a range of different covers in velvet and polar fleece, so you can change the look of the bed with the seasons or when you redecorate if you want.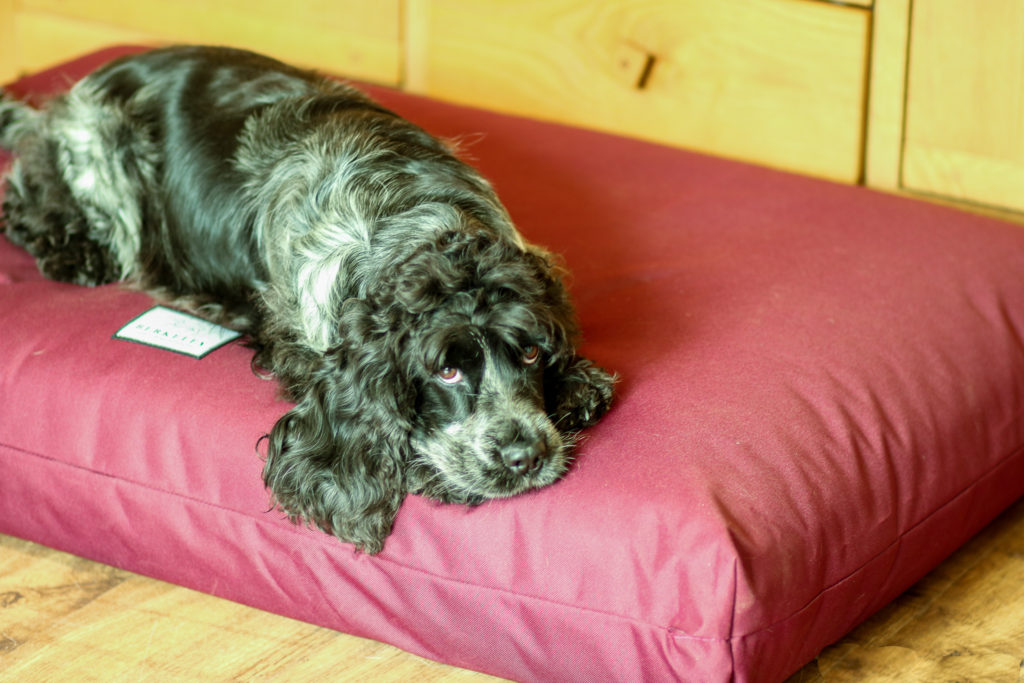 The Berkeley Waterproof Orthopaedic Dog Bed has lots more to commend it than just looks though, it has been designed to provide support for your pooches joints and is approved by Canine Arthritis Management. Maya and Lucia are young dogs and are lucky enough not to suffer from joint problems but it makes me very happy to know that after a day running and jumping about as crazy spaniels do they are resting on a beautiful substantial bed that provides the correct spinal alignment and joint support which will hopefully lessen their chances of suffering when they are older.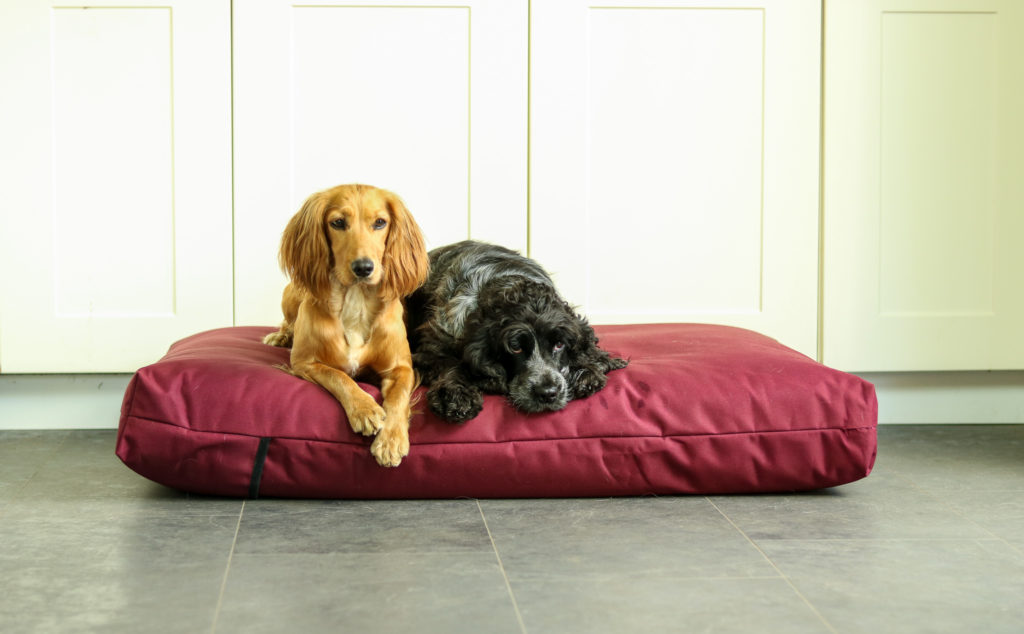 I have washed the cover once to make sure it didn't shrink and it came up good as new.  The standard cover can also be  just wiped down and apparently even hosed, although I have not tried this. One big advantage of this cover that I have noticed is that dog hair does not stick to it much – I like that!
The standard cover also provides protection from mould, mildew and damp as well as flea infestations. Another plus is that as the mattress is so deep it allows air to circulate and stops your dog getting so cold in winter.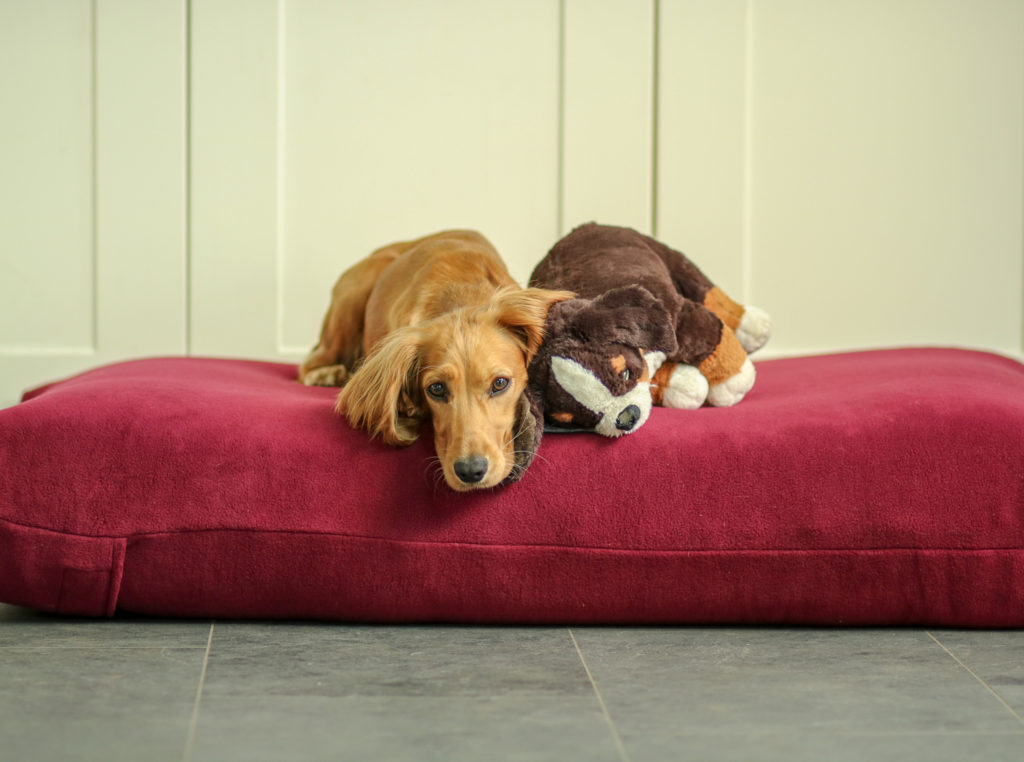 So the big question – was the bed dog enough for Maya and Lucia?
The answer is a emphatic yes! When the bed first arrived the girls were a little bit suspicious of it. I lugged it (yes you read that right, "lugged" – the bed is very heavy, around 9kg!) into the corner of my office and waited. After around 10 minutes the girls approached it one by one and had a little sniff. It was probably around an hour later that I noticed both girls had crashed out for a snooze on top of it – from then on it was "theirs"! Somewhere to run to with a chew and snooze on while I get on with my work. In short they love it. The beds come in three sizes, the one we have is a size large. There is ample room for both girls to sleep comfortably, turn round and stretch out – something to consider when buying a dog bed.
Perhaps the most suprising thing of all (ok, I'm not going to lie, welcome!) is that since having this mattress us humans have actually been able to stretch out on our bed! Yes folks it seems the girls were just trying to tell us they wanted a decent quality bed all along!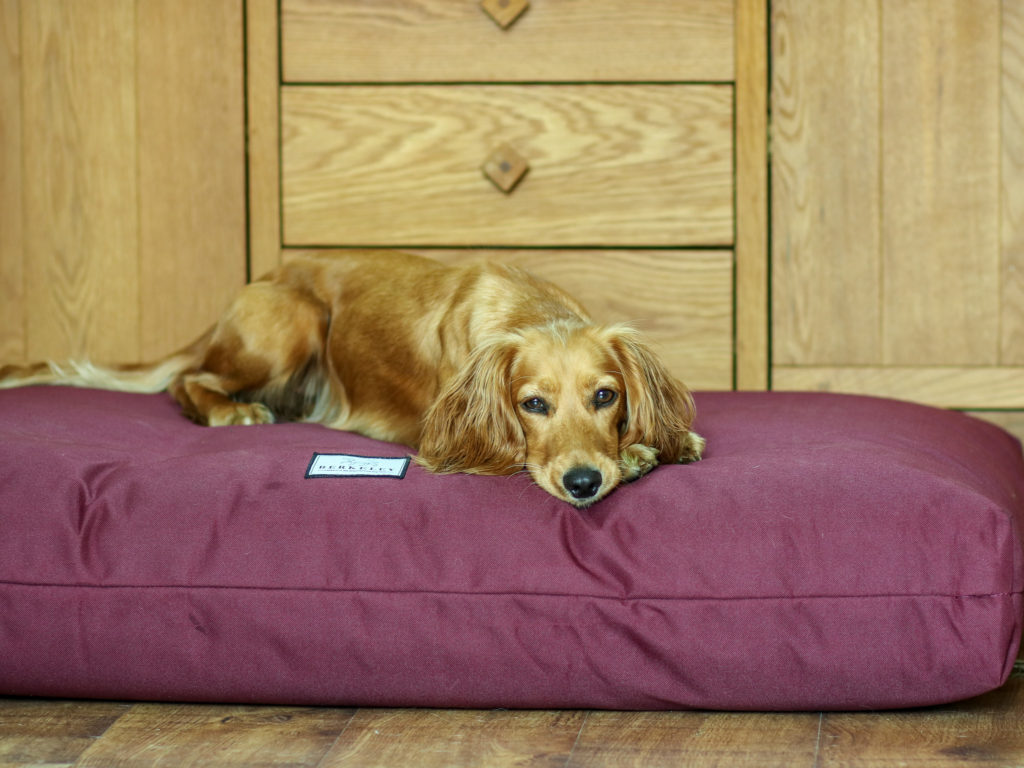 Berkeley Dog Beds are a British company that really care about dogs and have been meticulous in every design aspect of this mattress, all the beds are produced here in the UK by skilled craftsmen. When you consider that most dogs spend more than 50% of their time snoozing, investing in a good quality and comfortable luxury bed for your dog makes complete sense – I mean, would you want to sleep on a cushion on the floor? Why not have a look at the Berkeley Dog Beds website where you can read about the benefits of the bed in more detail as well as take a look at the other products they offer such as the stunning wooden raised bed. The girls and I definitely give this bed a big paws up and want to say a huge thanks to Berkeley for gifting us this bed and extra cover to review.
Why not leave us a comment below and let us know where your dog sleeps and what you think about this bed, we'd love to hear.
Love Sal, Maya & Lucia xxx