Sometimes life throws us a curve ball and lockdown has certainly done that, but while some of us were left twiddling our thumbs wondering what to do with our extra time indoors dog fathers Ryan and Mike put the their time to good use and started a new, exciting and ethical dog accessory brand, Leadly Pets. So what I hear you ask makes Leadly Pets stand out from the pack, well one thing that really impressed me is the brands ethical credentials, the guys pledge to donate at least 10% of every sale to Dogs Trust, then there's the infectious enthusiasm of the guys themselves who are obviously passionate about making a success of their brand while giving back to the dog community. Most of all though it was the products that I fell in love with, the designs are so bright and colourful and I think they reflect the vibrant, playful personalities of our four legged friends so well.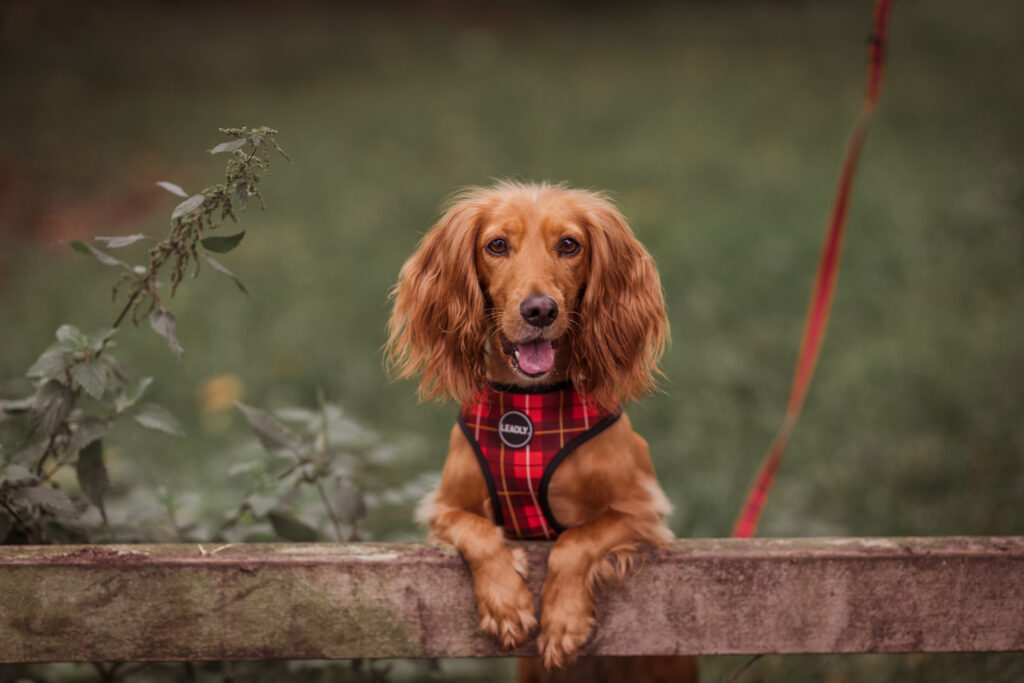 The most important things to me when I purchase a harness for my dogs are firstly will it be comfortable for them to wear and move freely in and secondly is it stylish, because of course Maya and Lucia want to strut their stuff in the dog park as much as the next pup! The Leadly Soft Dog Harnesses came up trumps on both of those counts and they are pretty robust too. (important with spaniels!) The girls seem to really love wearing them, which hasn't always been the case with harnesses.
The harness is made of premium custom printed neoprene and breathable mesh and is really soft, it also has a reflective label sporting the Leadly logo. The product is really well made and is easily adjustable for the perfect fit. My dogs aren't pullers (well, ok Maya can take a pull if she spies food on the ground!) so although this type of harness is more commonly seen on smaller breeds I found it to be completely functional on the girls, and would say it should be fine for most spaniel sized dogs that walk nicely on the lead. 
The lead is a nice length too and is comfortable to hold with it's padded handle, it also has a strong black clip to attach it to the harness and an extra D-Ring for your poop bag etc. .Leadly Pets have a choice of three different stylish designs at the moment and they are all reversible so if your pup is a fashionista they can sport two different looks for the price of one. Remember, if you decide to treat your pup to one of these smart harnesses you can also benefit from a warm feeling inside because as the brands tag line says "Together we can ensure every walk forward, gives back".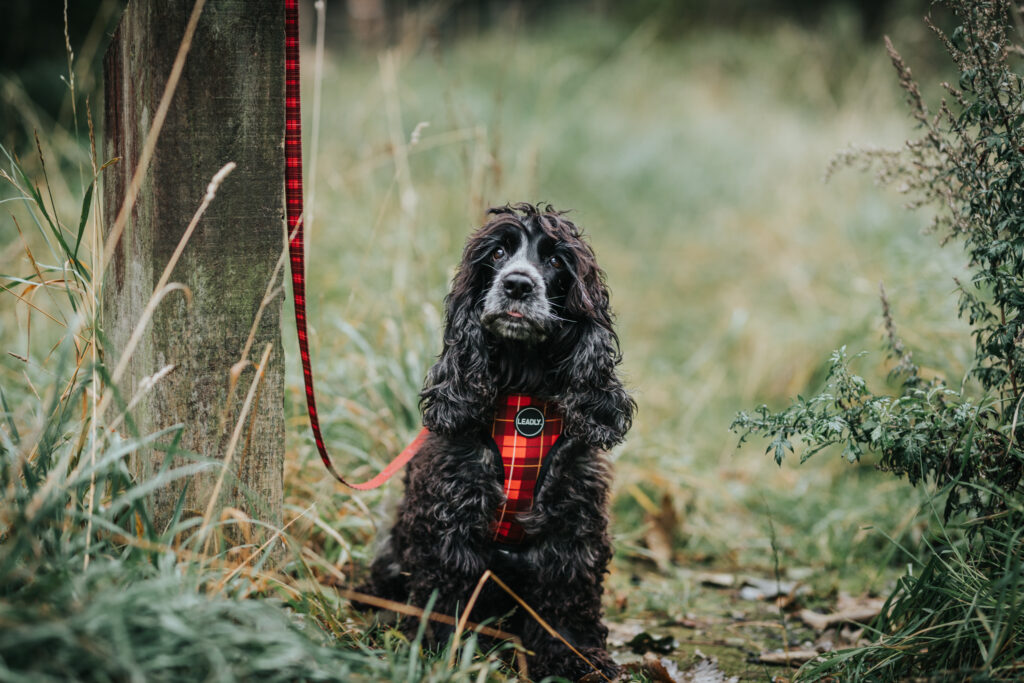 So i was so impressed by Ryan and Mike's email asking me to review their products I decided to ask them a few questions to find out more about the birth of Leadly, it's ethos and dreams for the future, hope you all enjoy reading their answers as much as I did.
1. What inspired you to create Leadly Pets?
We've both always loved dogs and we have two of our own. Having a background in charity leadership & campaigns (Mike) , as well as design & craftsmanship (Ryan) – we got frustrated when it came to shopping for our pups. We wanted products that proactively supported and gave back to dog welfare nonprofits instead of lining the pockets of chairmen that sit on boards of huge companies. We're all looking for goodies that our dogs will love,  providing them comfort & quality and it can be difficult to find that a lot of the time. 
Then that pesky virus got us all locked down… and ideas started flowing – and after many late nights of thinking and planning – Leadly; the Ethical Pet Apparel Company, was born.
2. Tell us about your brands ethos 
We believe every service and sale should give back to the community it's produced for. We believe that businesses have a social responsibility to change the world for the better. So we have a clear social mission to support Dogs Trust in their combatant of puppy smuggling and ending animal cruelty. Over time we aim to increase that support and continue to always be ethical. 

3. You both obviously love dogs, tell us a bit about your dog father journey.
We have two pup children – Stitch, a 1 year old Frenchie and Bagels, a 7 month old English Bulldog. Along with being the original Leadly models (bribed with snackos) this pair of affectionate and loving dogs has completely changed our lives. Through growing up with dogs and now becoming dog owners, we've been reminded of how much they can become the centre of your family. They have encouraged us to go on new adventures, see new things, and basically reassess our prioritises of what is most important in life. And equally, the poor treatment of puppies and dogs, especially over lockdown and over Christmas, needs deeper regulation to ensure the protection of pups, and to stop them falling into the wrong hands.

4. We love the harnesses, do you have plans to increase your range?
I can't stop drawing. We have lots of design ideas in the works and we aim to release new products in the new year. We have seen overwhelming support for the two designs we currently have available, so increasing those ranges into more sizes and collars, YES!  And dropping a new design in the new year? Well, wouldn't that be awesome! Watch this space. Sign up to our newsletter to be the first to know 😉
5. What's the toughest part of starting a new ethical business?
Many people have asked if retaining margins so we are able to give back to charity was the most difficult thing about starting an ethical business. It's NOT! Ensuring your profit models work to support good causes should be fundamental to every business. Giving back to the community you serve shouldn't be unique. The trickiest part of starting Leadly was actually having the mindset to start in the first place. Starting a business can be incredibly intimidating; getting a clear strategy and developing a wonderful, well-made product can take time. But sticking true to our vision was, I think, one of the main reasons Leadly has resonated with so many dog owners so quickly. It's needed.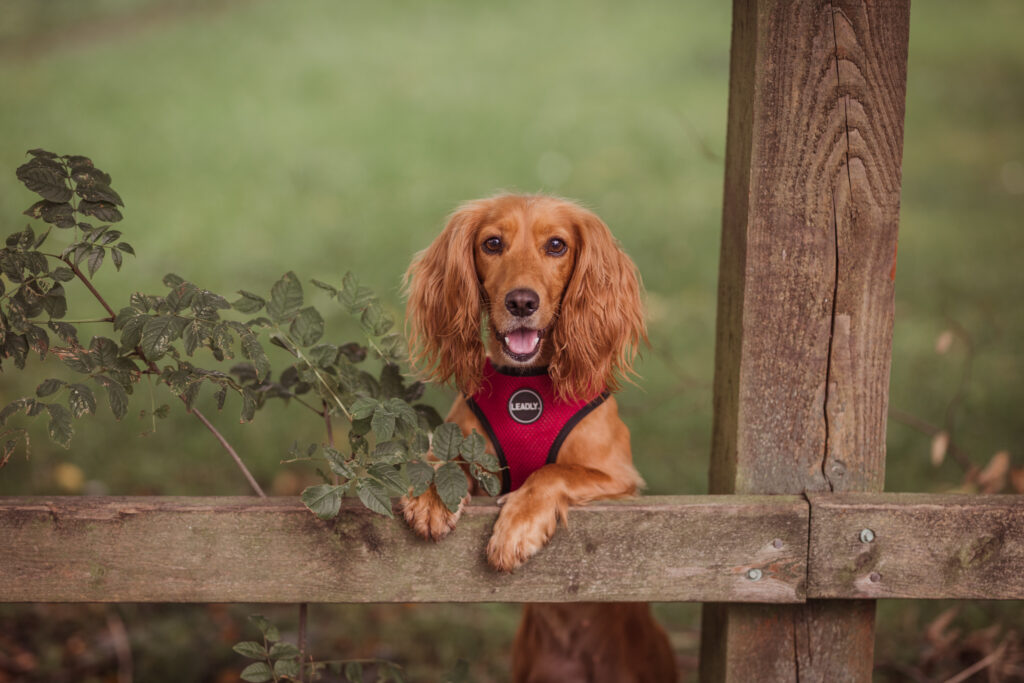 Maya and Lucia (and me) give an unequivicol paws up to Leadly Pets and wish them every success in the future. Thanks again guys for gifting us the harnesses to review.
Love Sal. Maya and Lucia xxx
* My spaniels always wear a collar and ID tag when out and about as required by law in the UK but I left them off for a short time for aesthetic purposes in the photography for this blog post.