Maya, like many spaniels I guess, is an enigmatic mix of intrepid adventurer and super affectionate cuddle monster. The sort of dog whose tail is always wagging and is forever on the look out for a friendly dog to play with or a bit of human attention. Look into her eyes and you will see a beautiful, sweet dog (which of course she is) but look at her fur, caked in mud or something worse at the end of a walk and it will tell a different story.
Maya has a strong natural instinct to mask her own scent so as to confuse the squirrels she is stalking. Yes, Maya is a roller. Fox Poo is her perfume of choice but she is also partial to dead rotting fish and cow pats. If you have the misfortune to be owned by a dog who rolls, you'll be only too well aware of the putrid, nauseating smell that wafts continuously up your nostrils after your cute pooch has sated themselves. Lets face it guys = it's a problem we all want to solve, read on to find out my suggestions.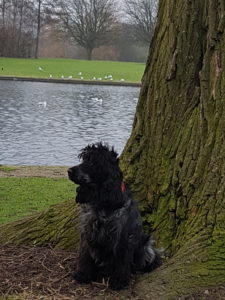 Firstly there  is the popular remedy of Tomato Ketchup. The theory is that it neutralizes the smell, vinegar works too and apparently this method became popular in the U.S as a way to eliminate the beautiful sweet smelling perfume of  skunks from their dogs fur. Nice!
Anyway i have had a degree of success using Ketchup, but it is messy and takes alot of washing out. If you want to try it rub ketchup into the offending areas before shampooing and rinsing as usual. It does work but surely there was a better solution I thought …..
Then last summer while at the Lincoln Show I  came across the miracle that is Fox Poo Shampoo made by Animology this really is a magic potion in a tube.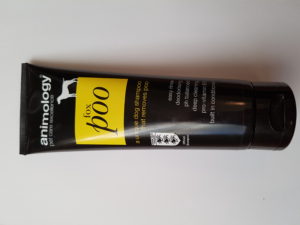 This shampoo performs just like a normal good quality dog shampoo. It works up to a lovely soapy lather and leaves the coat sparkling clean, lovely and glossy and without a sniff of a bad odour. You can order it from the Animology website priced at £5.50 and i have also seen it sold in shops such as Pets at Home. I would never go back to the Tomato Sauce method this brand has me as a customer for life.
Sometimes though I could still smell that sweet foxy perfume drifting up my nostrils and one day it clicked – it was her collar!
I had heard about the Ruffwear brand from my twitter friends @DogsAdventure and while looking on the Ruffwear site I happened across the Headwater Collar. It sounded just perfect as it was waterproof. reflective and stinkproof. Yes, you read that right – Stinkproof – .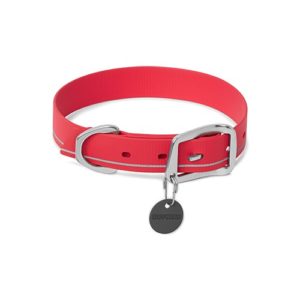 The collar is made of waterproof coated webbing and has a couple of really cool features, like the buckle which is a variation of the classic equine Crux buckle. It also has a seperate ID attachment point and a novel silicone tag silencer. (That does work by the way and puts a stop to that annoying jingling)
I chose the Red Currant colour for Maya but it also comes in three other stunning colours: Fern Green, Blue Spring and Alpenglow Pink. I shopped around and got one for £29.95 which is well worth it.
Maya has really put this collar through its paces, swimming in the sea, stagnant ponds and muddy canals and rolling in whatever came her way. When we get home I run it under the tap and it's good as new. i think the collar is smart enough for everyday wear too – although the canine fashionistas among us may not agree. In any event it's just the job for a muddy Dogs Day Out.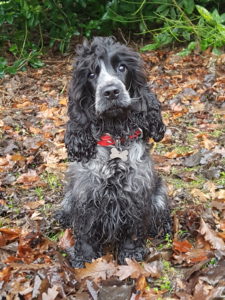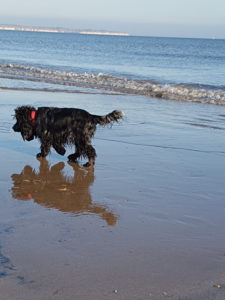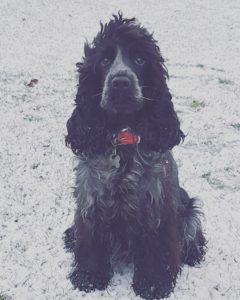 Of course there is another solution to the rolling problem.Training.  Maya actually has quite a strong recall and it is only when she is partaking in a delightful roll that it falters. So I am going  to try training her to "mark", I think this will be a pretty long process as I have never done any gun dog training with her but am going to give it a go. If any of you have any tips on this please bark up!
Hope you are all having fun with your dogs, I'd love to hear your rolling tales or tips. and if you give any of these products a go please let me know how you got on. I bought both these products out of my very own money so all views expressed here are entirely unbiased.
Love Sal & Maya x