As someone who grew up traipsing up and down to the library to research stuff, the amount of information available on the internet at the click of a mouse still amazes me. So when the desire to hear the pitter patter of tiny paws  became overwhelming I started to google various breeds.
I fancied a samoyed – too much grooming said he.
He fancied a husky – too much exercise said T.
And so it went on, but over the weeks, we kept coming back to the English cocker spaniel. We read that they were trustworthy, trainable and suitable for people that had seen a few summers.
We began to research breeders and eventually bought Maya – posh KC name Bareve Classy Candy, a show type cocker spaniel from a lovely, knowledgeable breeder in Lincolnshire.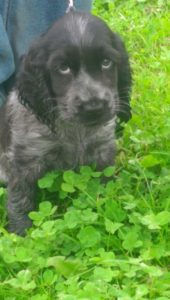 I won't lie, there were times in the first few months that I was tearing my hair out. I found out that cocker spaniel puppies are commonly known as "cockerdiles". I cried, I wore boots in the house to protect my poor feet, I ate chocolate and I drank wine.
Happily though Maya, now 2, has turned into the most wonderful dog, always happy with her tail wagging she is everything we hoped for and more.
Sal