Do you ever wonder what your dog gets up to when left home alone? I know I often do, all sorts of thoughts go through my head, are they pining at the door, getting up to mischief or sleeping on the settee? Up until now it could of been anything, but now, with Maya and Lucia's new best friend, the Furbo Dog Camera I can take a peek on my phone anytime I choose. It's got two way audio as well so I can tell them off if they're up to no good. How pawsome!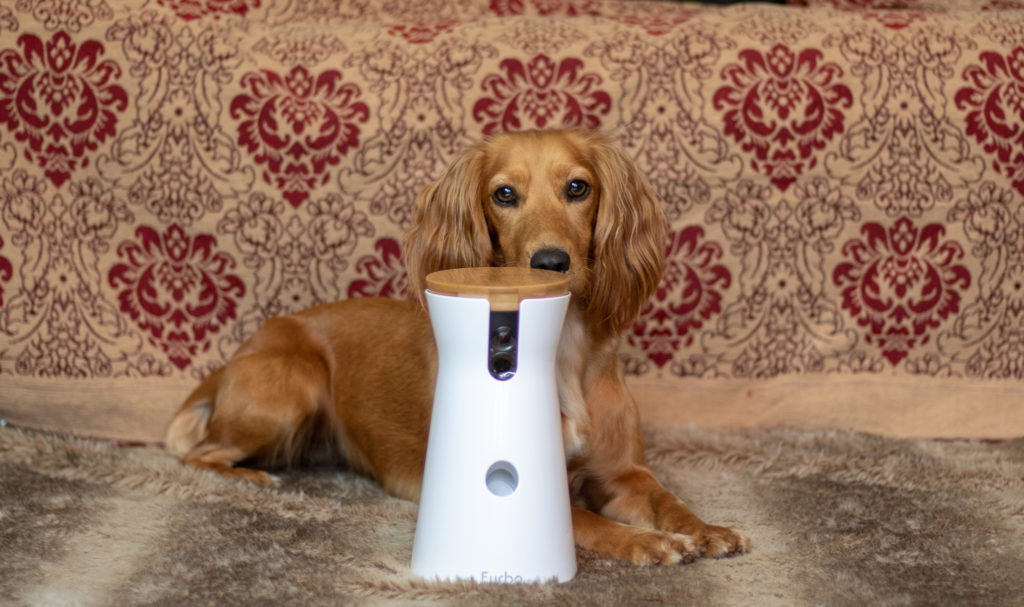 Not only that, but through the app, I can ask Furbo to dispense a treat and the device even sends me an alert if the girls are barking. It really is an amazing bit of kit and although I don't leave the girls alone that often as I usually work from home or send them to doggy day care if I'm to be out all day, it's revolutionised nights out at the theatre and shopping trips as I can spy on them whenever I want. What are they doing? Well often they are snoozing as close to Furbo as possible to make sure they don't miss anything! Mind you I place it up high on the mantle piece now as little Lucia soon discovered a good food hack was to knock Furbo over and help herself to all the treats!
I am pretty hopeless when it comes to any kind of technology, but even for me the Furbo was really easy to set up. You simply download the app onto your phone, plug it in, pair the Furbo to your wifi via bluetooth, load with treats and you're ready to go. Apparently some dogs take a little time to get used to it, perhaps they can't figure out how they can hear you but not see you or maybe they are apprehensive when it sounds an alert before launching the treats out, but Maya and Lucia were smitten with it straight away. (Nothing to do with it dispensing treats of course!) Mind you I'm sure if your dog is nervous of Furbo it won't last for long, just take a little time to introduce it slowly. The dog camera holds 100 treats and Furbo kindly supplied the girls with some small rounded ones but I imagine most kibble etc would be suitable. As my dogs are raw fed I'm going to have to have a look around to see what will work for us in the long term.
One thing that really surprised me was how clear and vibrant the images are – full HD video! And the wide angle lens means you can see what's going on in a huge area of the room. Furbo even has night vision and I couldn't resist having a sneaky peek at Maya and Lucia curled up asleep together in the middle of the night and found that it was so much clearer than my home security camera. You can even take a snap or video of them if they're up to something hilarious  and you want to show your family later!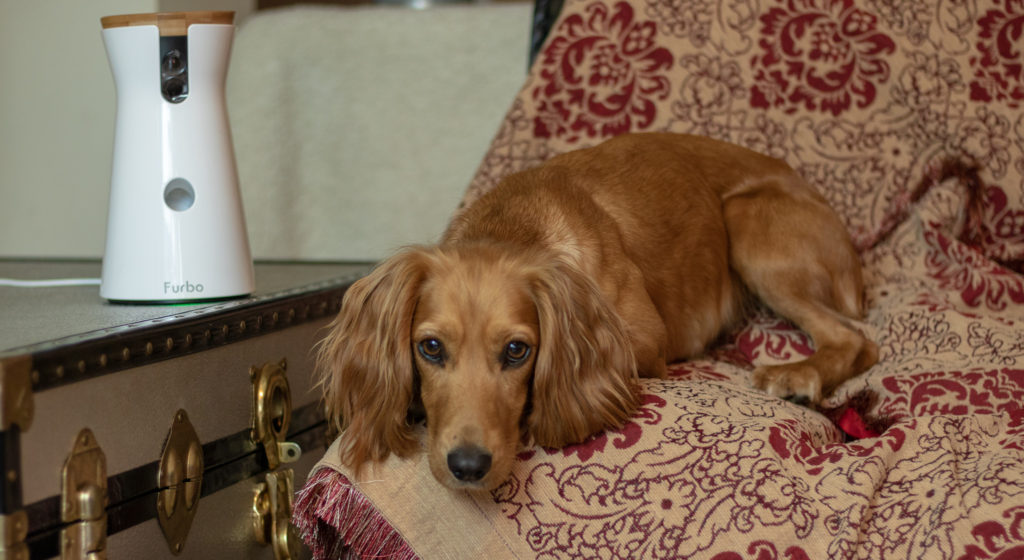 The Furbo Treat Tossing Dog Camera is also incredibly well designed and would fit unobtrusively into any room. In our house though  it's on prominent display as I've been closely monitoring how the girls react to it and it's been a great talking point when friends drop by!
My dogs don't suffer from separation anxiety (it's me that does!) but if yours do a Furbo would be so reassuring for them, and a god send for you. We're definitely not at this stage yet (the girls get super excited when the treat alert goes off or even if the light at the bottom changes to blue. a colour that dogs recognise – check my Instagram highlights to see for yourself!)  but I plan to attempt to have a go at training them remotely through it. The real benefit of the Furbo for me though is peace of mind and although the Furbo is a bit of an investment, you can't put a price on that! In fact I'm left wondering why I didn't purchase one ages ago so I'm extremely thankful to Furbo for gifting us this one to review. Maya and Lucia adore it too, I mean what dog doesn't appreciate an unexpected random reward for nothing when their human isn't around!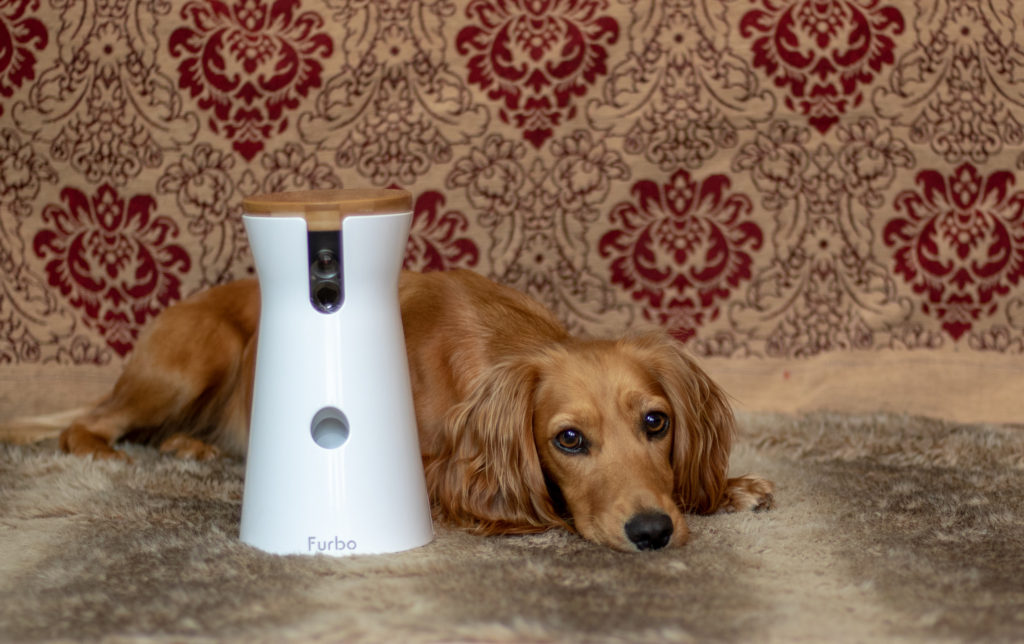 We just love our Furbo and give it a 5 paw rating! Why not follow Furbo on Instagram @furbodogcamera or visit the Furbo Dog Camera website for more information and cute pictures and videos.
Do you have a dog camera or are you thinking about getting one? Why not let us know in the comments below.
Love Sal, Maya and Lucia xxx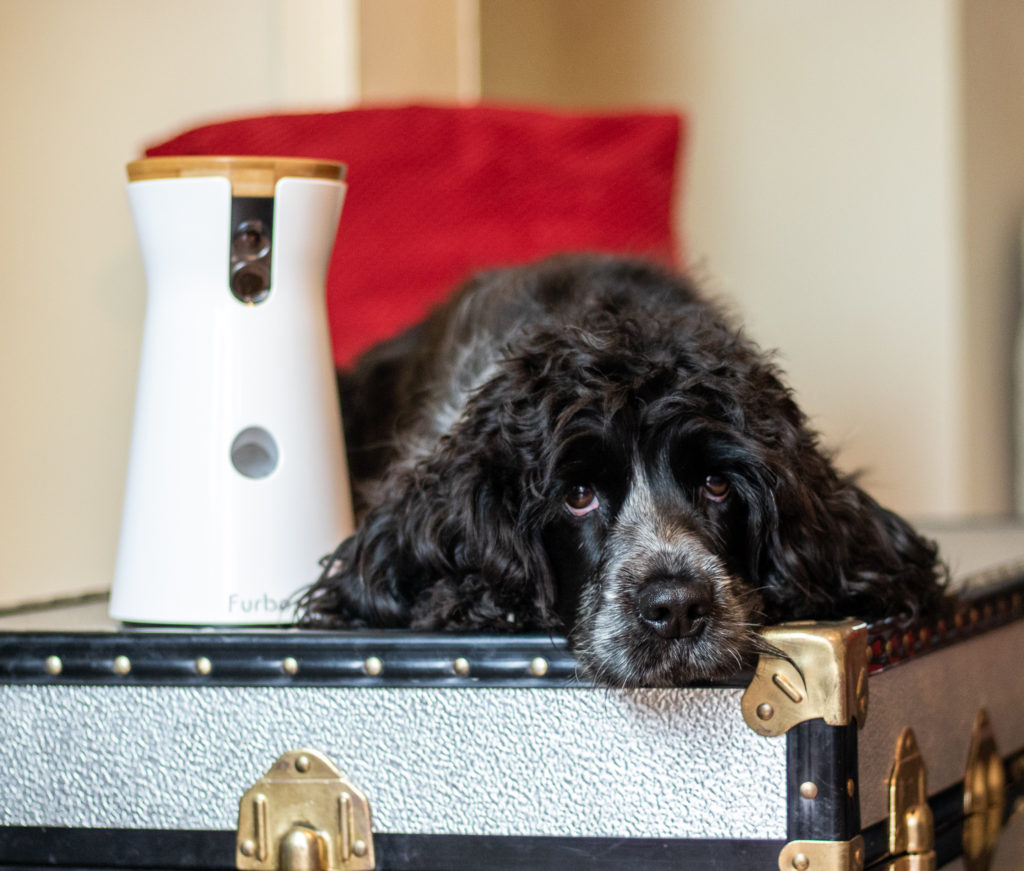 A huge thanks to Furbo for collaborating with us on this post.