You may remember last September we reviewed the Furbo Dog Camera, long story short we were super impressed. (click here if you want to read the long story) The Furbo Treat Tossing Dog Camera was an instant hit with the girls, I think they now regard it as their new best friend. I love checking in on them on my mobile when I'm out and about to reassure myself they're not up to any mischief. The girls are usually snoozing but if they're awake I can a have a little chat with them, and yes, I often reward them with a little treat! I noted in my review that a Furbo would be fantastic for dogs with separation anxiety and it turns out that Battersea Dog Home have been utilising a Furbo to help train and reassure some of their rescue pooches, enabling them to find their forever homes – how amazing is that!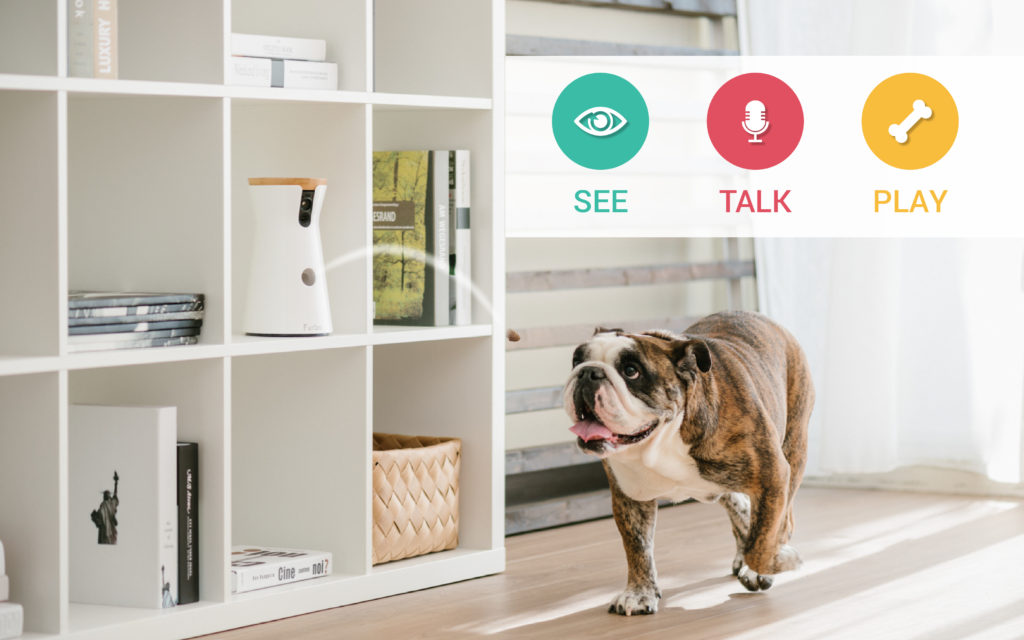 One such dog was Wiley, a 6 year old Staffy, this cute, intelligent dog always caught the eye of prospective owners, but time and time again the feedback to Battersea staff was the same, his constant barking put them off giving him a home. That's when staff decided to teach him a trick that not only engaged his brain but also made him more appealing to visitors.  Guess what they taught him –  to hold a bunch of flowers in his mouth. Once a handler had taught Wiley the trick they could ask Wiley to pick the flowers up and reward him using Furbo even when he was alone, and of course with a bunch of flowers in his mouth he couldn't bark! Furbo was also used to reward Wiley for calm and quiet behaviour.  It wasn't long before he was adopted – I mean who could resist a pooch presenting you with a bunch of flowers!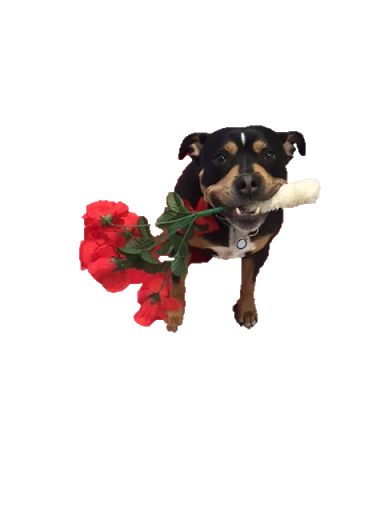 Sally, a black ex-racing greyhound suffered from separation anxiety and after two unsuccessful adoption attempts due to her being unable to be left alone for more than a few minutes because of her stress induced destructive behaviour Furbo stepped in to help. Battersea staff put Sally into one of their home-style rooms and developed a training plan using Furbo to reward her for calm and quiet behaviour. Sally soon started to see being home alone as a positive experience and even started to lay down and nap when left on her own.  Sally is now happily settled in her forever home and I bet she took her new friend Furbo with her!  The staff at Battersea are obviously very busy so Furbo is invaluable to them, enabling them to train and calm down an anxious pooch remotely when handlers are busy with other dogs. Furbo ultimately enables the dogs to have the skills and confidence to settle in their new homes.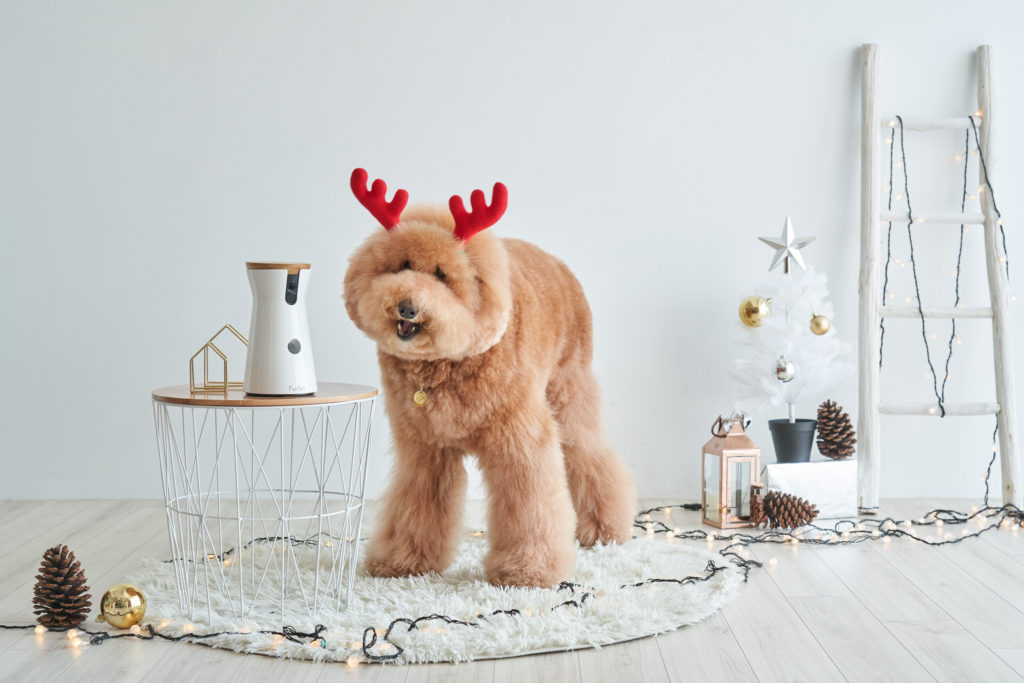 Now, I have two exciting pieces of news to tell you, firstly Furbo have an amazing Christmas Sale on right now, you can get your paws on a Furbo Dog Camera for just £129, that's a saving of £120.  It's the perfect present to share, your dog will love it and so will you, and who knows when you get home from work your dog could soon be presenting you with a bunch of flowers! The Furbo is available to buy from the Furbo Shop and it is also available on Amazon at the discounted price until Christmas.

Secondly, Furbo have generously given us a dog camera to give away on our Instagram, why not pop over there now @woofwagwalk and enter! The competition will close on the 21st of December and the winner will be chosen at random and notified the following day. Good luck if you enter.
Wishing you all a very happy Christmas,
Love Sal, Maya & Lucia xxx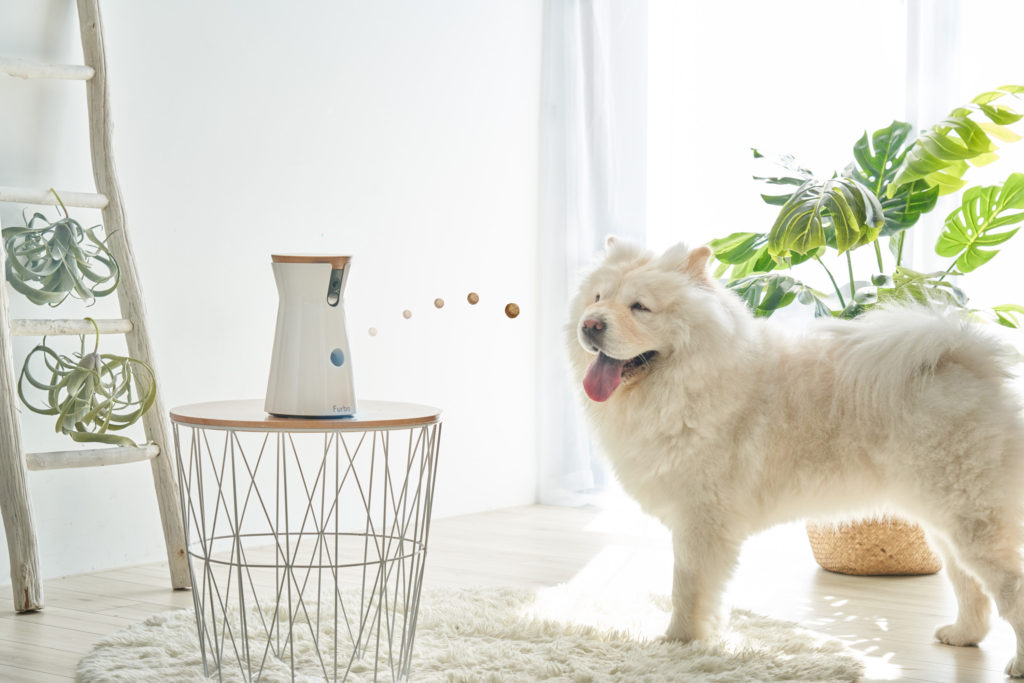 *This post is sponsored by Furbo