Scarborough has got to be one of the most well known seaside resorts in England, with a bustling promenade, sandy beaches and it's famous Yorkshire hospitality, it's got it all – but is Scarborough dog friendly? Read on to find out about the fun you can have with your dog on a holiday or day trip to this vibrant town.
Dog Friendly Beaches in Scarborough
If you're anything like me the first thing I research when booking a dog friendly holiday are the beaches. Scarborough has two sandy beaches in the town itself, South Bay and North Bay.
South Bay is a sandy beach which runs parallel  with the main promenade, which is full of traditional seaside attractions such as amusement arcades and fish and chip shops. It is right next to the harbour too which Maya and Lucia just love to have a good sniff around, and the girls have thoroughly enjoyed a boat trip from here in the past.
North Bay, which I prefer to take the girls to is a bit quieter and I think more natural looking but the main reason I go there to be honest is that Maya is extremely food motivated and it poses less of a risk of her legging it to the nearest fish and chip shop! It is a sandy beach with a few rocky outcrops and I am a sucker for the brightly coloured beach huts which brighten up even the greyest, windiest trip to the beach.
One of our favourite things to do in Scarborough is to walk the couple of miles from North Bay to South Bay and indulge in an ice cream or hot chocolate along the way. Introducing the pooches to the giant sculpture 'Freddie Gilroy and the Belsen Stragglers' (pictured at the end of this blog) is another highlight of this walk and if you are lucky you might even spot porpoises off the coast as you stroll along.
If you visit out of season both beaches really are a paradise on earth for pooches, my spaniels love it because there are always so many other dog's to make friends and play with. (and owner's to beg treats from in Maya's case)
However like most popular coastal resorts there are restriction on dogs in the summer months ( 1st May –  30th September) and although there are still areas of both beaches that your pooch is allowed on in season these are tidal and so can only be accessed at low tide which is a bit of a downer.
Don't let this put you off though, just a couple of miles down the coast is the wonderfully rugged Cayton Bay which is dog friendly all year round and one of the spaniels favourite beaches. There's a surf school there too where you can hire boards and I hope to give that a go with the girls this summer.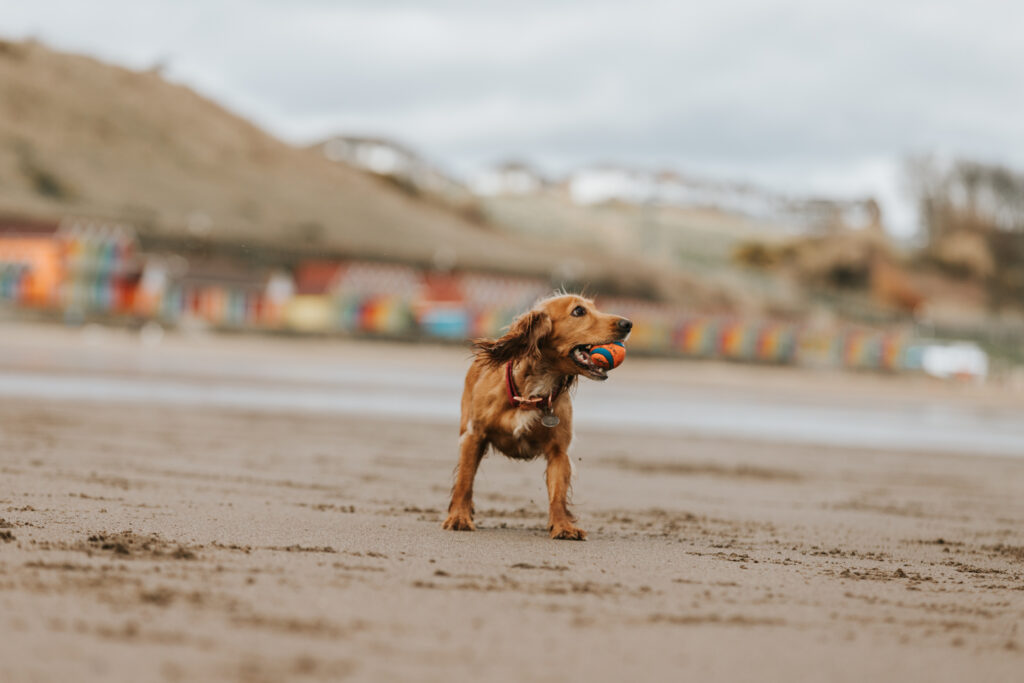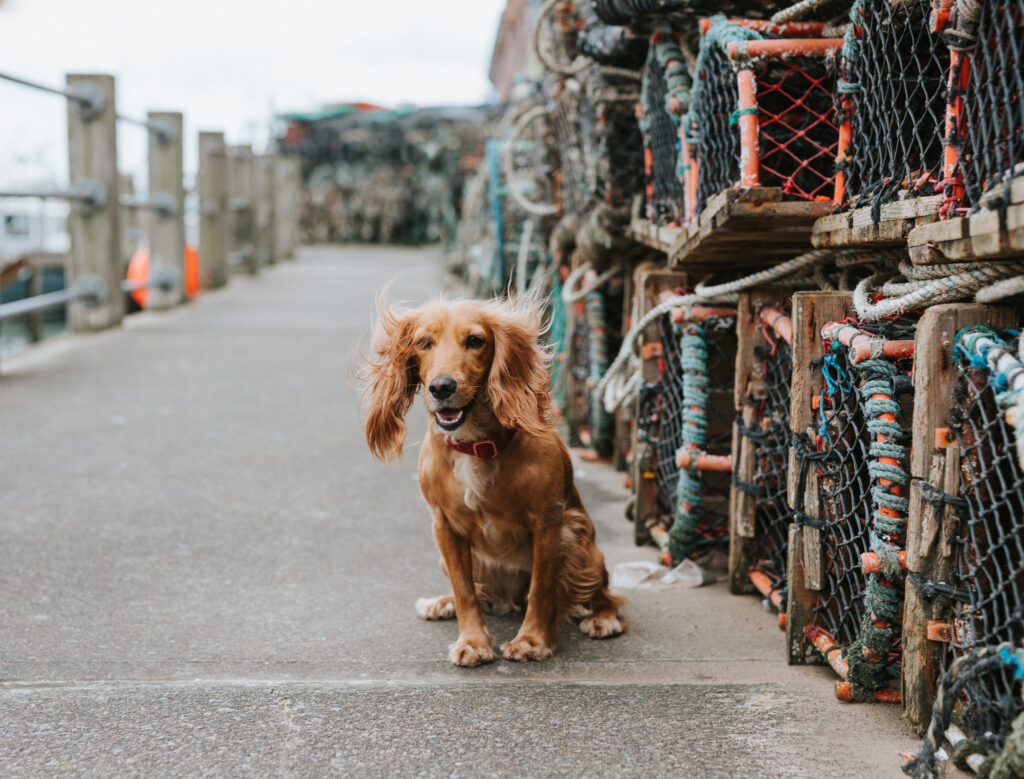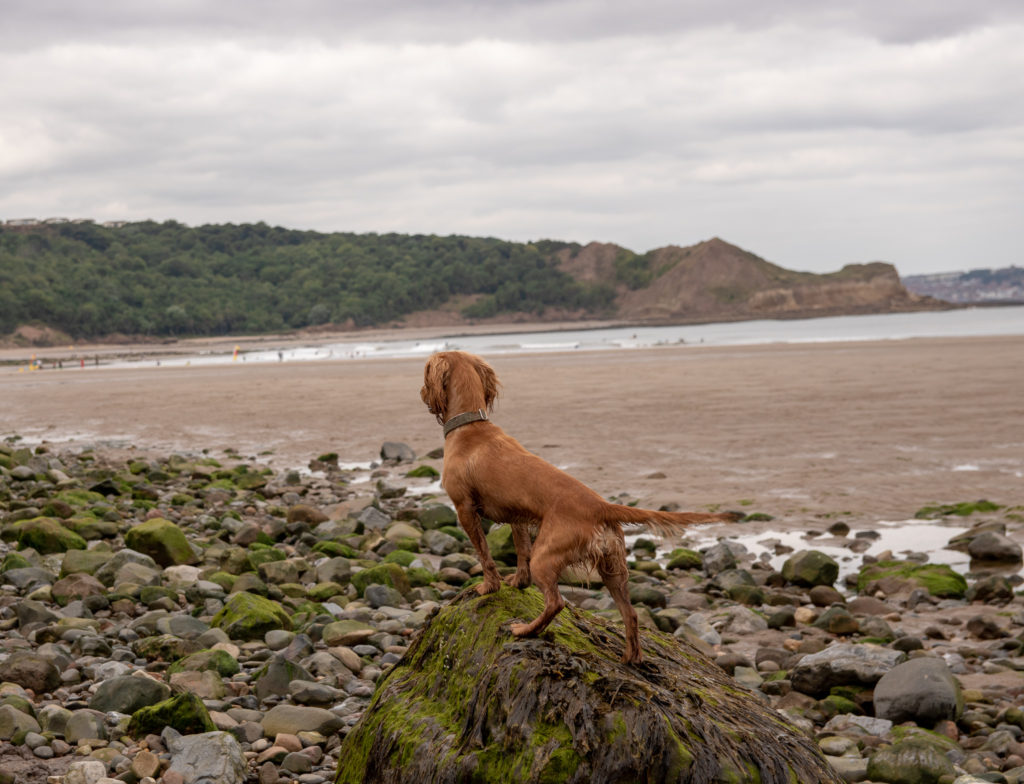 Dog Friendly Attractions in Scarborough
Scarborough has much more for you to enjoy with your pooch than just beaches anyway. The North Bay Heritage Railway welcomes furry friends aboard and they travel for free too which is a bonus. Scarborough Castle, run by English Heritage is also dog friendly and well worth a visit.  Peasholme Park which incidentally opens 24 hours a day welcomes well behaved pooches on leads. The park has an oriental theme and is really beautiful plus it's home to a variety of wildlife and unusual plants and flowers. There is a boating lake and a couple of cafes there too which are also dog friendly. Don't miss out on trying out one of the cliff lifts either there is a small charge of just over a pound for humans but dogs travel free.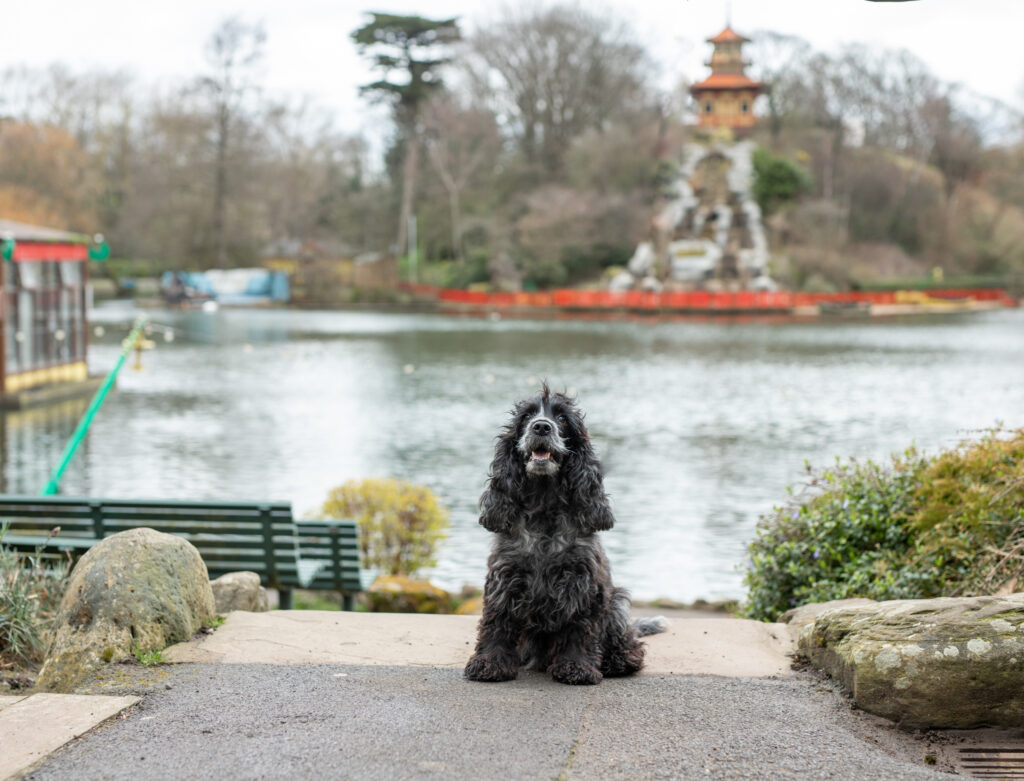 Dog Friendly Pubs and Cafes in Scarborough
There are so many establishments that welcome dogs in Scarborough you'll be spoilt for choice. Some of our top picks are the Watermark Café and the Blue Crush Bar & Diner in North Bay, both of which are very welcoming to those on four paws as well as humans and they serve up delicious food too. The Old Scalby Mills  is another favourite haunt, and has amazing views as well as good beer.
The Belly Rub in town is just fabulous and even has a doggy snack menu, an extra paws up from the girls for that and what a name!  We also like the Hole in The Wall in South Bay but honestly there's just so many dog friendly pubs and cafes in Scarborough I just haven't got room to list all the ones we love.
There are also plenty of shops in Scarborough that welcome doggy customers, make sure you visit the Old Town with it's quaint cobbled streets and ecelctic range of small independent shops. My dogs especially like to stick their nose in The Purple Pup, (obviously!) but almost all the quaint little shops allow furry friends in to browse and most have water bowls for dogs to quench their thirst outside.
There's a Pets at Home in Scarborough too as well as several independent pet stores so you don't need to worry about running short of anything.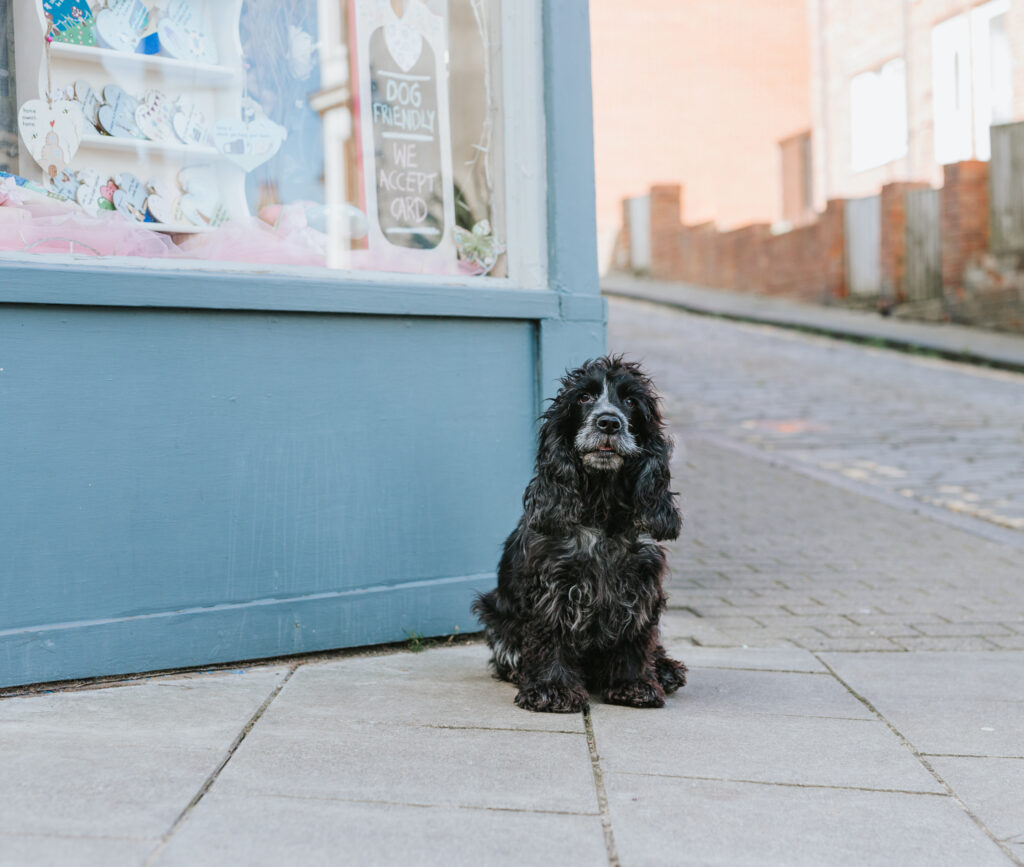 Where to walk your dog in and near Scarborough
Should you and your pooch get bored of the beach (does any dog, ever?)  there are plenty more sniffs to be had in the local area.  If your dog loves woods, Broxa Forest and Dalby Forest are just a few miles away, in fact  you've got the whole of The North York Moors  on the doorstep. Maya and Lucia really love hiking sections of The Cleveland Way which you can pick up in Scarborough  – prepare yourself for some of the most dramatically beautiful views you've ever seen if you opt for this!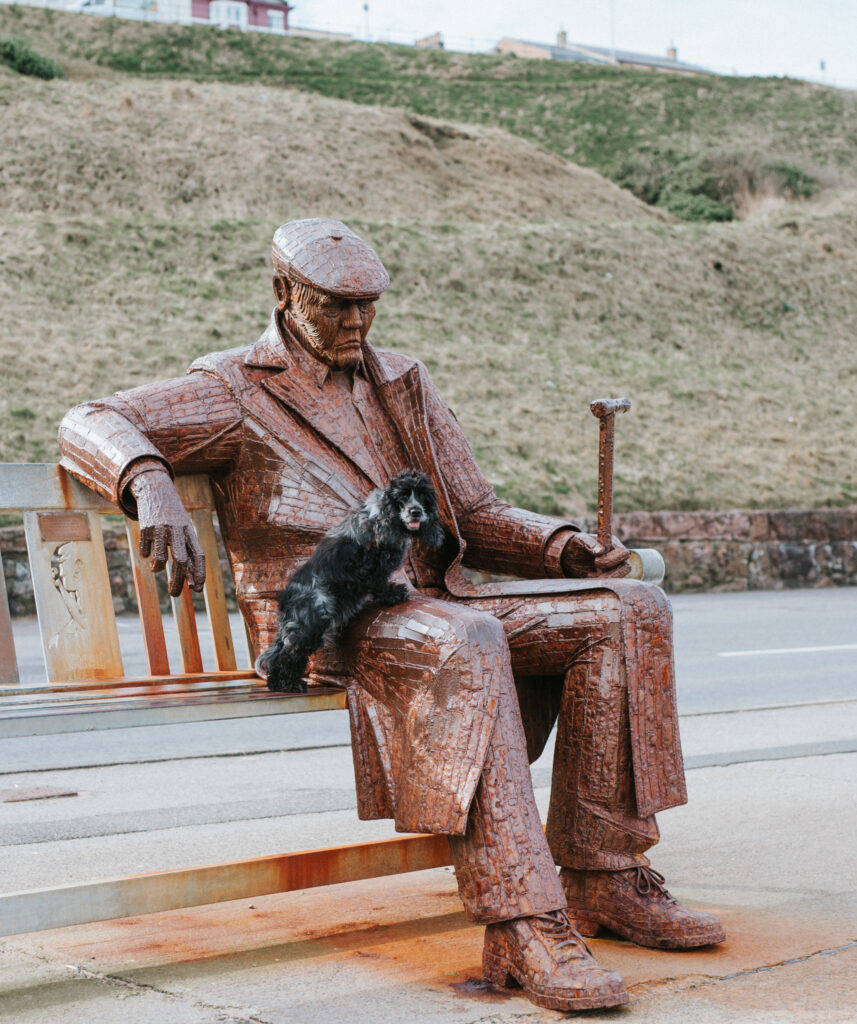 There's plenty of options of places to stay in the area that welcome furry friends from caravan sites to hotels and dog friendly cottages but one hotel we especially recommend for a pawsome stay is the Bike & Boot, dogs are literally allowed full access in this hotel, even in the restaurant and cinema – you can read our full review here. There are masses of activities to keep kids occupied as well, so it might be the perfect location for you. Let us know if you decide to visit Scarborough or if you have been already tell us what you think of it.
Love Sal, Maya and Lucia xxx