Yorkshire is not known as "Gods Own Country" for nothing, as well as it's renowned Yorkshire hospitality (which of course is extended to dogs!) it is full of diverse scenery and Flamborough is a real contender for one of the most stunning examples. The area is a paradise for pooches, the small beaches are dog friendly all year round and there are numerous dog friendly eateries too, unsurprisingly then it's one of our best loved areas to go walking with the dogs. So earlier this week, we decided to make the most of the drier, spring-like  weather and take the girls on a coastal adventure to explore dog friendly Flamborough and have some fun.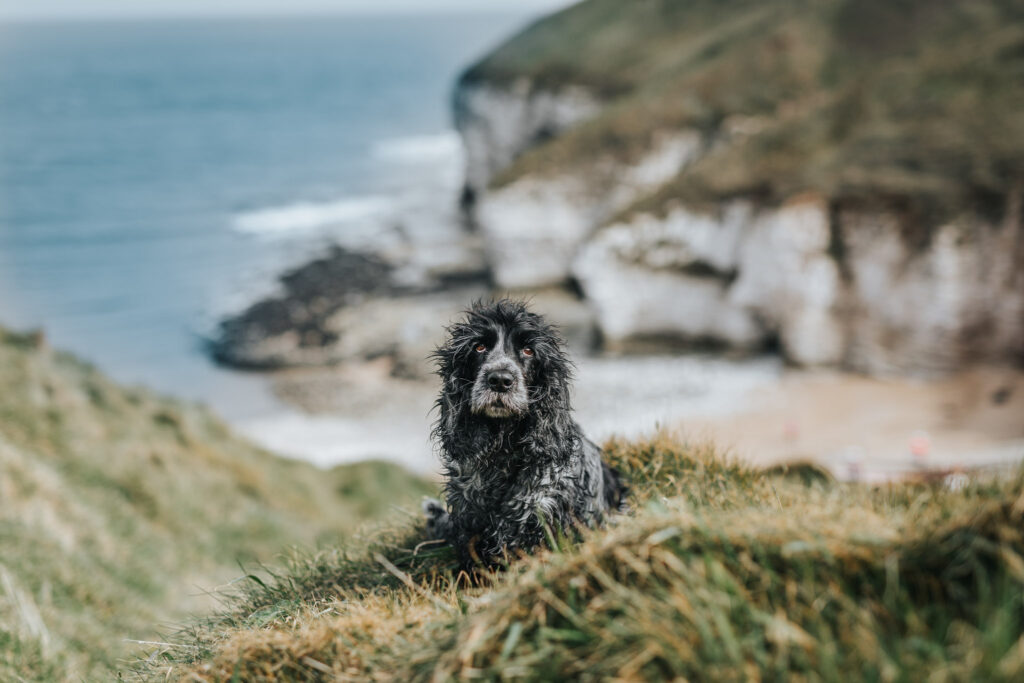 Danes Dyke Nature Reserve is one of our all time favourite places to go and lets be honest what dog wouldn't love a day out that combines the woods and the beach! Maya just loves the sniffs on the woodland walk and Lucia couldn't contain her excitement on her first visit, crying at the time it took for us to purchase our parking ticket!!  As usual we did the 3km circular tree trail, which delighted Maya as there are quite a few steep flights of  steps! (some with 100 steps) The walk takes you around the ravine and down to the gorgeous white pebbled beach. If you prefer there are a couple of shorter walks too, but you would miss out on so much! It was quite foggy the day we visited so my photographs don't do the reserve justice, but believe me when I say it is an incredibly beautiful and peaceful place. There is a pay and display car park here and there are always a couple of bowls filled with water for dogs outside the toilets. In the summer months there is a little kiosk selling ice cream etc too. Something I only found out this time was that you can buy one special ticket from the machine that allows you to park in all of the Flamborough car parks all day for just over a fiver. Well worth considering if you are not a hiker but want to explore by car.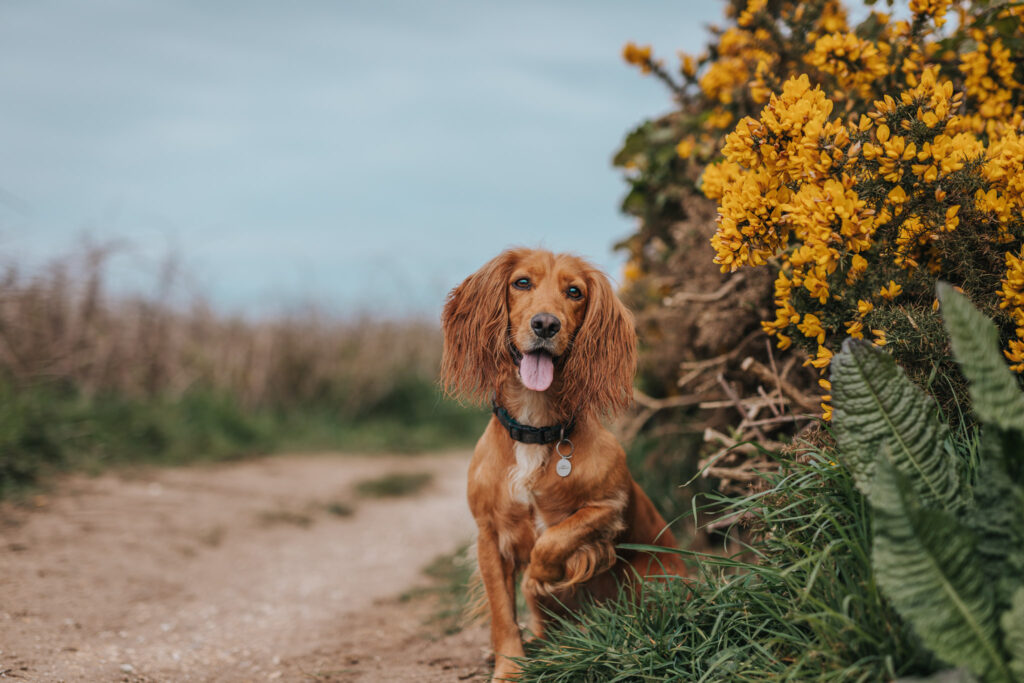 From Danes Dyke  –  we sometimes walk to Sewerby (around a mile) and wander round the fabulous grounds of Sewerby Hall admission £7.50. If you do this little walk definitely seek out the Ship Inn, we recommend "The Cod Dog"  for the humans and Maya & Lucia are great fans of their puppicinno! (They also serve dog beer,chews and treats plus dogs are greeted so enthusiastically by the staff) The Ship Inn also has "Yorkshire Tapas" on the menu and although we have never tried these, they're definitely on our "to eat" list!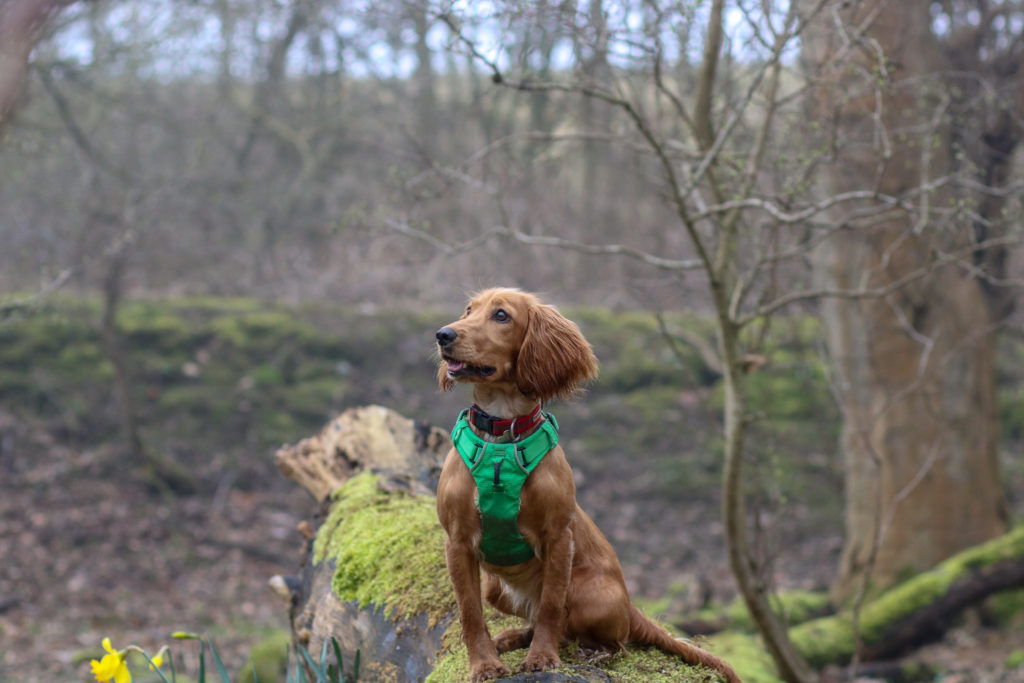 We usually do a 10 mile circular walk from Danes Dyke but this time we got in the car and headed to Flamborough Head because as Lucia is still only 9 months old we decided just to walk from there to North Landing. This clifftop walk is only about 4 miles but the scenery is fantastic, you will be amazed at the dramatic landscape of caves, stacks, arches and white chalk cliffs.
There are lots of open areas where you can let your dog off lead and Maya and Lucia revelled in the freedom as neither are a big lover of being on the lead! (although they are normally good girls) Obviously when the path is close to the cliffs it's important to put your pooch on the lead for safety reasons. You can get down to the beach at both of these locations. At Flamborough Head there are some quite steep steps to negotiate especially near to the beach.(Maya was in her element!!) At North Landing there is much easier access via a steep slipway. There is loads of dog friendly accommodation in the area too including campsites and B&B's and if you are looking for something a bit more luxurious you could do no better than stay in the Ox Pasture Hall Hotel which we reviewed last year which is just 20 miles away.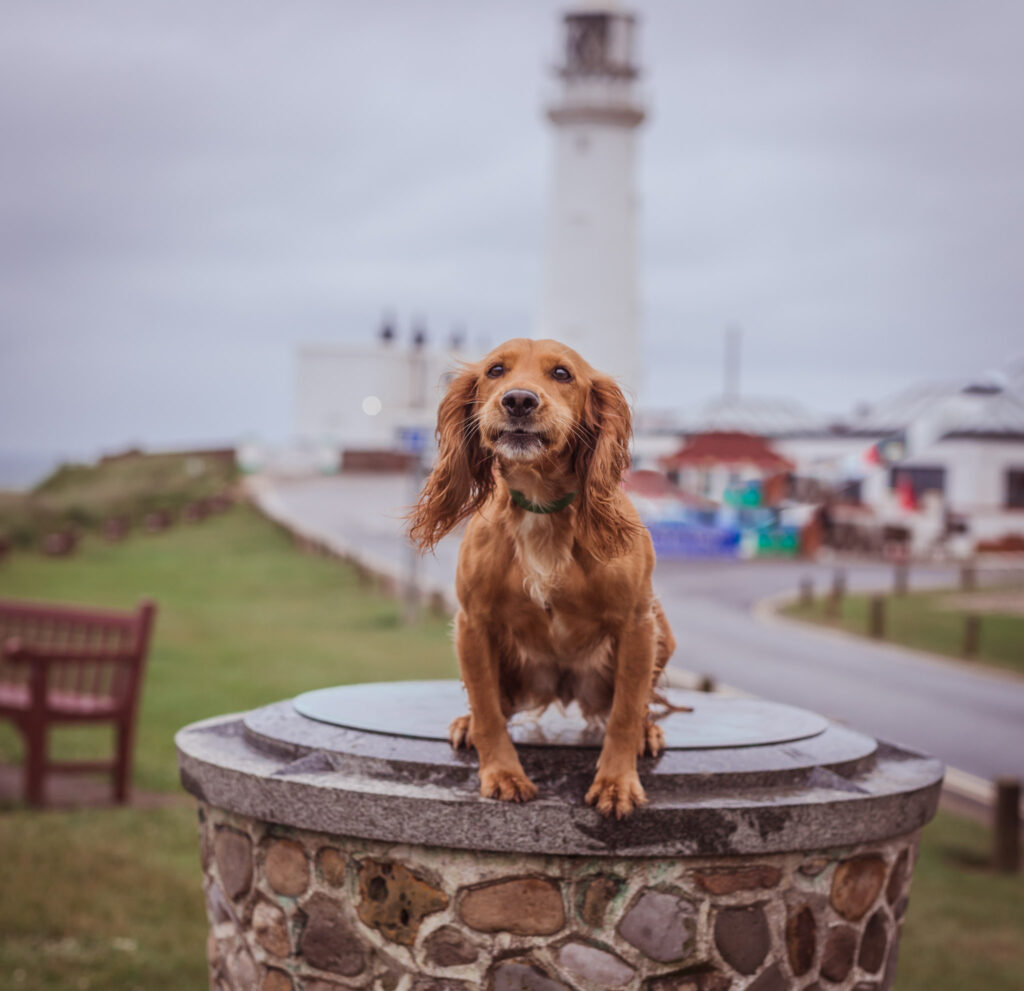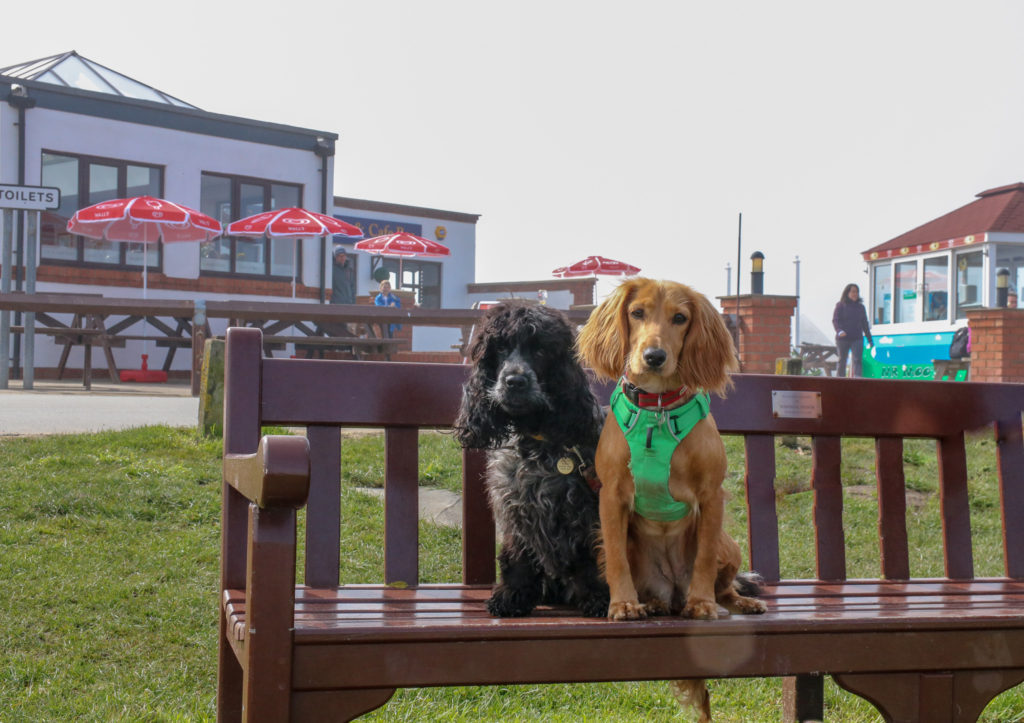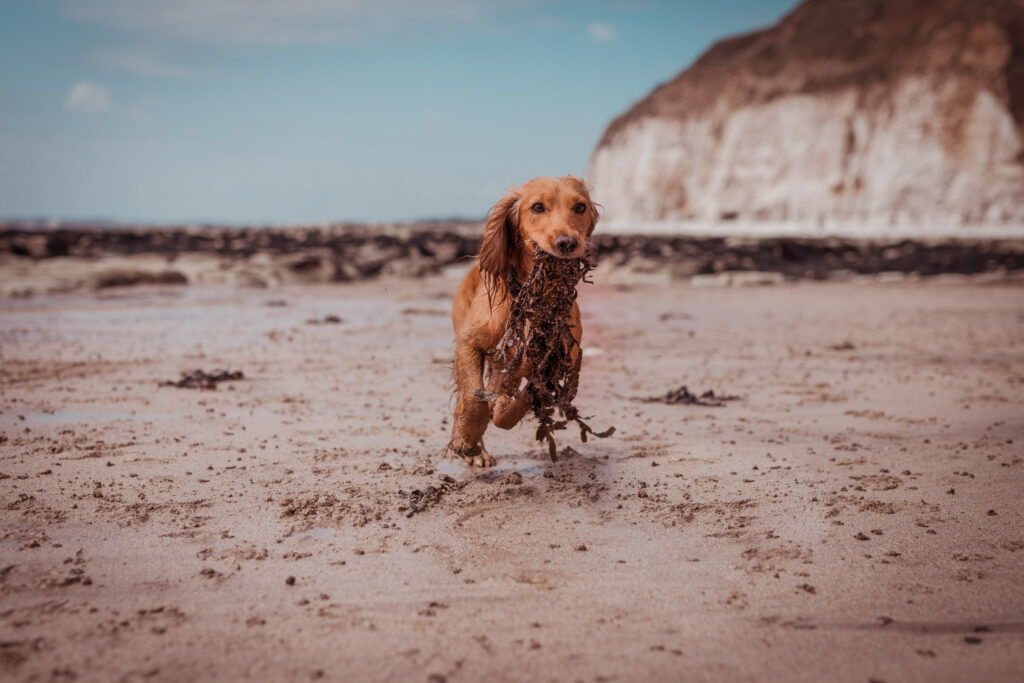 North Landing is one of my favourite places along this heritage coast, I just love exploring the little caves and am still a fan of rock pools! Maya and Lucia enjoy dipping a paw in the sea. Maya has recently discovered a love of climbing and tried to get up the cliffs at one point!  Not long later I had to put both girls on the lead due to a couple of seals being on the beach. (what a treat) There is a dog friendly café here too with a covered outside area but we have never visited it as we enjoy the fish and chips at Headlands too much!
South landing should not be missed either and is usually quieter than North Landing and Flamborough Head you can enjoy a peaceful walk through the trees and down to the beach here as well as a spot of bird watching if that's your thing.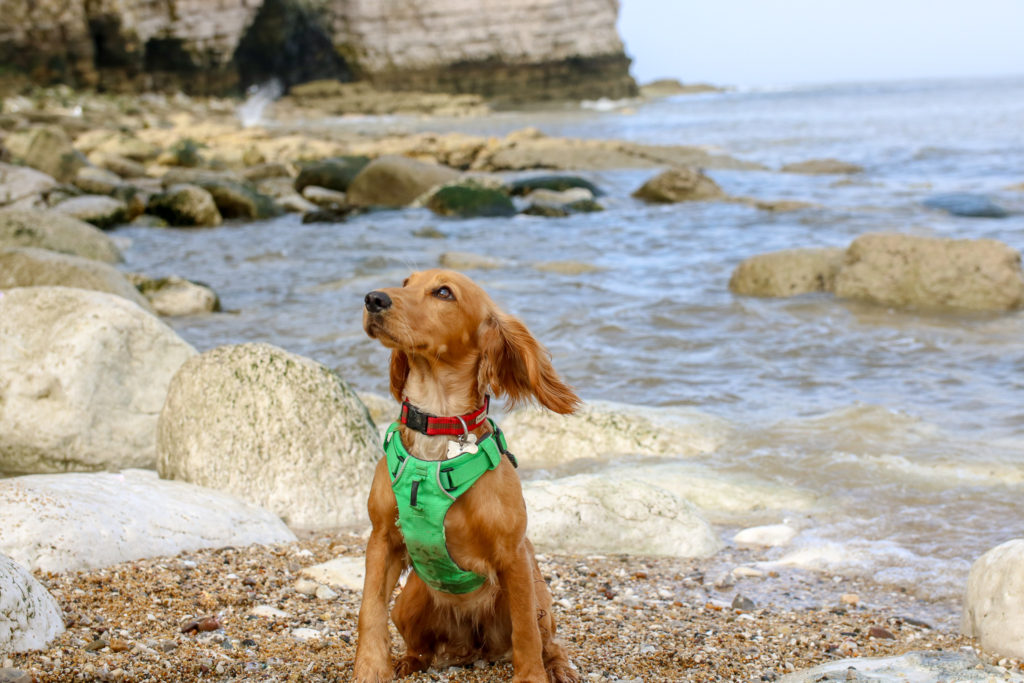 *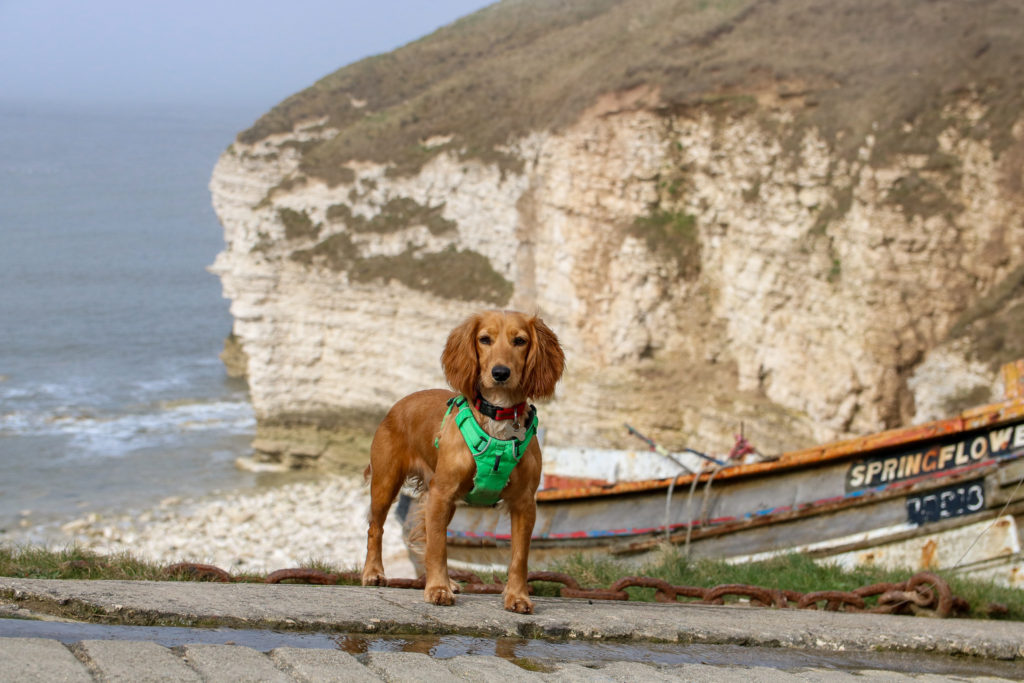 The village of Flamborough is also extremely dog friendly with a choice of pubs that welcome pooches and the perfect location for exploring the area. If you're looking for cottage accommodation here we recommend Wavecrest, a super dog friendly luxury cottage that we have reviewed here.
Needless to say the girls were still raring to go when we got back to the car, although they did sleep all the way home! Over the spring and summer I hope to share some more of our favourite dog walks with you all. Do you have a favourite walk? Why not share it with us in the comments below or let us know what you think about this one.
Love Sal, Maya & Lucia xxx