If you asked my dogs to name their top 10 places to visit in the UK for a dog friendly holiday I think Northumberland would come near the top of their list. Northumberland might be the most sparsely populated county in England but the locals love for dogs is apparent from the second you arrive and the stunning beaches and rugged countryside certainly met with my spaniel's approval.
Northumberland also happens to have an absolutely fabulous choice of dog friendly cottages available to stay in and if they are worth their salt they all have one thing in common, they are managed by Coquet Cottages. This local company, based in historic Warkworth with properties all over the county, really go the extra mile to ensure that your dog friendly holiday in Northumberland goes without a hitch and even offers a concierge service. Guests are provided with a downloadable information book that covers everything from how to work appliances in the property, to places of interest and the guys contact you during your stay to make sure everything is up to your expectations. And of course it most certainly was.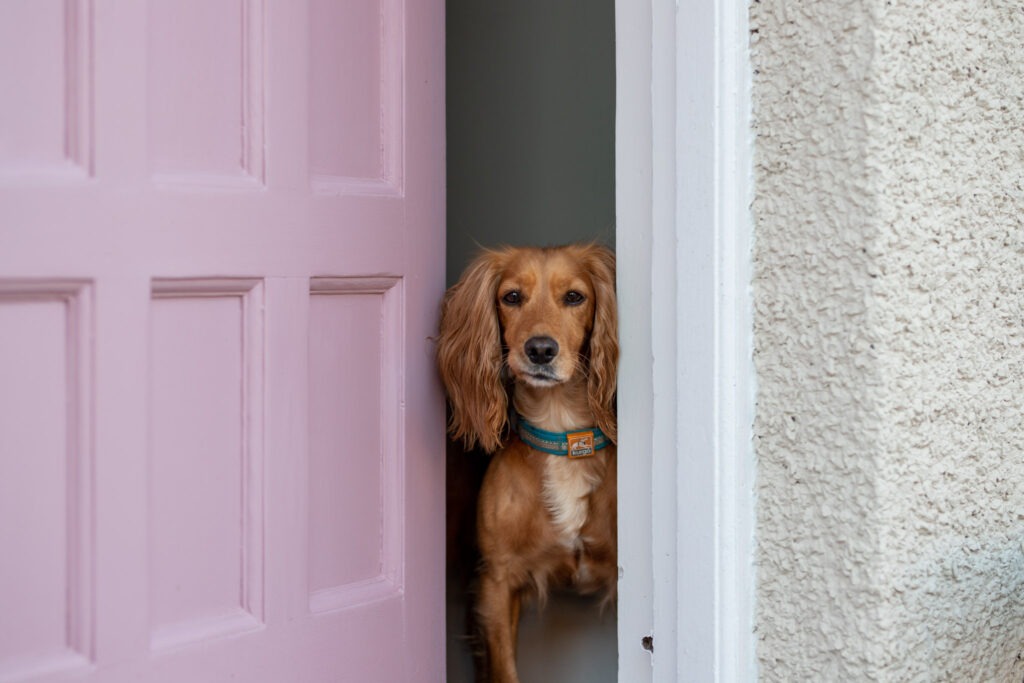 We were lucky enough to be invited to stay in Camellia Grove, a stylish dog friendly property in Amble to find out for ourselves how relaxing and special staying in one of Coquet Cottages' luxury properties in Northumberland could be.
The cottage was in a perfect location, just 5 minutes walk from Harbour Village, with all its cute little pods selling artisan goods, superb dog friendly restaurants and pubs. The dogs loved that every foray to eat and drink was precluded and followed by a frolic on the beach as it is only a couple of hundred metres further ahead.
It was easy to find Camellia Grove too and there we were able to park right outside the door throughout the holiday.
On arrival my spaniels were very keen to sniff around and see if there was a welcome hamper for them, they were overjoyed to find one containing dog treats, a towel, food and water bowls and of course the essential item for any dog friendly holiday, a roll of poop bags!
I was actually a bit overwhelmed by the luxury human welcome hamper because whoever had curated it had put so much thought into the contents. Nearly all the items in it are locally sourced and produced including homemade jam, chocolate and our firm favourite Kitty's Homemade Ginger Wine, which I found to be extra delicious added to a cup of strong black coffee.
There were also luxury toiletries, gorgeous white roses and freshly baked scones, we all felt well and truly spoiled!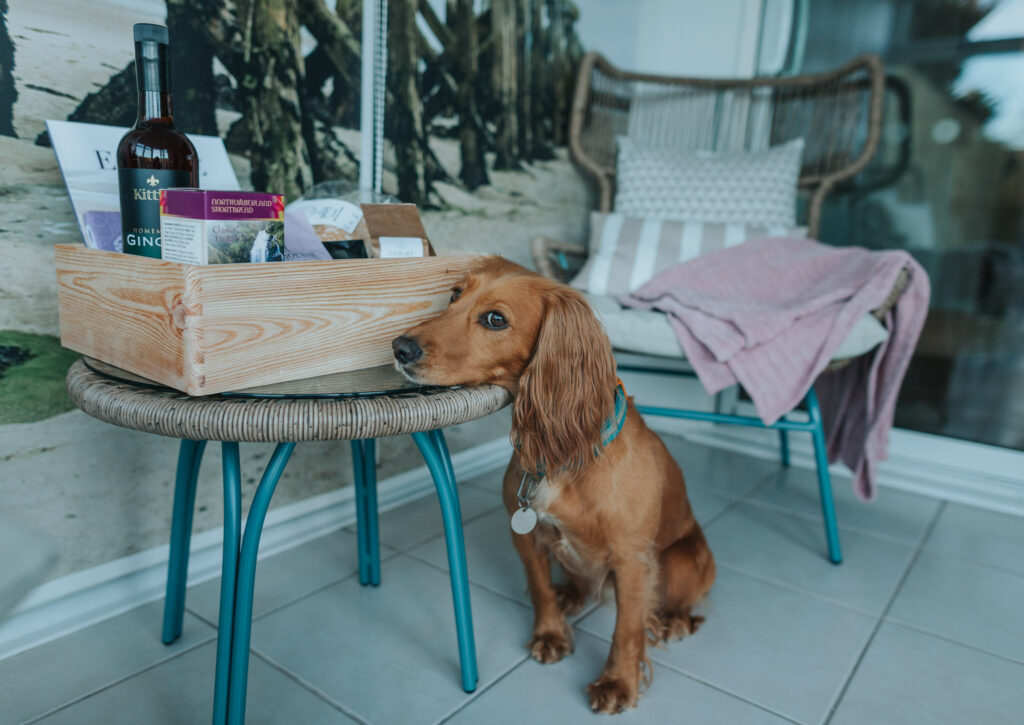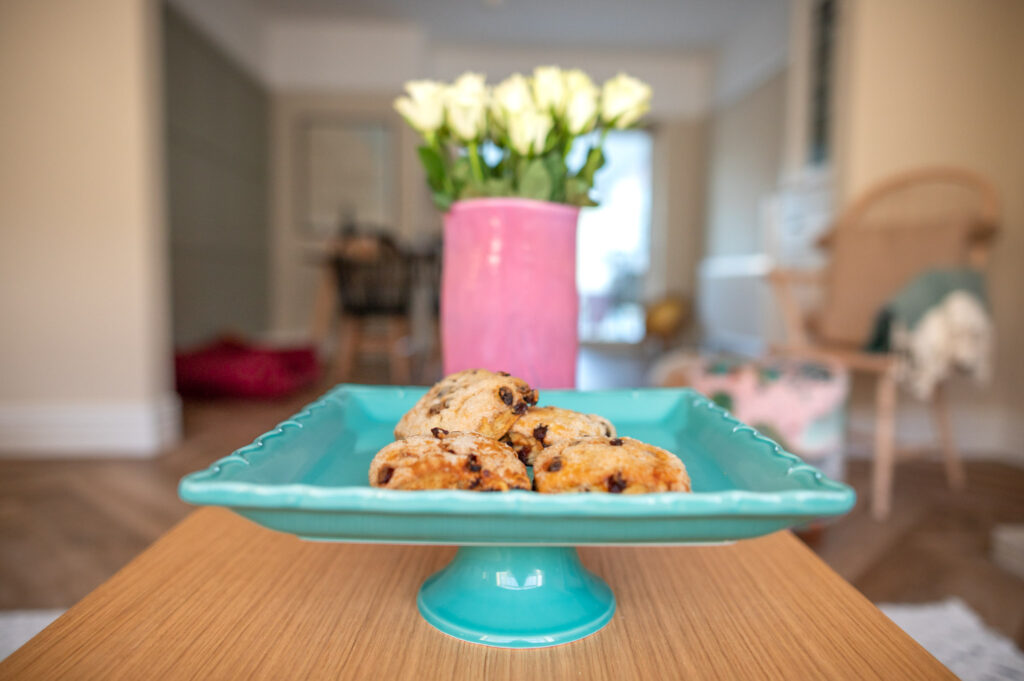 The cottage was immaculately clean and airy, in fact everything in it appeared to be brand new and was decorated in muted pastel shades with a few quirky touches that I loved, it really was such a relaxing place to chill out in.
My partner is a chef so it is always the kitchen that gets inspected first whenever we stay anywhere and he was impressed at the quality of the cooking equipment and small appliances which included a Tassimo coffee machine. I was delighted that there was actually a washing machine as well as a dishwasher complete with detergents.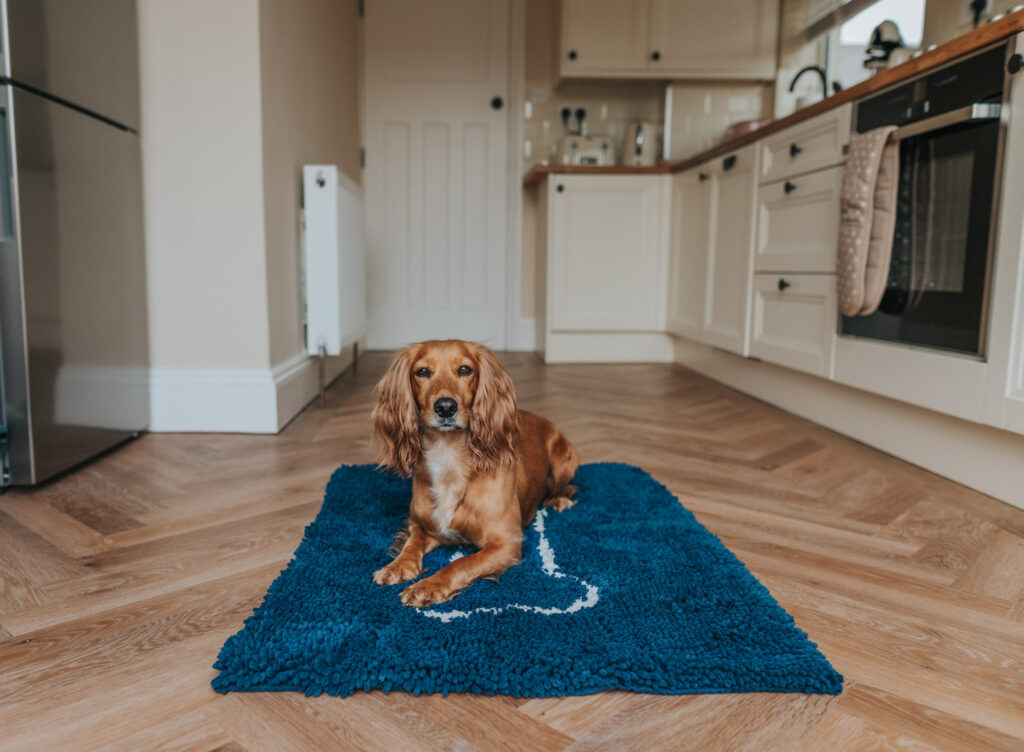 The living area has comfy sofas at one end and a dining table and chairs at the other and is equipped with everything you could ever want on holiday, including a Nintendo Switch, board games, a smart television with Netflix as well as fast wi-fi throughout the property (an absolute essential for any self-respecting Instagram dog!)
Camellia Grove, like all the properties managed by Coquet is furnished to a high standard so understandably dogs are not allowed on the soft furnishings but to be honest I have found that to be the norm when renting a high end dog friendly cottage.
I always take the girls dog beds with me on holidays anyway (familiarity helps pooches to settle more easily}, and also request to stay in a cottage with a separate kitchen to prevent any midnight forays onto the furniture. This arrangement was completely acceptable to Maya and Lucia who – to be honest – spent most of their time at Camellia Grove crashed out or playing in the garden after a day of adventures.
Upstairs was just as stunning, there are two double bedrooms with comfortable beds and plenty of storage space and a family bathroom with a bath and fabulous power shower.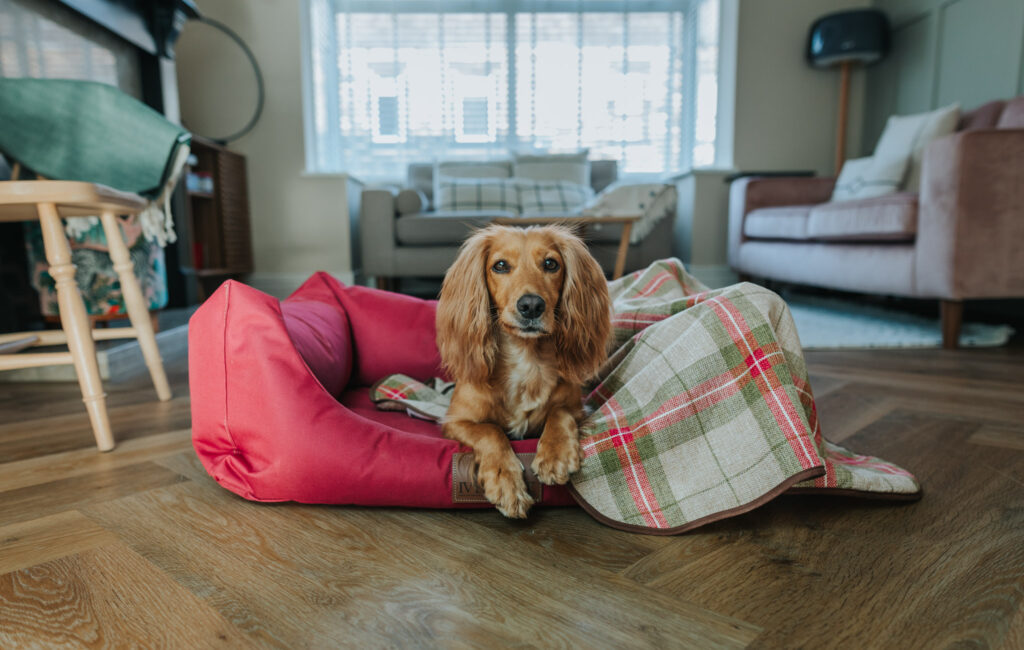 Maybe it was the feature blinds depicting the view from Amble Quayside or maybe it was in the hope of seeing a local cat, who knows, but Maya and Lucia spent a lot of time sitting in the conservatory, it was definitely their favourite room. The garden though was the real highlight of Camellia Grove for my two spaniels, it was large and secure with a small lawn and a huge patio area complete with tables and chairs where you could sit relax with a glass of wine or have a BBQ in warmer weather.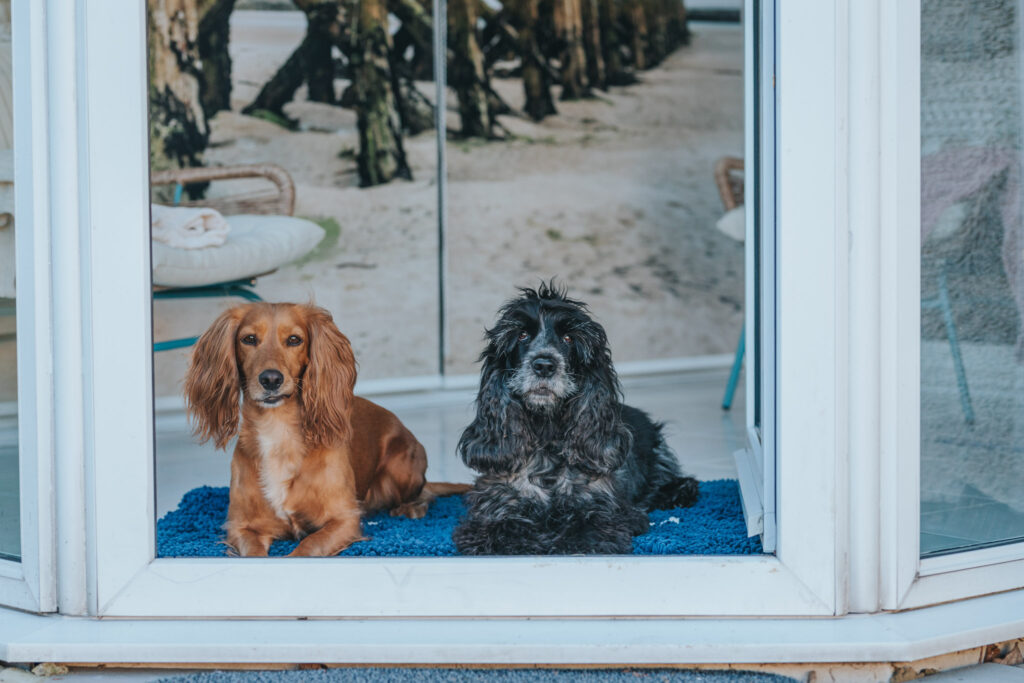 Dogs are such amazing adventure companions but I know that there have been occasions when I have seen an attraction or restaurant that was not dog friendly and let out a little sigh that I would have to miss out.  You'll never have this predicament if you book with Coquet Cottages as they even have a dog sitting service where staff members will look after your dog at your holiday cottage – winner!
We had the most amazing time at Camellia Grove and would like to thank the owner, Leanne and Coquet Cottages for inviting us to review their property. Definitely worth a 5 paw rating from us!
Love
Sal, Maya and Lucia xxx