Woofmas is rapidly approaching and I guess most of us will be buying our pooches presents online this year so here's a few ideas for presents that your dog will love, most from small independent brands that dog knows need your business more than ever this year.  All of the items in this post have been gifted to us but I can vouch that every single one is of high quality and that the faces behind the brands will go the extra mile in terms of service with a virtual smile.
Let's kick off with Leadley Pets that I reviewed on the blog earlier this year. Not only are these harnesses stylish but when you buy from Leadley Pets they give a percentage to Dogs Trust so there you have it 2 gifts in 1! (read my full review here)  At the moment they are offering 20% off all harnesses & leads from now until Christmas Day – with next day delivery. Use code LEADLYXMAS at checkout.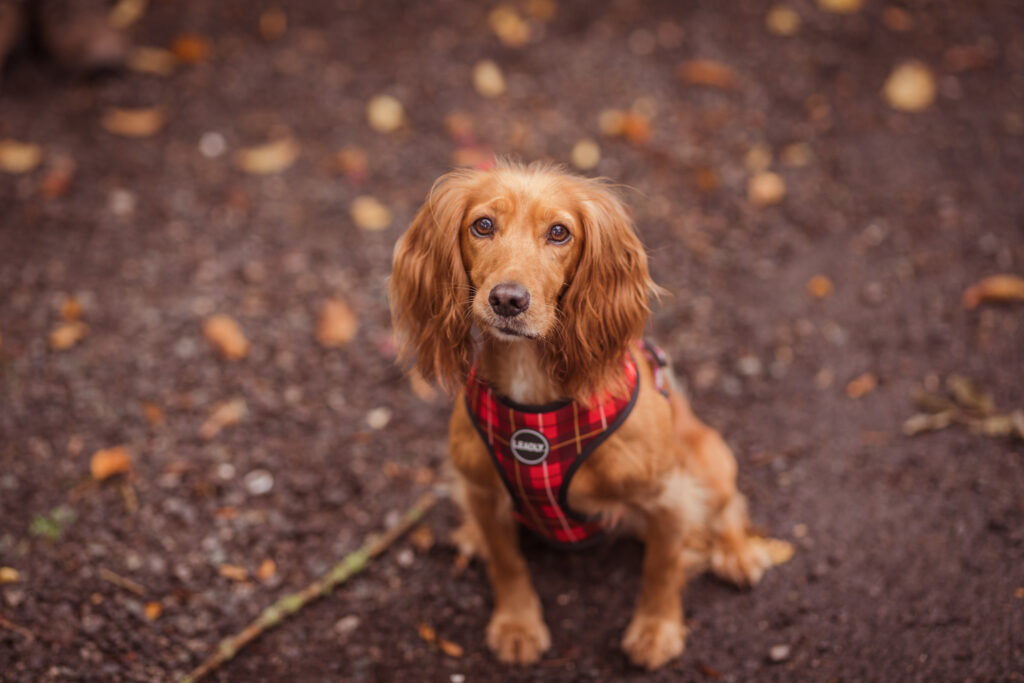 I can honestly say that Lucia's collar and lead set from Pugalier of London is my all time favourite. Beautifully made and stylish, go for this gift if you really want to spoil your pet. Pugalier are also releasing a harness in time for Christmas so keep an eye on their site to be one of the first to get your paws on one! (Read my full review here for further information)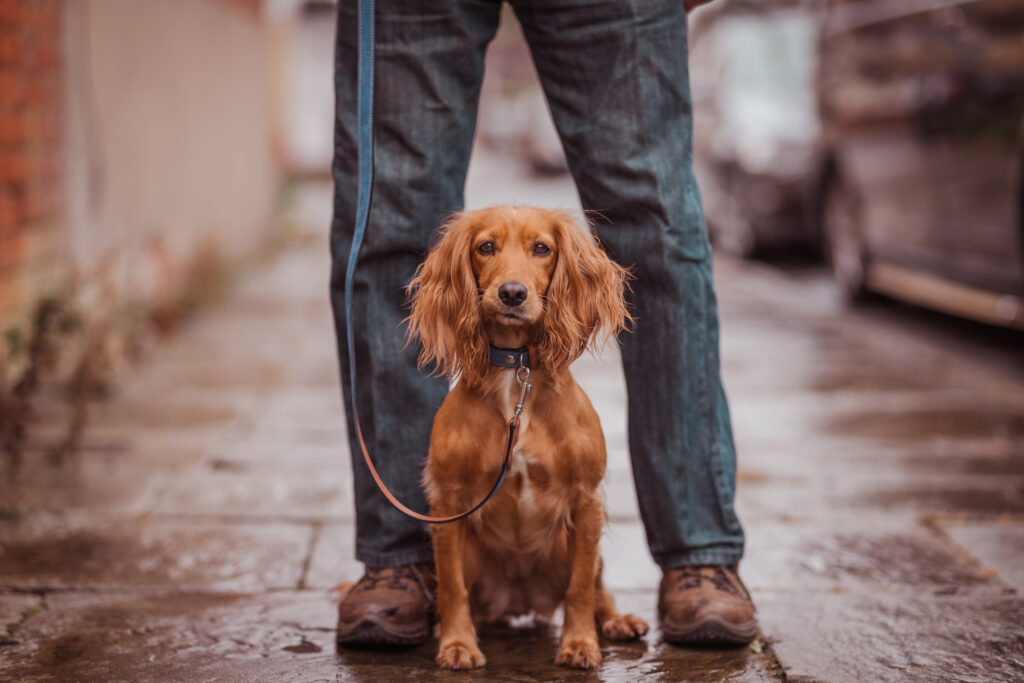 Ollie & Co make some very special bows and collar sets for dogs and some of them are quite festive. The products are very high quality and made of luxurious fabrics such as velvet and Harris Tweed, in fact they even have a collection stocked by Liberty of London.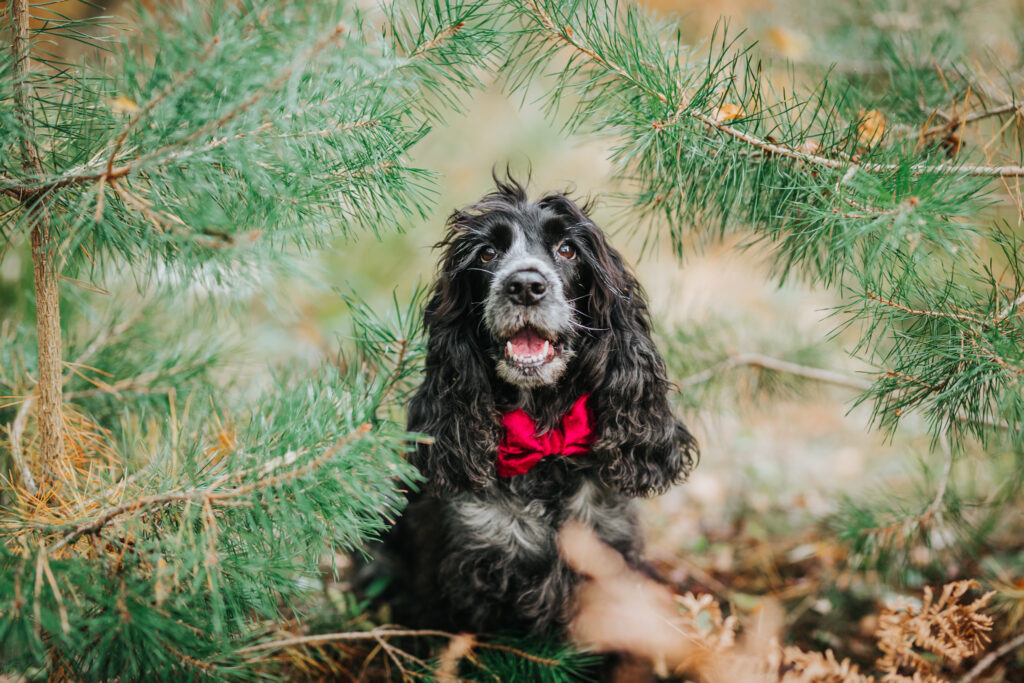 Doggy Squad is an online concept store for dog accessories and clothing that have a fabulous Christmas Collection that includes products from small businesses all around the world. They have some beautiful things and you really can't fail to find the pawfect gift for your pooch there, Maya and Lucia are hoping that Santa Paws visits this shop before calling on them this Christmas!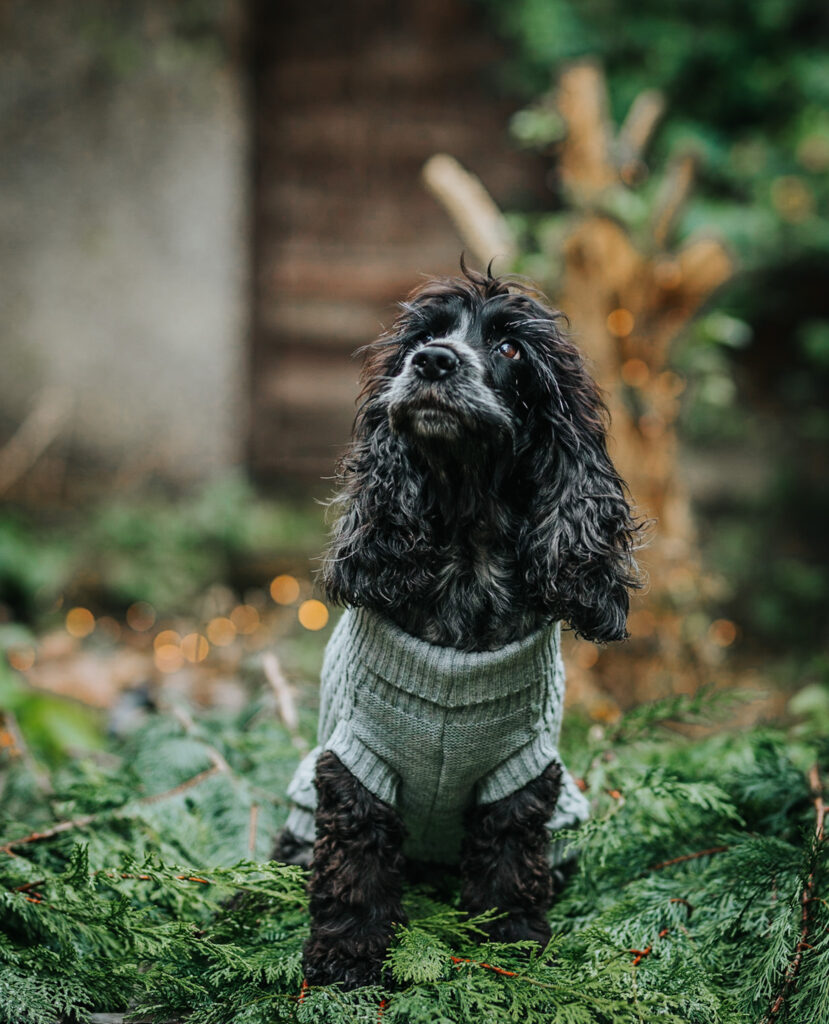 I love this Animo Activity and Behaviour Tracker from Sure Petcare, it is definitely one of the best and most accurate dog activity trackers I've tried, not only does it monitor your dogs daily activity and calories burned but it alerts you of changes in behaviour such as excessive scratching and barking. The battery lasts an impressive 6 months and the app is clear and easy to read. It's completely waterproof, ideal if your dog likes rolling in mud or swimming like my girls. The device looks pretty smart too and is light and easy to securely attach to most collars. The Animo Activity Tracker is available to buy from Sure Pet Care and other retailers.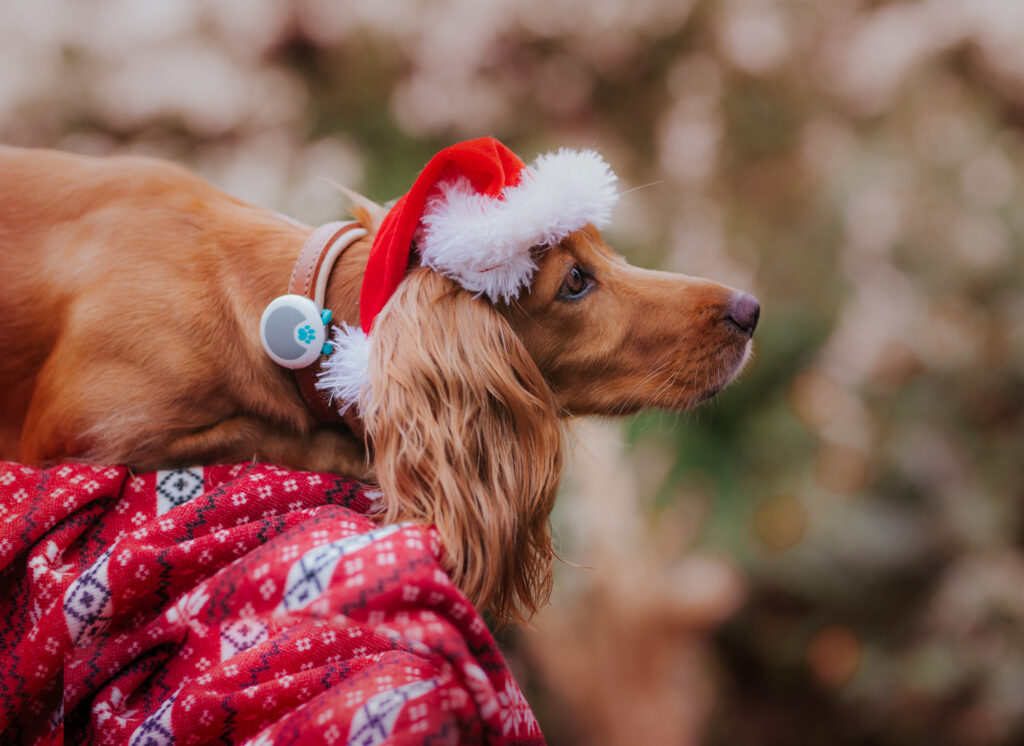 Christmas wouldn't be Christmas for my spaniels without a selection box of Natural Chews and The Hound Doggy Deli have got every kind of chewer covered with a choice of three Christmas themed boxes – The Christmas Pudding Parcel, The Christmas Cracker Box and The Christmas Feast Box pictured below. They all contain a selection of 100% natural air dried treats, most of which are long lasting and there are options to add a toy for added an added paw factor.
Pictured below is the Christmas Feast Box which contains 30 items and usually retails at £22.99 or if you add a toy of your choice from the selection available £29.99, generously The Hound Doggy Deli have generously given us a discount code to share with you all – Use the code Woofwagwalk to receive 20% off any of the deli boxes.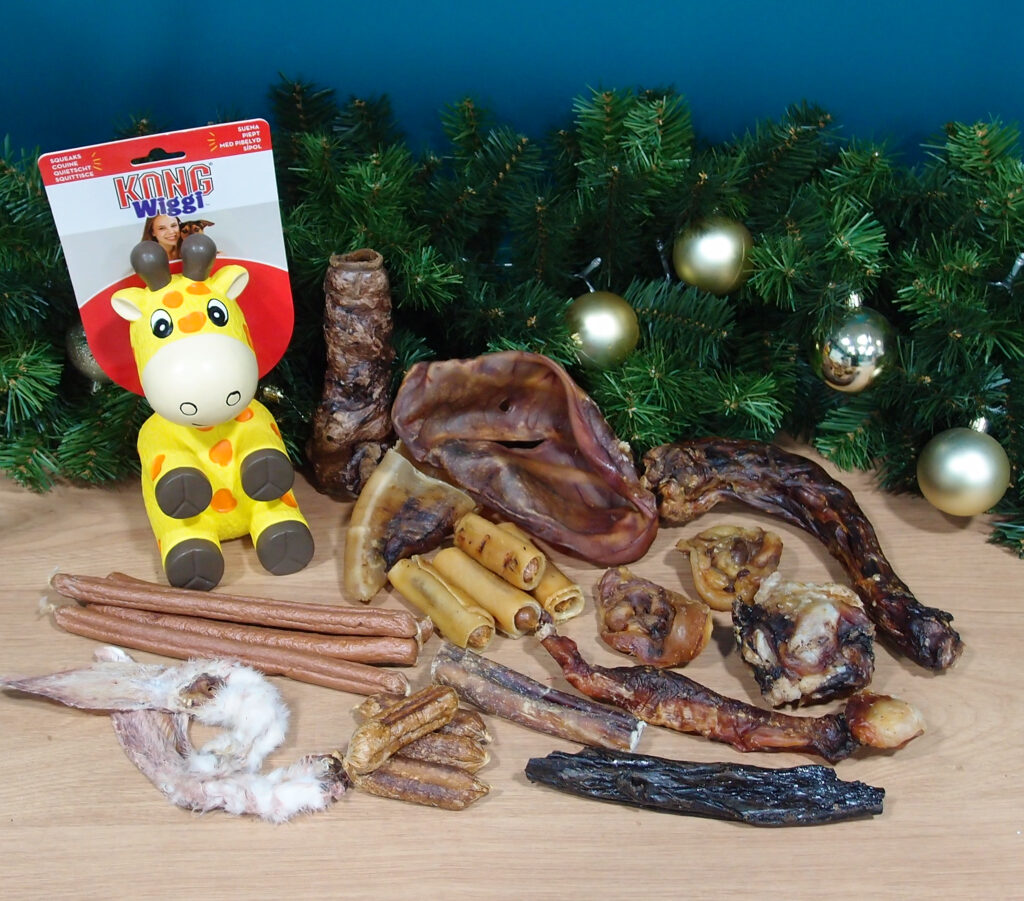 The Christmas Feast Box contains
1 x turkey neck
1 xxxl pigs ear
1 doggy gobstopper
1 x bulls pizzle
1 hoove
1 buffalo trachea wrapped in lung
4 pigs in blankets (chicken sausage wrapped in pork rind)
4 piggy crunch inner ears
1 x dried liver
1 roast beef strip
4 large turkey and cranberry sausages
4 small sausages either chicken or liver
4 furry raw rabbit ears
2 duck feet
GET IN PUPS!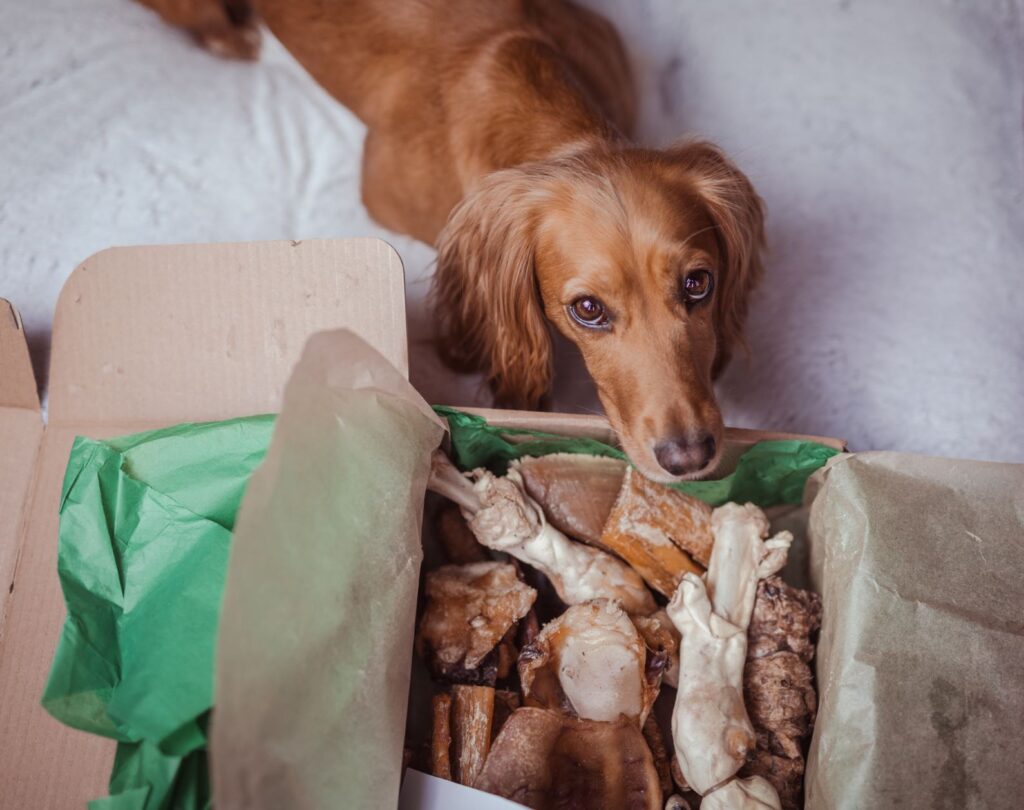 Pawfect4Pets are a new small company that have a great range of dog toys for sale in their online store including this Octopus which Lucia loves so why not check them out and see if there's anything your pet would like.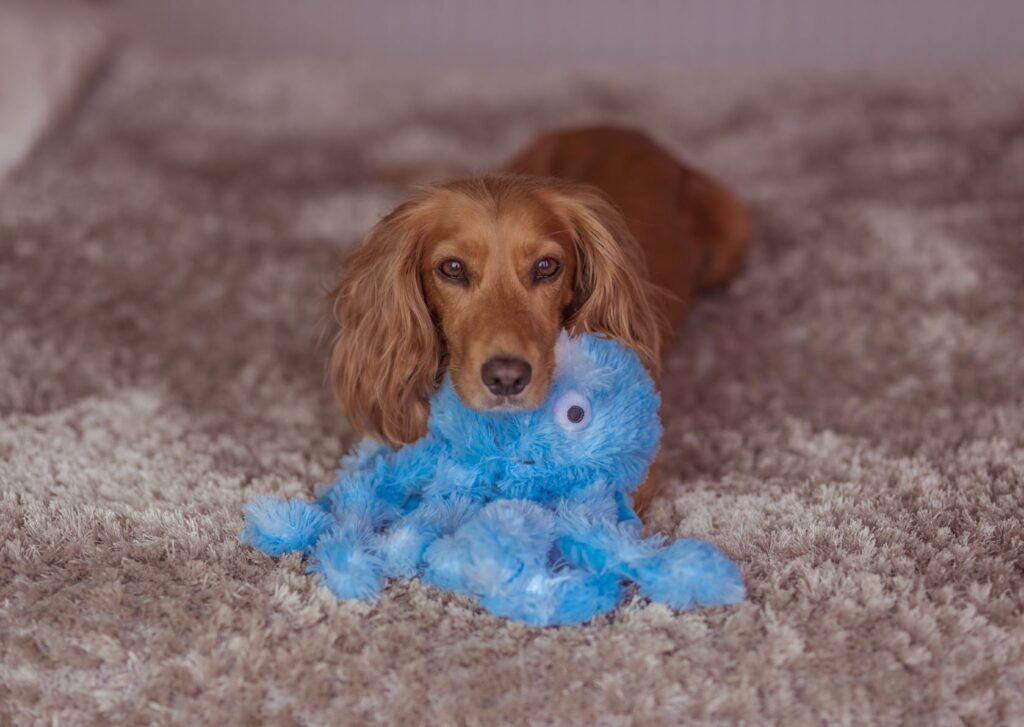 Whatever you choose to treat your pooch to this year we hope you have a very happy Christmas.
Love Sal, Maya and Lucia xxx