I don't know about you but I kind of resigned myself to embracing the dog hair, don't care maxim on life soon after becoming a dog mother! Of course I longed for a fur free home but after investing and being disappointed by several expensive, miracle promising vacuums I came to the conclusion that fur embedded into my rugs and a bit of extra dirt and dust around the place was just the price I had to pay for the privilege of sharing my life with dogs. Of course I've always wanted to be proved wrong so when Bissell contacted me to ask if I would like to review the BISSELL ICON 25V I jumped at the chance.  Long story short I am now succeeding in my fight against fur, the Icon really is top dog when it comes to pet vacuums!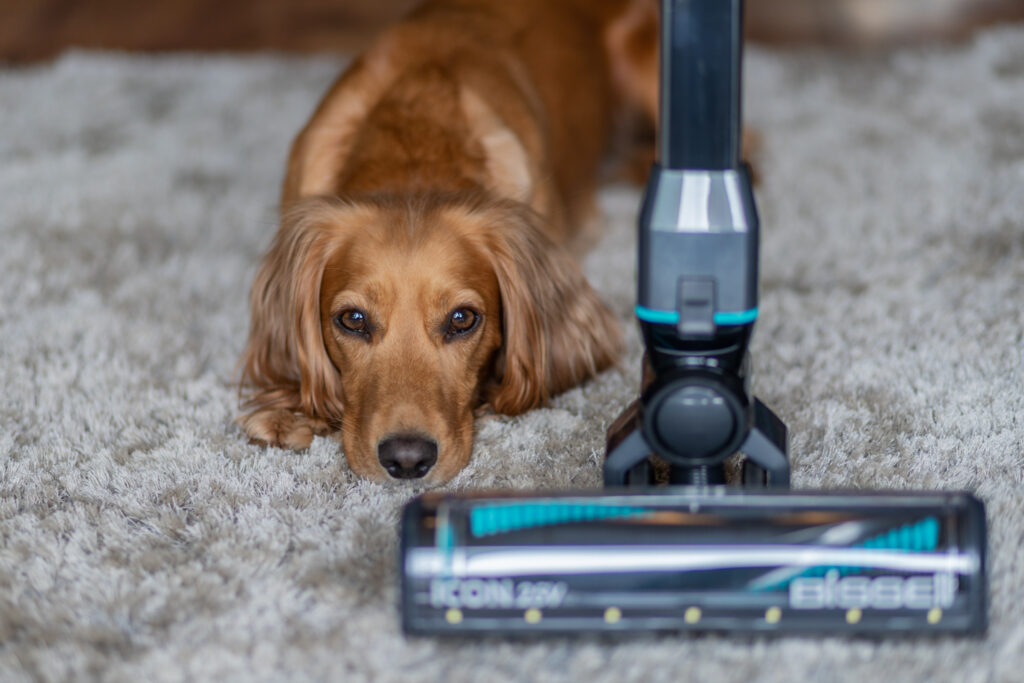 Coincidentally the ICON arrived on my birthday, hopefully my partner won't read this but it really was my favourite present. (thanks Bissell!) As soon as I unpacked it from the box I was impressed with it's sleek, stylish and ergonomically friendly design and I was excited to see how the Icon performed, especially as I had never owned a cordless.
As I know I've mentioned before I am not the most technologically minded person so I was thrilled with the logical way it all simply clicked together, I didn't even have to read the instructions – I could start waging war on the fur straight away.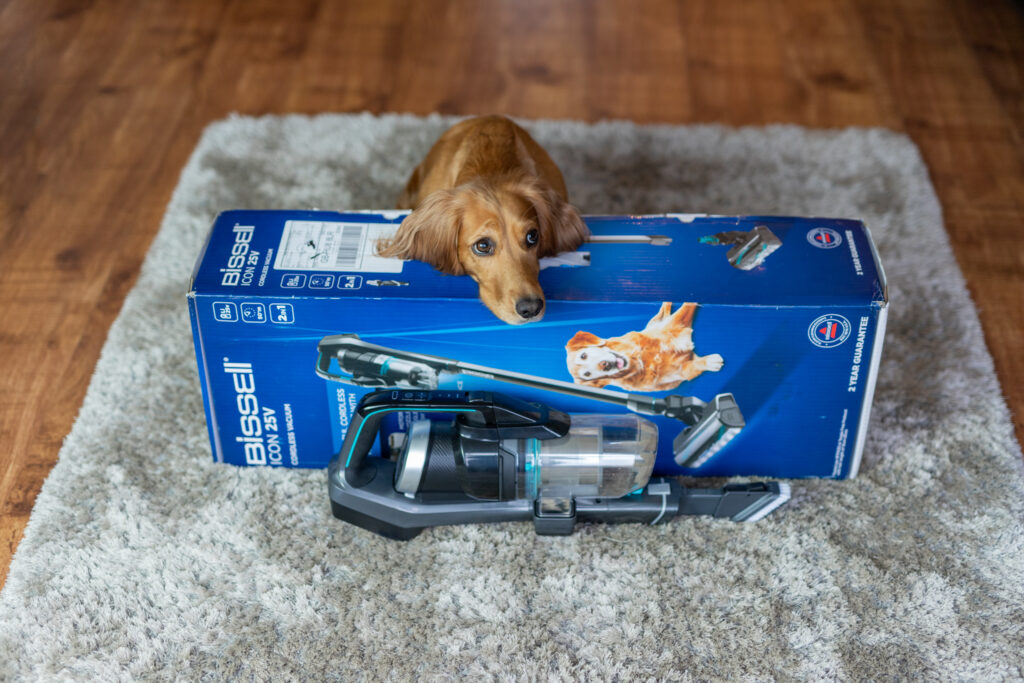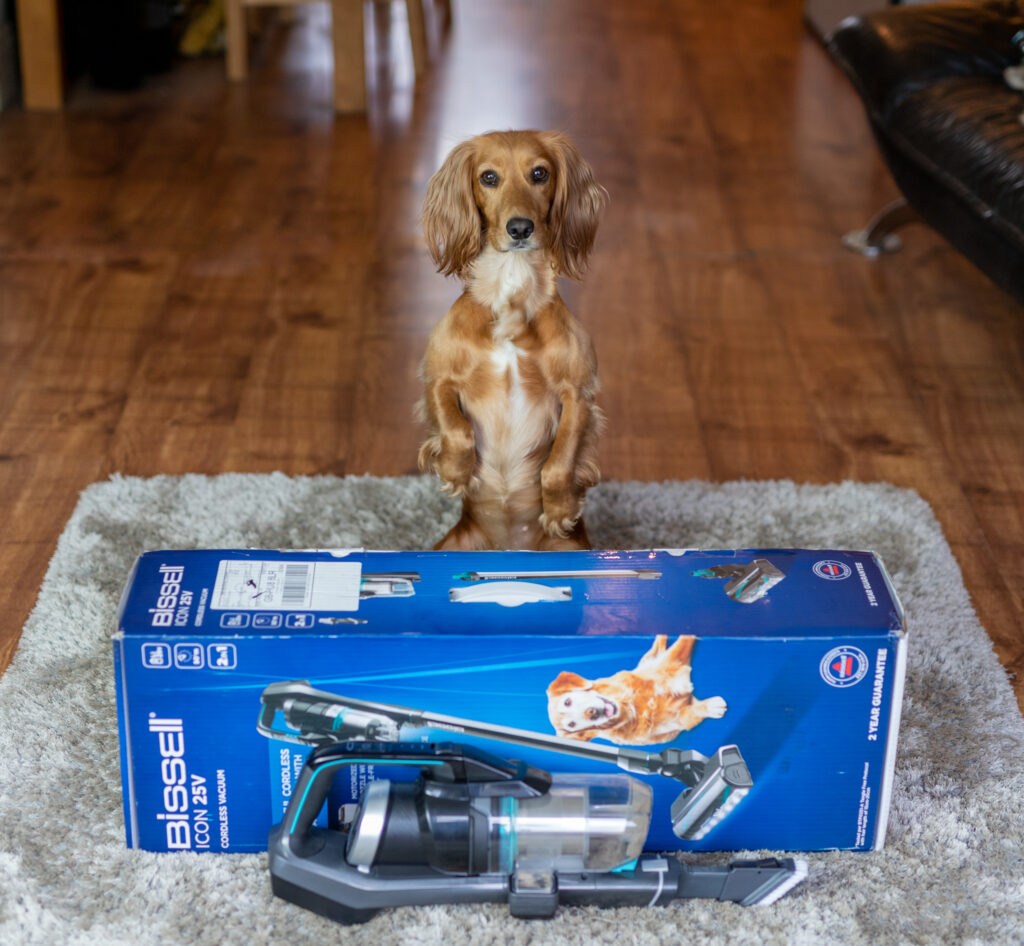 Obviously functionality is the most important thing when it comes to buying a vacuum dog enough to cope with the demands of a pet parent's home and the BISSELL ICON certainly doesn't fall short in that department.
The ICON is a 3-in-1 cordless vacuum that converts from upright mode to a hand-held or high-reach in a matter of seconds, you literally just click it together. It is delivered with a little charge already in so I could play with it as soon as it arrived but I've since found it takes just 4 hours to recharge and lasts an incredible 50 minutes when used in the lower power mode, less of course on the two higher levels. The suction is pretty impressive on low power though and I actually haven't really needed to use the high suction modes much at all. The Icon performs equally well on rugs, wooden floors and tiles which is a real bonus as my old one was a bit rug averse.
The machine has a couple of really innovative features that I intially thought might be a bit gimmicky – how wrong was I! The Tangle Free Brush Roll captures stray hairs, of which there are many in my home, of both human and hound, effectively, and yes, you guessed it they didn't get tangled.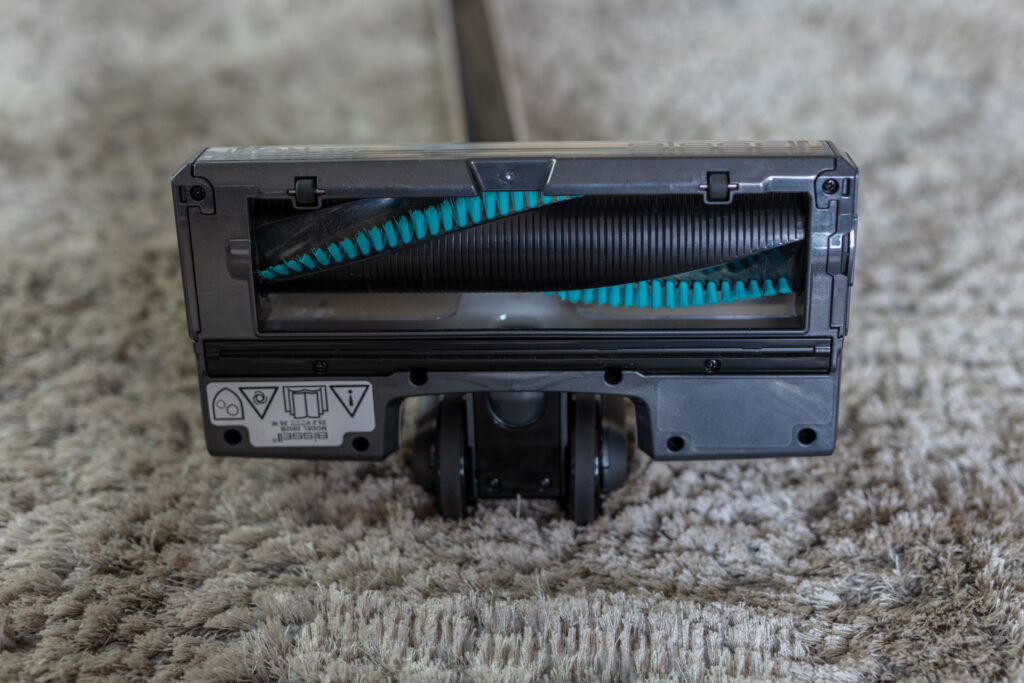 The LED lights were a bit of an eye opener to me, and ensured I saw every dog hair and dust particle, I was actually a bit shocked at the amount of dust I might ordinarily have left behind. In fact they made such a difference that one particular dust sensitive friend I have even commented that she hadn't sneezed yet when she visited for a coffee the other day and by the way she had no idea I was testing the ICON! I guess that's down to the Smart Seal Allergen System because I have always vacuumed regularly.
The lights come into there own when vacuuming under furniture, because as the Icon can actually lay flat it allows efficient cleaning without the hassle of moving furniture around and I could see what was lurking underneath it, oodles of Maya's fur in my home!
The little attachment for getting into all the crevices has it's own LED light too, yes,  Bissell have everything covered.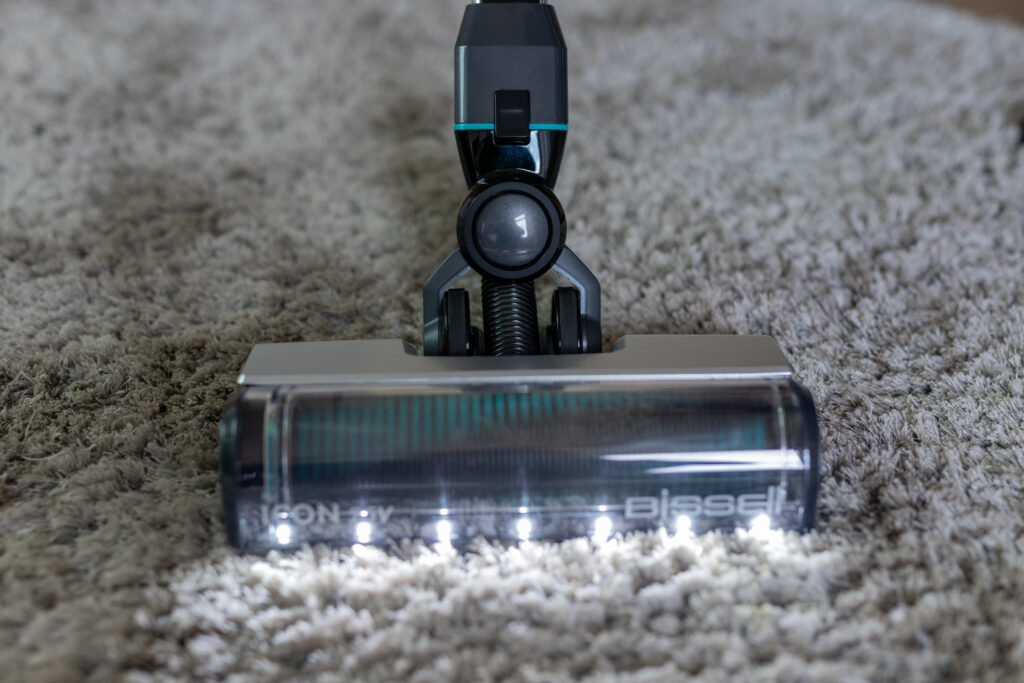 My spaniels are forever in and out of the garden, so mucky paws trailing dirt and dust into the kitchen and beyond are a regular occurrence in our house. This is where I have found the hand-held configuration to be invaluable. I can quickly whip it out and hide the evidence before my partner bemoans the fact that 'his' kitchen floor is filthy again – he is a chef so can be funny like that you see.  Of course stairs are so much easier with the hand-held too plus it's handy for vacuuming out the cars and Maya and Lucia's dog bed's have been treated to the BISSELL treatment too.
I can't lay all the blame on the pooches for the odd cobweb on the ceiling or the dust on the picture rails but as the ICON also converts to a high reach vacuum these pesky issues are quickly and efficiently dealt with.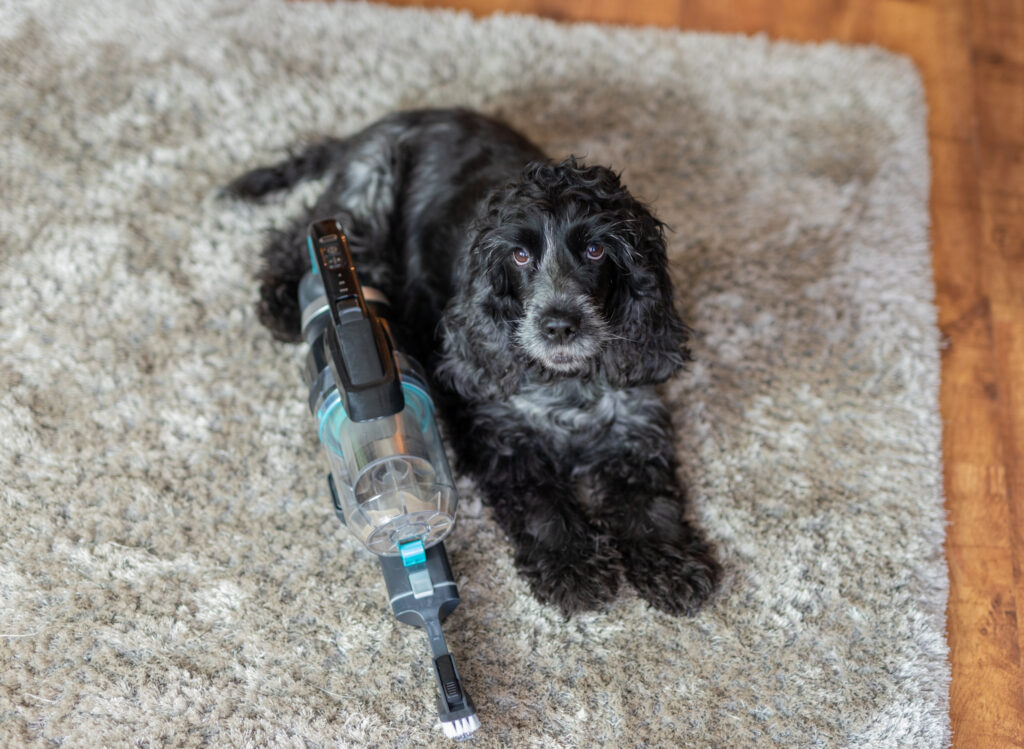 For me emptying vacuums has always been my least favourite part of the job but it's an absolute cinch with the BISSELL ICON 25V, it has an Easy-empty dirt tank that's sliding -mechanism allows me to empty out the dirt and dog hairs without having to touch it – winner.
Another thing I must mention is that the ICON comes with it's own hanging bracket so you can store and charge it on the back of a door or in a cupboard etc (the vacuum is not free standing, it's only minor flaw but all the positives more than make up for that.)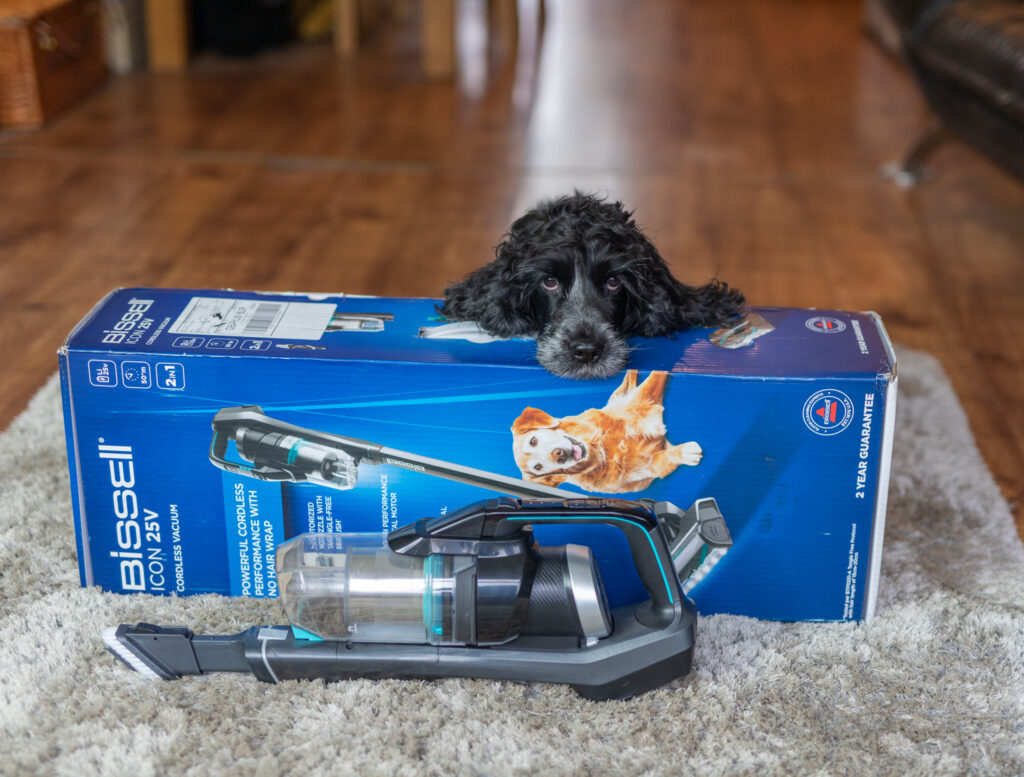 Bissell are real innovators when it comes to developing vacuums to solve the everyday problems all of us dog parents face in keeping our homes clean, after all this family owned company have been doing so for 150 years. So perhaps I shouldn't be as amazed as I am that the Icon has revolutionised cleaning for me, I absolutely love it and although I've only had it a short time I honestly can't imagine life without the Icon now.  If you are in the market for pet vacuum I can't recommend the BISSELL ICON highly enough.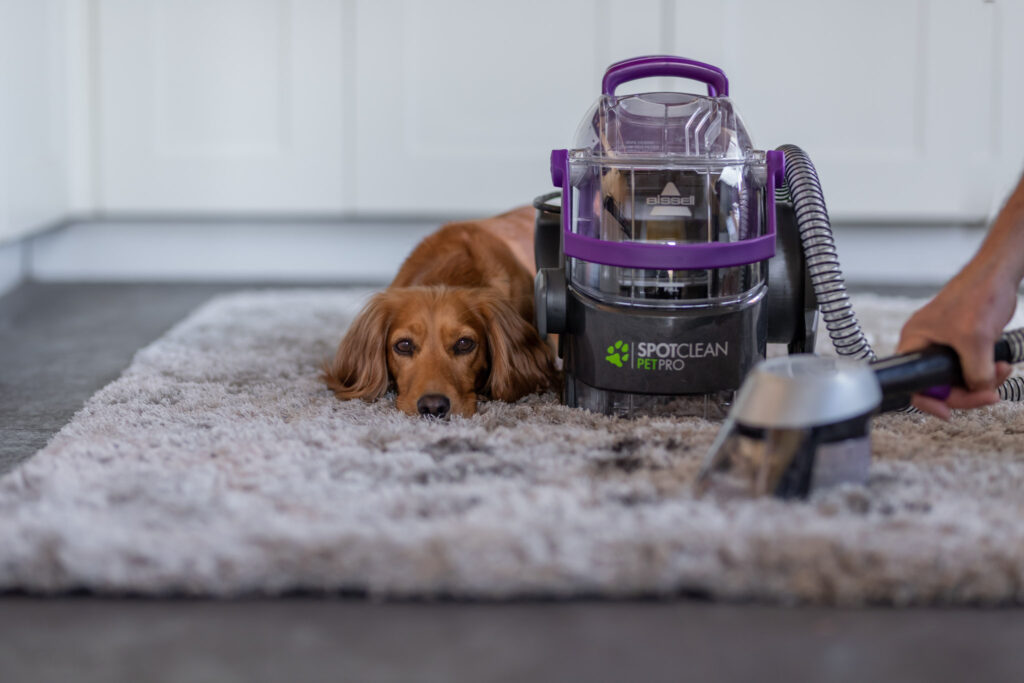 So I wanted to update this post with another fabulous BISSELL product – The BISSELL SPOTCLEAN PET PRO, this fabulous product makes cleaning off dirt, mucky paw prints and stains from your upholstery, car interiors and even your dog's beds so easy. The machine has several great features such as an extra long 1.5m hose and a unique 2-in-1 Stain Tapper tool with a 7 inch brush that traps all the dirt and mess in a separate container. I really loved the extra large tank as it meant less trips to the sink when cleaning up after my muddy spaniels and it's easy to grip too. The BISSELL SPOTCLEAN PET PRO has a 750w motor meaning it has a really powerful scrubbing action and a separate tool for those extra tough stains. I absolutely love it and wouldn't be without it now! At the time of writing this product is available to buy from the BISSELL site for the reduced price of £129.99 and it comes with a 3 year guarantee too so if your pooches are prone to leaving dirty marks around your house why not think about investing in one.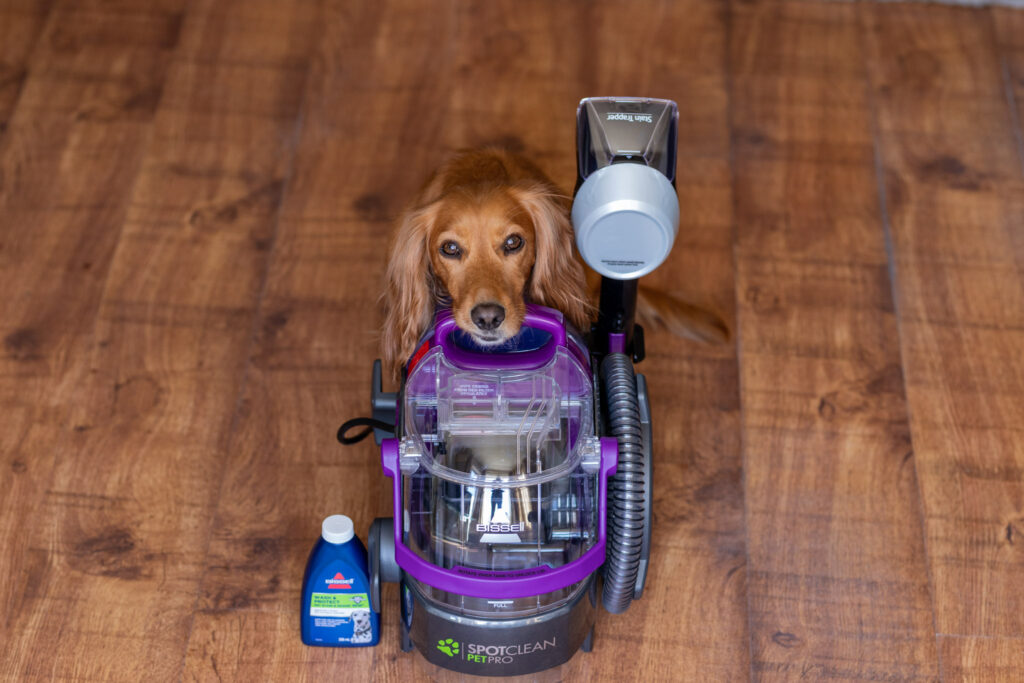 Love Sal, Maya and Lucia xxx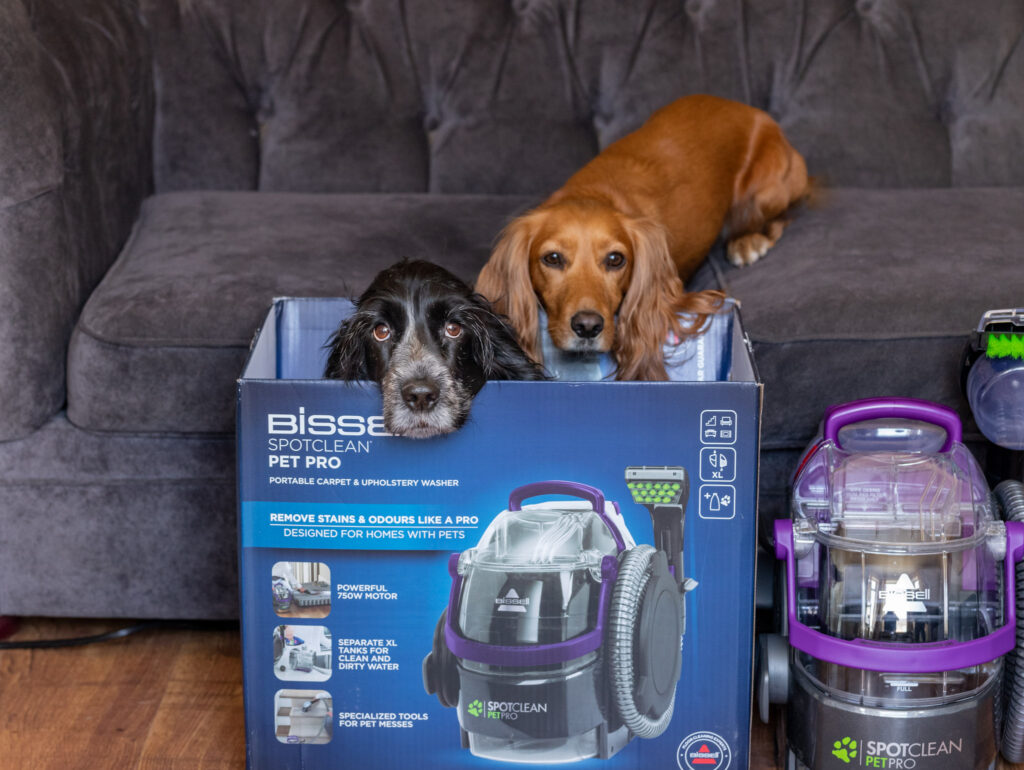 This post is a paid collaboration with Bissell and I was also kindly gifted a BISSELL ICON to test but all views are 100% my own.