Over the past few years there has been a huge increase in the amount of hotels in the UK that proudly bark from the rooftops that dogs are welcome, but sadly in some cases what they actually mean is that doggy guests are tolerated, as long as they're not seen or heard and that's not much fun for your pooch.
Of course there are some establishments that welcome dogs with open paws and we've been lucky to stay at a few of them but I can honestly say that I have never stayed anywhere that has put as much thought into what dog parents actually want than Bike & Boot.
Bike & Boot is a dog friendly hotel in Scarborough and pooches are welcome everywhere in the hotel, the restaurant, the bar, the relaxing lounge and even the cinema – it's OK you can paws to take that in, I really did say everywhere!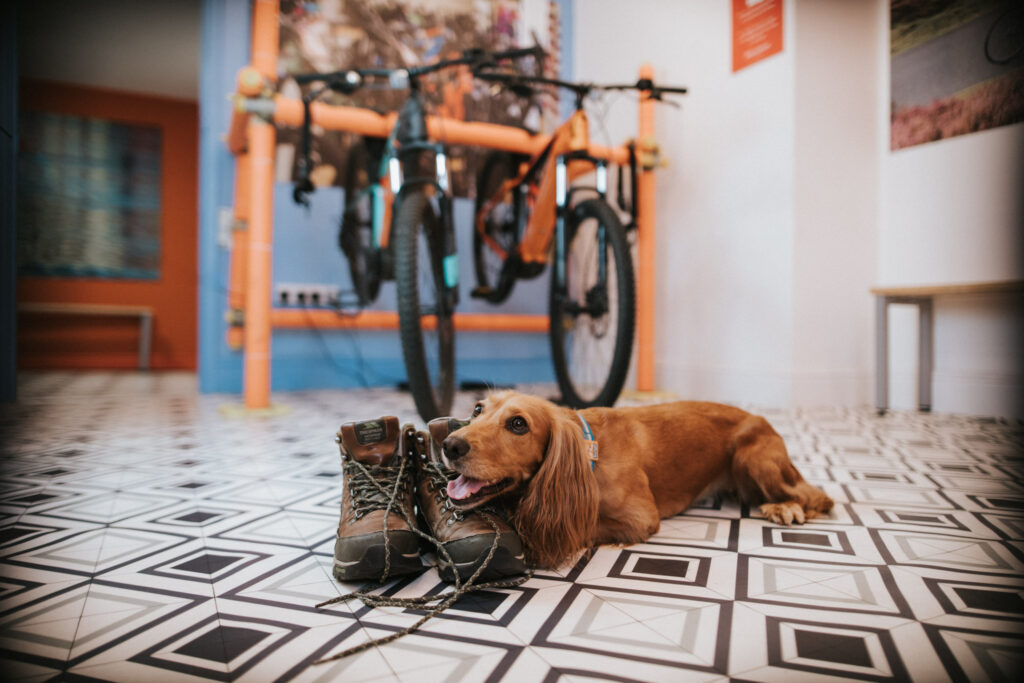 The hotel has been newly refurbished in a funky, eclectic style, in fact the brief given to the designer was 'renew, repurpose, replenish' and that has resulted in quirky and original features such as clocks made from brightly coloured flip flops and bicycle belts, lighting created with bike wheels and wall mounts made of bicycle seats and handlebars. Any business that does their bit to stop sending things to landfill gets a huge paws up from me! Long story short, Bike & Boots interior has to be seen to really appreciate but I can promise you that the effect of this innovative approach is really stunning!
Anyway let's get back to more important things, what's in it for your dog! Well as soon as your pooch sets paw on the premises they are greeted by staff, actually pats and cuddles are literally on tap from the team at the hotel.
If your pooch (or you) is a movie buff they can visit the cinema which has 3 showings of different films per day.
Now let's talk about The Retreat, this is the lounge where you and your dogs can go and really relax, full of comfy sofas and chairs with a wonderful ambiance you can help yourself to free coffee 24/7, the highlight of course is the free cake served up every day at 4pm – winner!
Bike & Boot is only a few minutes walk from Scarborough's dog friendly beach (There are some seasonal restrictions in terms of the areas of beach that your dog can enjoy, check out my comprehensive post Dog Friendly Scarborough here) so your pooch can do zoomies on the sand and splash and swim in the sea till their hearts content. There's no need to worry about the inevitable sandy, salty fur when you get back to Bike & Boot though – you can use one of my favourite facilities at the hotel, (although admittedly probably  not one of Maya and Lucia's) The Wadobi. Here you will find everything you need to get your dog looking and smelling beautiful again. There are professional standard washing and drying stations, dog shampoo and even towels!
The Wadobi also contains somewhere to wash off your surf boards, bikes and of course your muddy boots.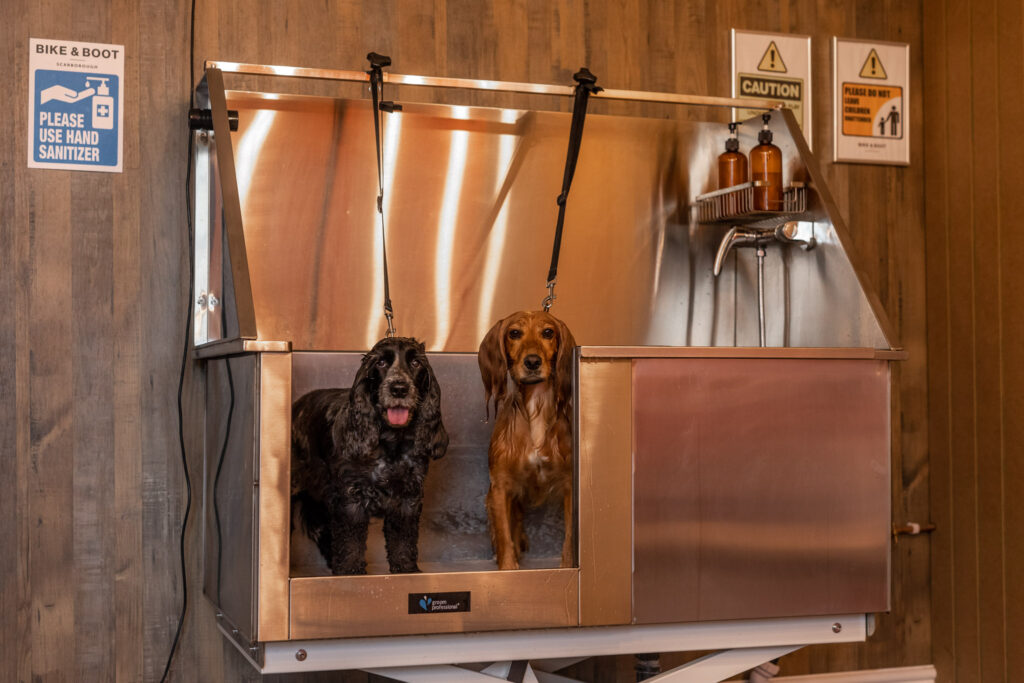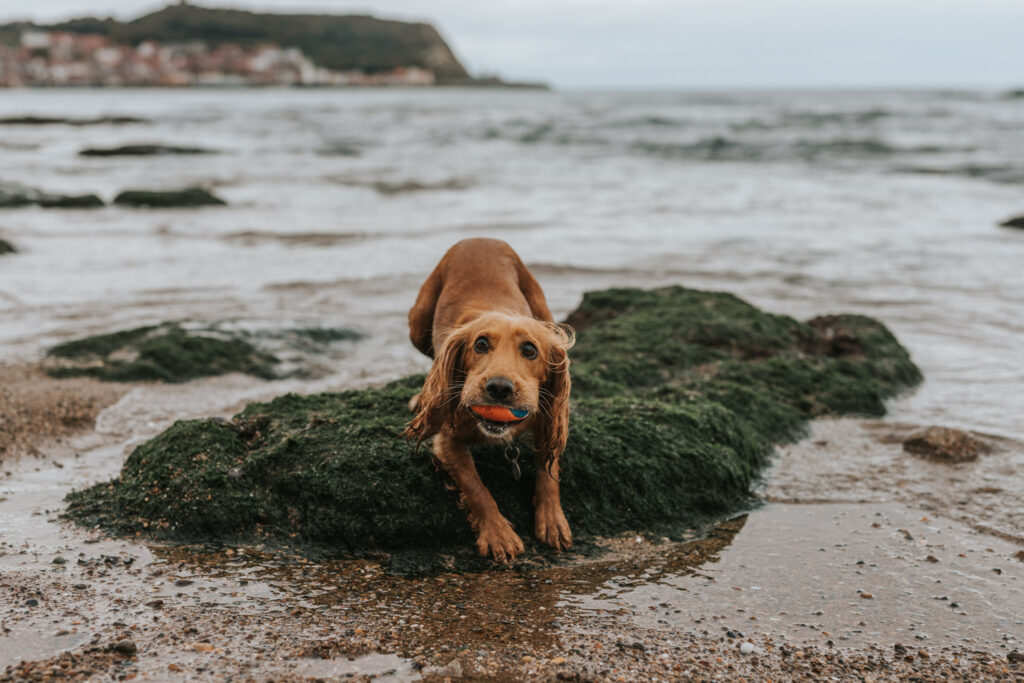 The rooms are really fabulous, the bed was extremely comfortable, the power shower is to die for and they are well equipped too with coffee machines and a fridge that contains a minibar but you can keep your milk etc in there too. One feature I really loved was the door to the ensuite, the hotel sourced local photographs for the doors and the stunning and colourful window blinds are inspired by original railway posters.
We were lucky to have a sea view which meant that we could watch the sunrise over the sea and Cliff Bridge, a famous Scarborough landmark.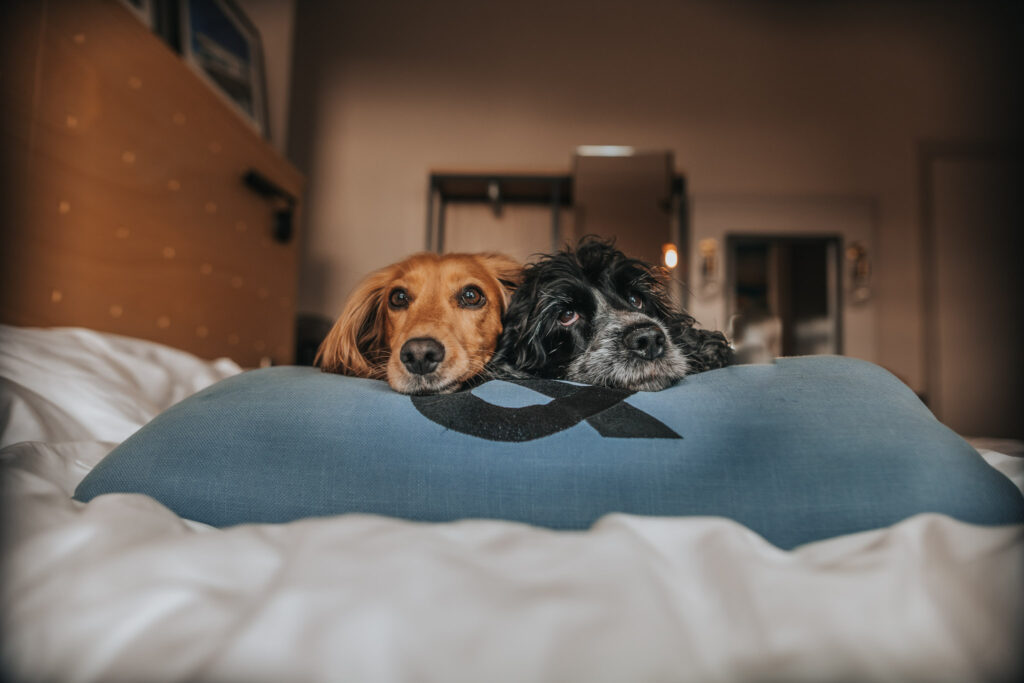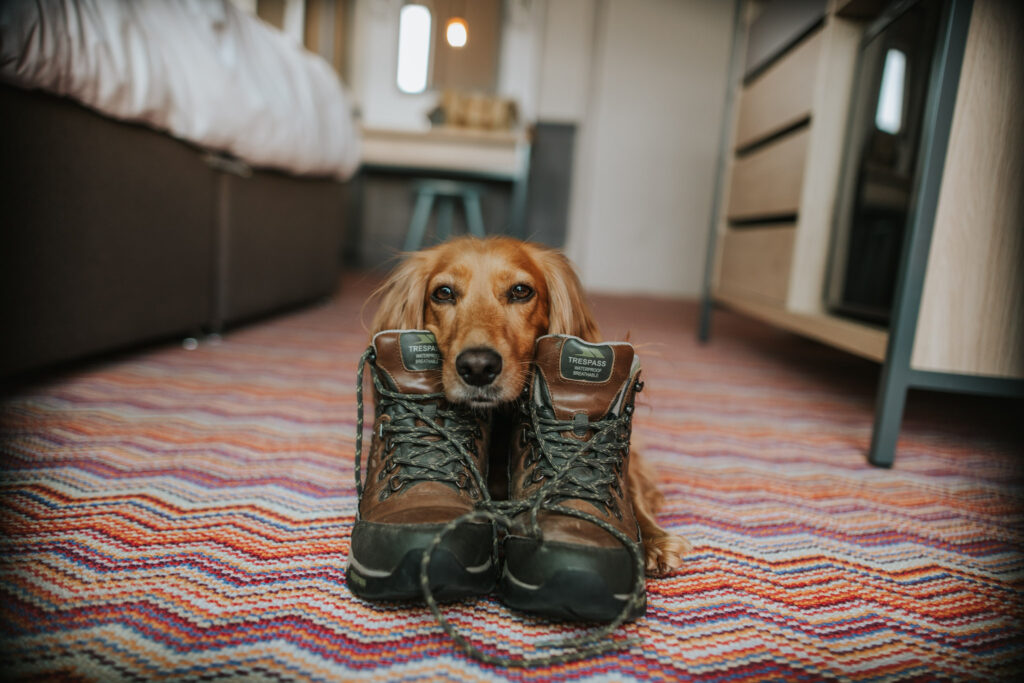 The Bareca Restaurant and Bar is light and modern and has a tempting array of dishes on both their lunch and dinner menu, the food is so delicious that many dogs and their well behaved humans drop by just for a meal or drink.
Breakfast is also served there, this is continental style with the usual selection of bread, pastries, fruit, cereal, cheese and cold meats but with the added attraction of a waffle maker and bacon and an egg boiler.
The bar has an amazing selection of cocktails and spirits to choose from as well as bottled beer but the one disappointment for us, well my partner, a dedicated real ale drinker was that it only served bottled beer. Still you can't have everything and I guess it enables them to serve a wider variety of beers.  If you really want a pint of ale and can drag yourself away from Bareca I can promise you that Scarborough is full of dog friendly pubs so you won't miss out.
It goes without saying that furry friends are really welcomed at The Bareca, currently there are no gourmet food offerings for pooches but paws crossed that is something that the chef might consider in the future for canine food critics like my spaniels!
Bike & Boot is in a perfect location when it comes to exploring the Yorkshire Coast, we live in Yorkshire so know all the dog friendly beaches well, you can find out our top picks here. Although Scarborough isn't technically in the North York Moors National Park it's just a stones throw away and some genius at the hotel has thoughtfully had bespoke wallpaper designed as huge maps of the local area so it's easy to plan where to explore. The hotel also provides you with a handy guide book and map.
I think Bike & Boot really are pack leaders with their unique and innovative take on dog friendliness, it was a real breath of fresh air not to be confined to a side room to eat and Maya and Lucia loved it so much. In fact it was so good that I know we will return there soon. So if you have been musing about treating yourself to a dog friendly holiday on the Yorkshire Coast there really is no excuse not to do it now, The Bike & Boot offers dog friendly accommodation for every budget from the cutely named 'boot rooms' right through to luxury suites, there's something for everyone. There is a charge for dogs of £15 per night but if you hurry and book a mid-week short break before December you can take advantage of Bike & Boots special Waffles & Walkies offer which means your pooch stays for free and the human's get treated to a complimentary breakfast, so why not have a look, and maybe even book!
Love Sal. Maya and Lucia xxx
*We enjoyed a complimentary stay at Bike & Boot in return for publishing content on our Instagram account however I am under no obligation to write this review, but how could I not, we all enjoyed our stay so much.