I am one of those people who like a bargain and time spent searching for a good deal nearly always pays off for me.This time we secured four nights at Beech Lodge in the hamlet of Charlcot through Sykes Cottages for just over half the usual rate for March. Result!  It was just what we were looking for, very rural and pet friendly. In fact the lodges are situated right at the end of a single track road that goes no further. There is no wi-fi at the lodge (which is stated in the website description) and only an intermittent weak signal both on o2 and Vodafone which may not be for everyone. However we  quite like to get away from modern life and the  internet once in a while, if only to remember that there was life before it! Playing chess and scrabble was really joyous to be honest. (Sad I know, but there you are.) 
Maya absolutely loved it from the moment her paws hit the lawns, and was mesmerized by the abundance of bunnies.  The village of Charlcot is little more than a few very beautiful houses, indeed, according to the welcome brochure, every household owns horses. There are just four lodges on the site, and they are well spaced out. It was really idyllic with open views to beautiful countryside. Dogs must be kept on leads in the grounds but to be honest although Maya is a good girl off lead there were so many rabbits I wouldn't have chanced it anyway! There is lots of information in the welcome pack, even including the details of the local vet and many ideas for walks in the area.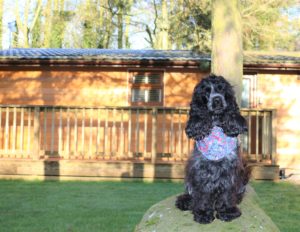 Inside the lodge was well equipped and very clean and comfortable. The accommodation is full of light and the bathroom was lovely with a decent shower and bath. As is nearly always the case when we go self catering Rod (a chef) found the oven to be very slow to warm up, but as we intended to eat pub food most nights it really wasn't a problem. Another thing to bear in mind is that dogs are not allowed on the furniture here.. I always take some throws from home – "just in case!"  Another thing that I always  find useful  when staying at places that have open plan landscaping is a "tie out stake". There is a pleasant track to walk down virtually outside the entrance, and it is only 3 miles from Masham with it;s great pubs, tea rooms and Harry's Traditional FIsh and Chip Shop, which by the way is excellent. (on the website it does state that the nearest watering hole is one mile away but that is not the case. Maybe it has closed down.)  All in all these lodges are fabulous if you want to get away and intend using them for a base to explore. It's also worth mentioning that there is a Co-op in Masham to stock up on provisions and a Tesco in the nearby market town of Thirsk.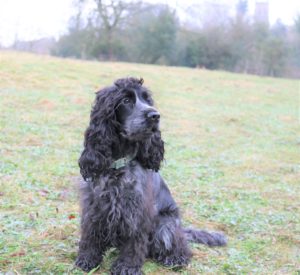 On the day we moved from the hotel to the lodge it had rained heavily all day, so we were in for a treat the next day when we made our way to Aysgarth Falls, the three tier waterfall on the River Ure was in full flow. You have probably all seen the top tier as it is where the well known scene in "Robin Hood, Prince of Thieves was filmed. There is a charge of £4,50 for parking over 2 hours and there are a couple of  honesty boxes to drop a few coins in to experience the action close up from the viewing platforms.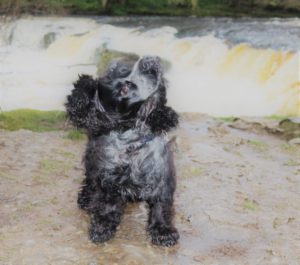 Nearly everyone visiting the falls that day had their dogs with them and Maya had a lovely time making new friends. She loves new experiences and really seemed enchanted with the falls. After visiting the falls we walked to Bolton Castle and back (so including the falls walks around 7 miles total ) but was Maya tired? Well she settled down for a nap in the car but had recharged enough for another walk near the lodge in the late afternoon.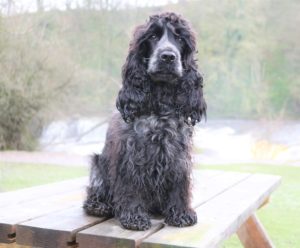 We went on lots of excellent walks,  The Grass Woods walk near Grassington, was a real favourite, Maya loves forests her nose is always sniffing out something or other and left to her own devices she would spend all day digging and sniffing in woodland. We will definitely do this one again in May as I have been reliably informed that the forest floor is carpeted with bluebells. I will post later in the year in detail about some of these beautiful walks, when (paws crossed)  my photography can do the beauty of the Dales justice.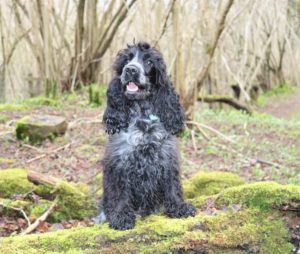 On the last day we visited Fountains Abbey and Studley Royal. A National Trust property it is I think this is a must do on a visit to the area. The Abbey is one of the best preserved Cistercian monasteries in the country and really is impressive. However it is the Fountains Mill which has the greater historical importance, amazingly having been in use till 1927. As with most National Trust properties the Abbey is extremely dog friendly, there are dog bins dotted around and you can also pick up poo bags if you find yourself caught short at all admission points for a small donation; (and no I didn't need this service!) It was a wonderful sunny day and we enjoyed some lovely tea and cake sitting outside the Abbey Tea rooms. Maya found a few bowls of dog water around the place, which is handy,  although I always take water and a collapsible bowl with me. (yes, even to the dog park!)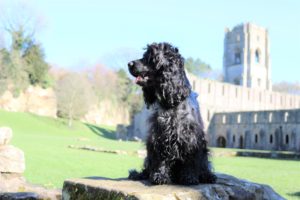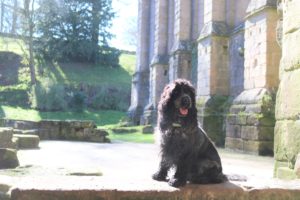 The Studley Royal water gardens are just gorgeous, they are a UNESCO World Heritage Site and are much the same today as they were when built in the early 18th century. Just stunning and I apologise to you all that my embryonic photography skills are nowhere near mastering taking a good shot of Maya in sunshine! Having said that I wouldn't have changed the lovely spring weather we had for our visit for the world.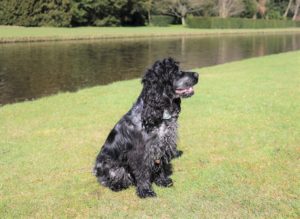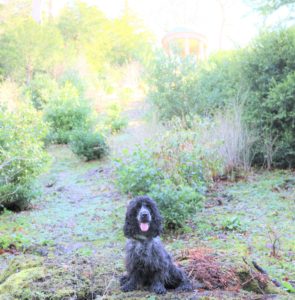 In the afternoon we did the Boots,gaiters and vistas walking trail ( around 5 miles)  which was so interesting, passing through the deer park  and past the medieval Plumpton Hall. There are also a few other walking trails of varying distances so there is something for everyone. I can honestly say The Yorkshire Dales are the perfect destination for a dog friendly holiday and we will go back for sure.
I know we went on a rambling holiday but I didn't expect this post to ramble on so much! So sorry about that guys. I really appreciate feedback so would love you to leave a comment.
Love to you all and hope that you are all having fun with your dogs
Sal & Maya xxx