Located right at the edge of the beautiful Yorkshire Dales National Park is the quaint (and very dog friendly) town of Masham. It actually dates back to Saxon times and with it's cobbled square that has hosted a market for 600 years, an ancient church that is mentioned in the Domesday Book and two famous breweries (Theakstons and Black Sheep) there was plenty to attract us to base ourselves here for the first couple of days of our holiday.
From the moment we parked our car in the square and put 50p in the honesty box we felt as if we had stepped back in time. The place was just so relaxing and I loved that almost every shop, house and tea room surrounding the square had bright flowers in pots and planters outside. So pretty. We had booked into the King's Head Hotel. right on the square. The courtyard room we were allocated was beautifully light with a lovely big bathroom and the hotel only charges an extra £5 per night for dogs, The whole hotel is really dog friendly, from the huge jar of dog biscuits on the bar to the dog rehydration station outside. Maya received lots of fuss and attention from staff and customers alike and was absolutely thrilled to be star of the bar.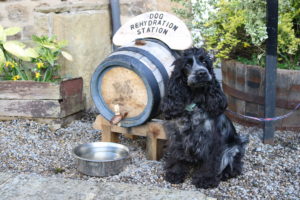 After a quick refreshment in the bar we departed on the first walk of the holiday the Masham Leaves Walk which is an gentle 3 mile circular walk around a sculpture trail with works by Alan Ayres. It was a lovely sunny day and we spent lots of time sitting by the river bank and watching Maya explore and enjoy sniffing out new smells. I was amazed at the proliferation of wild flowers already in bloom. Delicate violets and early primroses were a real treat to see. There was also loads of wild garlic.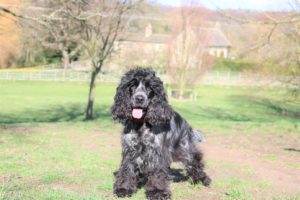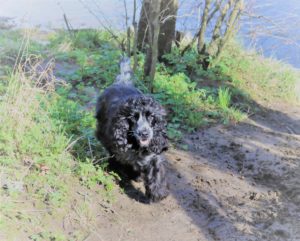 The walk continues along the banks of the Ure, then after a short wander through some woods we crossed a bridge and made our way back to Masham via the banks of the River Burn, the edge of the golf course and open countryside. I must admit it took us longer than the estimated 2 hours as I am still struggling with my photography skills!! Even with all that we made it back into Masham in time for gorgeous homemade tea and cake.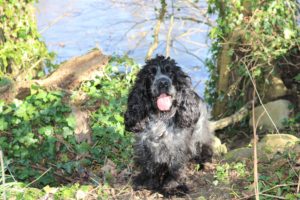 The following day after a hearty breakfast (dogs may breakfast with you in the big and very comfortable bar with proper tables!) we took the 159 bus to Middleham, to walk back to Masham via the stunning Cistercian  Jervaulx Abbey estate and the beautiful Danby Hall. The walk passes through some of the most stunning lowland countryside I've walked through and little Maya had her nose to the ground with her tail wagging all the way. It's a fair walk of around 10 miles if you factor in an exploration of Middleham itself.  On the day we encountered a full range of weather conditions, sun, hail, rain and snow!  That's why I am always prepared with a day rucksack containing an equafleece for Maya.and plenty of water and snacks as well as a torch and of course poo bags!. Maya is a fit little dog and walks between 5 and 15 km daily on a variety of terrains so finds these types of walk easy but it is important to note that a basic level of fitness for both human and hound is needed to enjoy a walking holiday. It's also worth mentioning to keep your dog on a lead around livestock and where requested to do so.
Jervaulx Abbey for me was a real highlight of the whole holiday. and not just because of the amazing cake in their tearooms either! (dogs are welcome in the abbey and parkland and there are plenty of tables outside where you MUST enjoy the cake with your pooch by your side}
At the entrance to the Abbey is an honesty box and it is well worth the suggested fee (£3.00)  Jervaulx is privately owned and nature has taken it's course with flora protruding from the beautiful stonework, this however has served the Abbey well and it is actually preserving it to some extent. Maya seemed intrigued by the place and after reading recently of the immense powers of a dogs nose, I wondered if she could scent something of those long ago inhabitants, My other half however insisted she was more interested in the scent of a Doberman who was also visiting!!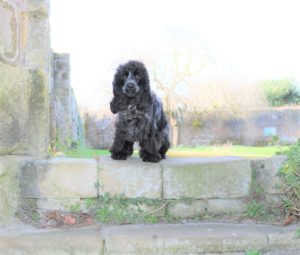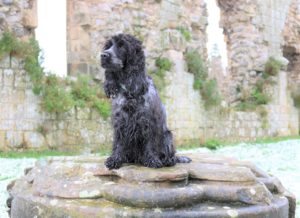 Seriously though. it really does make me reflect on the kind of life our dogs had in Medieval England. Everyone is so friendly and we met lots of ramblers. some of who took selfies with Maya!!!
The evenings in Masham were well spent eating and drinking, The food at the King's Head was fantastic, and Maya was always given a biscuit and stroke. Maya is a raw fed dog, but after finding out about Guru Cold Pressed Dog Food on twitter I decided to try it for travelling and am really impressed by it. It was so convenient to feed and I knew that Maya was getting all the protein and nutrients she needed. It's a huge paws up for Guru from us.
We also ate at the Bruce Arms which we loved. Delicious, good quality food and a real country pub ambience. The whitebait was beautiful and all the dishes were obviously homemade. Maya was the centre of attention again and was allowed to share the resident pooch, Doodles, water. The only downside about Masham for Maya was that dog beer has yet to arrive! I have so many more photographs and walks to share that I am going to write another post soon, all about our stay in a wooden lodge and waterfall walks. I really hope you will pop back for a read.
Hope you are all having fun and getting outside with your dogs. I really do appreciate comments so please consider leaving a little one!
Love
Sal & Maya xx